Join the Seasonal Club.  Ditch the processed life! Learn to grow, source, preserve, and prepare real foods ALL YEAR LONG!  LEARN MORE >>
Join the Seasonal Club.
Ditch the processed life! Learn to grow, source, preserve, and prepare real foods ALL YEAR LONG!  LEARN MORE >>
Onion Nut Dehydrator Crackers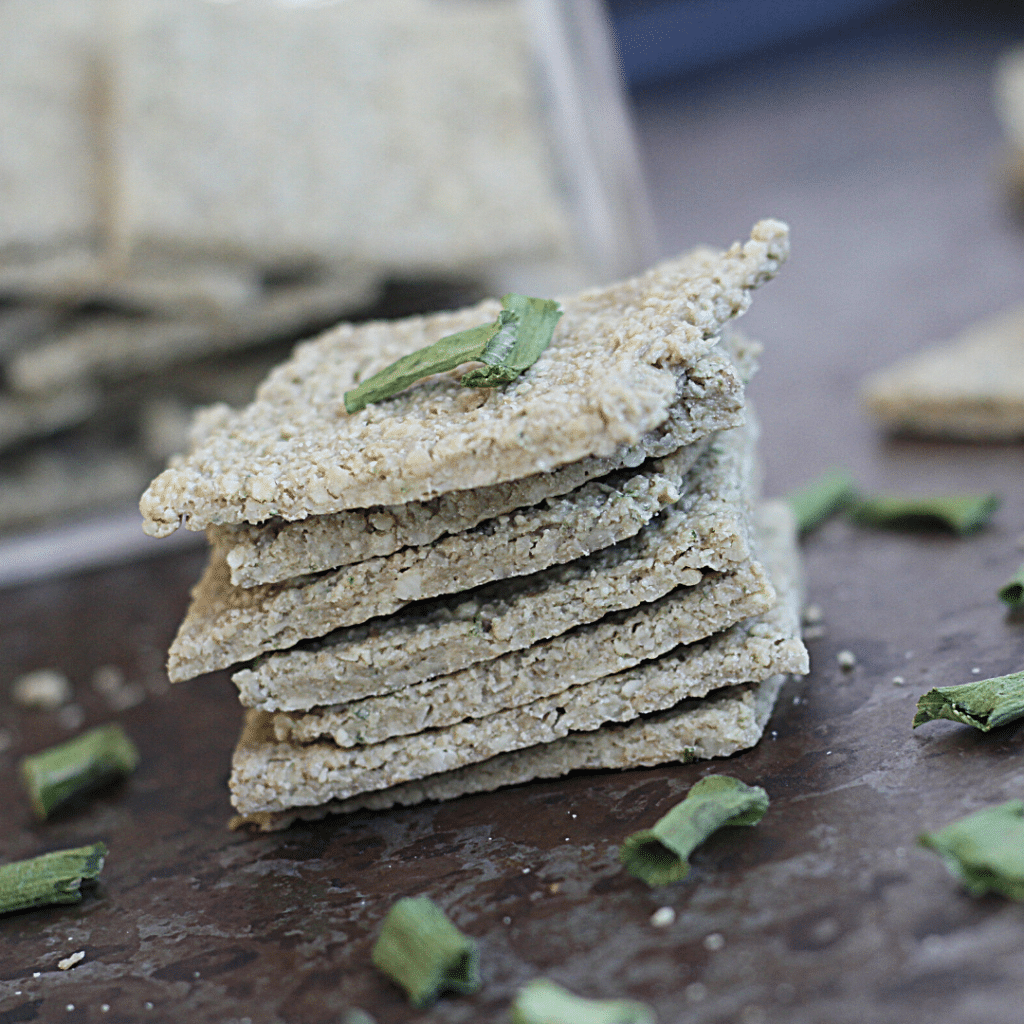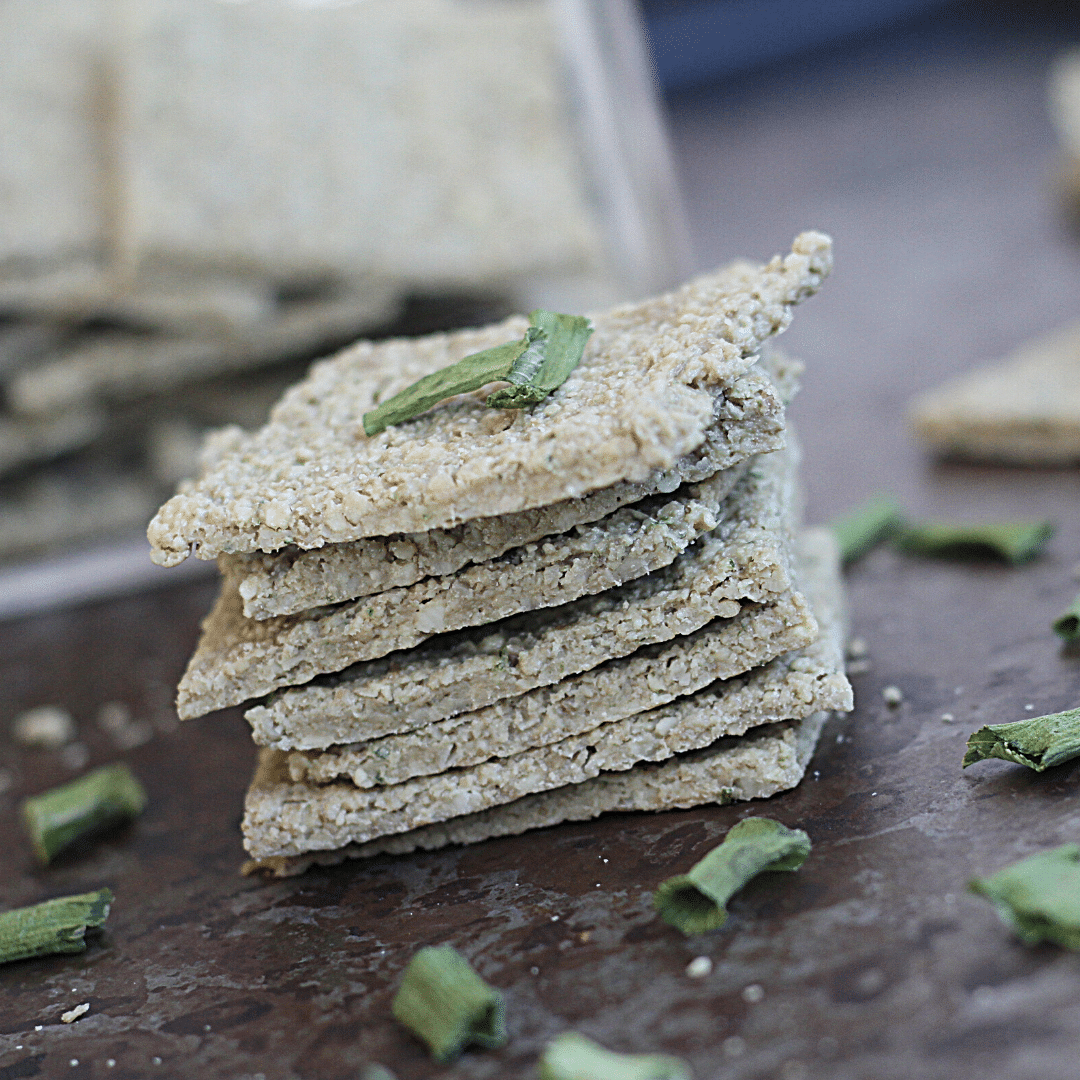 This post may contain affiliate links, which means I make a small commission at no extra cost to you.
See my full disclosure here.
I'm not strictly Paleo, but I do feel so much better when avoiding grains. For that reason, I've been determined to find nutrient-dense, grain-free substitutes for all of the grain-filled convenience foods my family used to rely on. These onion nut dehydrator crackers are one of my biggest grain-free wins!
A few of our favorite grain-free alternatives to breads and chips: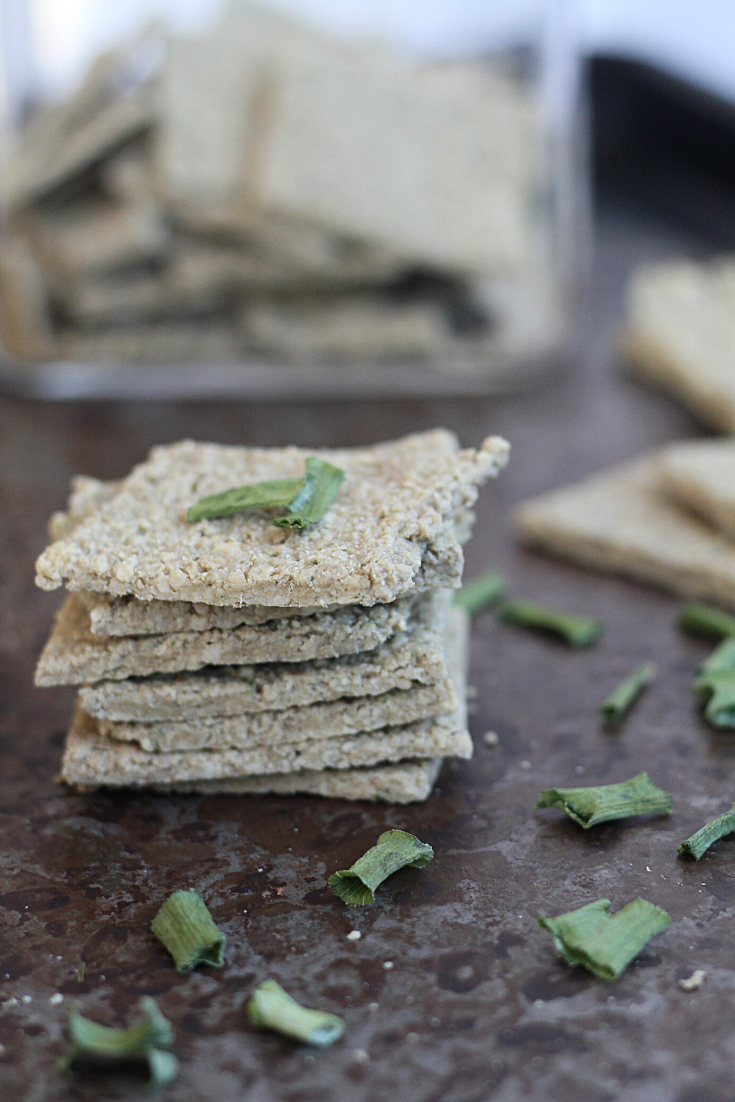 I love the ingredients list for these onion nut dehydrator crackers. So simple! We're talking five ingredients, plus water.
Protein is provided by sunflower seeds and cashews. Coconut aminos (or tamari), green onion, and garlic round out the flavor. Water makes the mixture spreadable.
In fact, this recipe is so simple that my 11 year old son is now in charge of keeping us stocked with a steady supply of onion nut dehydrator crackers. Spreading the mixture onto the dehydrator trays is kinda tricky so I do help with that part, but he handles all the measuring and mixing.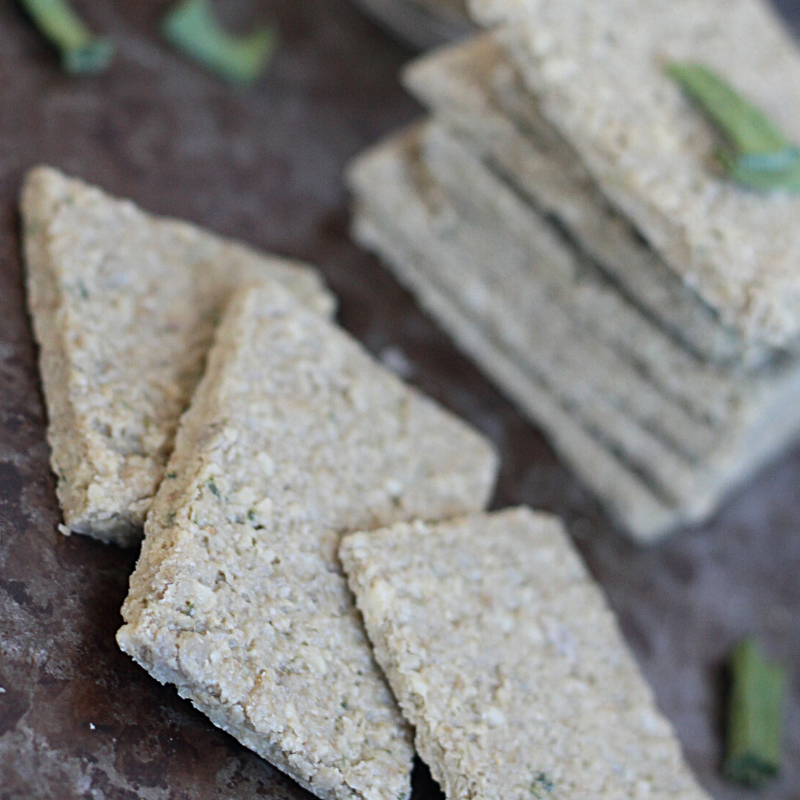 Have I mentioned how much we are loving our new dehydrator? I have this dehydrator.
These crackers are just one of the many foods we now prepare in this amazing food-drying machine. I especially love my dehydrator during garden harvest time!
Dehydrator favorites:
Since we harvested plenty of green onions from the garden last year, I wound up dehydrating a bunch of them. Which has worked out perfectly during the winter months when we have no fresh green onions! So if you grow your own green onions, I recommend dehydrating your surplus and using them in recipes like these onion nut dehydrator crackers.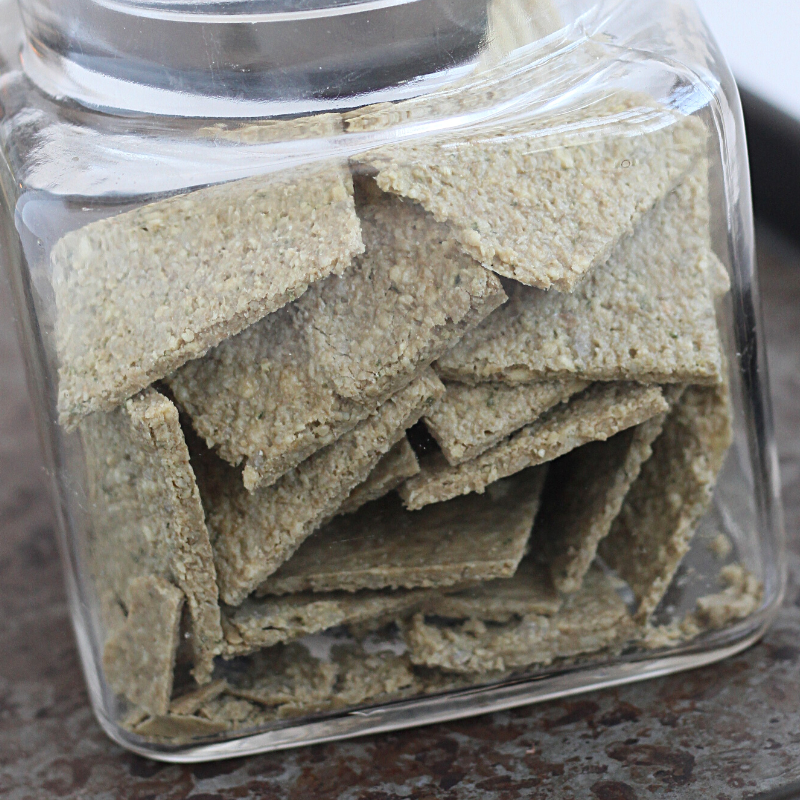 Out of all the high-protein, grain-free dehydrator cracker recipes we've tried, this onion nut version received the highest rating from my pickiest eaters.
We love to use these onion nut dehydrator crackers as a vehicle for tuna salad, chicken salad, or hummus. Any leftover cracker crumbs are stored in a small mason jar and used as a crunchy topping for salads.
For my family of five, which includes three growing boys, a double batch is pretty much a necessity. I recommend mixing one batch at a time. Even if you have a large food processor (like me), a double batch is too thick to mix properly.
And now for the recipe…
Print
Onion Nut Dehydrator Crackers
Author:

Prep Time:

15 mins

Cook Time:

12 hours

Total Time:

12 hours 15 mins

Yield:

24

crackers

1

x
---
Description
I love the ingredients list for these onion nut dehydrator crackers.  So simple!  We're talking five ingredients, plus water.
---
---
Instructions
Add all ingredients to a food processor and blend until well combined.
Line one dehydrator tray with parchment paper (or use Teflex).
Spread mixture to cover entire sheet. If the mixture is sticky and hard to spread, lay another piece of parchment paper on top and use a rolling pin to roll it out.
For raw crackers, dry at 115 for about an hour, then lower to 105. If you're not concerned about keeping the crackers raw, feel free to increase the temperature. Regardless of the temp, be sure to score the crackers after about an hour in the dehydrator. Set a timer! Use a knife or pizza cutter to score a grid. This will make it SO much easier when it's time to break your end result into crackers. Believe me.
Dry until crackers are dry, crunchy, and cracker-like. Drying time can vary greatly. It all depends on the humidity level in your home, the temperature of the dehydrator, the wetness of the cracker mixture, etc. To speed it up, you can flip the big sheet of crackers after about 6 hours. Remove the parchment paper at this time.
Don't worry about drying them for too long. I've left crackers in the dehydrator for at least 24 hours. It's better to make sure they're completely dried and crunchy than to take them out too soon and end up with soft crackers.
Store in a dry, airtight container.
---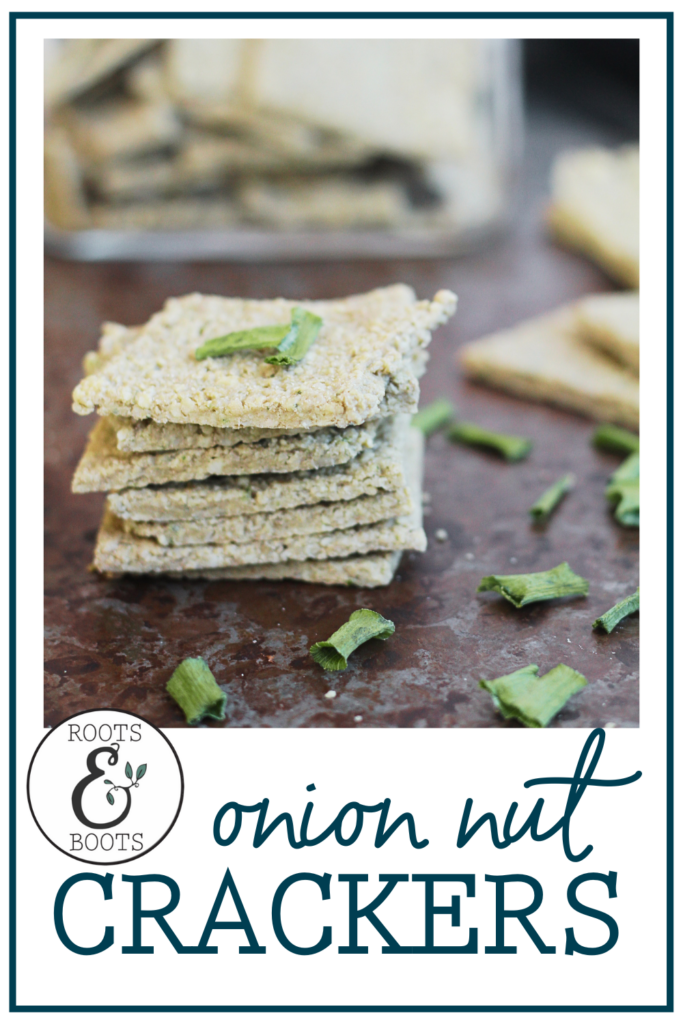 12 NOURISHING GLUTEN-FREE SOUP RECIPES
Simplify your dinner prep with these tasty, nourishing soups!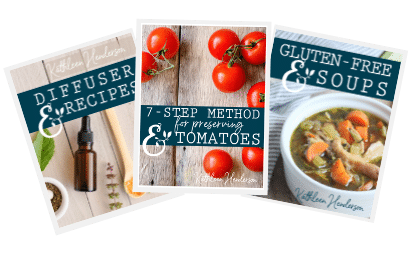 Sign up NOW for my best tips delivered weekly to your inbox!
You'll also get instant access to my library of free ebooks and resources.