Paleo Blueberry Blender Waffles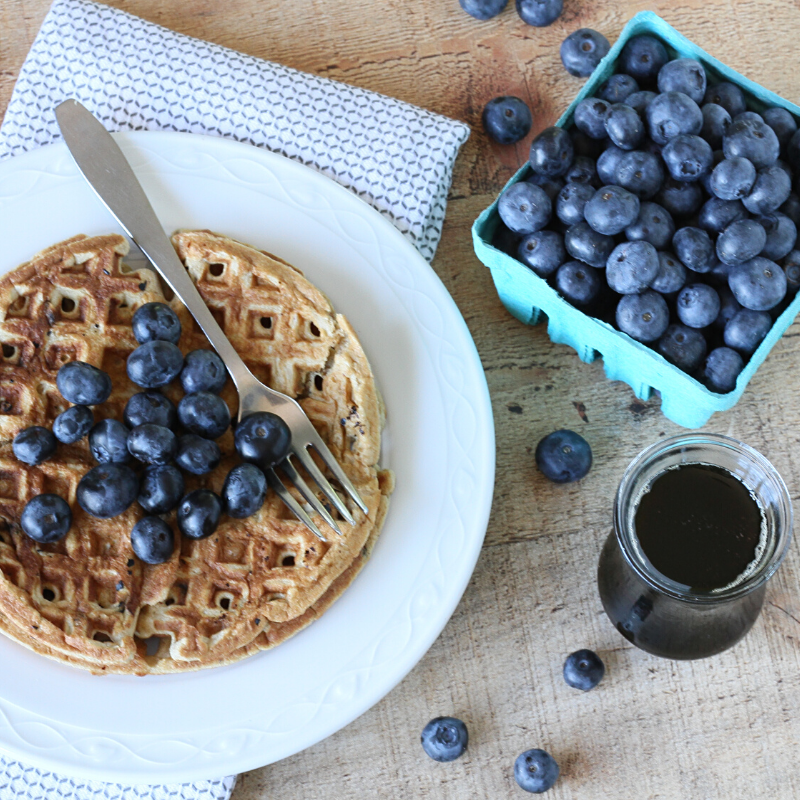 Simplify your dinner prep with tasty, nourishing soups!  My short, practical ebook is filled with my family's favorite one-pot, gluten-free, real-food soup recipes.
Get your copy of Nourishing Soups today!
This post may contain affiliate links, which means I make a small commission at no extra cost to you.
See my full disclosure here.
These Paleo Blueberry Blender Waffles are really good for you. Plus they're delicious! My family rejoices every time I make them. I'm talking shouts of joy, dancing around the table, and general all-around giddiness. We love these waffles.
I always make two batches of Paleo Blueberry Blender Waffles to have plenty for my family of five, with a few leftovers besides. They're super-easy to whip up in the blender. A double batch makes the blender too full, so I make one batch right after another.
Oh, and these waffles freeze well. If you like to do freezer cooking, they're a fantastic make-ahead and freeze-ahead breakfast option.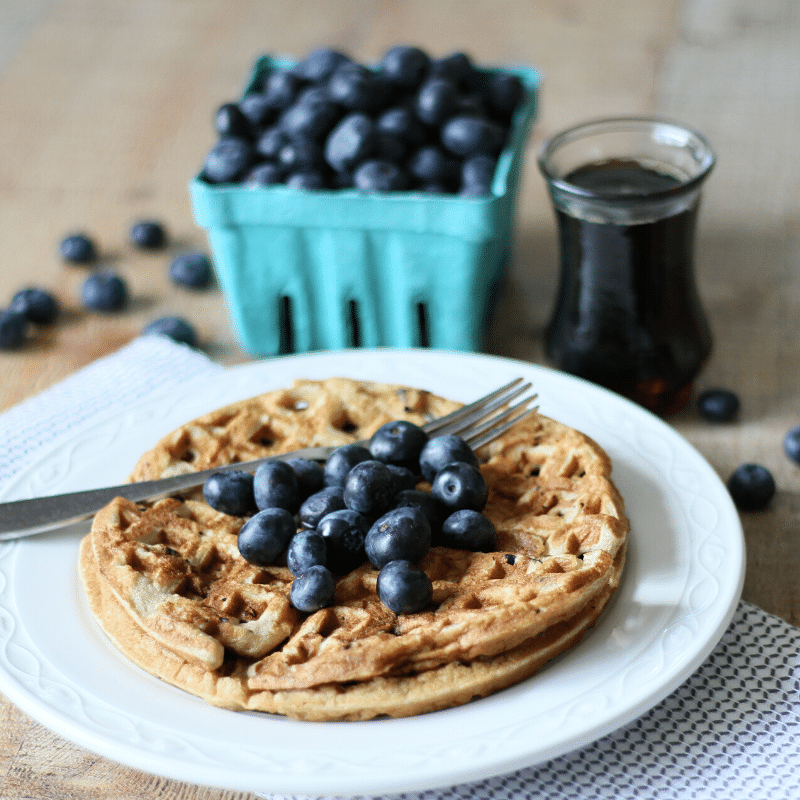 This recipe for Paleo Blueberry Blender Waffles is my take on the blueberry waffles from Danielle Walker's first cookbook, Against All Grain. By the way, if you eat gluten-free, grain-free, Paleo, SCD, Whole30 or just want to cut out processed foods, you NEED this cookbook. It's my #1 favorite, hands down.
Cashews are the secret sauce for tasty grain-free waffles. Thanks to the cashews, not only are these waffles light and fluffy and delicious, they're also amazingly nutritious!
Rich in unsaturated fatty acids and high in protein, cashews are a filling food choice. Cashews provide dietary fiber, important antioxidants, and vitamins and minerals like copper, zinc, and magnesium.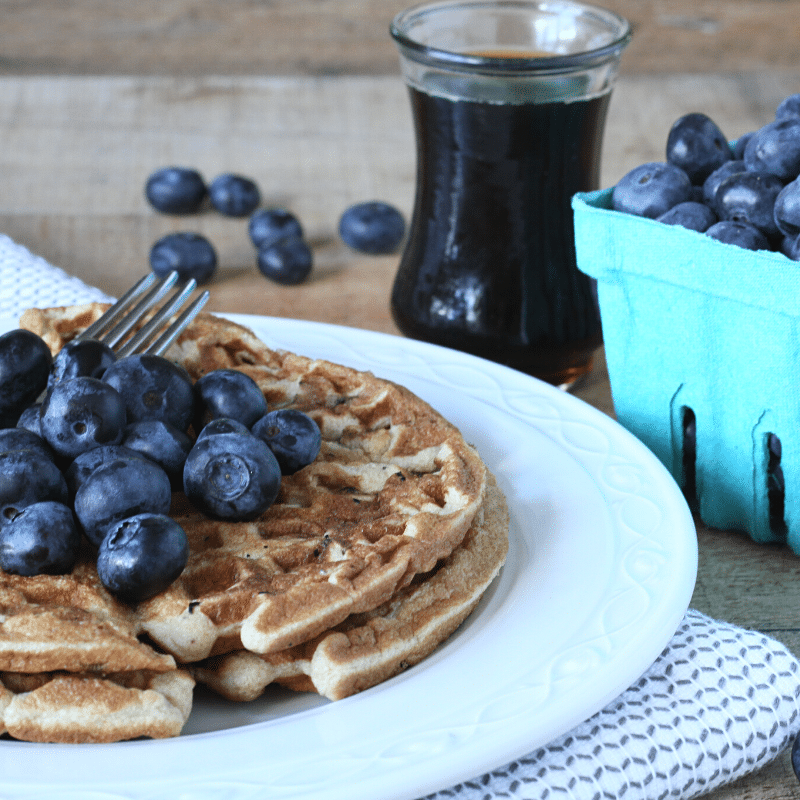 Many studies link cashew consumption with reduced risk for heart disease, cancer, diabetes, and obesity. And the nutrients in cashews can also support brain function, improve digestion, and enhance nutrient absorption. [Source]
I use crispy nuts, or nuts that have been soaked and dehydrated. You can do this in an oven or a dehydrator. More about how to do that and why here: Crispy Nuts: Why & How to Soak Your Nuts.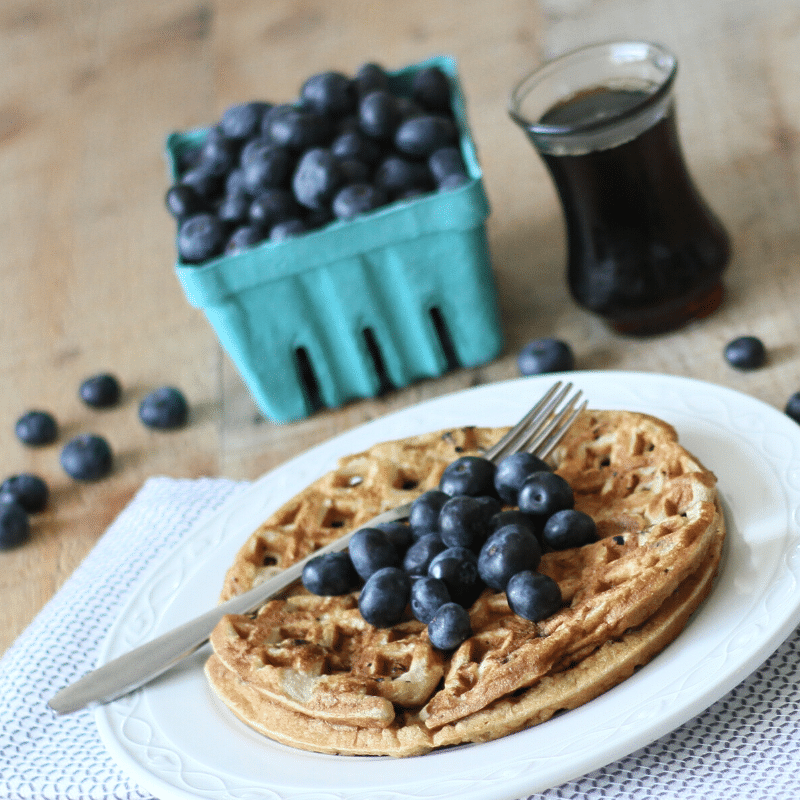 Now let's talk about the health benefits of blueberries. Did you know they're one of the highest antioxidant foods in the world? Blueberries are also rich in gallic acid, a powerful antifungal/antiviral agent.
In addition to gallic acid, these little blue fruits contain resveratrol, lutein, zeaxanthin, vitamin K, vitamin C, manganese, and fiber. This combination of nutrients can help to combat aging, boost the brain, fight cancer, support digestion, promote heart health, nourish the skin, and aid in weight loss. [Source]
Ready to cook up a batch or two of these Paleo Blueberry Blender Waffles? Let's do it! I guarantee there will be much rejoicing in your home.
Print
Paleo Blueberry Blender Waffles
Author:

Prep Time:

15 mins

Cook Time:

20 mins

Total Time:

35 mins

Yield:

4

-

5

servings

1

x
---
---
Instructions
Preheat waffle iron.
Add all ingredients except blueberries to a high speed blender, in the order listed.
Blend on low for about 30 seconds, then gradually increase to high and process until smooth.
Pause blender and add blueberries.*
Blend briefly on low until most of the berries are chopped. Do not puree the berries! You want to see little chunks and even whole berries floating in the batter.
Pour directly into waffle iron and cook until golden and fluffy.
Serve with maple syrup and more fresh blueberries.
---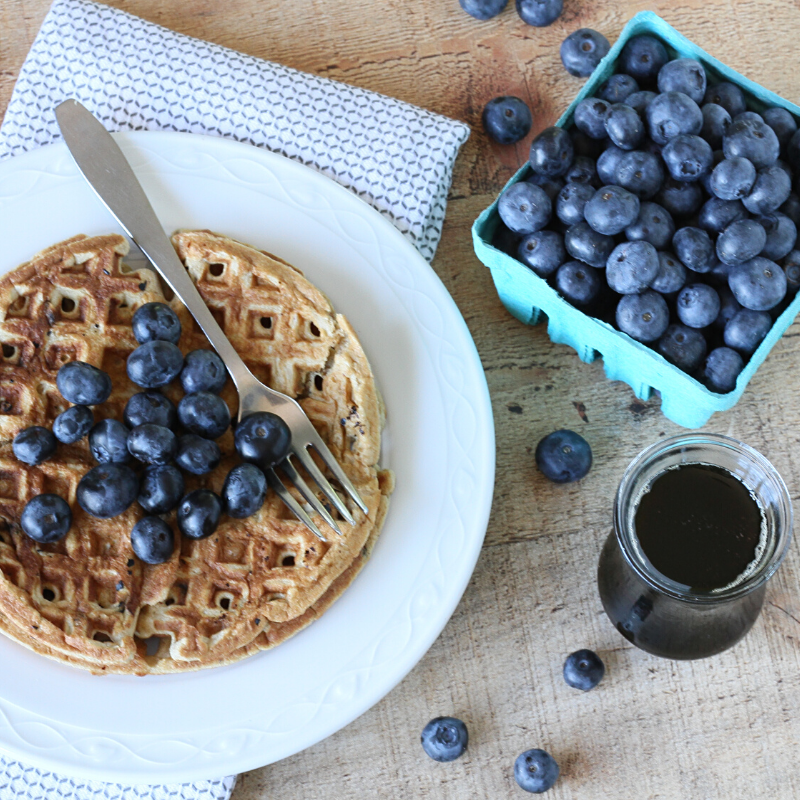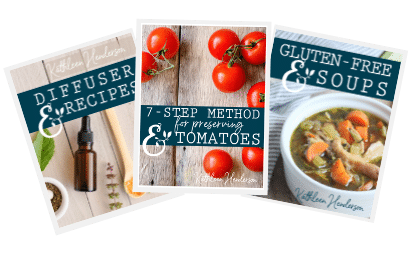 Sign up NOW for my best tips delivered weekly to your inbox!
You'll also get instant access to my library of free ebooks and resources.