Join the Seasonal Club.  Ditch the processed life! Learn to grow, source, preserve, and prepare real foods ALL YEAR LONG!  LEARN MORE >>
Join the Seasonal Club.
Ditch the processed life! Learn to grow, source, preserve, and prepare real foods ALL YEAR LONG!  LEARN MORE >>
Ten 30-Minute Real-Food Dinner Recipes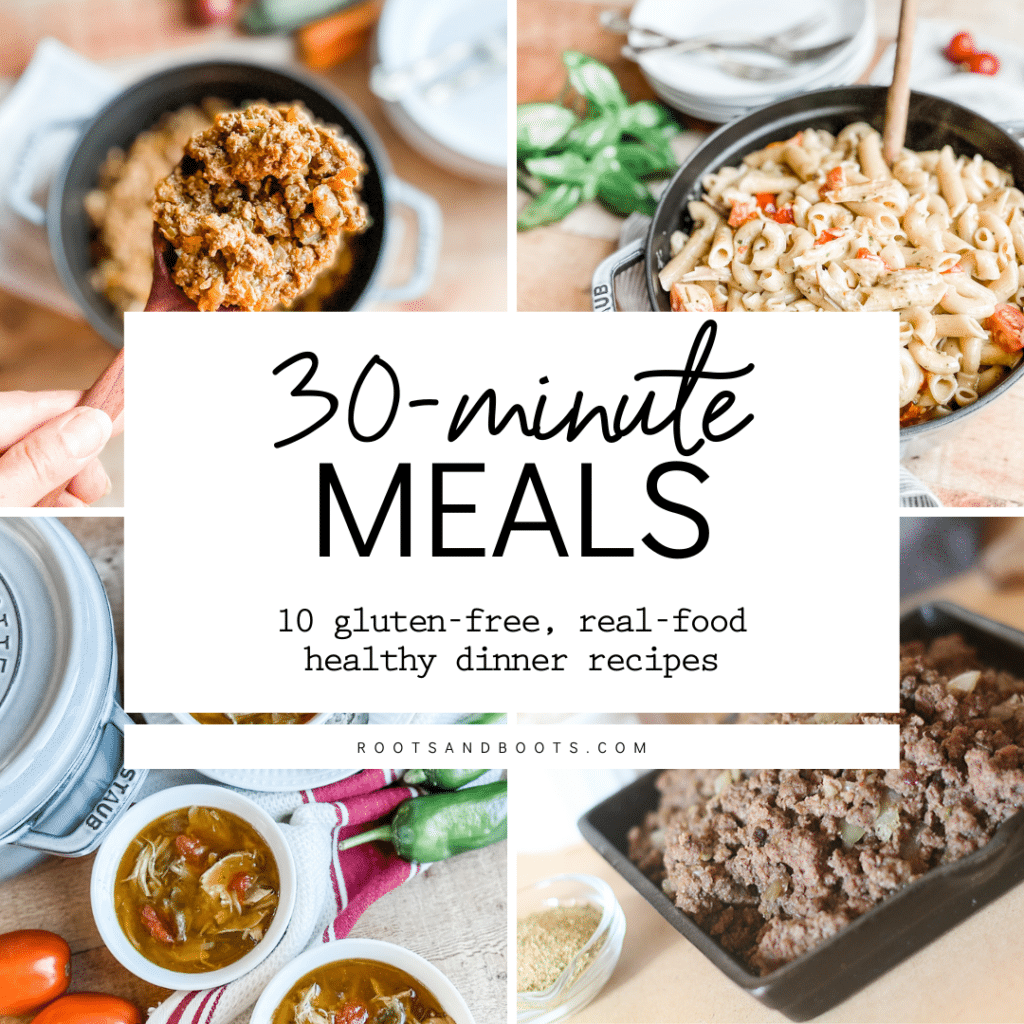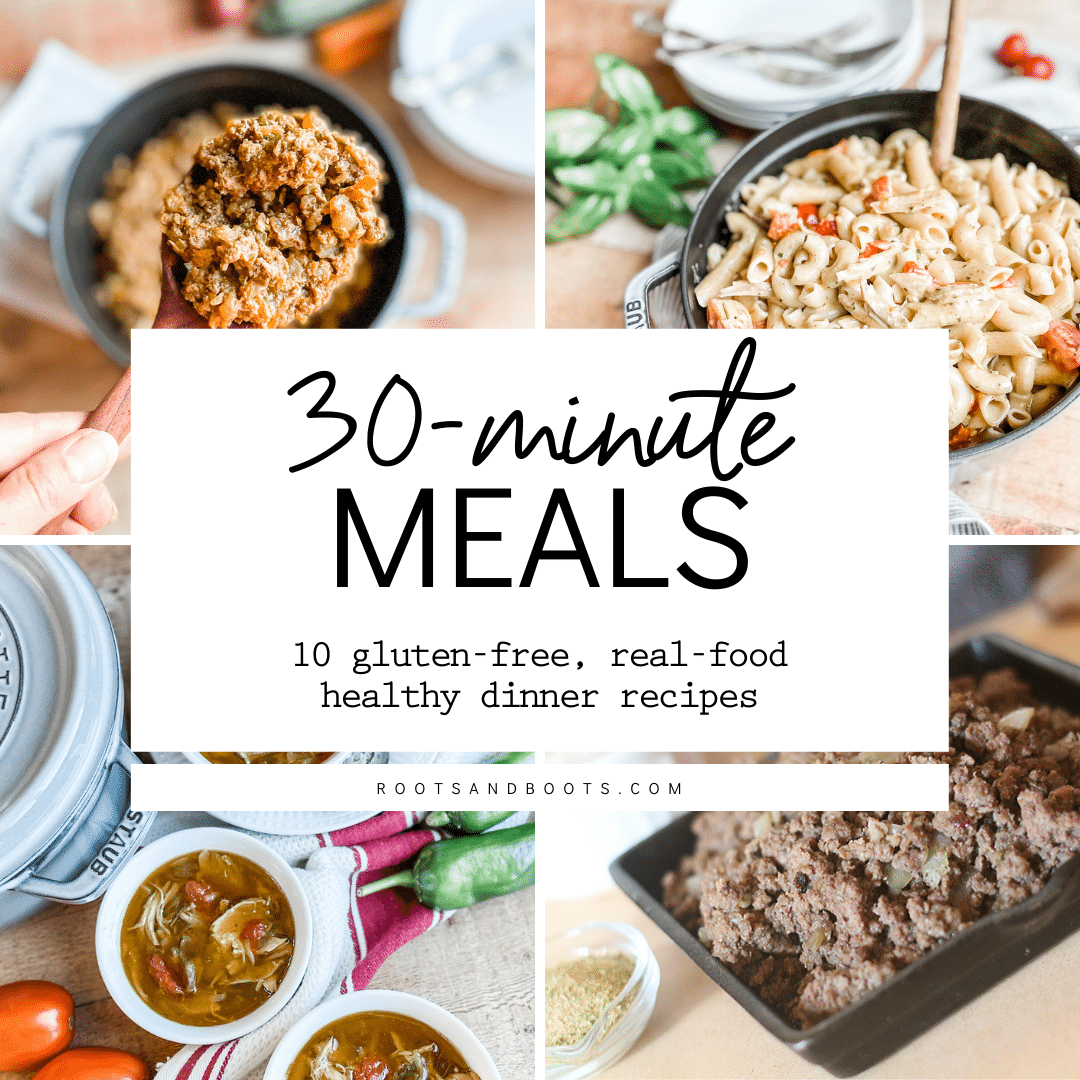 This post may contain affiliate links, which means I make a small commission at no extra cost to you.
See my full disclosure here.
How would you like to have a go-co collection of ten 30-minute real-food dinner recipes? Recipes to help you feed your family healthy meals, in just 30 minutes. What if I told you these ten recipes are also gluten-free and paleo-friendly?

Real food, real fast
I know you want to serve your family amazing real food meals but you're short on time. You're a busy mama, just like me, and you don't have all day to spend in the kitchen.
Yes, I absolutely stand behind the idea that real food takes time. I wholeheartedly believe in normalizing real-food, from-scratch cooking and I practice this often in my own kitchen.
However, I know life is busy and sometimes you just need a quick meal without sacrificing healthy nutrients, without falling back on take out food or frozen pizzas, and without losing your sanity!
Ten 30-minute real-food dinner recipes
I feel your pain! Which is why I want you to have this recipe rolodex of my family's favorite quick real-food meals. These are my go-to dinner plans for those nights when we need something fast but still healthy.
Each recipe included in this collection is a family-favorite at my house, approved by both kids and adults. I tried hard to include a variety of proteins, from chicken to pork to beef to fish.
Even better, there are no egg-based recipes in this collection of ten 30-minute real-food dinner recipes! Yes, eggs are often the perfect quick and easy meal. But you already know that, and you probably don't need yet another breakfast-for-dinner egg recipe.
Gluten-free and Paleo-friendly
As usual, all my recipes are gluten-free. And every recipe in this collection is also completely Paleo, except for recipe #10 which is easily modified to be Paleo.
I know how hard it is to find trusted recipes that are healthy and delicious when you're avoiding gluten and other ingredients. So please enjoy all ten of these recipes knowing they include zero gluten, and, with slight modifications, zero dairy, grains, or legumes.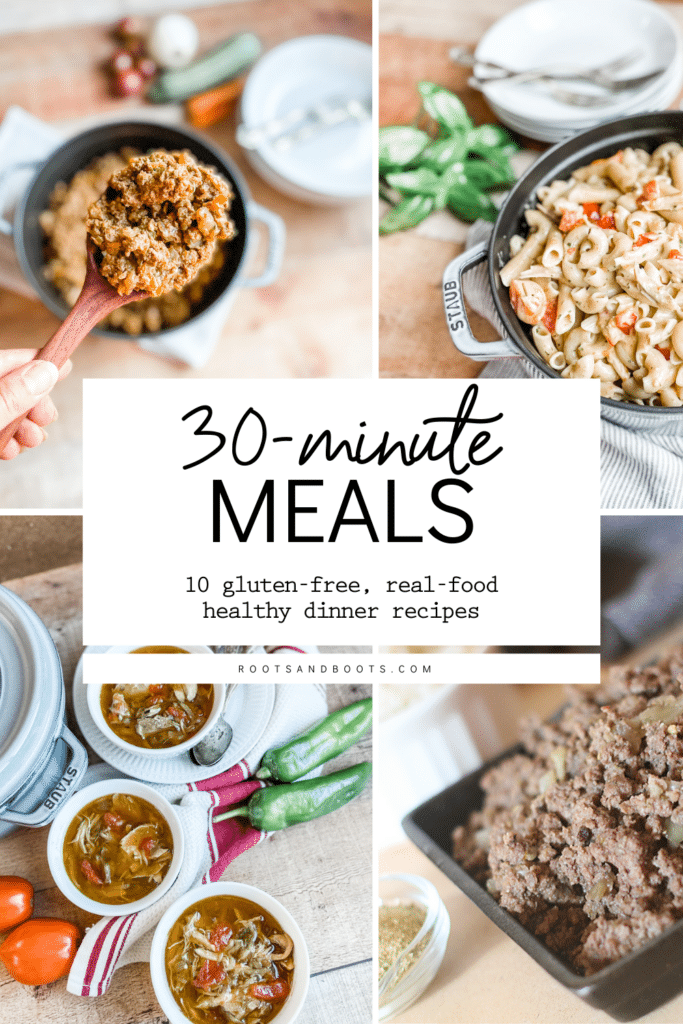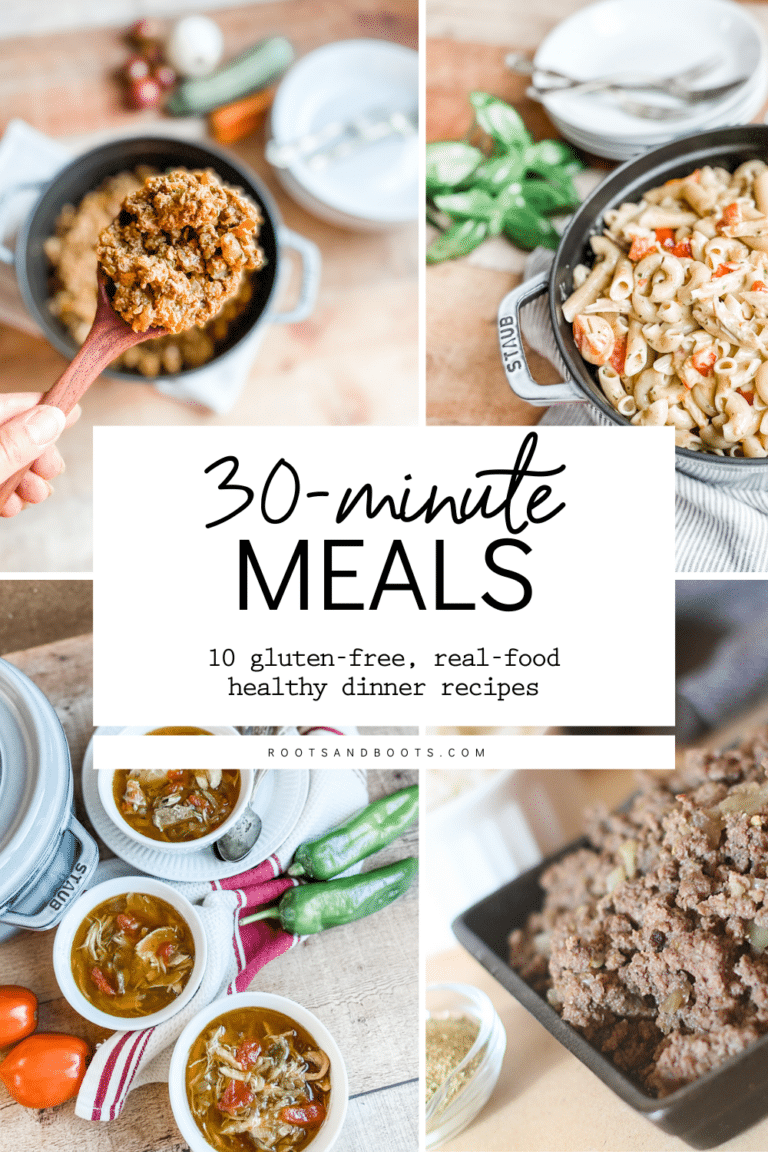 Work smarter, not harder
Keep in mind that a few of the recipes do require a tiny bit of advance prep such as getting out meat to thaw overnight. It's totally worth it, though, to know you've got dinner planned and can pull it together in 30 minutes the next day.
Work smarter, not harder, and set yourself up for success!
Ready, set, go!
I can't wait for you to dive into these ten 30-minute meals! Get ready to add them to your family's regular rotation of simple, healthy, FAST dinner recipes.
12 NOURISHING GLUTEN-FREE SOUP RECIPES
Simplify your dinner prep with these tasty, nourishing soups!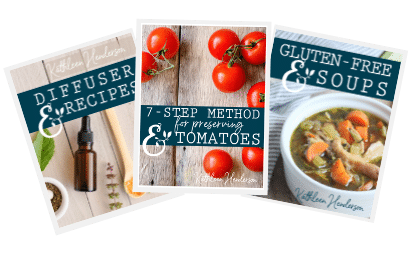 Sign up NOW for my best tips delivered weekly to your inbox!
You'll also get instant access to my library of free ebooks and resources.