Choose the Plan that Works Best for Your Family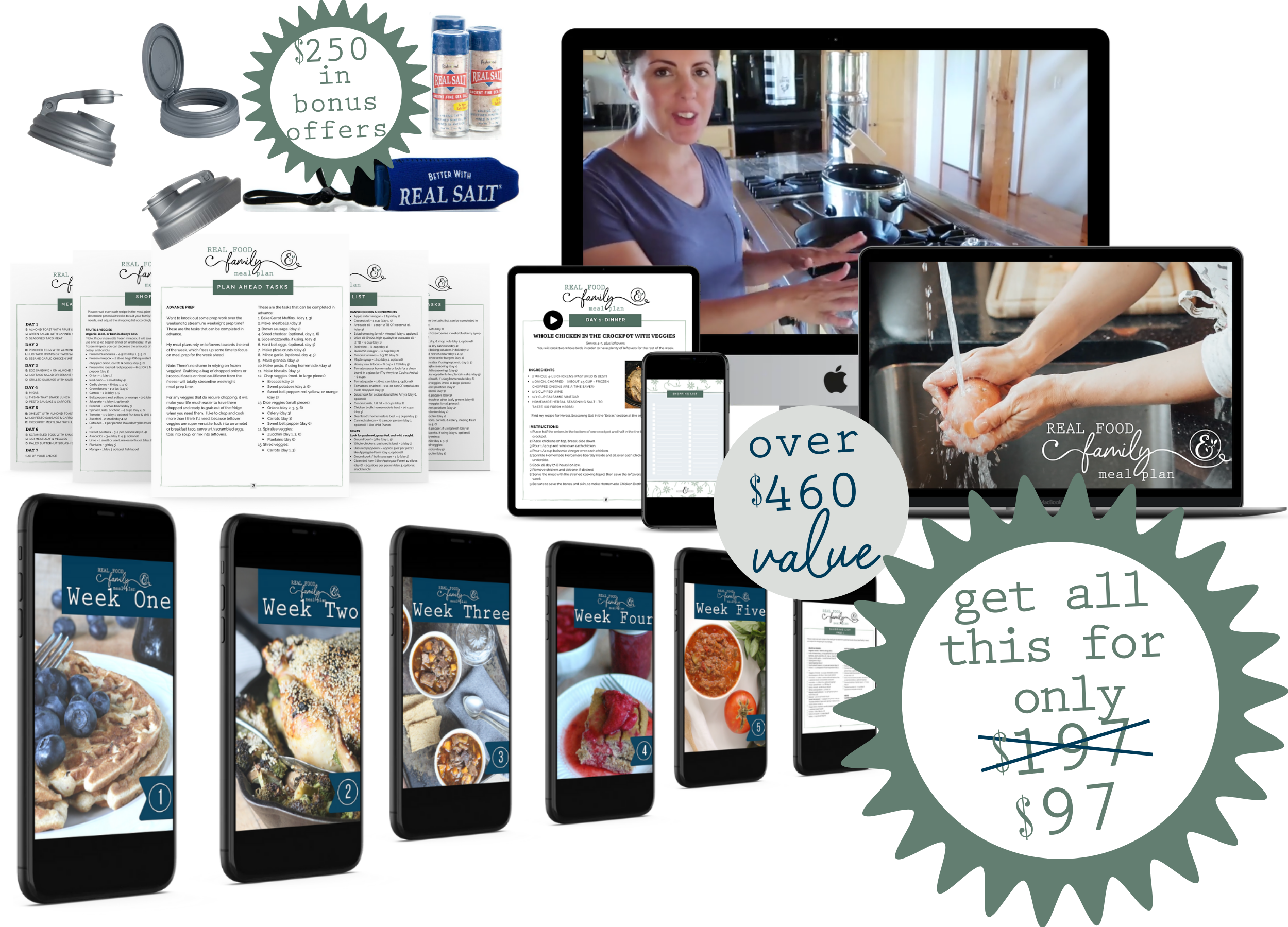 Master Pack + Super Bundle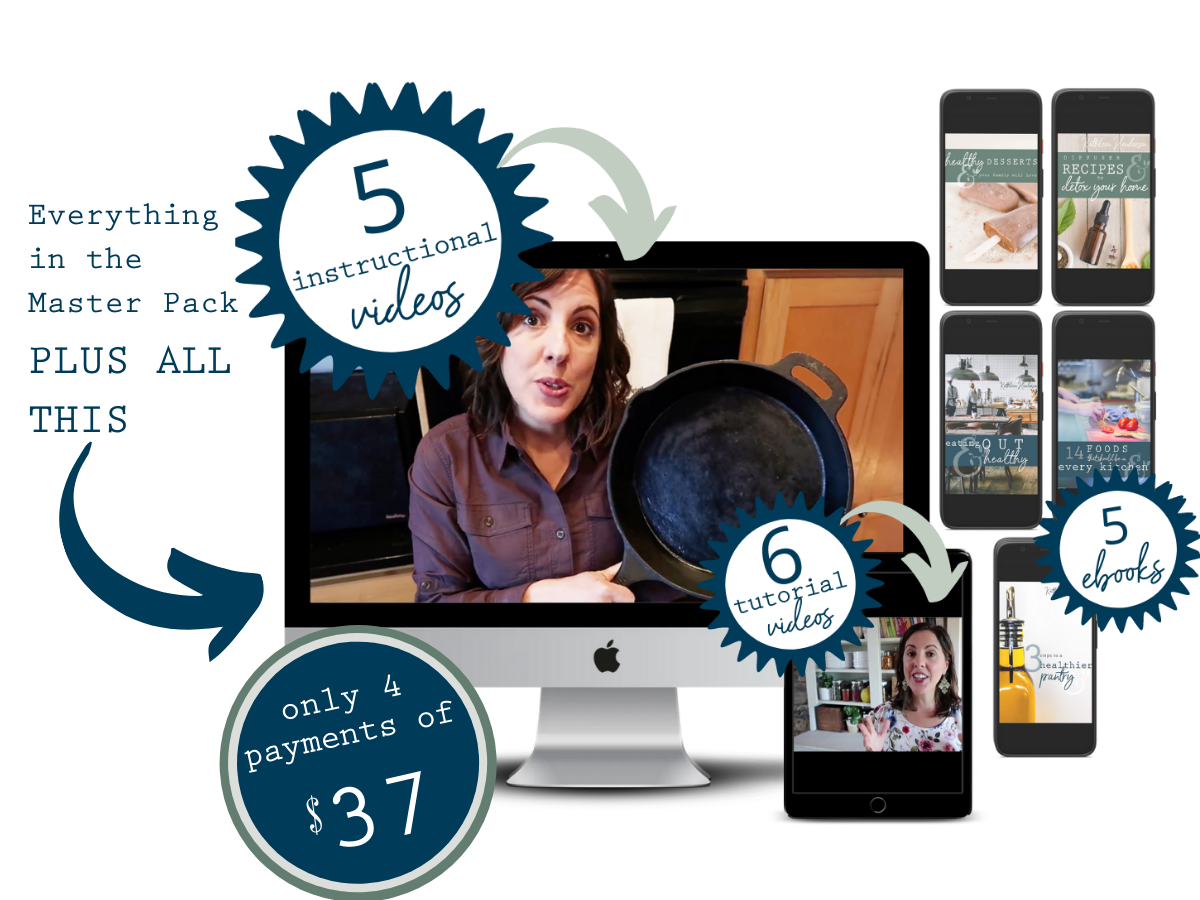 Finally! One Master Course that helps you do all this!
Feed your family delicious meals, with all the planning already taken care of, by a Natural Living Mentor, who uses this exact meal plan for her family of 5.

Serve the highest quality real food, with the stress completely minimized. 

Spend more time at the family table and less time making long shopping lists every week. 

Join an expert in her kitchen and learn how to, once and for all, eliminate the overwhelm that you feel in the kitchen.

Stop throwing away wasted food that you forgot about in the recesses of your refrigerator. 

Streamline your time with professional food prep tips.

Avoid wasted hours of pinning and preparing untested recipes that no one wants to eat. 

Forget that feeling of panic at 4 p.m. when you realize you haven't thought about tonight's dinner plans. 

Prevent kitchen burnout and stay on track with your whole-food goals.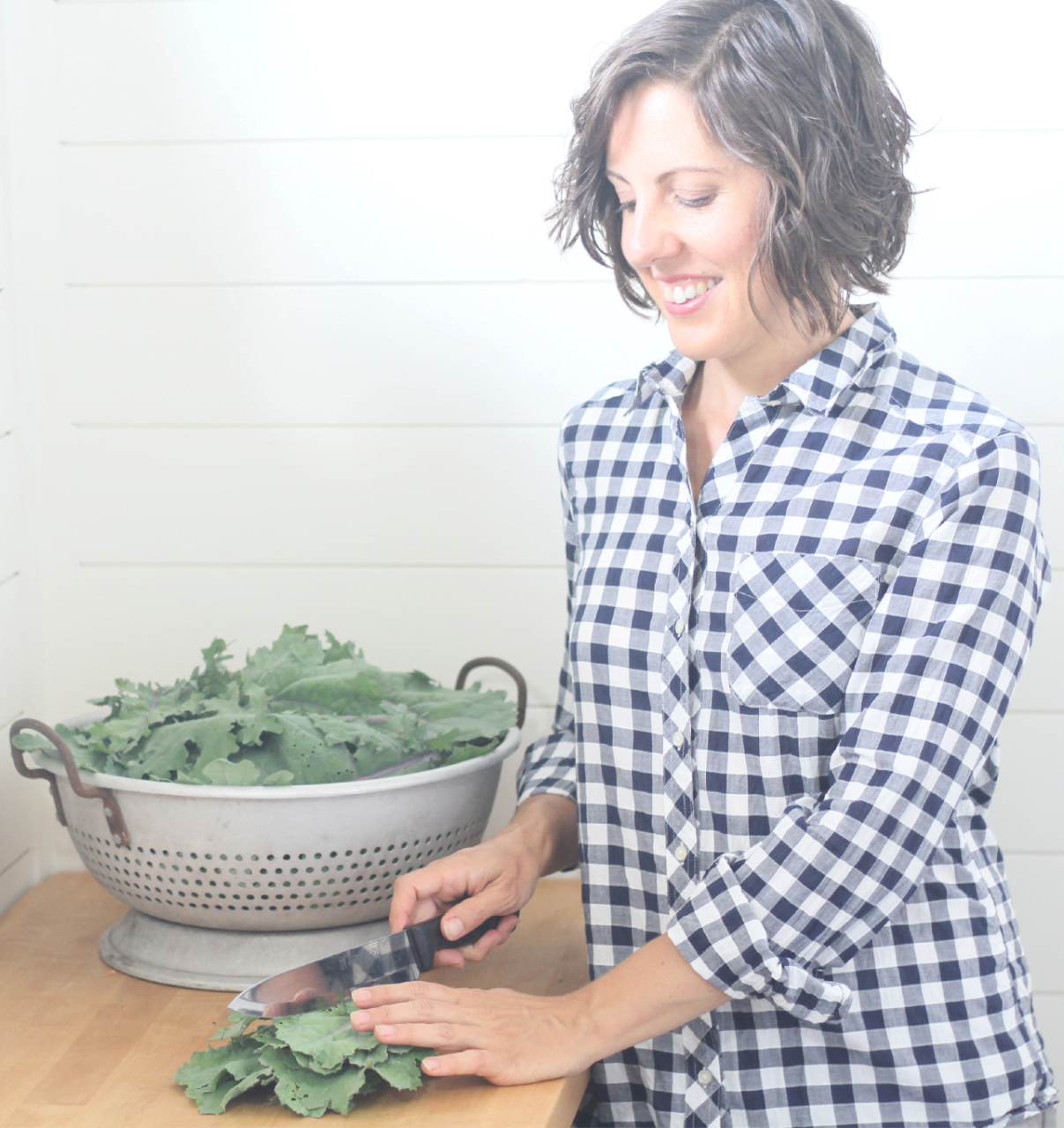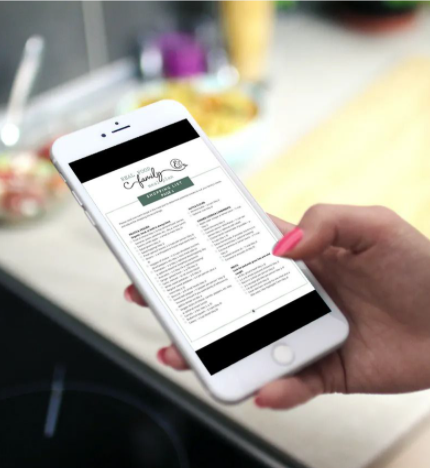 You'll never again need to consider spending $100s a week!
$100s per week in boxed subscription meal plans 

$100s per class in-person cooking classes

$100s in cookbooks that are collecting dust on the shelf
What are folks saying about the Real Food Family Meal Plan?
"These are delicious, nutrient-dense meals!"
"This meal plan is a HUGE time saver."
"I love it that now I never have to do mid-week grocery runs."
"This whole course has taught me to work smarter, not harder."
With the Real Food Family Meal Plan
you'll get all of this:
11 full-length instructional videos, making up three detailed modules. Join Kathleen Henderson, your Natural Living Mentor, in her kitchen as she walks you through, step-by-step, simple one-pot meals, homemade staples, crockpot tips, and an in-depth tutorial on cooking a whole chicken (including how to make and store not one but two batches of nourishing, homemade bone broth).
---
More than 80 simple recipes that are specially crafted with you in mind—no-fuss, delicious options that your family will ask for often.
---
32 bonus videos, making up a total of six, meaty bonus modules! You will be elbow-to-elbow with Kathleen as she empties her kitchen cabinets and pantry with you by her side, discussing all the things she wished she knew years ago. In more than 30 additional videos, Kathleen explains what tools she sees as invaluable and why, offers simple tips that make the world of difference with whole food meal prep, discusses how to stock a real food pantry, and shares nutritious store-bought alternatives.
---
Detailed shopping lists that will save you hours a week as you plan, shop at the market, and avoid needless mid-week grocery store runs.
---
A blank digital shopping list.
---
Complete meal plans for breakfast, lunch, and dinner, for five full weeks. Plus bonus recipes! All with no subscription fees. And not one more day of wondering what's for dinner tonight.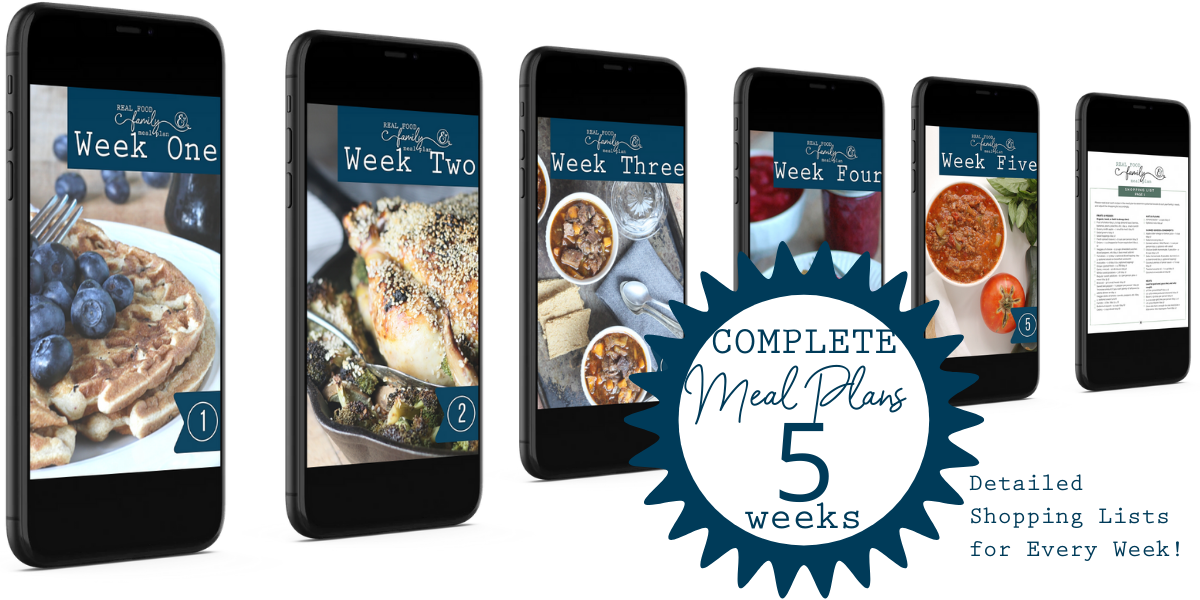 Module One: Making Whole Food Meals
Module Two: Cooking a Whole Chicken
Module Three: Making Your own Whole Food Pantry Staples
Module Four: Breaking Down Helpful Kitchen Tips and Tools
Module Five: Understanding the Basics of the Most Useful Kitchen Appliances
Module Six: Stocking Your Pantry With the Best Choices
Module Seven: Enjoying Store-Bought Choices With Confidence
Module Eight: Knowing What to Look for With Dairy Products
Module Nine: Simple Steps to Make the Real Food Family Meal Plan 100% Paleo
BONUS PRINTABLES valued over $20
If you act quickly, you'll enjoy over $250 worth of amazing bonus offers on some all-time favorite products, from amazing brands!
The long list of valuable bonus offers, which you can take advantage of instantly, includes:
FREE Beesilk products, with no purchase required (valued at $13.75)

FREE Sprouting Seeds, with the purchase of a sprouting kit

FREE Pantry Staples Set of mason jar lids, with the purchase of a first set

$7 off a sampler of organic, loose leaf teas

FREE access to Gluten-Free Bread Making (a $150 value)
And you'll enjoy discounts on your choice of amazing goodies such as my favorite coconut wraps, all-natural maple syrup, pasture-raised meats, and a full-length course on gluten-free baking. Just a few of the wonderful brands that have endorsed the Real Food Family Meal Plan: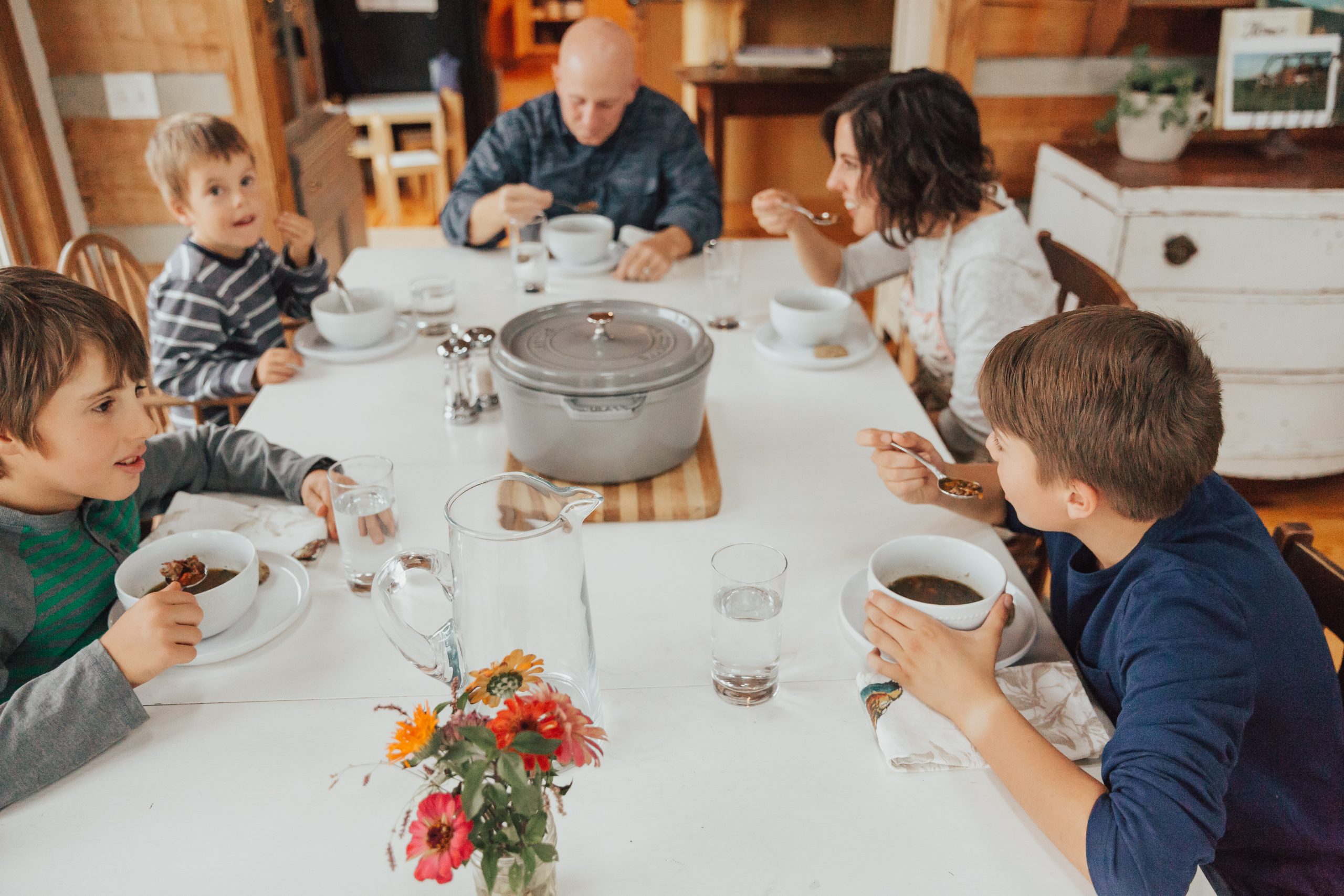 With the Real Food Family Meal Plan you'll have instant access to start learning all of this & more, today:
You'll suddenly know how to put meal planning—nutritious, healthy meals!—on autopilot.
---
You'll know how to make your own nutritious bone broth and how to use it for your family's maximum health benefits.
---
You'll know how to make simple tweaks to this complete meal plan if your family is Paleo, with a special bonus module that breaks down very simple ways to make this meal plan perfectly fit your needs.
---
You'll know how to make common pantry staples, eliminating the need to ever buy them again.
---
You'll feel equipped with the knowledge you need to know to choose store-bought brands of everything from ketchup to tortillas that are the most nutritious options for your family.
---
You'll never again be intimidated by the process of cooking a whole chicken, using that one juicy, tender chicken to make several delicious meals, and making your own mega-nutritious bone broth. In fact, you'll learn how to get two batches of nourishing broth from one chicken. This one module alone could save you the cost of the course two times over in less than a year!
---
You'll learn how to make and prepare nutritious homemade sesame kelp noodles alongside Kathleen in real time. Your family will love them as a tasty substitute for pasta.
---
You'll be pairing amazing things like homemade noodles and pesto meatballs & sneaking lots more veggies and whole foods into your family's diet—and they'll be thanking you for it!
---
You'll learn a mess-free, splatter-free, even paper-towel-free way to cook bacon. When you learn what Kathleen does with the bacon grease, this may save you the cost of this course in no time!
The Real Food Family Meal Plan is totally not for you if you don't want to:
Prepare no-fuss, delicious, real-food meals your family will love.

Spend less time in the kitchen, and more with your family.

Avoid the junk in commercially-made food.

Feel good about what your family is eating every day.

Loose a few pesky pounds and feel energized.

Get out of the grocery store in record time, every time.

Make food less complicated (even if you have food restrictions & intolerances).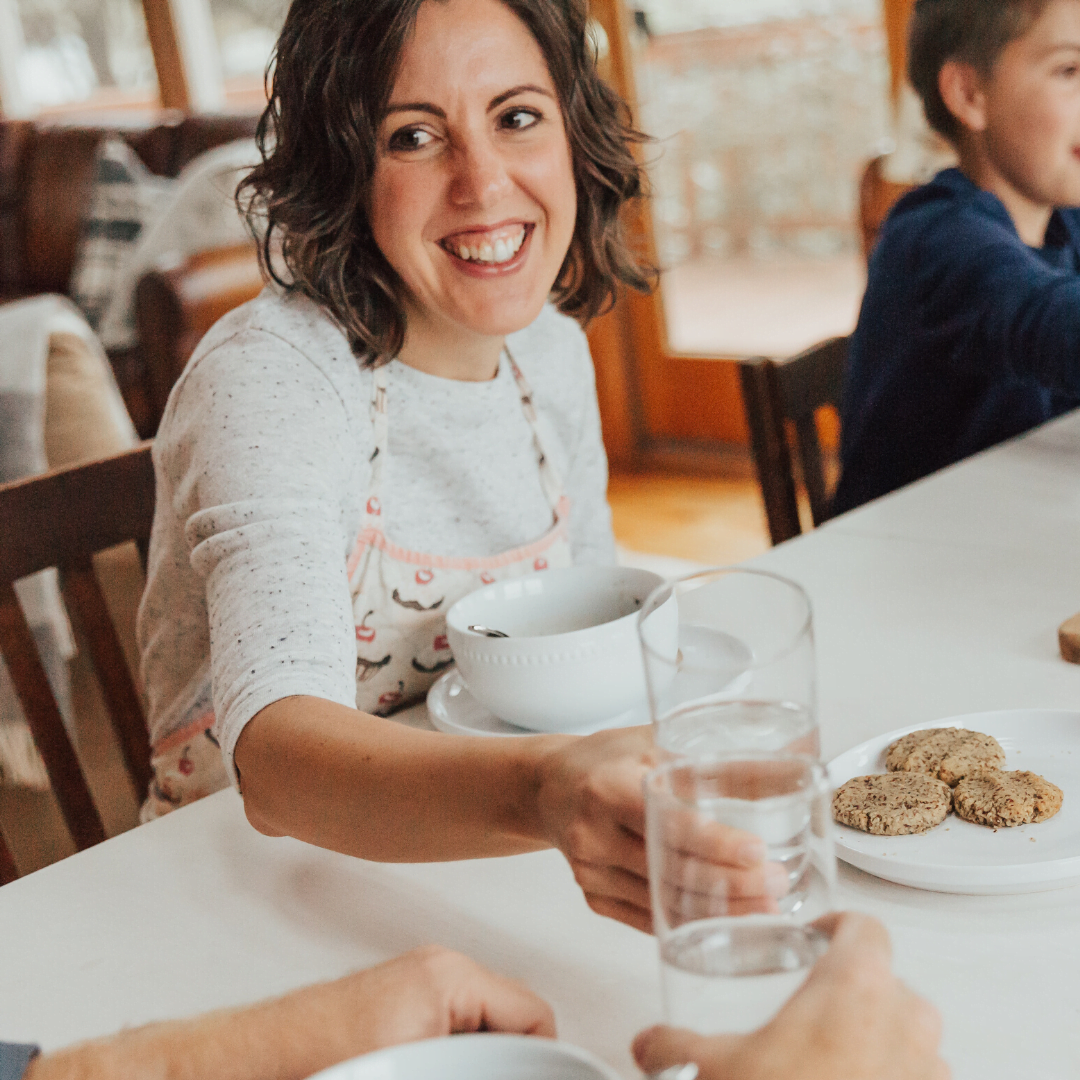 Real Food isn't "easy," but this meal plan has already done so much of the work for you!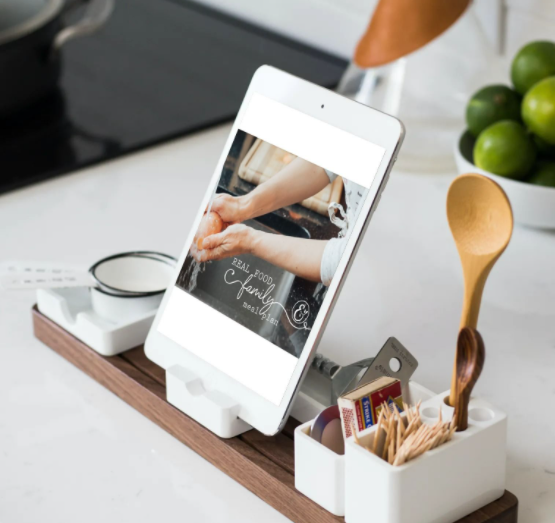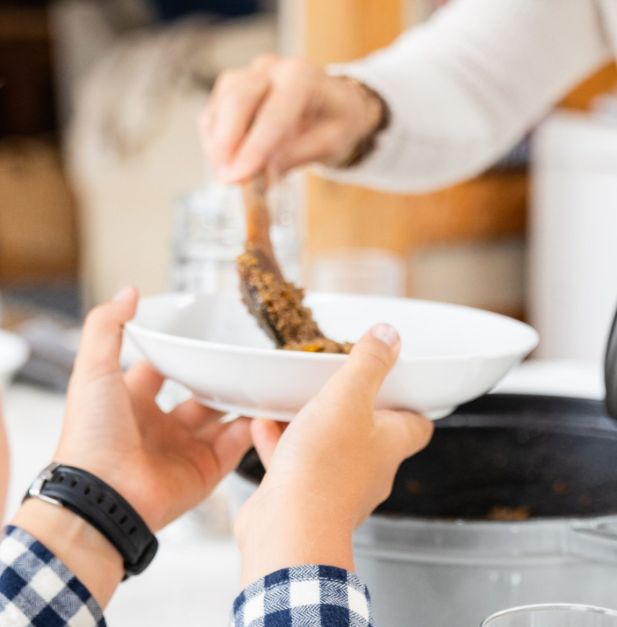 So what is all of this worth?
What would you give to learn great new family-favorite recipes right beside an expert as she cooks them with you, in her kitchen?
What would you pay for a full five weeks of meal planning & nutritious recipes & complete grocery lists & professional kitchen tips?
What is it worth to have a meal plan that is so versatile you could switch it up and create a full year's worth of planning from one master course?
How much could you save if you learned to completely minimize all waste in your kitchen and get the most out of every single meal you prepare?
What's it worth to you to have a mentor who sets you up to work smarter, every day, in your kitchen?
You can enjoy all of this without paying subscription fees. And you will have access for life. No additional, hidden costs. No special food to buy. And not one more day of wondering what's for dinner tonight!
No, no one would ever argue that preparing real food every day is "easy," but with the Real Food Family Meal Plan, so much of the work has already been done for you!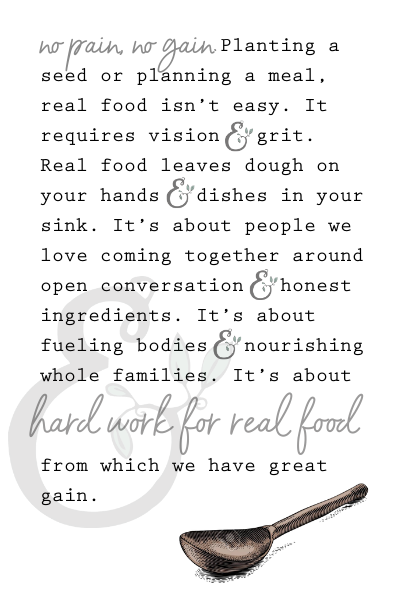 Choose the Plan that Works Best for Your Family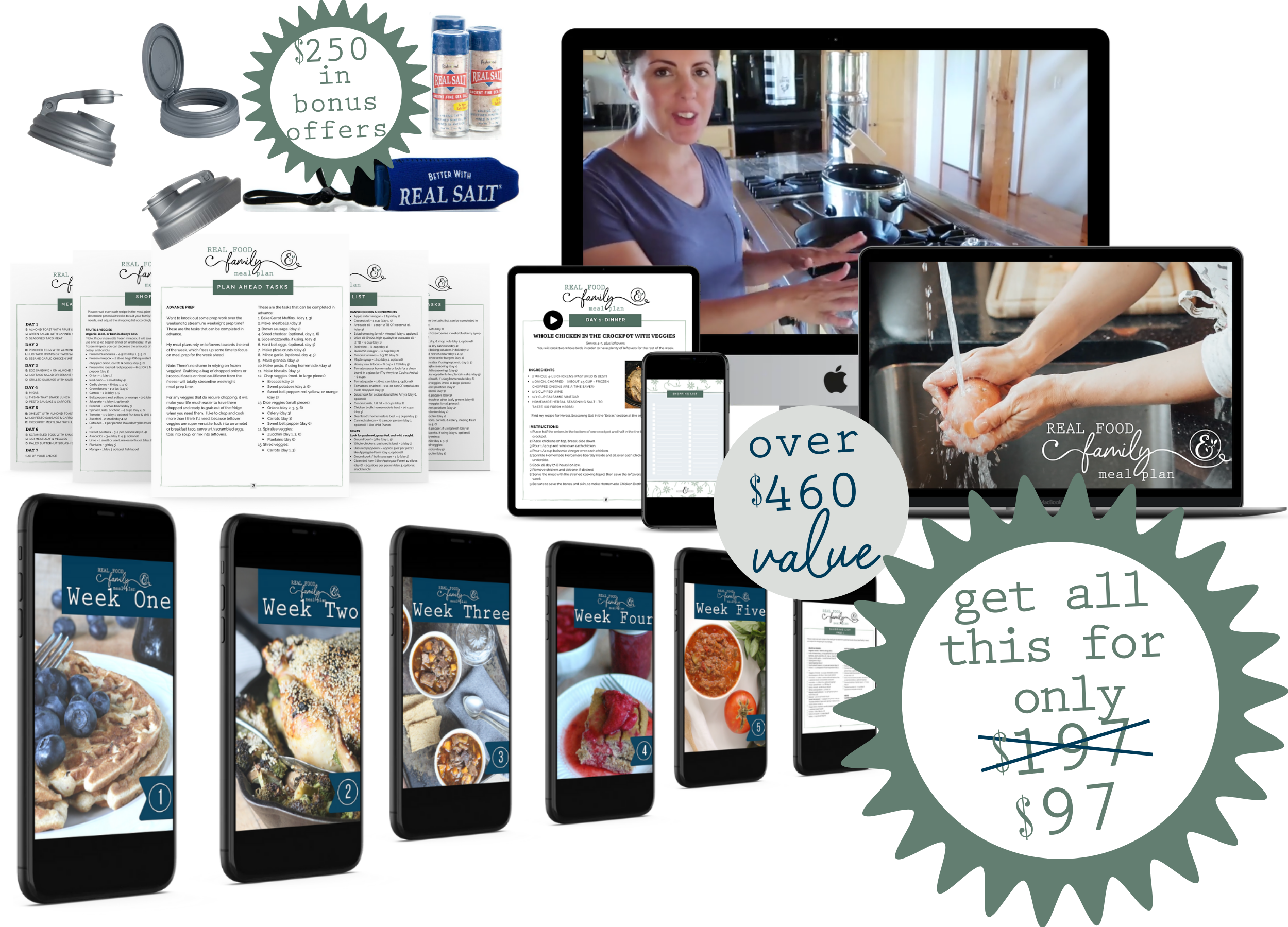 Master Pack + Super Bundle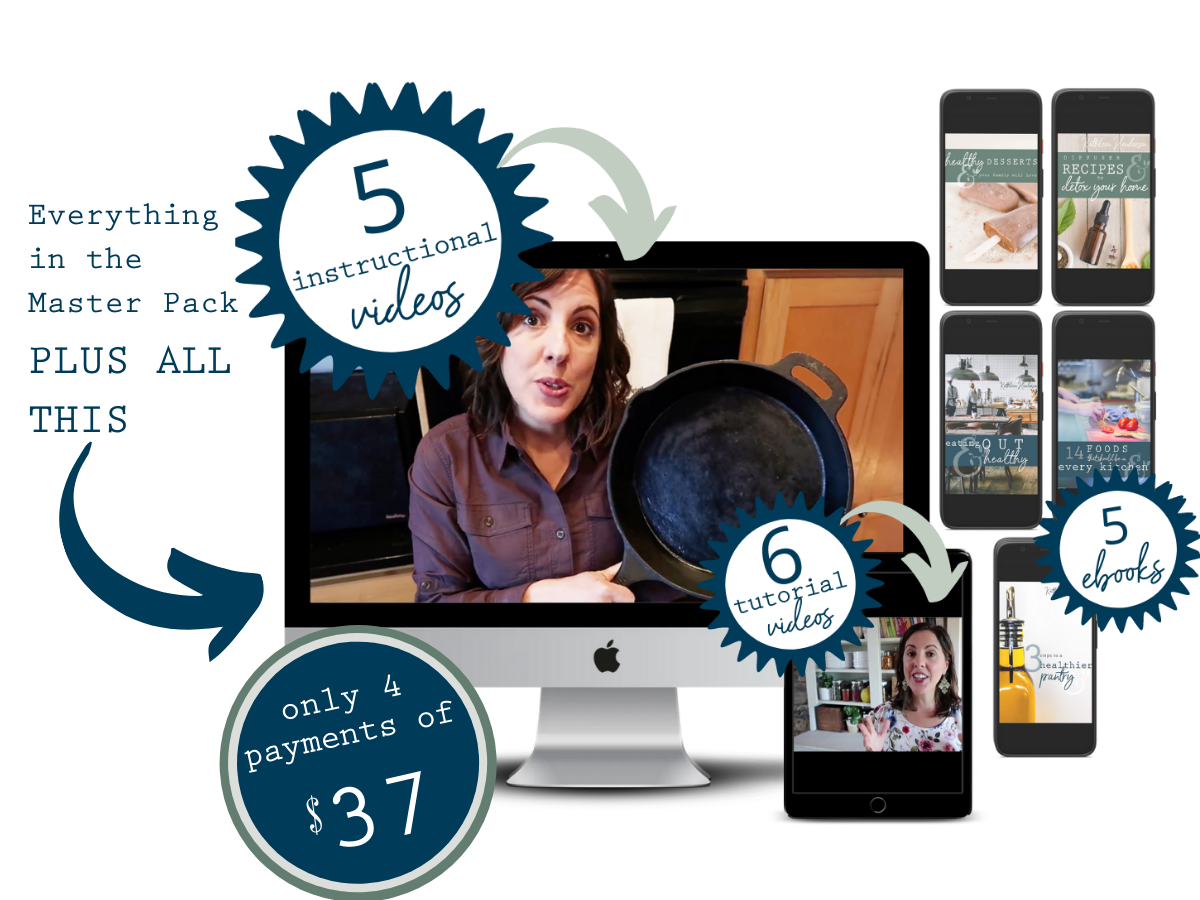 Ruth was "overwhelmed by the idea of trying to create a menu plan with whole foods" before the Real Food Family Meal Plan.
Joanna, a mom of three busy toddlers, says the Real Food Family Meal Plan is "a huge time saver! I've cut out a lot of mid-week grocery runs by having all of the food prepped and ready to go at the beginning of the week."
Angela, both a mom and a caregiver, explains that the Real Food Family Meal Plan is "a strategic and simplified system that maximizes time & money in the kitchen."
Meet your Natural Living Mentor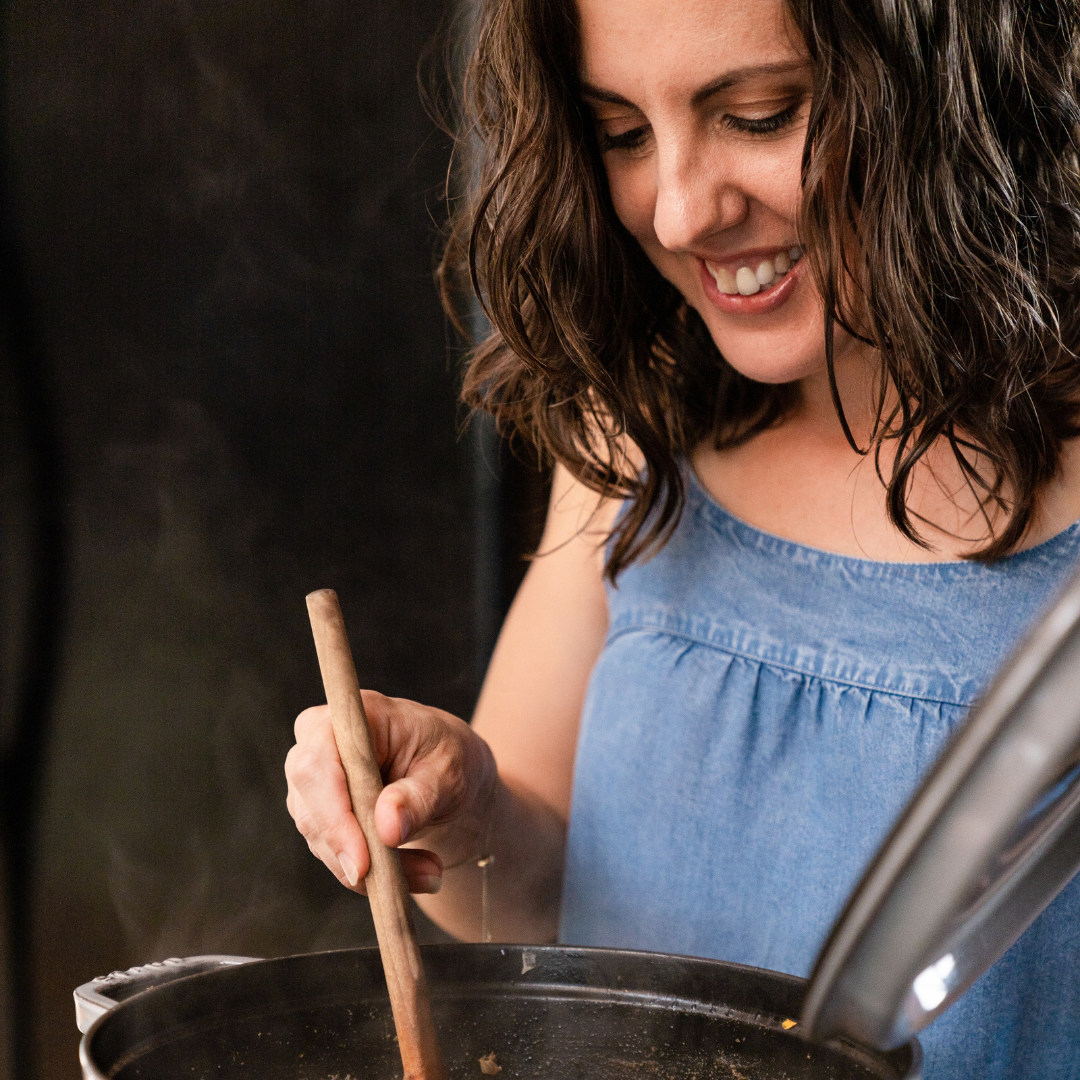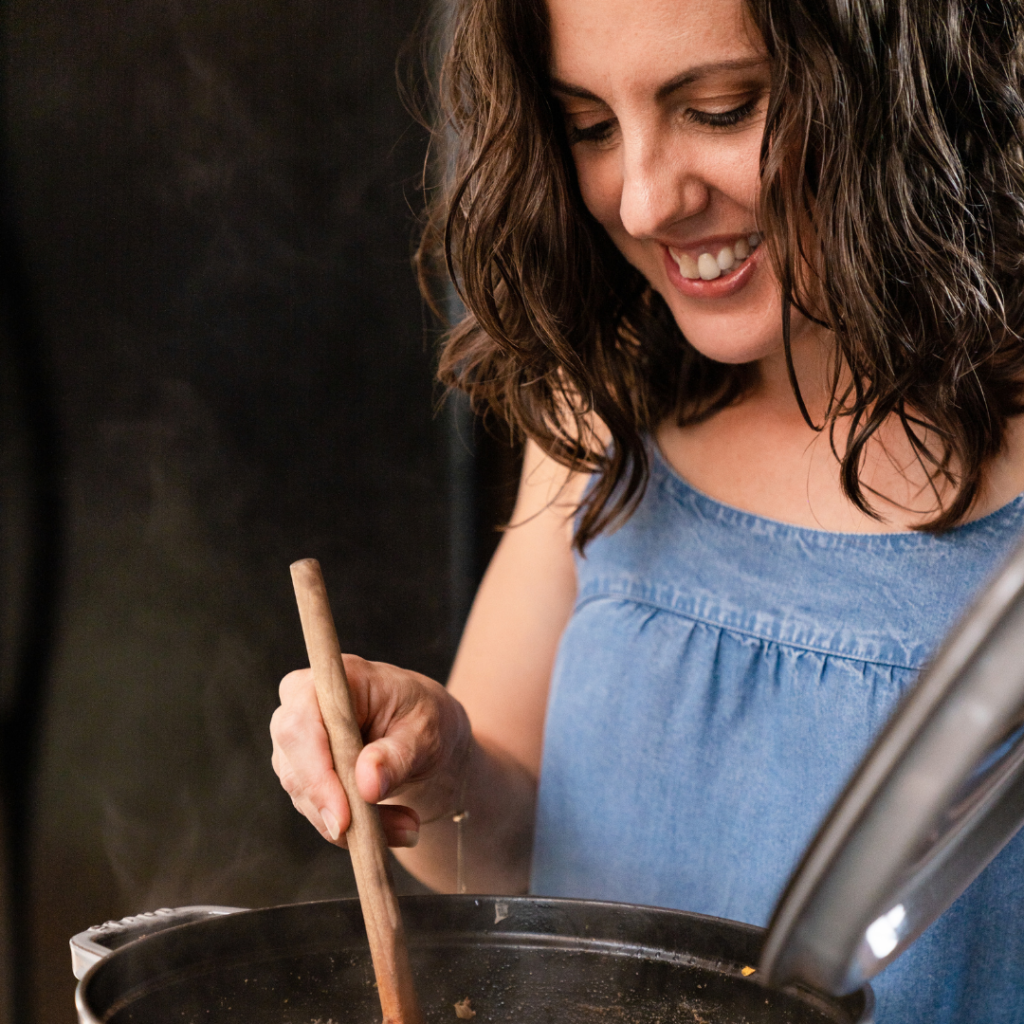 Kathleen Henderson is a wife and mom to 3 growing boys, living on a family farm in northern Virginia. She's the natural living mentor behind the Roots & Boots blog and youtube channel and the creator of the Real Food Family Meal Plan, which is earning 5-star ratings--and saving time and money--in kitchens across the country.
What's included in the Super Bundle?
The 5 ebooks & 6 accompanying videos, along with the Kitchen Tips & How To module--which even covers how to clean cast iron correctly (every time)--are only available in the Meal Plan Super Bundle. 
These books, videos, and downloads are jam-packed with all the information I was longing for at the beginning of my real food journey. These are details, tips, and lessons I had to learn from trial and error, over many long years. 
Just a small hint at what's included:
2 things I always do when cleaning my cast iron

32 healthy options at restaurants
21 menu items you should always "skip"
10 homemade desserts that everyone will love
14 foods that should always be in every kitchen

And I've bundled it all up for you in one Super Bundle, as the perfect accompaniment to the Real Food Family Meal Plan.

15 DAY FULL MONEY BACK GUARANTEE

Let us know within 15 days if you're not fully happy,
and we'll give you a refund.
No questions asked.