Scoopable DIY Sugar Scrub with Essential Oils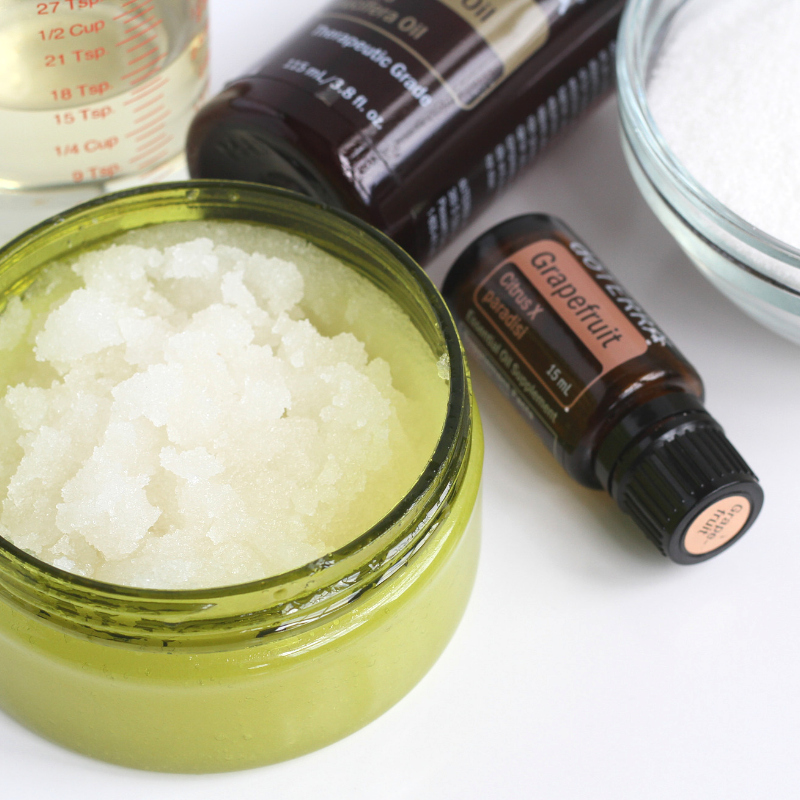 No matter what life brings your way, there's a diffuser blend for that!  My short, practical ebook is packed with 100+ recipes to diffuse for immune support, sleep & relaxation, energy & good mood, focus & concentration, holiday & seasonal aromas, and more!
Get your free copy of 100+ Amazing Diffuser Recipes today!
This post may contain affiliate links, which means I make a small commission at no extra cost to you.
See my full disclosure here.
I don't want to brag, but my feet have been looking pretty awesome since this scoopable DIY sugar scrub came along.
Which is saying a lot, because I'm pretty hard on my feet! Especially during this time of year when I'm subjecting them to all sorts of gardening and outdoor bare foot shenanigans.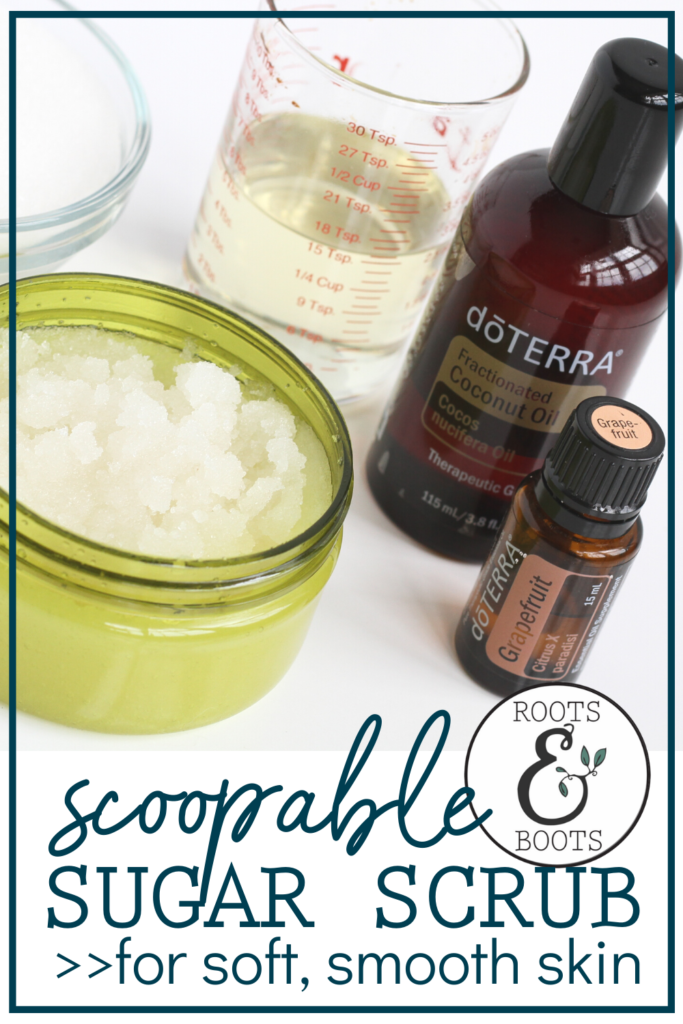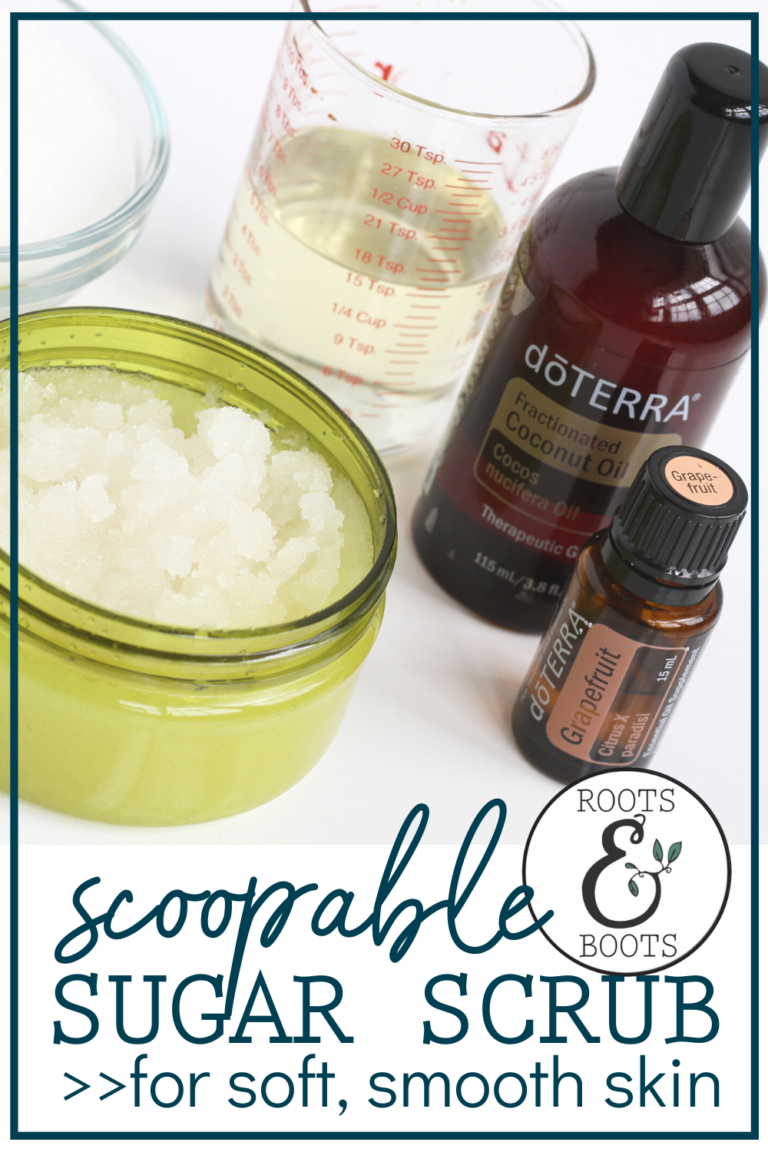 I'm so excited about this scrub that I even made a little video about it. Scroll down to see the video….
For quite a while now, I've wanted to tweak my Perfect Sugar Scrub recipe to be more scoopable. I sure do love that sugar scrub, but a more accurate descriptive word for it would be 'scrapable'. You gotta scrape that scrub outta the jar because the coconut oil solidifies and hardens the entire mixture. Boo!
You want to know what finally pushed me to develop a scoopable DIY sugar scrub? My vanity.
Spring hit northern Virginia early this year. All of a sudden it was warm enough for sandals and I was headed out for a date night with Mr. Native Texan. But alas, my feet were absolutely terrifying. No way was I ready for sandals, so I had to sweat it out in cute flats.
Which made me think about the beach. My feet are always in awesome shape after a trip to the beach! All that wet sand exfoliating my skin…what if there were a way to make "beach feet" last all year long?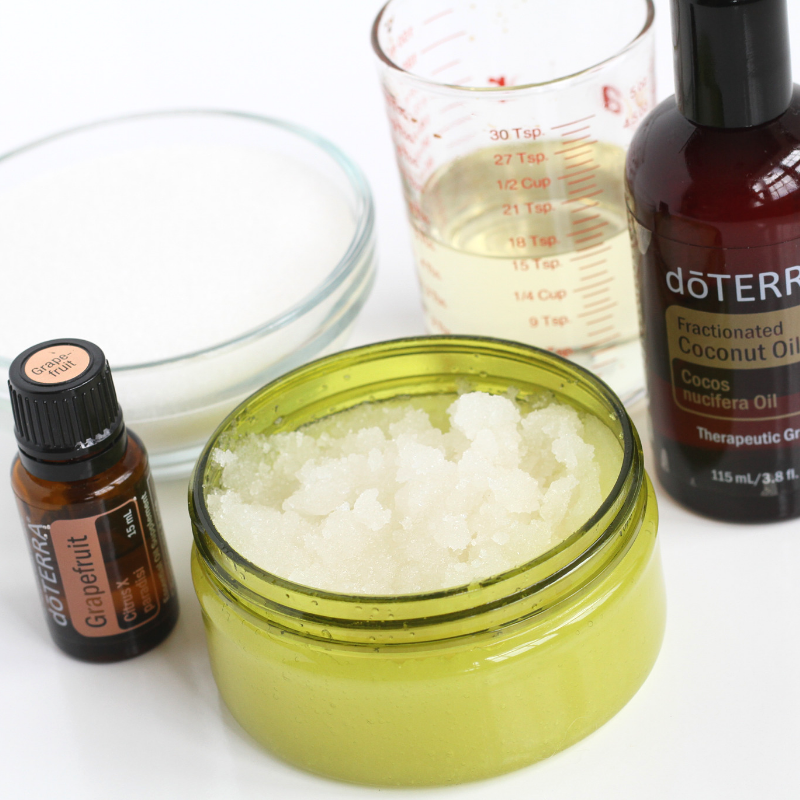 Good news: This new recipe for scoopable DIY sugar scrub has my feet feeling so soft and smooth, I can hardly believe it. Beach feet, baby. Without the beach. Plus it's delightfully scoopable!
There's just something about the combination of sugar (exfoliation) and coconut oils (softening) that works miracles on my poor, hard working feet. Also great for hands, elbows, knees, and toes, knees, and toes. <wink>
I chose grapefruit for the scent, but feel free to use whatever floats your boat!
Click here for my favorite way to purchase essential oils.
Sugar scrub makes a great gift, too, even for guys. My husband loves sugar scrub for removing grease, paint, and sap from his hands after outdoor projects.
In general, glass is best for storing essential oils and oily concoctions, but I often choose a sturdy plastic for sugar scrubs to avoid the possibility of broken glass in our tiled shower or porcelain sinks. Tip: shallow containers are best!
Print
Scoopable DIY Sugar Scrub
---
Description
Keep your feet, hands, & elbows in tip top shape with this simple scoopable DIY sugar scrub! Recipe fills one 8-oz. container. Use a wide, shallow tub for best scoop-ability.
---
---
Instructions
Mix sugar and coconut oils in a bowl. (Don't use plastic! Glass is best, or ceramic or stainless steel.)
Add essential oil and mix again.
Transfer to container.
---
Notes
*I've also used a combination of FCO plus almond oil for the liquid oil in this recipe, and am guessing you could substitute other oils like jojoba, etc.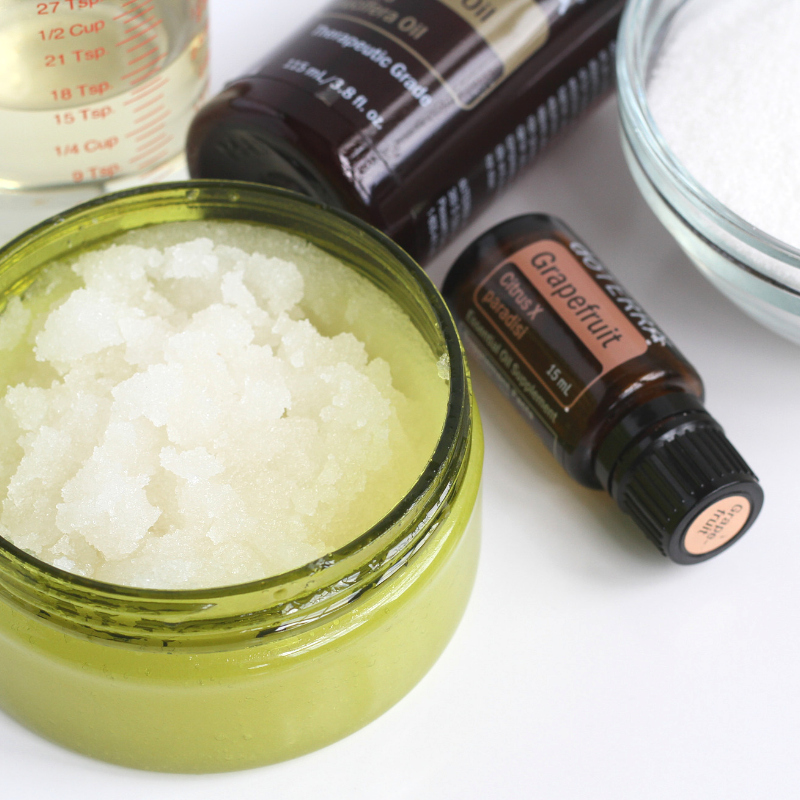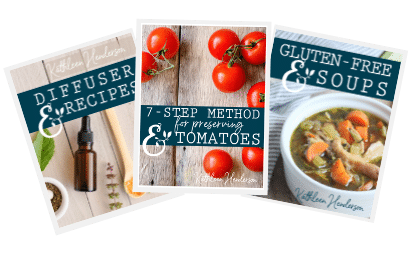 Sign up NOW for my best tips delivered weekly to your inbox!
You'll also get instant access to my library of free ebooks and resources.