Join the Seasonal Club.  Ditch the processed life! Learn to grow, source, preserve, and prepare real foods ALL YEAR LONG!  LEARN MORE >>
Join the Seasonal Club.
Ditch the processed life! Learn to grow, source, preserve, and prepare real foods ALL YEAR LONG!  LEARN MORE >>
7 Ways to Use Dehydrated Tomatoes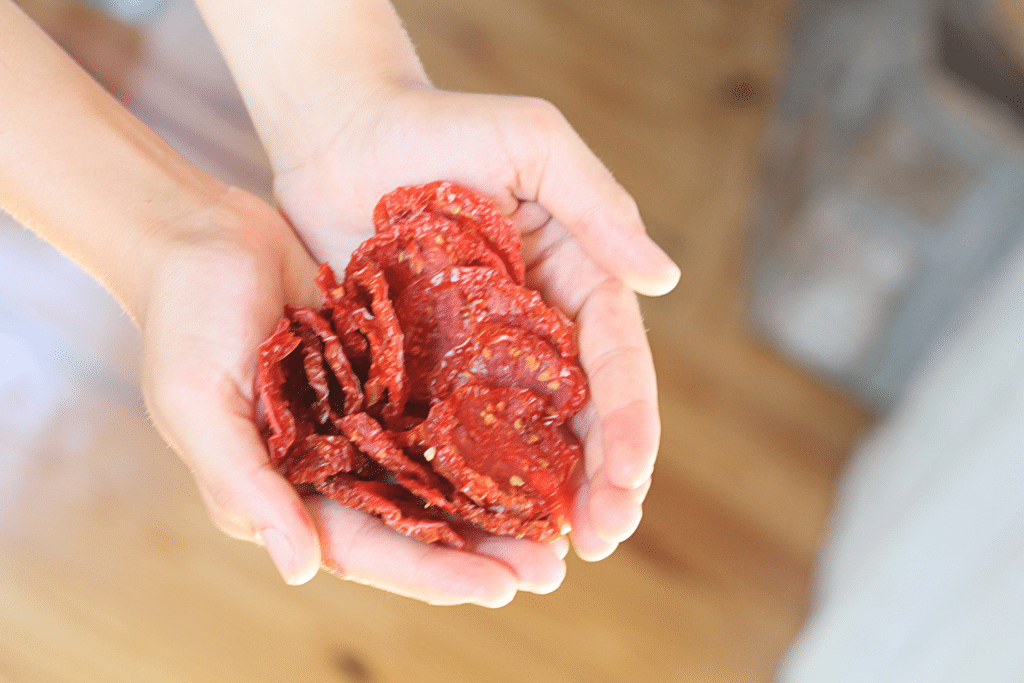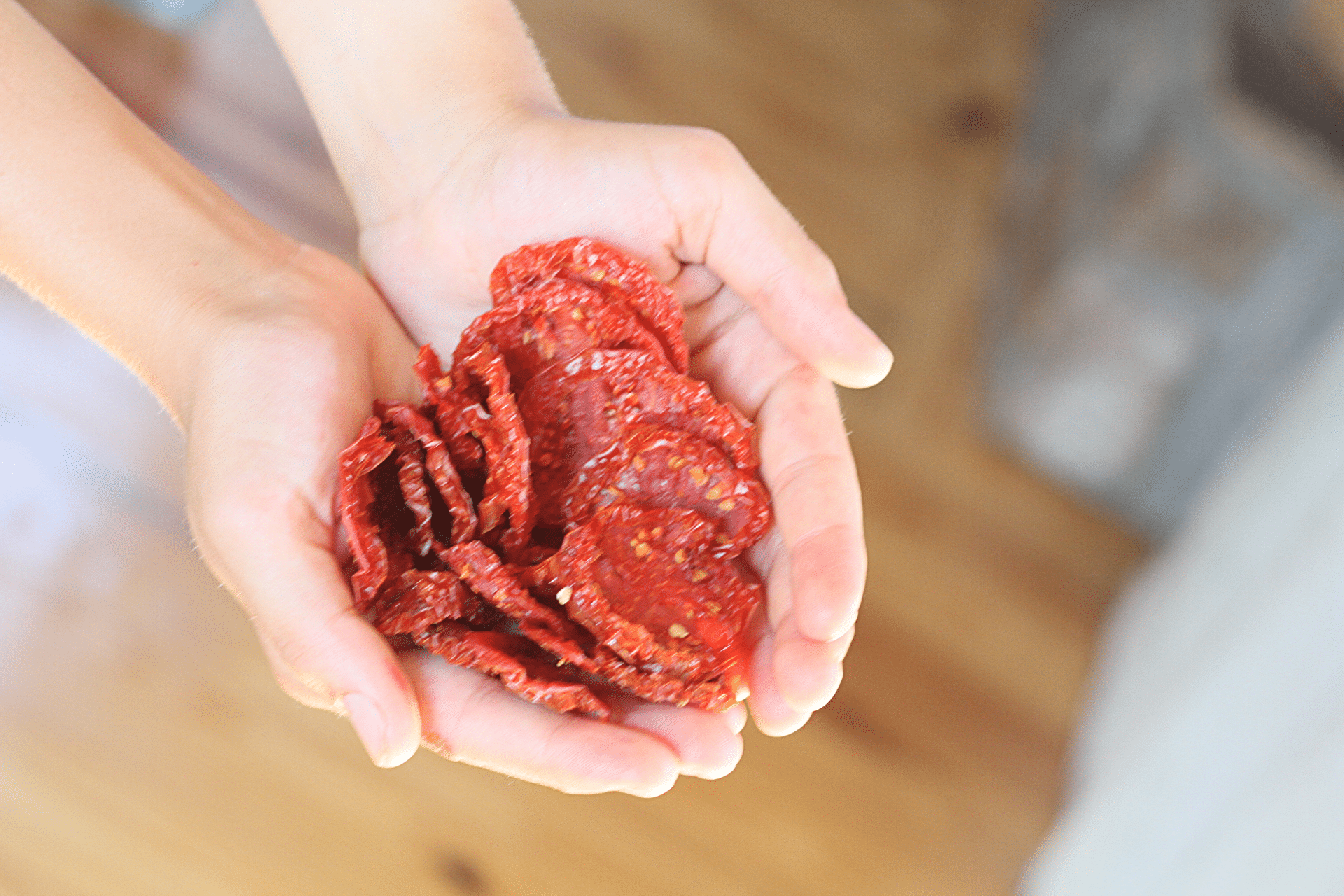 This post may contain affiliate links, which means I make a small commission at no extra cost to you.
See my full disclosure here.
Dehydrated tomatoes are a lifesaver for anyone with a serious tomato explosion. Whether the tomatoes come from your own garden, the farmer's market, or a gardening friend, dehydrated tomatoes can take you from overwhelmed to overjoyed.
I grew over 60 tomato plants in my garden this year, and was nervous that the tomato onslaught might overwhelm me. After all, I'm only one person. One person can deal with only so many tomatoes at a time.
More about tomatoes:
Thankfully, I had a few tomato tricks up my sleeve. As a result, I successfully preserved oodles and oodles of homegrown tomato goodness. I'm so thankful this tomato bounty will last my family until the next tomato season!
My top 4 ways to preserve lots of tomatoes
Make tomato powder.
Dehydrate sliced tomatoes.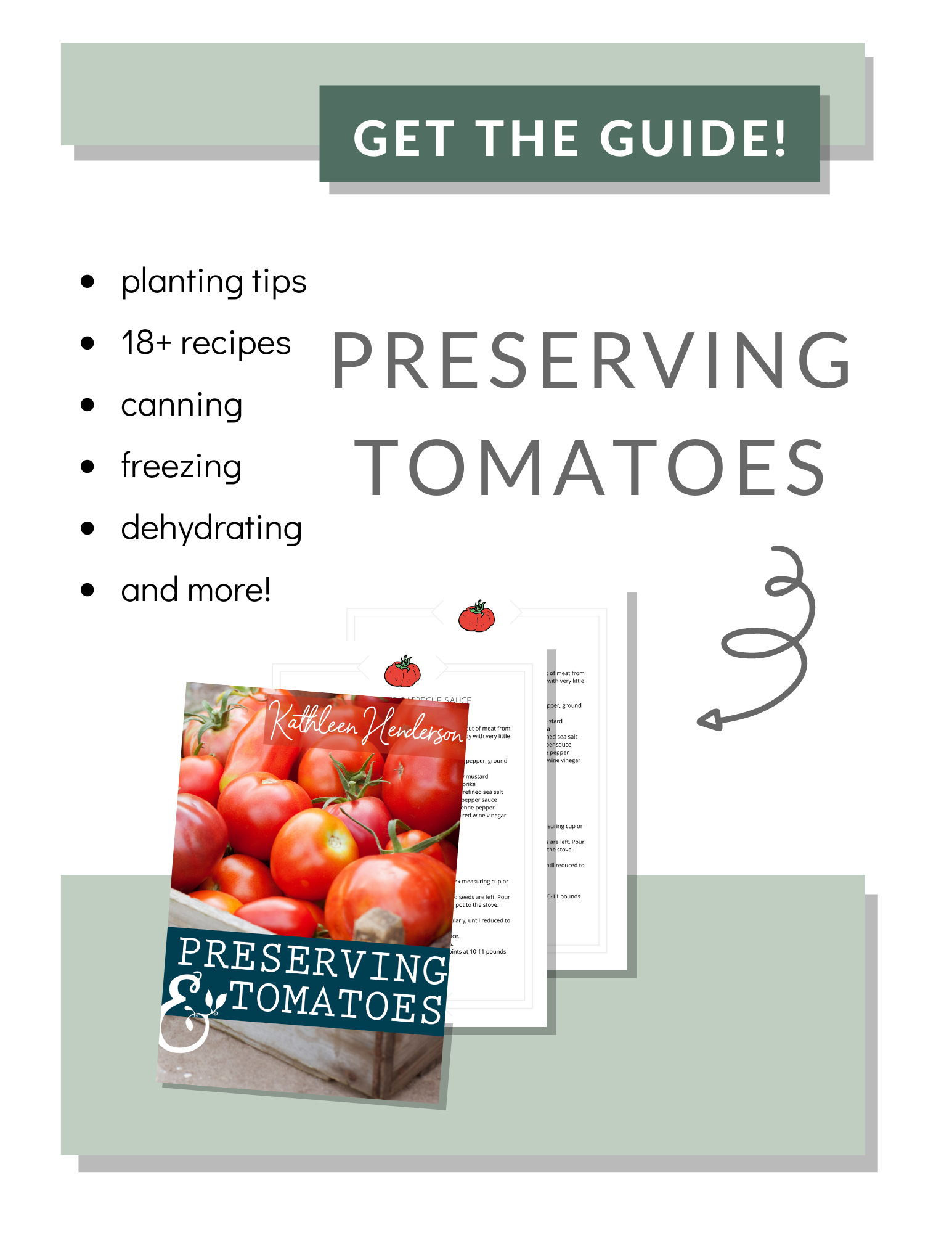 I've already gushed about how much I love freezing whole tomatoes and making tomato powder. And guess what: tomato powder starts with dehydrated tomatoes!
More good news: you can also use dehydrated tomatoes to jazz up pizza, veggies, baked goods, and more.
How to make dehydrated tomatoes
It's super simple to make dehydrated tomatoes. Basically, you slice the tomatoes, spread them out on dehydrator trays, and dry until brittle.
Want step-by-step instructions with pictures? You can find those here: How to Make & Use Tomato Powder.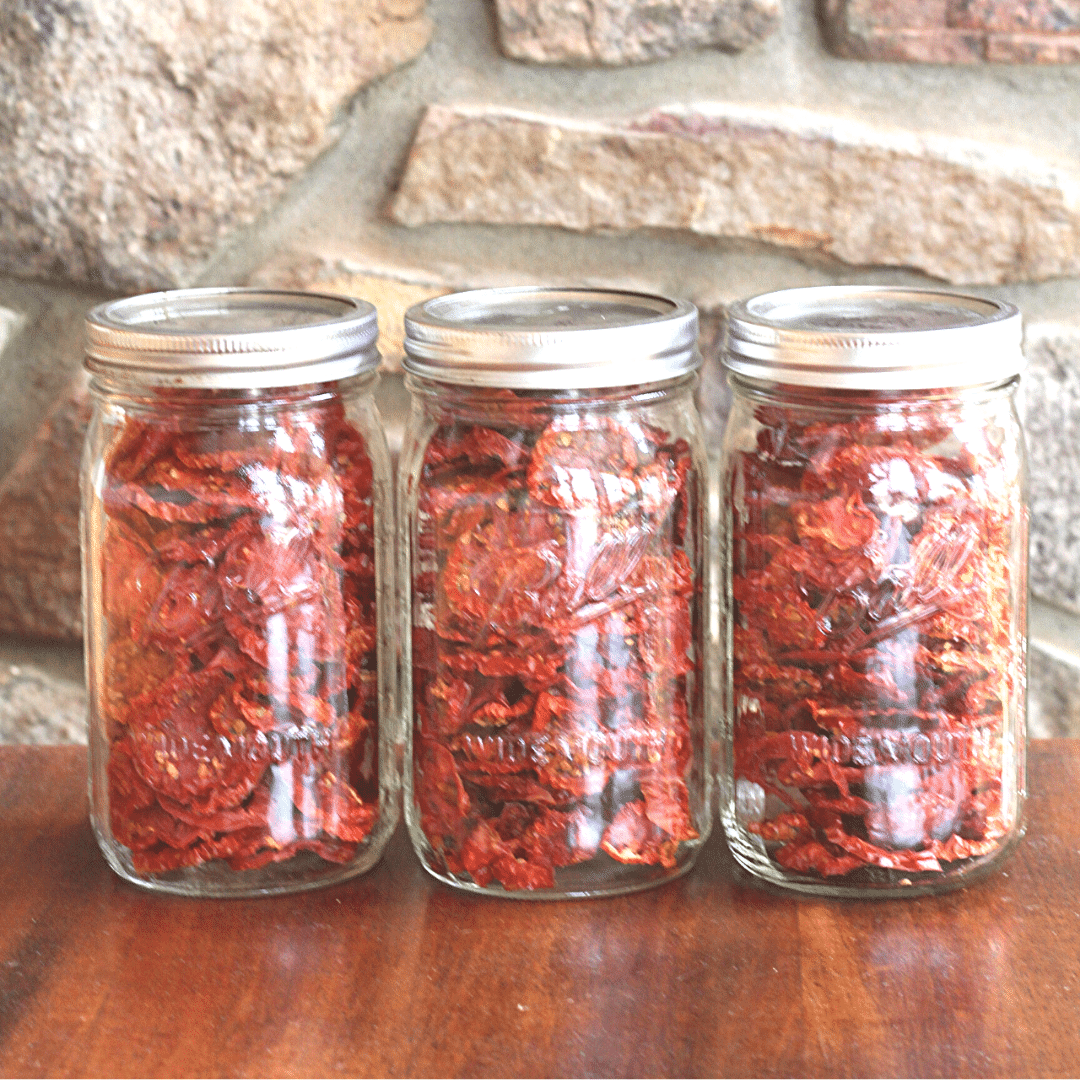 A word about dehydrators
Every time the topic of dehydrating comes up, I get questions about which dehydrator I recommend. This is the dehydrator I chose, after careful research and cost analysis.
A good dehydrator does require an upfront investment, but it more than pays for itself over time. My dehydrator saves me so much time, not to mention my sanity. I use this baby like crazy all year long, and especially during the growing season.
7 ways to use dehydrated tomatoes
Use as a pizza topping. See below.
Add to sauteed veggies for extra flavor.
Break into small pieces and add to savory breads, biscuits, or baked goods.
Add small pieces to fresh green salads.
Soak in high quality olive oil and serve as a side dish.
Add to homemade pesto.
Make tomato powder!

How to use dehydrated tomatoes as a pizza topping
Aside from making tomato powder, my favorite way to use dehydrated tomatoes is to add them to homemade gluten-free pizza. Here's my method:
Place dehydrated tomatoes in the pot of simmering pizza sauce until slightly softened.
Use a fork to fish out each tomato slice and layer on top of the pizza crust, along with a bit of thickened sauce.
That's it! So simple and so delicious.
Do you grow tomatoes? Have you ever made dehydrated tomatoes?
12 NOURISHING GLUTEN-FREE SOUP RECIPES
Simplify your dinner prep with these tasty, nourishing soups!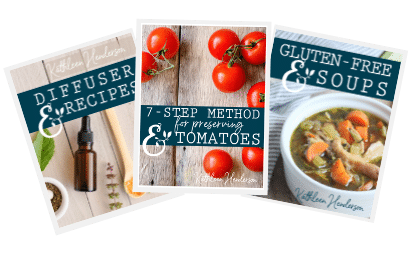 Sign up NOW for my best tips delivered weekly to your inbox!
You'll also get instant access to my library of free ebooks and resources.