Simplify your dinner prep with tasty, nourishing soups!  My short, practical ebook is filled with my family's favorite one-pot, gluten-free, real-food soup recipes.
Get your copy of Nourishing Soups today!
This post may contain affiliate links, which means I make a small commission at no extra cost to you.
See my full disclosure here.
Oh my word, these are the best paleo tortillas! I've been on the hunt for a great paleo tortilla recipe and this, my friends, is it.
The Grain-Free Taco Dilemma
We eat this Seasoned Taco Meat frequently. It's easy, tasty, and I can hide a bajillion veggies in there. Shhh, don't tell my boys!
Before these awesome paleo plantain tortillas came along, we ate our taco meat in a bowl. Of course we added toppings, and sometimes Mr. Native Texan and I ate ours over lettuce to make it a taco salad.
But almost always, we resorted to the dreaded tortilla chip.
Tortilla chips are one processed food I just can't seem to wean my family from! True, I could simply ban them from the house. But a girl has to choose her battles.
When you've already removed gluten, refined sugar, and most processed foods from your family's diet, you might need to make a few concessions. Especially when married to a native Texan.
Did you know salsa is its own food group in Texas? And salsa is generally eaten with….tortilla chips.
While I do make most of our food from scratch, homemade tortilla chips are just not high on my priority list right now. I feed three growing boys and a hungry husband every day, and the return on investment for such efforts is not worth it to me.
Can I get an amen?
A Tastier Alternative
For us gluten free folks, flour tortillas are obviously out. Corn tortillas or taco shells are the same as…tortilla chips.
And so, we continue to buy (organic) tortilla chips. And when they're on the table, I'm sorry to say I eat them too. Busted.
But recently, I decided on a new game plan: instead of banning favorite foods, I shall replace them with tastier alternatives.
These Paleo Plantain Tortillas are a huge score!
Before Paleo Plantain Tortillas: Each taco dinner, plus multiple leftover taco meals, included tortilla chips. Booo!
After Paleo Plantain Tortillas: Now that I've got these Paleo Plantain Tortillas up my sleeve, we can skip the chips.
Instead of banning the chips, I've replaced them with a tasty alternative that my whole family loves! Instead of filling up on corn + yucky oils with every taco meal, my family is now filling up on nutrient dense real food.
This is more than a tortilla recipe, my friends. It's a major real food win!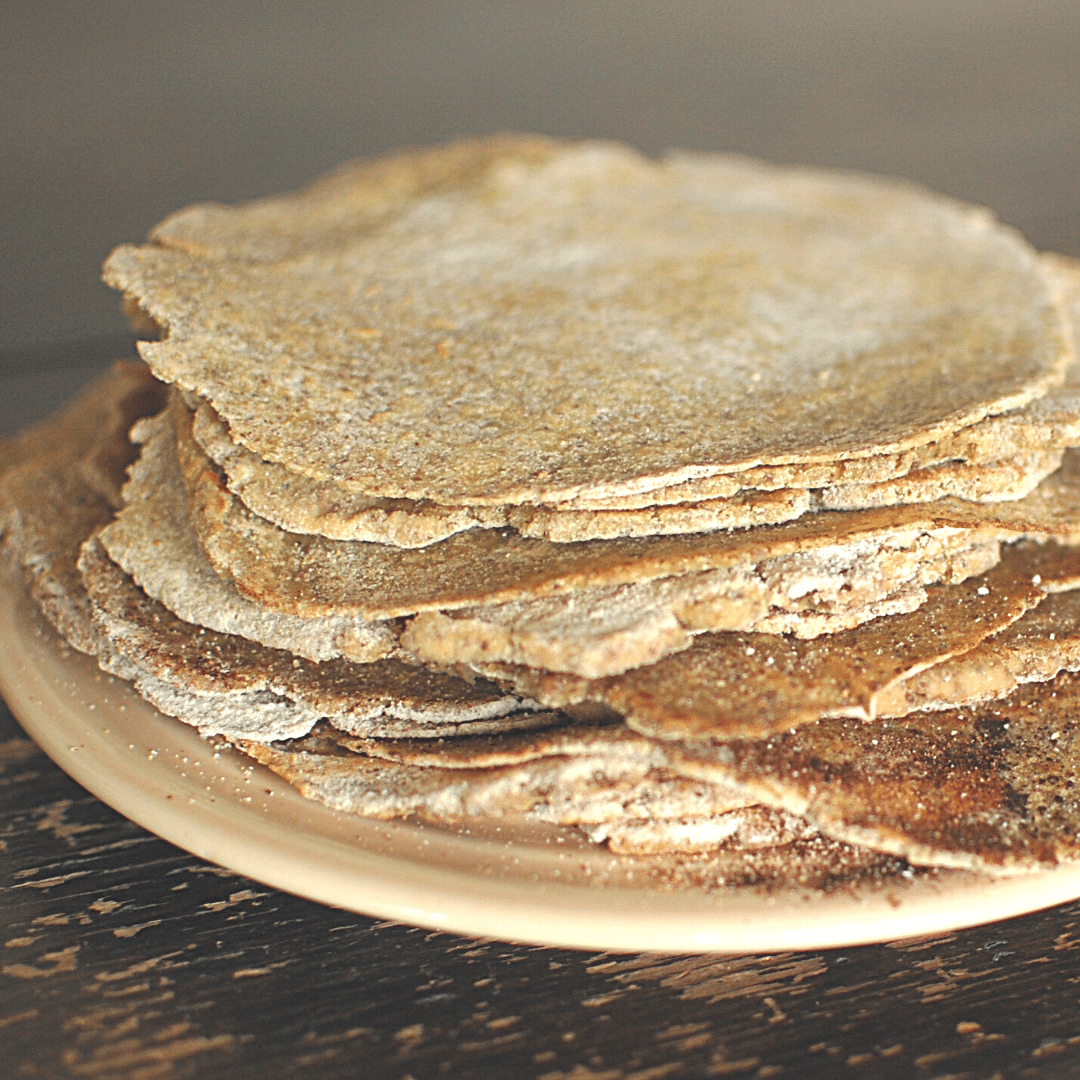 Here's what I love about Paleo Plantain Tortillas:
Only 6 ingredients!
Grain-free.
Easy to whip up in the food processor.
Sturdy – these babies don't crumble, break, or get soggy.
Long shelf life – they keep well in the fridge. Yay!
Plantains are cheap. Like really cheap.
Plantains are also available year round.
Chia seeds are a super food, and a great source of protein.
Versatile – use them just like a tortilla! Sandwich wrap, breakfast tacos, BBQ chicken, you name it.
Print
Paleo Plantain Tortillas
Author:

Prep Time:

15 mins

Cook Time:

3 mins

Total Time:

18 mins

Yield:

about

8

tortillas

1

x
---
---
Instructions
Make the dough
In a food processor, process the plantains until smooth.
Add remaining ingredients and mix well.
Allow the dough to rest at room temperature for about 15 minutes. (This is necessary for the chia seeds and coconut flour to absorb the liquids.)
Roll out the tortillas
Heat a large cast iron skillet over medium heat. Alternatively, use a large pancake griddle.
Dust the rolling surface with a bit of coconut flour. I like to spread parchment paper on the counter, sprinkle coconut flour over it, and roll out the dough on that.
Remove a piece of dough about the size of a golf ball, and roll in your hands.
Place the dough ball on the parchment paper and cover with another piece of parchment paper.
Use a rolling pin to roll out the dough into a flat, roundish shape.
Cook the tortillas
When the skillet is hot, you may want to add a tiny bit of coconut oil. If using a nonstick pancake griddle, no oil is necessary.
Gently peel the tortilla from the bottom piece of parchment. As you peel it back, allow the tortilla to lay flat in one hand. The top piece of parchment will still be attached. Use a clean silicone spatula if necessary.
With the tortilla resting in your hand or on the spatula, gently peel away the other piece of parchment.
Gently flip the tortilla into the skillet.
Cook for about one minute, until golden.
Flip, and cook the other side for another minute.
Keep tortillas in a covered dish until you've cooked the entire batch. This will keep them moist.
Storing & Reheating
Store tortillas in the fridge, in an airtight container.
Reheat briefly, one at a time, in a cast iron skillet.
---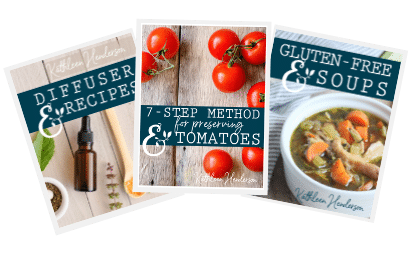 Sign up NOW for my best tips delivered weekly to your inbox!
You'll also get instant access to my library of free ebooks and resources.