How to Make Multiple Batches of Broth From the Same Bones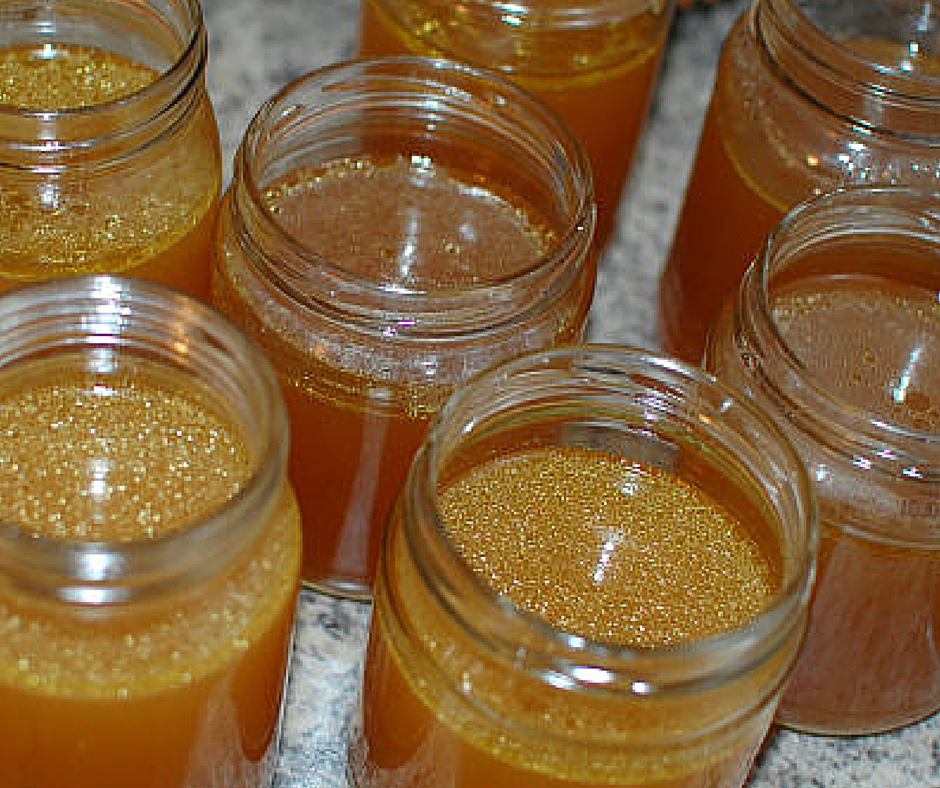 Simplify your dinner prep with tasty, nourishing soups!  My short, practical ebook is filled with my family's favorite one-pot, gluten-free, real-food soup recipes.
Get your copy of Nourishing Soups today!
This post may contain affiliate links, which means I make a small commission at no extra cost to you.
See my full disclosure here.
Homemade bone broth is a superfood.  Making your own broth is one of the easiest, least expensive and most nutritious ways to boost your Real Food intake.
Have you tried it?  The process might seem a bit intimidating at first, but once you get the hang of it it's really not a big deal.
Read more about the start of my broth journey here: Homemade Chicken Broth, What That "Free Range" Label Really Means, and My Complicated Relationship with Sally Fallon.
I can't even remember the last time I bought broth of any kind–I've always got homemade broth in the freezer or a batch of broth cooking in the crock pot (or both!).
Once I got into the groove of producing a steady supply of homemade broth, I began to wonder if I could re-use the same bones to make multiple batches of broth.  I was hooked on the benefits of homemade broth, using it for so many things that we were running out of the stuff.
So I poked around on the internet a bit and discovered that others were in fact doing that very thing!
Now I routinely make three batches of broth from each set of bones–chicken or beef.  I use the first and second batches for soup and the last batch to cook rice.
In the picture below, you can see the difference from the first batch (on the left) to the second (in the middle) and third (on the right).  The third batch has less fat on top, and is lighter in color.  But it's still a great way to add extra nutrients to something you'd generally cook in water, like rice, beans, etc.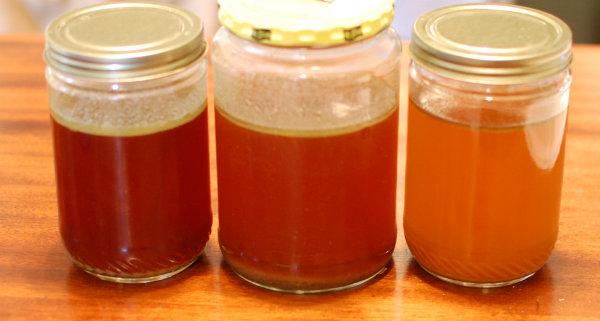 Here's my basic process, updated a bit from my original Homemade Chicken Broth.
Homemade Bone Broth (x3)
I usually start by cooking one or two chickens in the crock pot with this simple recipe.
Ingredients
Chicken carcass (bones, skins, fat, etc. of at least one whole chicken) OR Beef bones (with fat, leftover meat, etc.)  NOTE: For maximum benefit (and gelatin content), use bones from organic, pasture-raised animals.  I have never tried making broth from grocery store bones.  Also, chicken feet are a great source of gelatin and other nutrients!  If possible, toss about 4 feet into your broth pot.
Apple Cider Vinegar
Cold water
Bag of frozen carrots, celery & onions OR fresh equivalent
Fresh parsley–I keep mine in the freezer
Black peppercorns
Unrefined sea salt
Tools
Instructions
(I start by cooking a whole chicken in the crockpot or steak or roast, etc.)
Place leftover bones, skin, fat and any little pieces of meat still on the bones in a large crockpot.  (Or large pot on the stove top.) Add chicken feet if possible.
Add about 2 TB ACV.
Cover with cold water.
Add vegetables.  (Celery, onion & carrots work well.  You can use fresh, if you've got it on hand.  Frozen bags of mirepoix are great in a pinch.)

Cook 12-48 hours on low.  (If cooking on the stove top, the longer it cooks, the more it will reduce into more of a stock-like consistency).
I like to turn off the crock pot and remove the lid 30 minutes to an hour prior to when I'll actually be straining the broth.
Skim the gunk off the top, then allow to cool.
While the broth is still hot, I add a handful of fresh parsley (from the freezer) and about 5 black peppercorns.  This is a good time to add unrefined sea salt, too.

When the broth is cooled, strain it into a large bowl.  (I like to use my big 8-cup Pyrex measuring cup for this.)  

I balance the strainer over the Pyrex cup, which works perfectly.  Then ladle the broth through the strainer into the cup.  When the cup is full, I transfer the strainer to the crock pot and pour the strained broth into my jars. 
Note: If you happen to be making soup, you can strain the broth directly into the soup pot.  No storing necessary!  (See picture below: adding broth directly to the soup pot for White Chicken Chili.)
Storing / Freezing the Broth
Update: I finally wrote an entire post about freezing foods & liquids in glass jars. Here it is: How to Freeze Food in Glass Jars.
I like to mark my jars with C1, C2 and C3 for subsequent batches of chicken broth, and B1, B2 and B3 for beef broth.  I write directly on the glass with a Sharpie.
Fill jars with strained broth, and keep in the fridge for a few days, or in the freezer for much longer.  If you freeze broth in glass jars, be sure to leave plenty of head room at the top of each jar to allow for expansion in the freezer.


(Apparently, purists will cool the broth in the fridge and then skim the yellow fat off the top.  You can do this, but it's not necessary.  The fat is actually good for you, and will melt back into the broth once it's reheated.  I think the reason for skimming off the fat is to make a clearer, more culinary-grade broth.  I do not skim off the fat).
Multiple Batches of Broth
For multiple batches of broth, simply repeat the process!  The bones and veggies go back into the crock pot, along with vinegar and cold water.  I also add a new set of veggies for each new batch of broth.
Discarding the Bones
Feed the remains to your animals!
If you happen to have backyard chickens, like we do, you can actually feed your "broth remains" to them.  Now that we have dogs again, they typically get first dibs on the bones, and the rest goes to the chickens.
If you have no animals, broth remains can also be composted.
As a last resort, you can toss the remains.  Use two plastic grocery sacks, placed one inside the other (double-bagged).  Rest the bags on the counter, spreading the handles to create a nice, round opening.  Then quickly insert the strainer full of cooked bones, etc. and dump.  Tie up the handles into several knots, and place in a trashcan far away like the basement or garage.
Thawing Broth
Again, more details now provided in this post: How to Freeze Food in Glass Jars.
To thaw the broth, I usually get out the required number of jars before going to bed, leaving them on the counter until morning.  It does require a bit of planning ahead, but it's totally doable.  If I've forgotten to thaw broth overnight but remember the next day with a few hours to spare, I position the frozen jars next to a hot pot on the stovetop, or on top of the stovetop while the oven is on.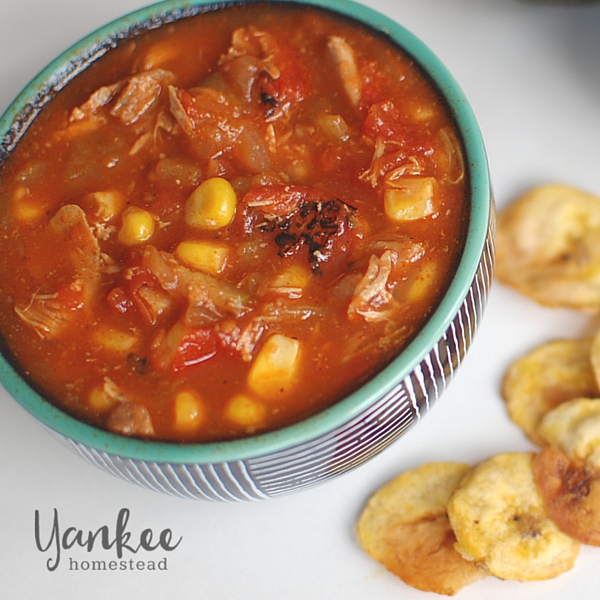 Favorite Soup Recipes
The last four listed below are my favorites!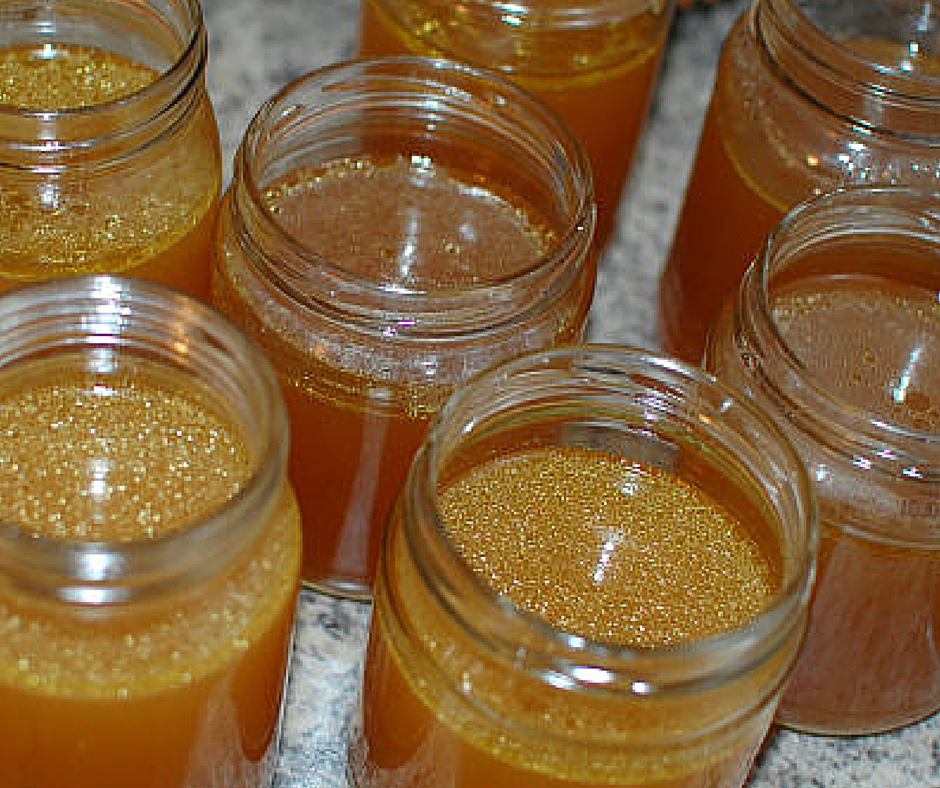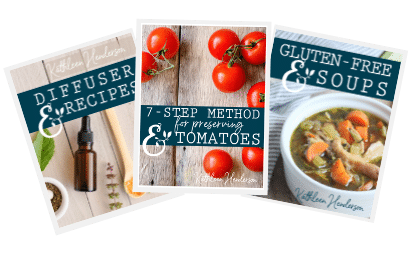 Sign up NOW for my best tips delivered weekly to your inbox!
You'll also get instant access to my library of free ebooks and resources.