Join the Seasonal Club.  Ditch the processed life! Learn to grow, source, preserve, and prepare real foods ALL YEAR LONG!  LEARN MORE >>
Join the Seasonal Club.
Ditch the processed life! Learn to grow, source, preserve, and prepare real foods ALL YEAR LONG!  LEARN MORE >>
Homemade Chicken Broth, What That "Free Range" Label Really Means, and My Complicated Relationship with Sally Fallon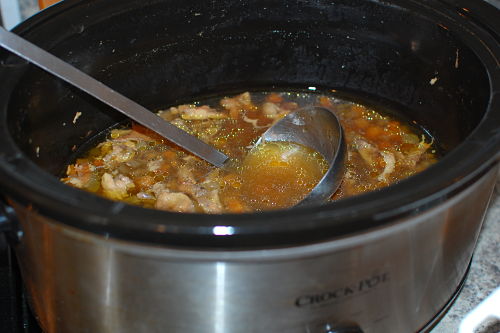 This post may contain affiliate links, which means I make a small commission at no extra cost to you.
See my full disclosure here.
I have sort of a love/hate relationship with Sally Fallon.
Have you heard of her?  She's like the Martha Stewart of "Real Food World". When you need tips or a recipe, she's the one you turn to.  But you simultaneously resent her high standards and image of perfection.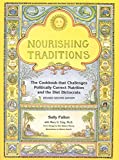 I do own
Nourishing Traditions
, and find myself using it more and more.  And I do recommend it.  Especially for those who possess the ability to read true and good ideas without feeling a need to apply Every.Single.Ideal.Standard to your own life.  
Ahem.

When I first read Nourishing Traditions, I was already in that state of completely overwhelmed.  I was on a trajectory toward overhauling my entire diet and kitchen habits.  The wealth of Real Food research, data, studies and more in this book was simply staggering.  But it made sense to me and it went right along with everything else on my radar.  I was ready.
Then I got to the recipes.
What!?
First, I have to track down clean, organic foods.  These foods are not commonly available at grocery stores.
Then I have to pay for these specialized foods.  (Yikes!)
Next, I have to spend hours preparing my special, expensive, raw ingredients.
Now I'm ready to actually combine the laboriously prepared ingredients and cook (or bake) them to Real Food perfection.
Which, I might add, often tastes nothing like How It Used To Taste.
Sometimes my efforts produce cuisine which can only be categorized as Epic Fails.  But we eat it anyway, because it was so expensive, both in terms of time and money.
Sometimes my family actually likes the results of my culinary efforts.  Those are the moments that keep me going!
But alas, I digress.  The entire point of this post is to explain how I make my own chicken broth…  
The reason I mention Sally Fallon is because she really does have a good recipe for homemade chicken broth.  It's one of the first recipes I tried from her book.
We'd already decided to focus our Real Food Dollars on quality meat and dairy.  In order to stretch those Real Food Dollars, I was ordering the best kind of chicken I could find, for the lowest price.  For me, that means chickens from a local, organic farm where the chickens are allowed to forage.
(True free-range chickens get most of their nourishment from eating bugs and vegetation.  The "free range" label on most grocery store poultry and eggs simply means the chickens aren't kept in cages.  This does not mean they are truly free-ranging.  Similarly, the "organic" label means, according to its legal definition, that the food was produced without yucky stuff like antibiotics, hormones, pesticides and GMO's.  It does not mean animals were allowed to free range, or eat the things they should be eating (like grass).)  [Source: Real Food: What to Eat and Why
 by Nina Planck, p. 117-118.]

For this reason (among others), I try to avoid grocery store meat, dairy and eggs.  We buy our chickens from a local, organic farm because of the quality of the meat and we buy them whole because it's cheaper that way.
I figured since I was already cooking whole chickens, making homemade chicken broth from the carcasses would be a logical and doable next step.  And I'd already read about the myriad benefits of consuming homemade broths from the likes of Sally Fallon and Nina Planck, among others.
My homemade chicken broth is sort of a loose translation of Sally's recipe, adapted to my own real life.  I make it regularly, and always have a stash in the freezer.  Sometimes I keep a carton or two of organic, gluten-free, store-bought stock in my pantry in case of emergency.
Homemade Chicken Broth
Ingredients:
Chicken carcass (bones, skins, fat, etc. of at least one whole chicken)
Water
Apple Cider Vinegar
Bag of frozen carrots, celery & onions
Unrefined sea salt
Tools:
Instructions:
(I start by cooking a whole chicken in the crockpot.)
Place leftover chicken parts (bones, skins, fat and any little pieces of meat still on the bones) in a large crockpot.
Add about 2 TB vinegar.
Add vegetables.  (Celery, onion & carrots work well.  You can use fresh, if you've got it on hand.  I like to keep frozen bags of mirepoix on hand for this).
Cover with water.
Cook 12-48 hours on low.  (The longer it cooks, the more it will reduce into more of a stock-like consistency).
Skim the gunky yuck off the top, then allow to cool.
Strain the broth into a large bowl.  (I like to use my big 8-cup Pyrex measuring cup for this.  I balance the strainer over the cup, which works out perfectly.  Then ladle the broth through the strainer into the cup.  When it's full, I transfer the strainer to the crockpot and pour the strained broth into my jars).
Fill jars with strained broth, and keep in the fridge for a few days, or in the freezer for much longer.
(Apparently, purists will cool the broth in the fridge and then skim the yellow fat off the top.  You can do this, but it's not necessary.  The fat is actually good for you, and will melt back into the broth once it's reheated.  I think the reason for skimming off the fat is to make a clearer, more culinary-grade broth.  I do not skim off the fat).
Discarding the bones, etc: My method involves two plastic grocery sacks, placed one inside the other (double-bagged).  I rest the bags on the counter, spreading the handles to create a nice, round opening.  Then I quickly insert the strainer full of cooked bones, etc. and dump.  Tie up the handles into several knots, and place in the basement trashcan.  It's nice when broth day coincides with trash day.   🙂
Want to read all about the benefits of homemade broth, and see Sally's recipes for broth?
Check out this Weston A. Price article Broth is Beautiful.  It's a great overview, with good tips.
Sally's broth recipes can be found in many of her books as well, including Nourishing Traditions: The Cookbook that Challenges Politically Correct Nutrition and the Diet Dictocrats

.  I 
think 
it's also in
Eat Fat, Lose Fat: The Healthy Alternative to Trans Fats

.
Ready to tackle homemade chicken broth?  Let us know how it goes!
12 NOURISHING GLUTEN-FREE SOUP RECIPES
Simplify your dinner prep with these tasty, nourishing soups!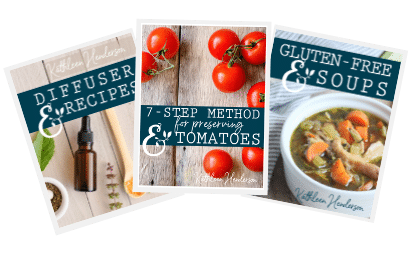 Sign up NOW for my best tips delivered weekly to your inbox!
You'll also get instant access to my library of free ebooks and resources.