Sausage & Sweet Potato Soup with Spinach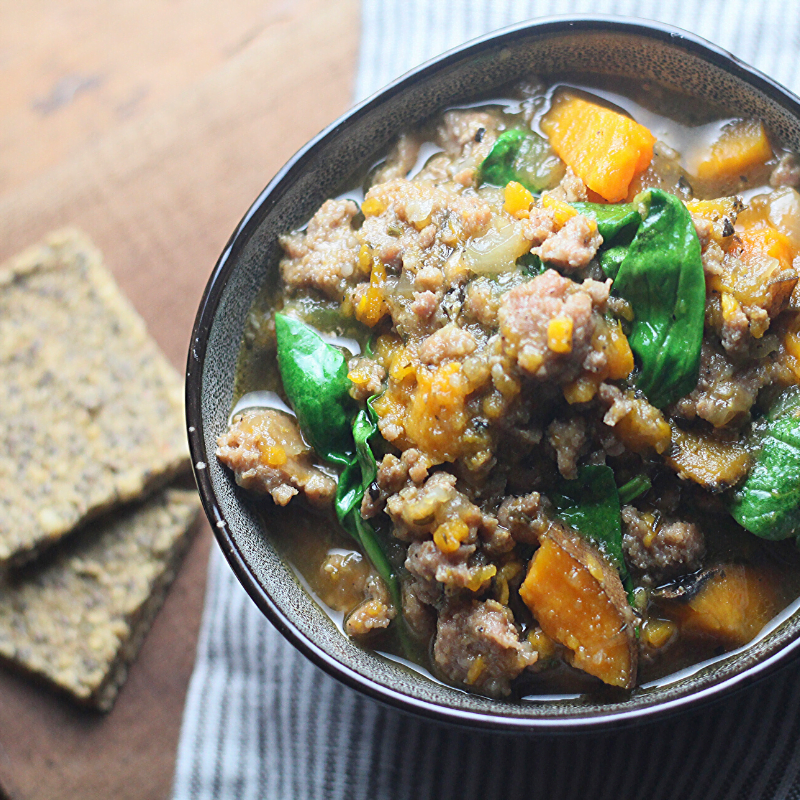 Simplify your dinner prep with tasty, nourishing soups!  My short, practical ebook is filled with my family's favorite one-pot, gluten-free, real-food soup recipes.
Get your copy of Nourishing Soups today!
This post may contain affiliate links, which means I make a small commission at no extra cost to you.
See my full disclosure here.
Tasty and packed with veggies and nutritious bone broth, this sausage & sweet potato soup with spinach is sure to become a family favorite at your house.

A freezer full of pork
We raised pigs for the first time this year, which means we now have a freezer full of bacon and sausage. When I say full, I really mean it: one entire upright freezer is packed with pork.
A freezer full of pork seems like plenty of meat for one year, but I'm curious to see how long it will last my family of five. Every day I feed three growing boys who seem to be in perpetual motion and let me tell you, they eat their way through a lot of meat.
Our ample supply of sausage inspired me to find new ways to use it, and this sausage & sweet potato soup with spinach tops the list of winning recipes.
If you don't happen to have access to your own homegrown sausage, I encourage you to search out a local farmer who raises pastured pork. Acorn finished is a definite plus!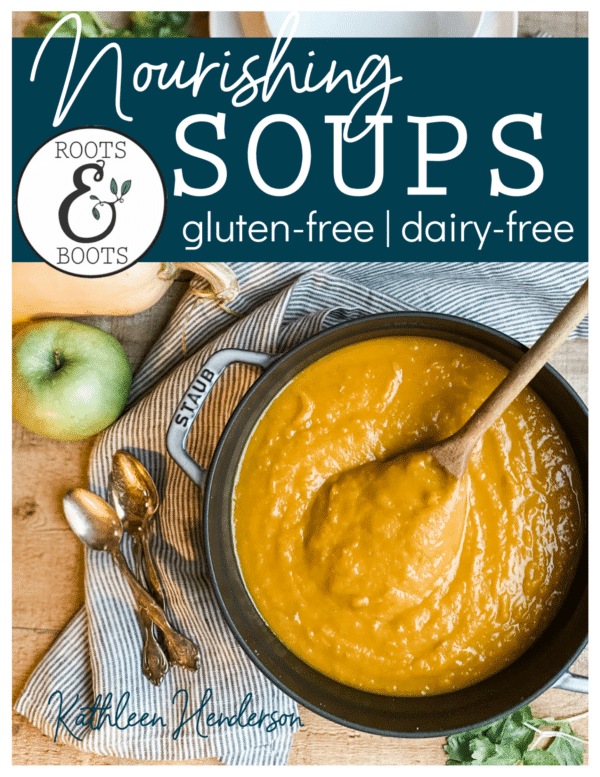 Homegrown is best
The recipe is super simple and the more fresh, homemade ingredients you can use, the better. I definitely recommend homemade bone broth, and I love to add my own dried herbs from the garden.
I came across a great cooking quote recently about how fresh, flavorful ingredients do not require fancy preparation. Just a few simple but good quality ingredients combined with simple cooking methods can produce delicious results.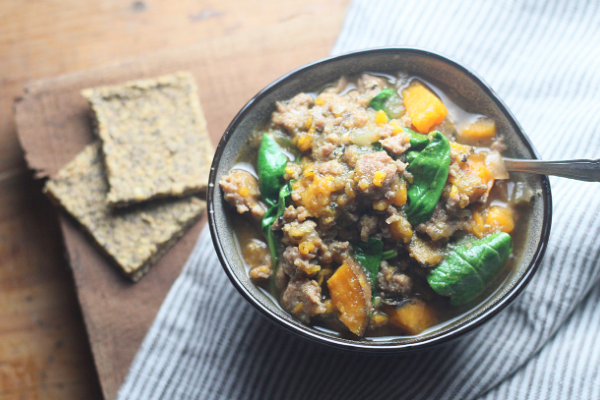 Since I can't track down that exact quote, here's a good one about soup from Animal, Vegetable, Miracle by Barbara Kingsolver.
"When I'm in a blue mood, I head for the kitchen. I turn the pages of my favorite cookbooks, summoning the prospective joyful noise of a shared meal. I stand over a bubbling soup, close my eyes, and inhale. From the ground up, everything about nourishment steadies my soul." –Barbara Kingsolver
Do you ever feel sad to finish a book because you wanted it to keep on going? That's how I felt after reading this delightful true story about one family's year of eating (and growing) mostly local foods. Highly recommend.
So there you go, and this sausage & sweet potato soup with spinach is an excellent choice of nourishment to steady your soul.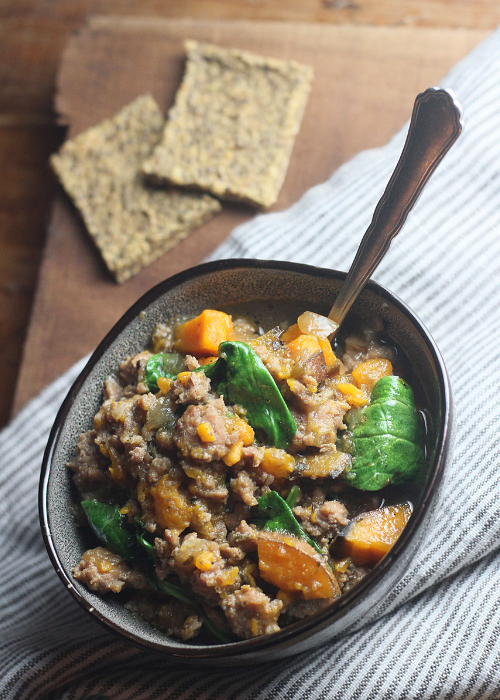 Extras
I recommend a good sprinkling of Parmigiano-Reggiano over your sausage & sweet potato soup with spinach, with almond flour biscuits or onion nut dehydrator crackers on the side.
Also, most any greens should work well in this recipe: spinach, kale, chard, beet greens, or whatever you have on hand.
Pro tip: Freeze fresh greens during the growing season for use throughout the winter months.
Print
Sausage & Sweet Potato Soup with Spinach
Author:

Prep Time:

15 mins

Cook Time:

30 mins

Total Time:

45 mins
---
Description
Simple ingredients with amazing flavor. Feel free to use any greens you have on hand: spinach, kale, chard, beet greens, etc.
---
1

lb bulk sausage

1

TB Italian seasoning (or

1 tsp

basil,

1 tsp

parsley,

1/2 tsp

oregano,

1/2 tsp

rosemary, and

1/4 tsp

thyme)

1

large onion, chopped (about

1 cup

)

1 tsp

unrefined sea salt

1/2 tsp

ground black pepper

4

garlic cloves, minced

2

large sweet potatoes, chopped (

2

–

3

cups)

4

–

5

cups homemade chicken broth

1

bay leaf

1

–

2

cups spinach leaves
---
Instructions
Brown sausage in a large pot, breaking up clumps. I prefer my cast iron dutch oven for this recipe.
When the sausage is almost cooked through, add Italian seasoning.
Stir to combine and cook sausage until traces of pink are gone.
Add chopped onion and cook about 5 minutes, until onions are tender.
Add salt, pepper, and garlic. Stir well and cook about 30 seconds.
Add sweet potatoes, broth, and bay leaf, and stir well.
Bring to a boil, then reduce heat to low and simmer for 20-30 minutes until potatoes are tender.
Just before serving, remove bay leaf and toss in the spinach. Stir well.
Serve with almond flour biscuits or onion nut dehydrator crackers.
---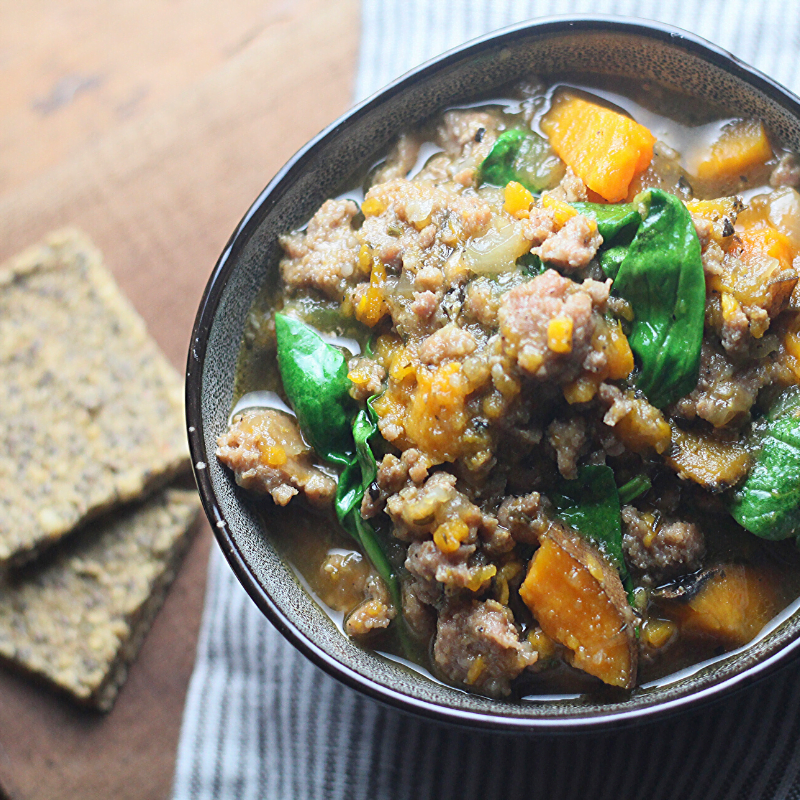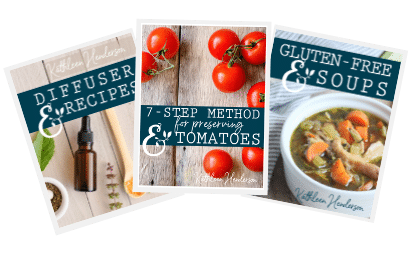 Sign up NOW for my best tips delivered weekly to your inbox!
You'll also get instant access to my library of free ebooks and resources.