Paleo Enchilada Casserole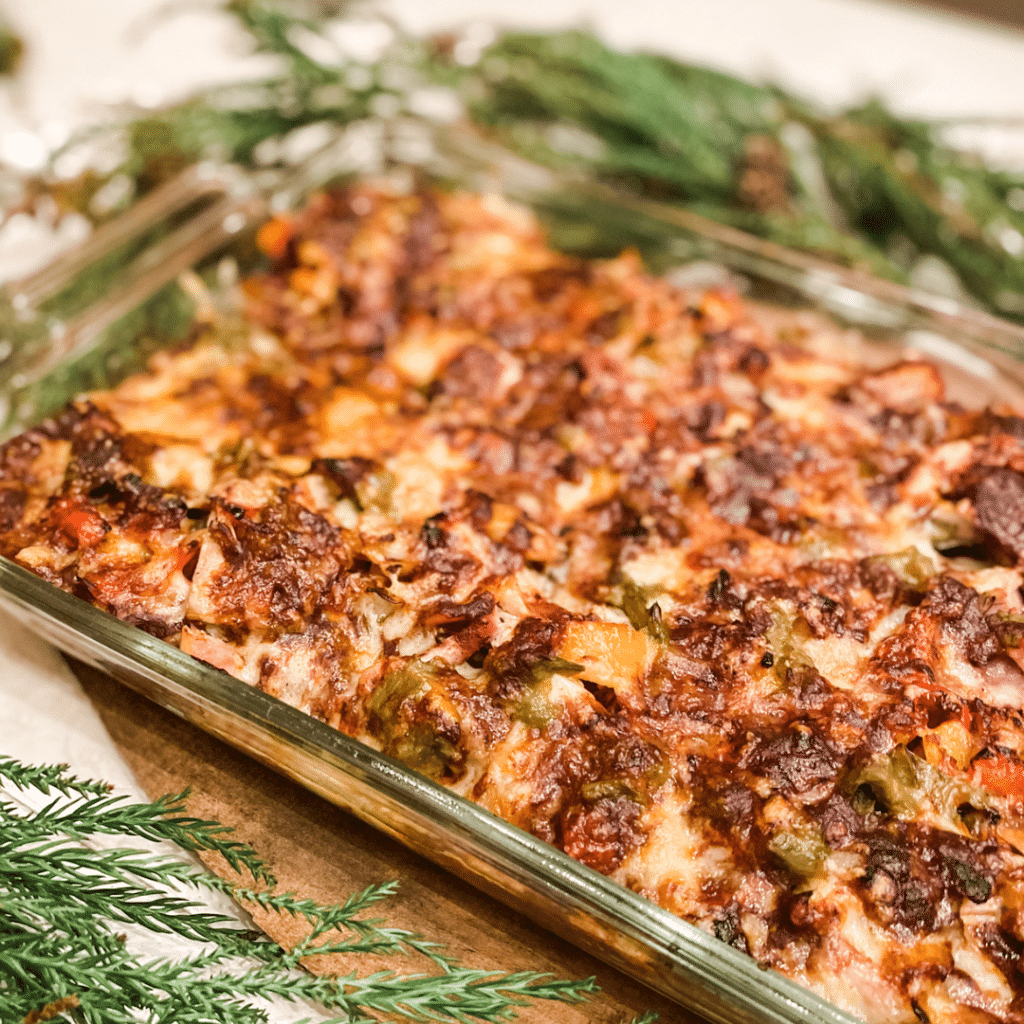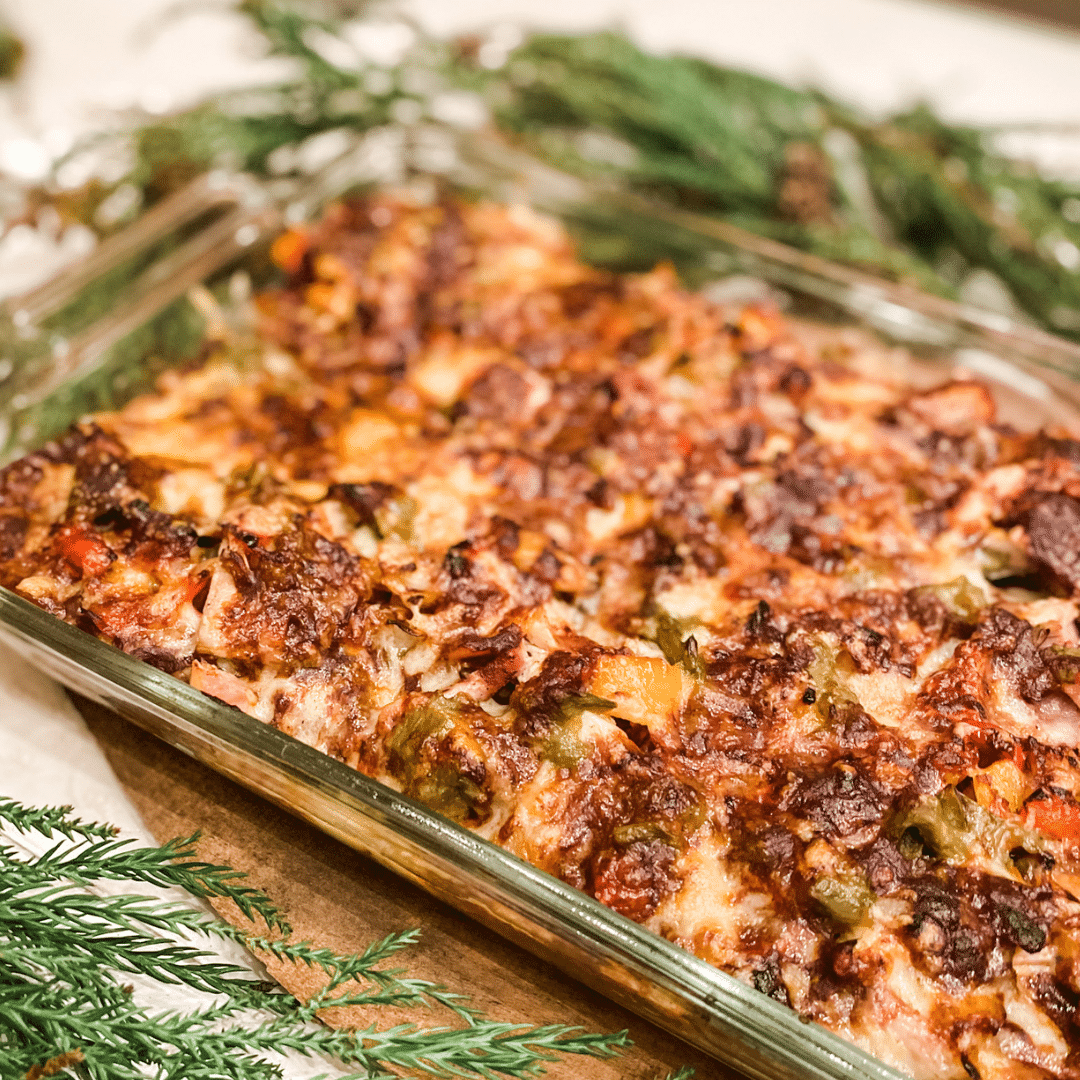 Simplify your dinner prep with tasty, nourishing soups!  My short, practical ebook is filled with my family's favorite one-pot, gluten-free, real-food soup recipes.
Get your copy of Nourishing Soups today!
This post may contain affiliate links, which means I make a small commission at no extra cost to you.
See my full disclosure here.
Bursting with flavor, this paleo enchilada casserole makes a hearty, Tex-Mex meal without grains or dairy.
Paleo Enchilada Casserole
Looking to scratch that enchilada itch, but without gluten, corn, or dairy? I feel ya!
This paleo enchilada casserole is just the ticket. It's got all the flavor of enchiladas but without all the icky ingredients.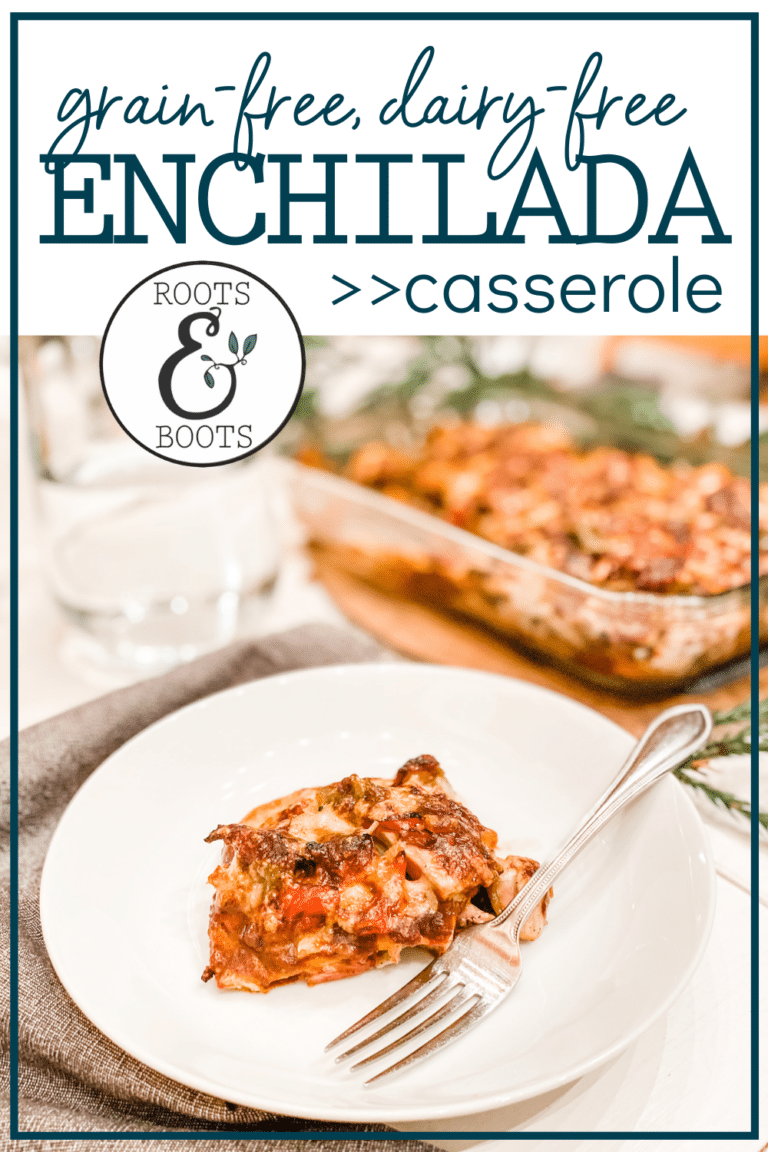 Looking for healthy Tex-Mex recipes?
You'll love these ingredients
Flexible options
The ingredients are flexible, allowing you to tailor the end results to meet your family's preferences. I've used leftover turkey and ground beef, and both were delicious.
Use whatever meat you have on hand, increase or decrease the amount of onion, and choose hot, medium, or sweet peppers to suit your family's tastes.
Plantain tortillas
Plantain tortillas take the place of corn, adding a subtle sweetness to the flavor profile. Plus, any leftover tortillas can be saved to make tasty wraps for breakfast, lunch, or dinner.
Enchilada sauce
Cacao, chili powder, and a few other spices combine for a quick twist on a traditional mole or enchilada sauce. This sauce is the star of the show! It really pulls together all the flavors and gives this casserole an authentic enchilada flair.
On the side
My family enjoys this paleo enchilada casserole all on its own, but you could certainly serve it with a side of roasted sweet potatoes or healthy refried black beans.
Enchiladas to go
It travels well, too. For our family trip to the mountains, I prepped this casserole in advance and packed it in the cooler. Later, it made for a simple dinner: just pop it in the oven to warm through, then broil for a few minutes to get that crusty, bubbly top.
Versatile recipe
And finally, this recipe works well in both cold and hot weather. During the winter, it feels all warm and cozy. In the summer, it's a hearty way to fuel your family activities. Either way, you can't go wrong!
I hope this paleo enchilada casserole is as big of a hit at your house as it has been at mine!
Print
Paleo Enchilada Casserole
---
Description
Bursting with flavor, this paleo enchilada casserole makes a hearty, Tex-Mex meal without grains or dairy.
---
Tortillas
Filling
Sauce
1 tablespoon

avocado oil

3 tablespoons

chili powder

1 tablespoon

arrowroot powder or tapioca flour

1 teaspoon

oregano

1 teaspoon

cumin

1 teaspoon

cacao powder

1/2 teaspoon

garlic powder

1/2 teaspoon

onion powder

2 cups

tomato sauce

1 cup

broth or stock
unrefined sea salt, to taste
Optional toppings
diced avocado
guacamole
fresh, chopped cilantro
sliced jalapenos
salsa
shredded raw cheddar
---
Instructions
Step one: tortillas
Fill a large pot with water and bring to a boil.
Remove both ends of each plantain and slice into thick chunks.
Remove skins.
Boil plantain chunks about 15 minutes, until easily pierced with a fork.
Drain plantains and allow to cool a bit.
Add cooked plantains to a food processor and blend until they come together to form a large dough ball.
Remove this ball of dough and roll out between two sheets of parchment paper.  If necessary, you can divide the dough into two or four smaller balls and then roll out.
Keep in mind that you're aiming for enough "tortilla" to form two layers in a 9×13 dish.
Heat a cast iron skillet or griddle over medium-high heat and cook each tortilla.  You may want to slice up the rolled-out plantain dough into manageable sizes for flipping.  I like to roll mine into squarish shapes in order to fit my 9×13 dish.
Step two: sauce
Combine the spices (chili powder, oregano, cumin, cacao powder, garlic powder and onion powder) in a small bowl.
Heat a medium sauce pan over medium-high heat.
Add avocado oil to the hot pan.  When oil is hot, add the spices and stir well.
After about 30 seconds, add the tomato sauce, broth, and arrowroot or tapioca.  Whisk well.
Bring mixture to a simmer and cook until thickened.  If it becomes too thick, thin with additional broth.
Step three: filling
Heat a large skillet or dutch oven over medium heat, then add 1 tablespoon avocado oil.
When oil is heated, add diced onion and bell pepper.  Saute until softened.
Add meat and cook until browned or heated through.
Step four: assemble casserole
Line a 9×13 dish with one layer of plantain tortillas, trimming if necessary for a good fit.
Spread half the meat mixture and one can diced green chiles over the tortillas.
If desired, add a bit of shredded raw cheddar.
Use a small ladle to distribute about one third of the sauce evenly over the meat mixture.
Next, add the second layer of plantain tortillas, followed by the remaining meat mixture.
If you prefer more of a kick, add a second can of diced green chiles.
Ladle the rest of the sauce evenly over the casserole.
If desired, top with more shredded raw cheddar.
Step five: broil
Preheat broiler on high.
Broil the casserole for 5-10 minutes until bubbly.
Serve hot, with toppings of choice.
---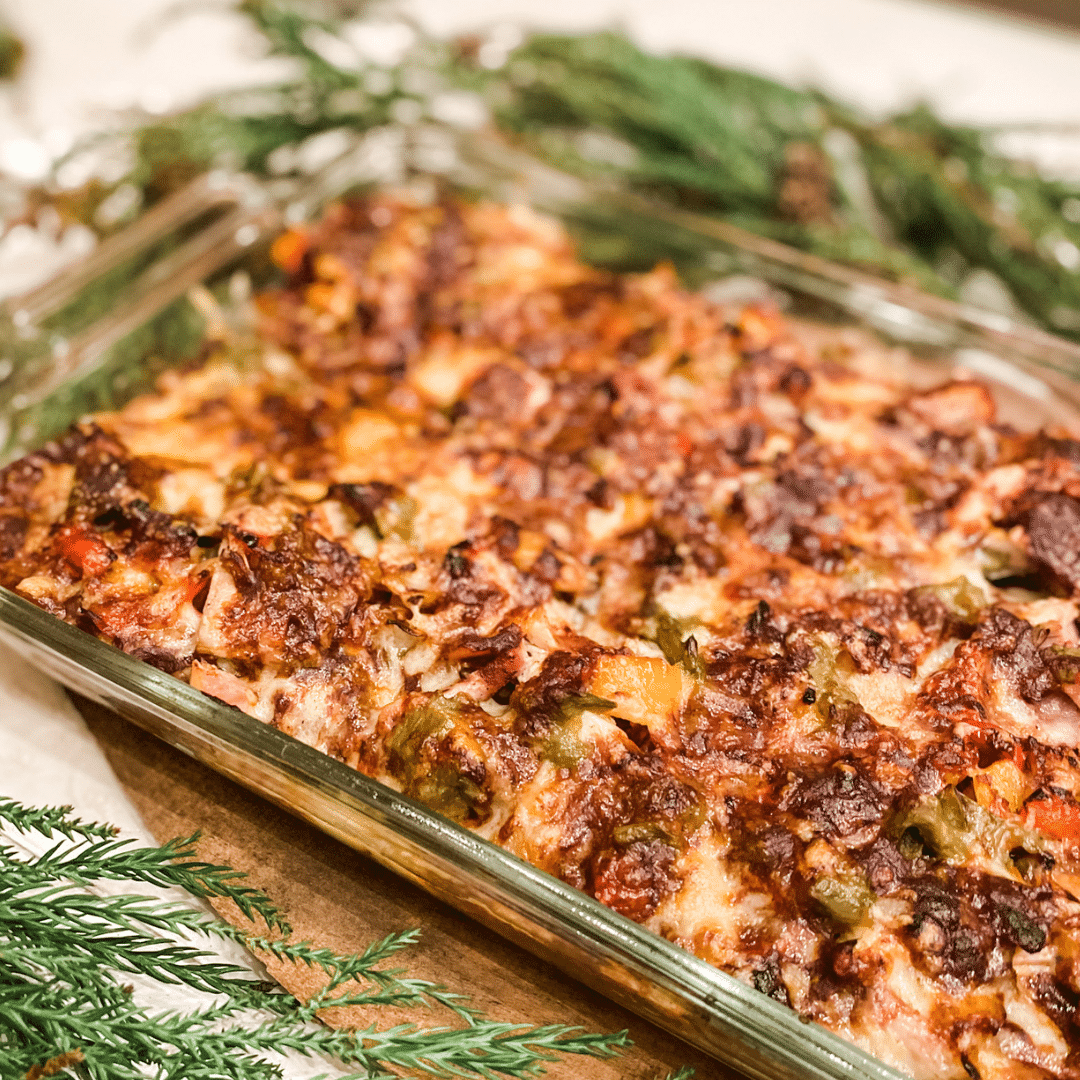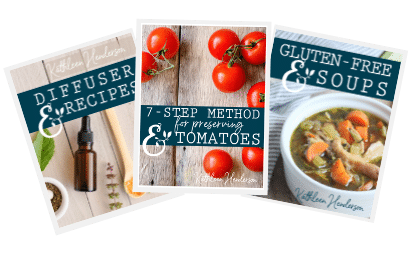 Sign up NOW for my best tips delivered weekly to your inbox!
You'll also get instant access to my library of free ebooks and resources.