Healthy Refried Black Beans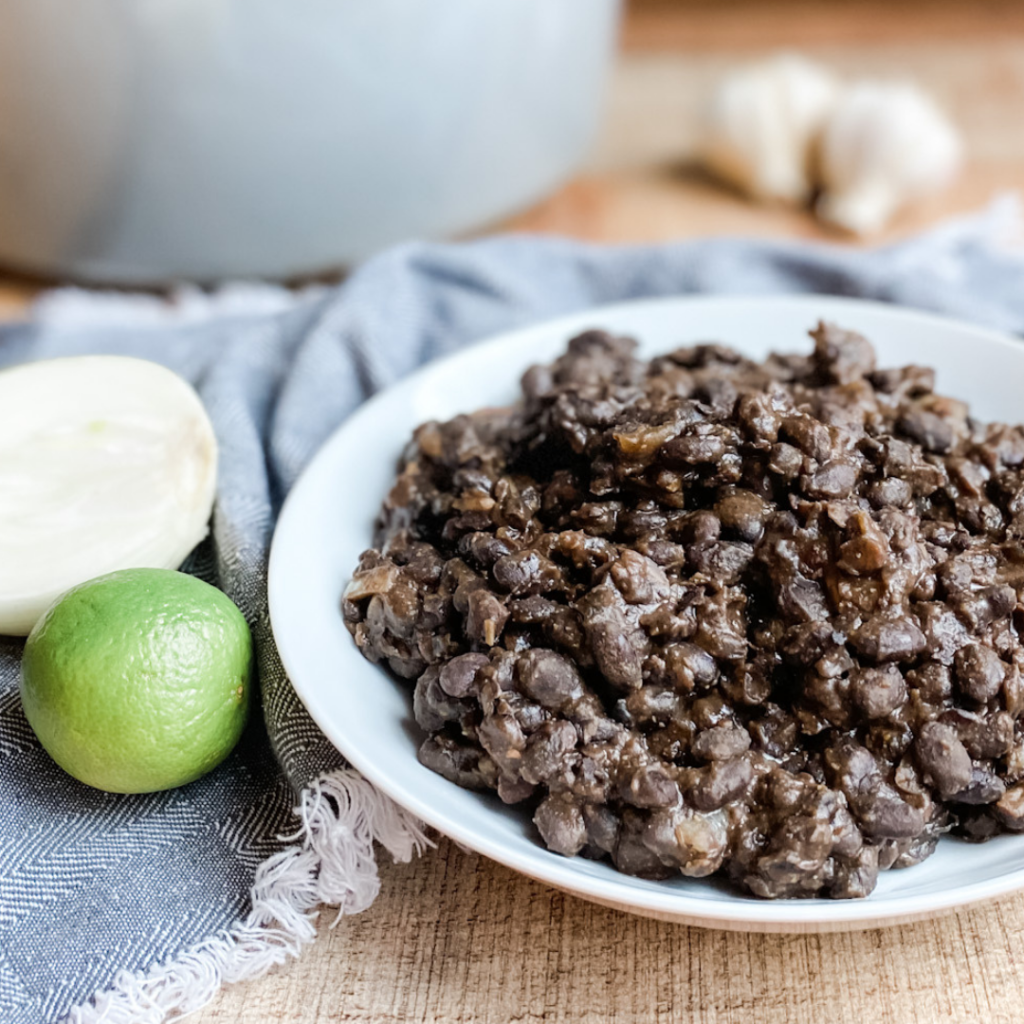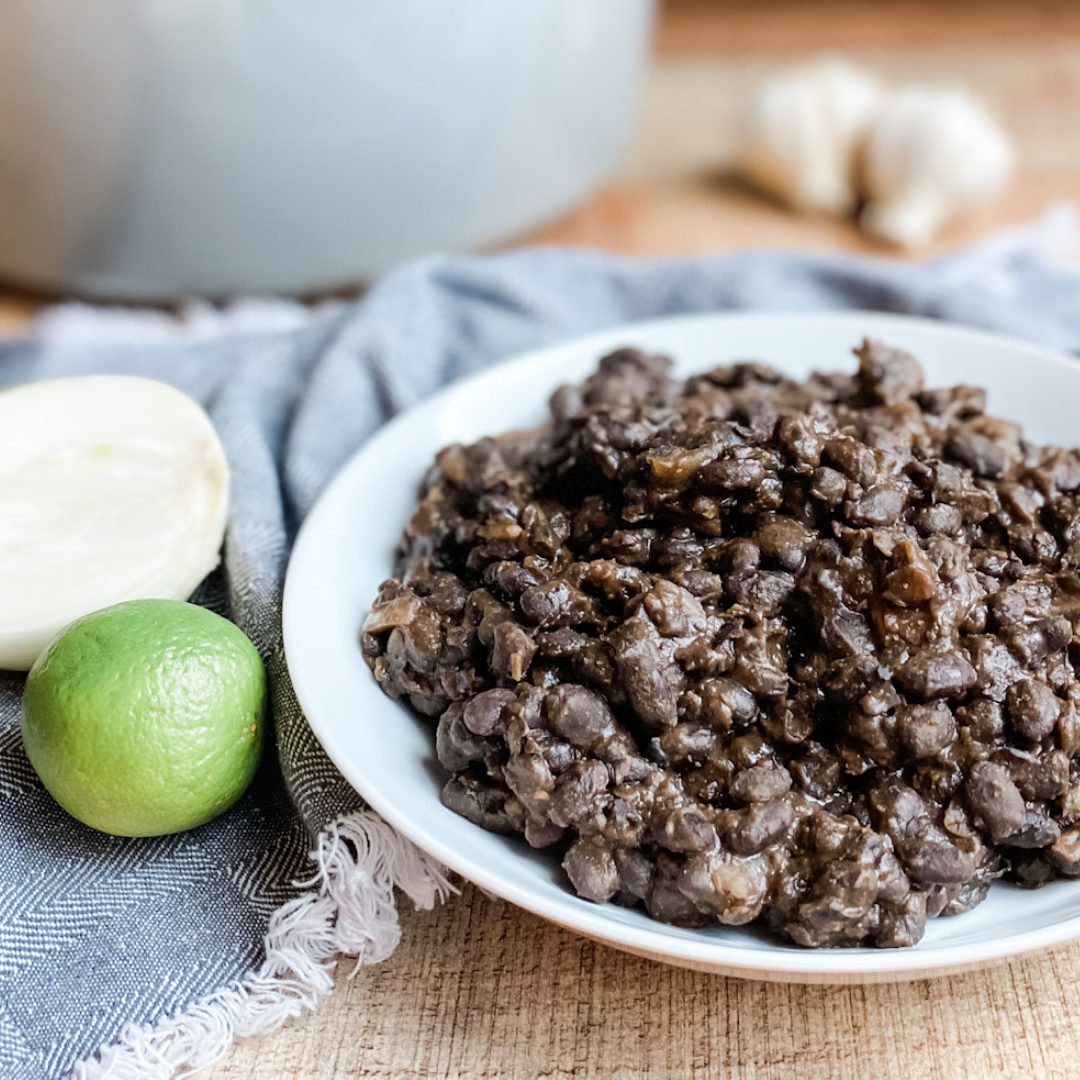 Simplify your dinner prep with tasty, nourishing soups!  My short, practical ebook is filled with my family's favorite one-pot, gluten-free, real-food soup recipes.
Get your copy of Nourishing Soups today!
This post may contain affiliate links, which means I make a small commission at no extra cost to you.
See my full disclosure here.
We love our Tex-Mex around here, and these refried black beans have become a family favorite. Simple to prepare and bursting with flavor, they pair well with any kind of eggs or tacos.
Refried black beans for breakfast, lunch, or dinner
I often prepare refried black beans as a side with our dinner, and then repurpose them for breakfast or lunch on the following day.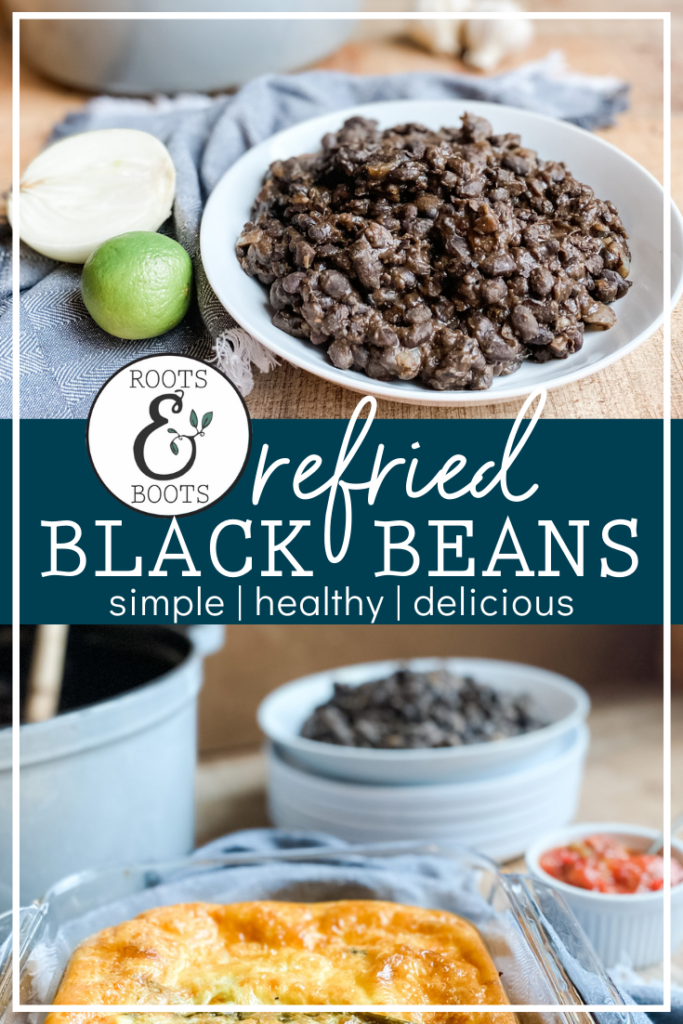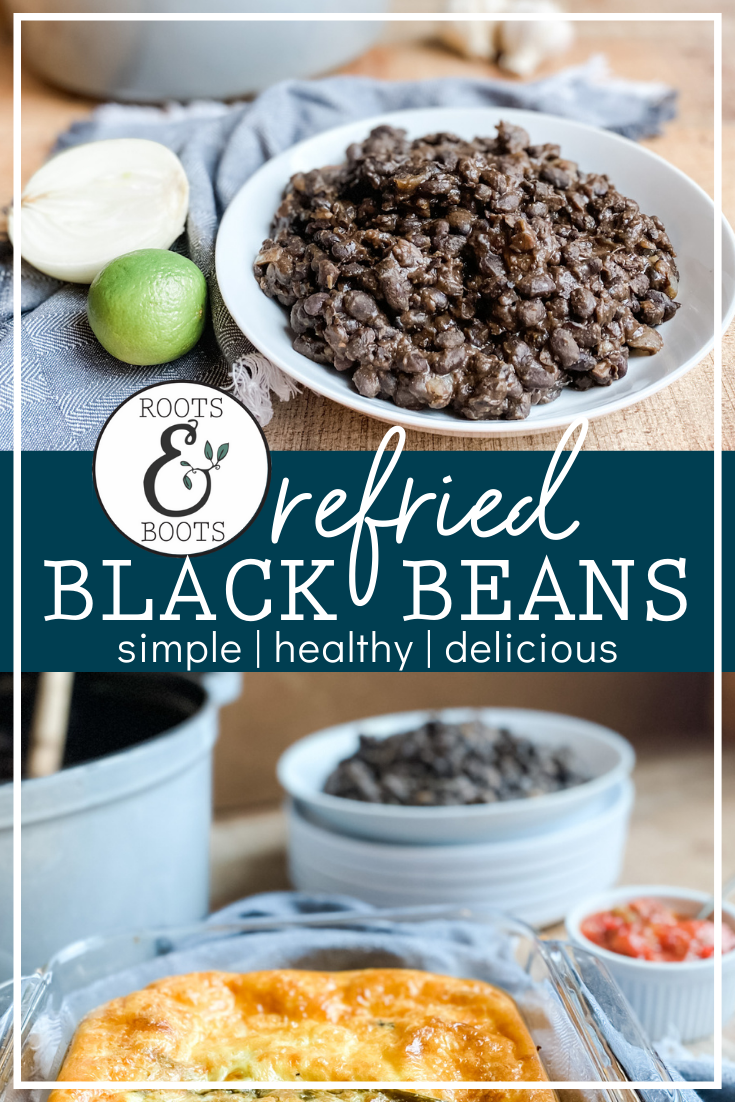 We especially love these refried black beans with another family favorite, the chile relleno casserole. Add a side of roasted sweet potatoes, top with full fat sour cream and homemade salsa, and you've got the perfect combo for breakfast, lunch, or dinner.
For an even simpler egg combo, simply serve with scrambled eggs and your choice of toppings. Like this: Mexican Eggs Breakfast Bowl.
Really, these refried black beans make a handy side dish for just about any eggs or meat. If you tolerate rice, that's a no brainer combination, or cauliflower rice works well, too.
You can also make them the star of the show by making delicious bean tacos or bean burritos.
Refried black beans are incredibly versatile, and I'm getting hungry just thinking about all the tasty ways to eat them!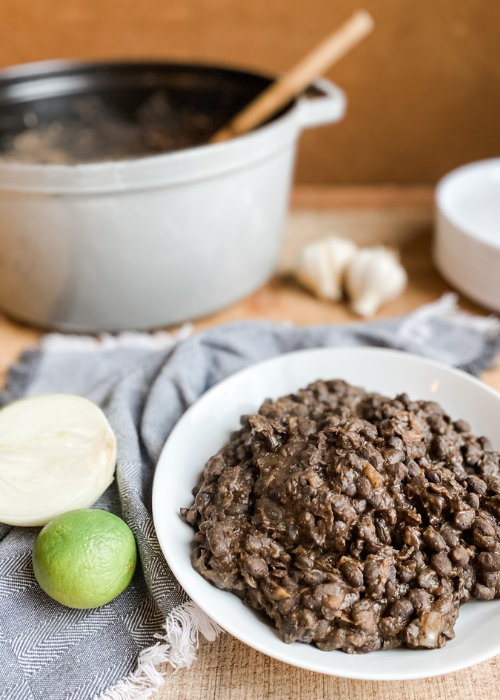 Just to recap, here are a few ideas for serving refried black beans:
combine with scrambled eggs
pair with chile relleno casserole
serve with egg tacos
serve with meat tacos
make bean tacos or burritos
serve with meat and rice or cauli-rice
Beans and phytic acid
I avoided beans for several years, but recently started adding them back into my family's diet. What a happy reunion!
I do still avoid canned beans, opting to purchase dried beans instead. This allows me to prepare them properly with an overnight soak. Soaking the dried beans overnight reduces phytic acid, which is important for optimal nutrition and for a happy digestive tract.
Print
Refried Black Beans
Author:

Yield:

8

servings

1

x
---
Description
Simple to prepare and bursting with Tex-Mex flavor, these refried black beans pair well with eggs, tacos, and so much more.
---
---
Instructions
Place beans in a large bowl and cover with water to at least four inches above the beans. Allow the beans to soak overnight.
The next day, drain and rinse the beans and place them in a large pot. Cover with fresh water and add one half onion and two whole garlic cloves. Reserve the remaining onion half and two garlic cloves for later.
Bring the mixture to a boil, then reduce heat and simmer for about three hours until the beans are tender. It may be necessary to add a bit more water to the beans if you find the water level is decreasing too rapidly while cooking. Stir occasionally to prevent the beans from sticking to the bottom of the pot.
When the beans are tender, turn off the heat. If there is excess liquid in the pot, you may want to scoop it out.
Place a skillet over medium heat and add the coconut oil. Chop the remaining onion half and cook about five minutes, until softened.
Mince the remaining two garlic cloves and add to the skillet, cooking for 30 seconds or so, until fragrant and lightly browned.
Add the cooked onions and garlic to the beans, along with the cumin, coriander, salt, and lime juice. Stir to combine.
If the beans are still mostly whole, use a potato masher to mash them a bit.
Serve hot, with sour cream and salsa.
---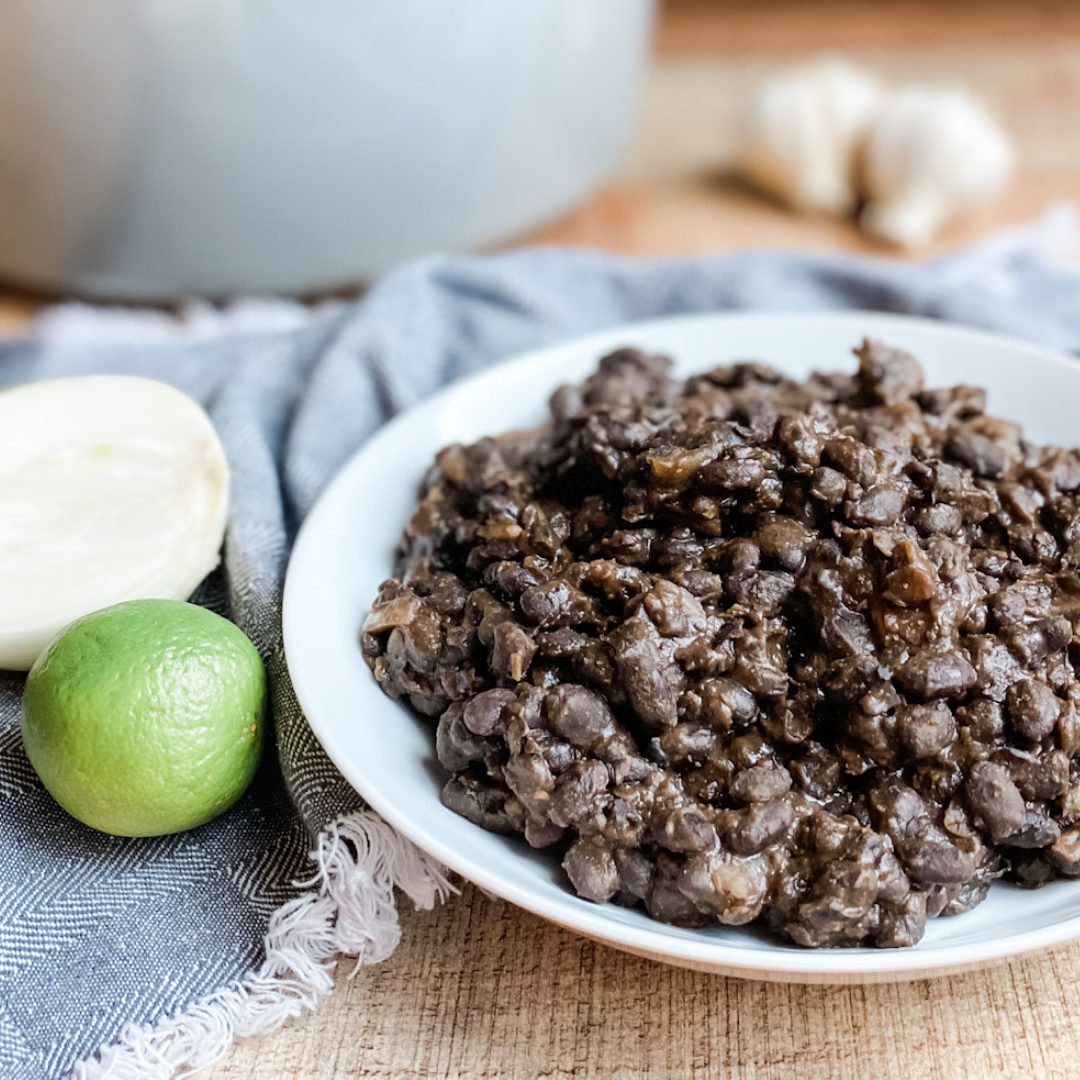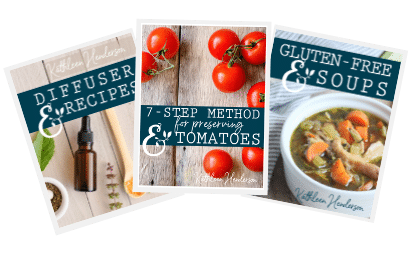 Sign up NOW for my best tips delivered weekly to your inbox!
You'll also get instant access to my library of free ebooks and resources.