How to Harvest Garlic Scapes & How to Use Garlic Scapes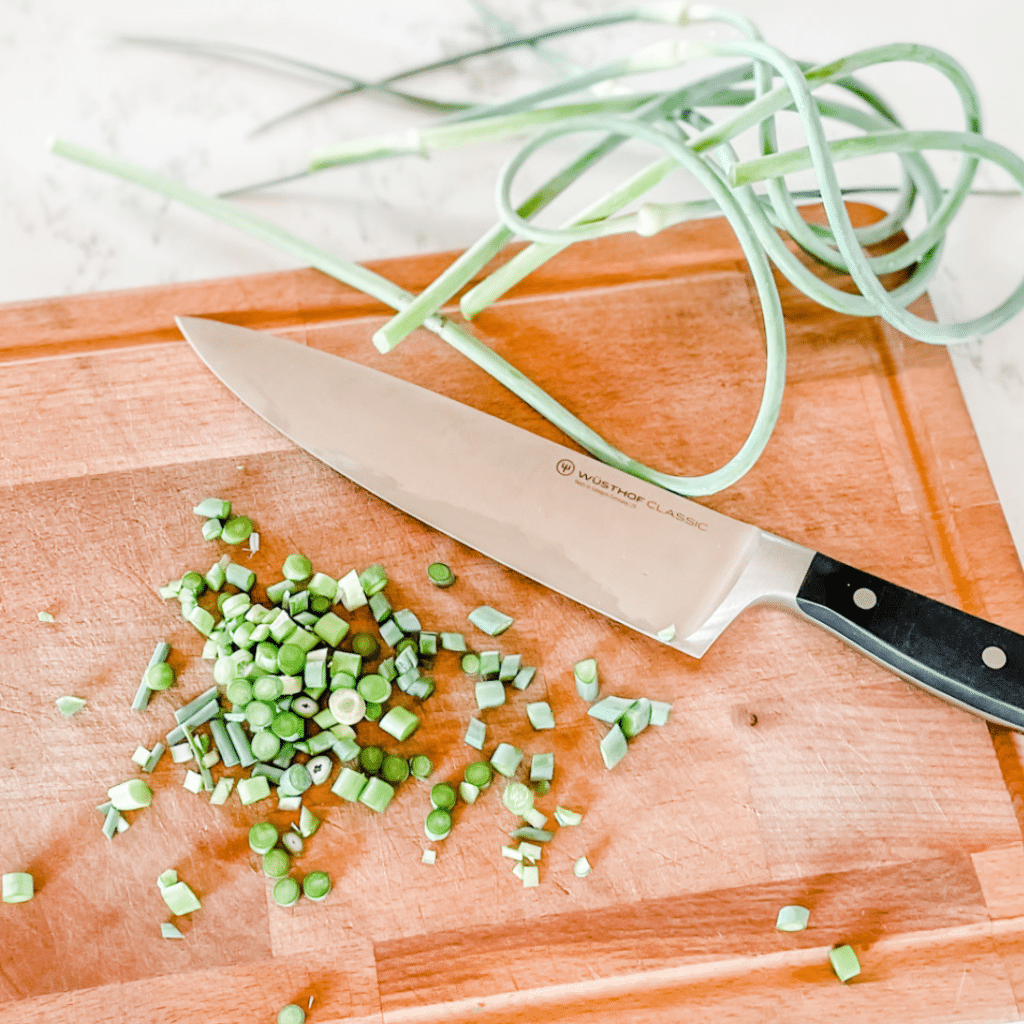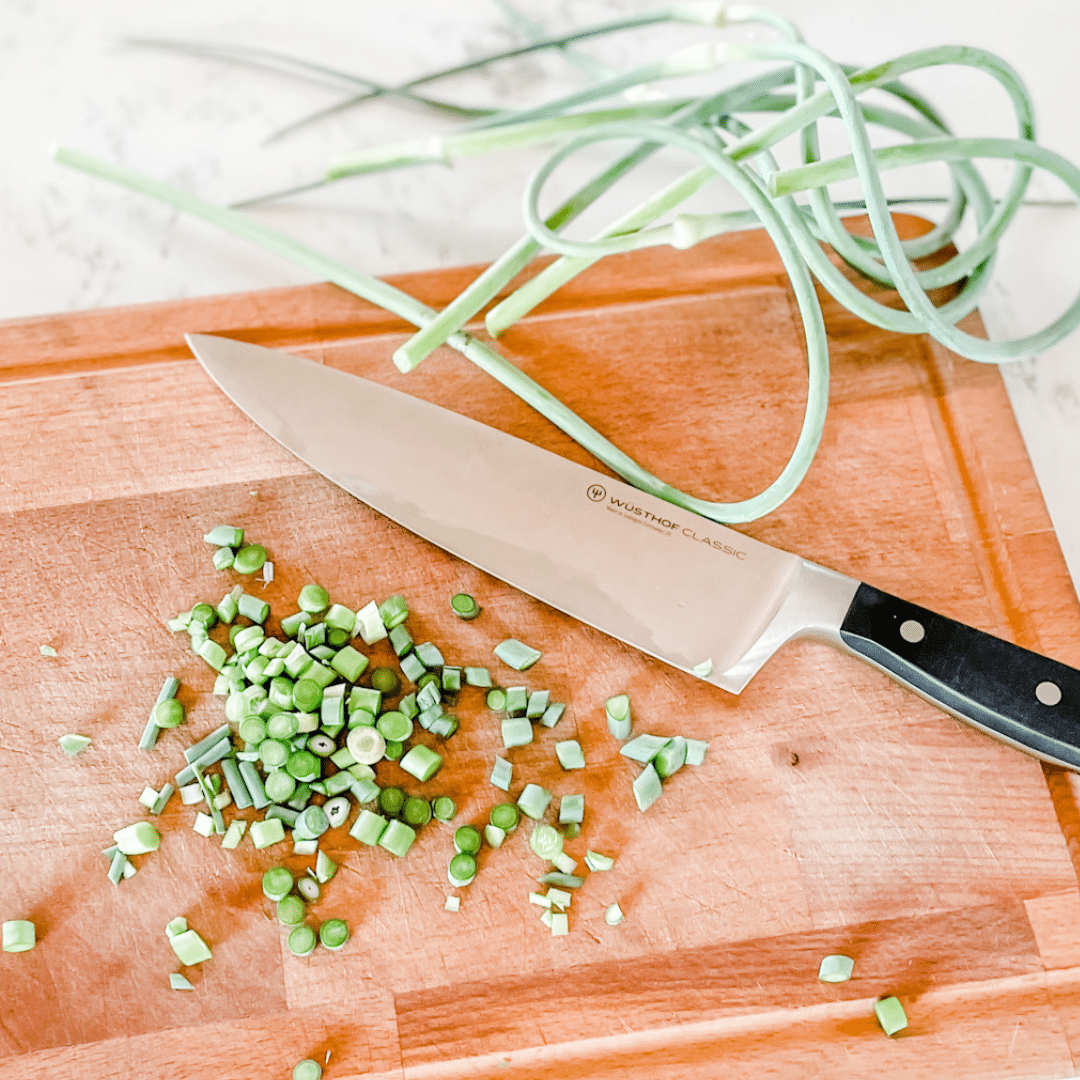 Turn your tomato harvest into delicious food to enjoy all year long!  My short, practical ebook will help you make the most of your tomato harvest through canning, freezing, drying, and more.
Get your copy of Preserving Tomatoes today!
This post may contain affiliate links, which means I make a small commission at no extra cost to you.
See my full disclosure here.
Do you know how to harvest garlic scapes and how to use garlic scapes?
I made a quick video to demonstrate the process. Can't see the video? Click here to watch.
What are garlic scapes?
Garlic scapes are the flower stalk of the garlic bulb. Yep, scapes are a total perk of growing your own garlic! Not only do you get the amazing homegrown garlic bulb, you also get scapes.
And furthermore, those scapes arrive in late spring to tide you over until it's time to harvest the bulbs. It's a win-win!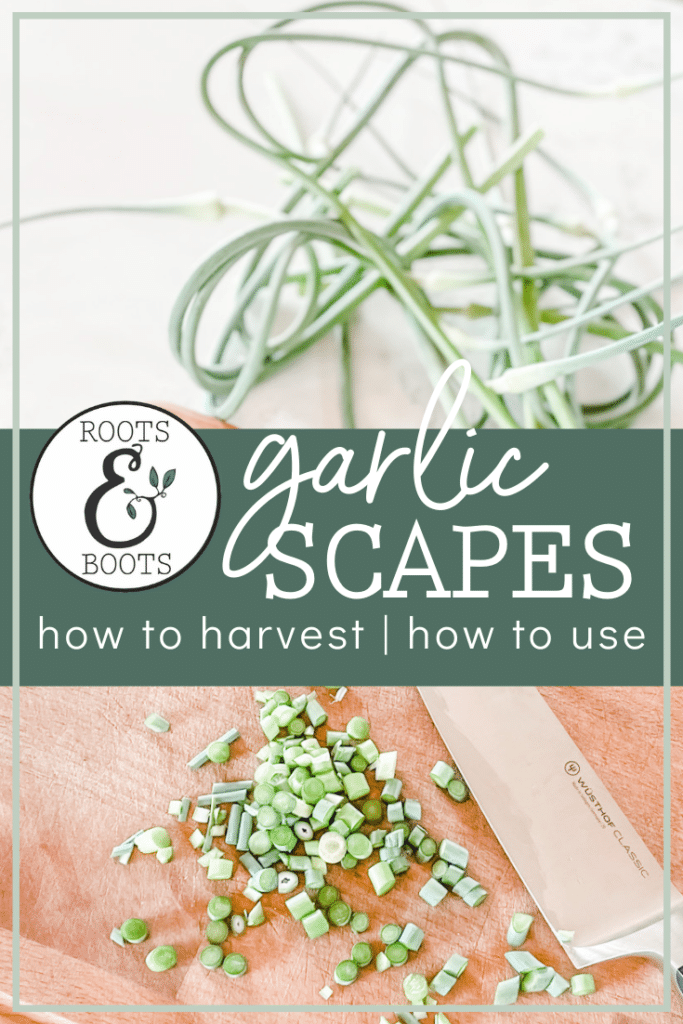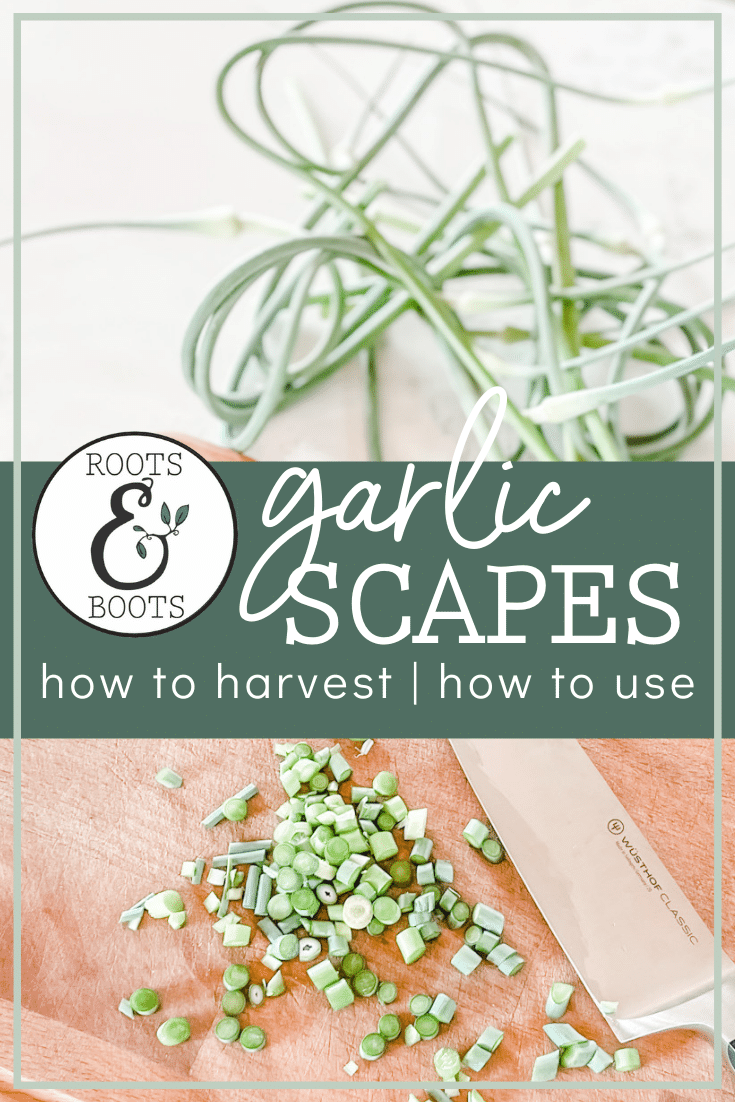 How to harvest garlic scapes
Even if you don't plan to eat the scapes, you should still cut them off. Similar to deadheading flowers to keep them blooming, removing the scapes from your garlic will help the plant to thrive.
When the scape is allowed to flower and produce seeds, the garlic plant divides its energy between the flower and the bulb. When the scape is removed, the plant can focus all of its energy on producing a bigger bulb.
To remove the scape, simply cut it off at the bottom of the stalk. Don't cut the leaves!
If you grow lots of garlic, you may want to stagger your garlic scape harvest. Harvest as needed, and keep in mind that the older the scape, the tougher, and less edible, the stalk will become.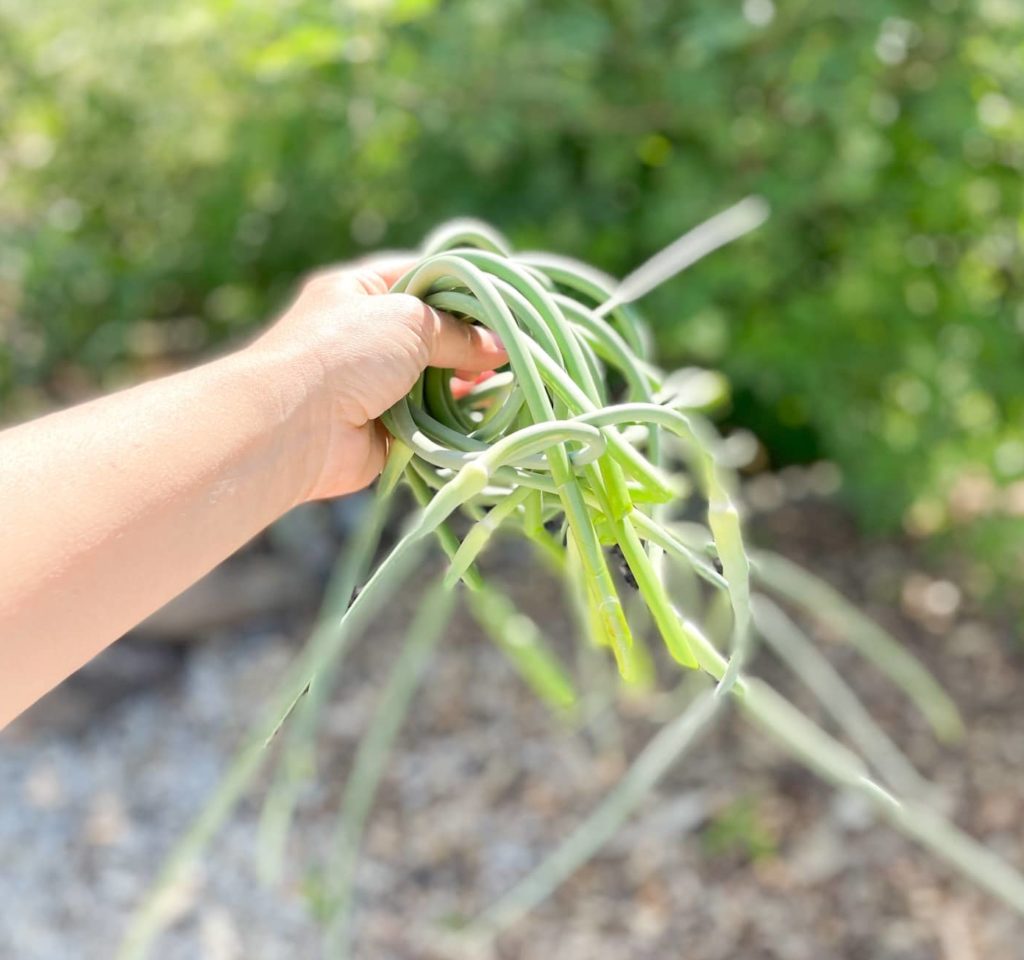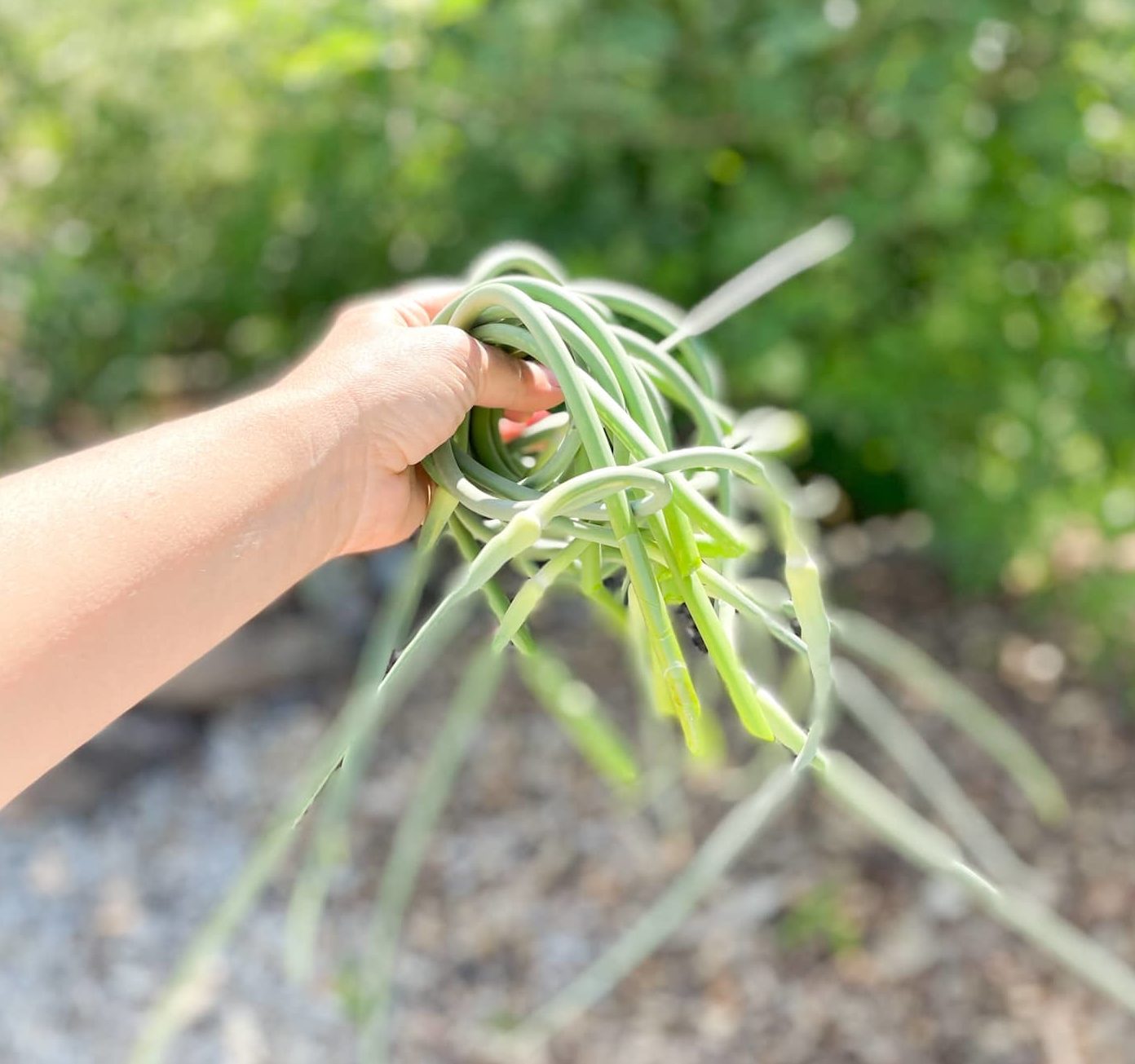 How to store garlic scapes
I recommend storing garlic scapes in a large plastic bag in the fridge. The plastic bag will keep the garlic smell from permeating the entire refrigerator.
Garlic scapes will last for two to three weeks or more when stored in an airtight bag in the fridge.
How to use garlic scapes
You can chop up your garlic scapes and use them just like garlic. How cool is that?
Garlic scapes have a mild garlic flavor–not quite as strong as the actual bulb, but still nice and garlicky.
Older scapes will develop tough stalks. Just cut off the tough part and chop up the tender part of the stalk plus the flower.
Garlic scape recipes: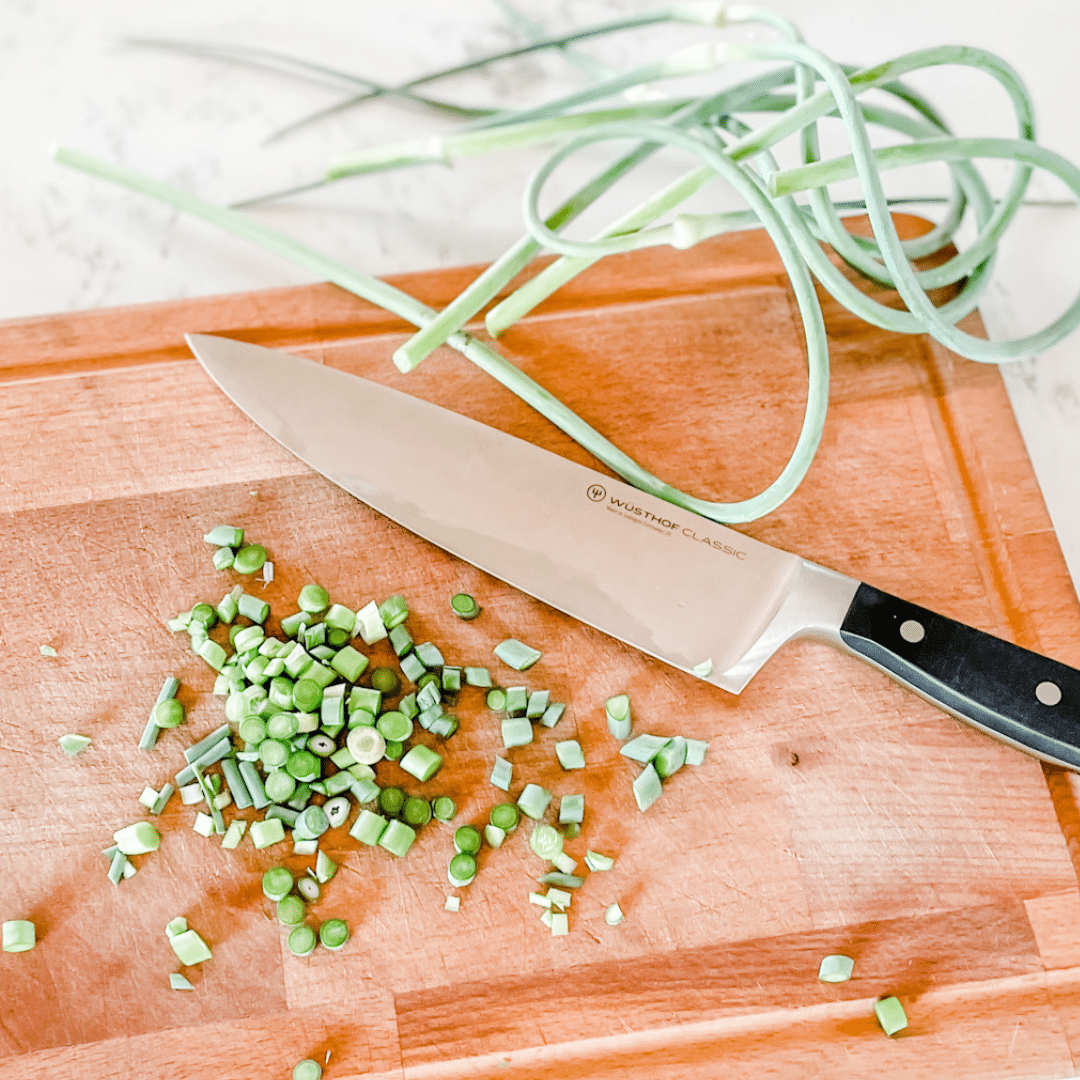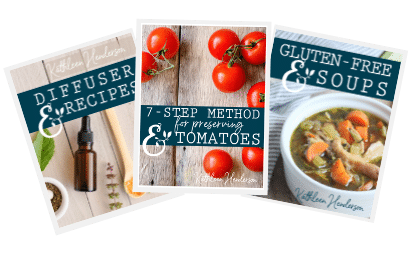 Sign up NOW for my best tips delivered weekly to your inbox!
You'll also get instant access to my library of free ebooks and resources.