Paleo Sesame Garlic Chicken with Broccoli & Sweet Potatoes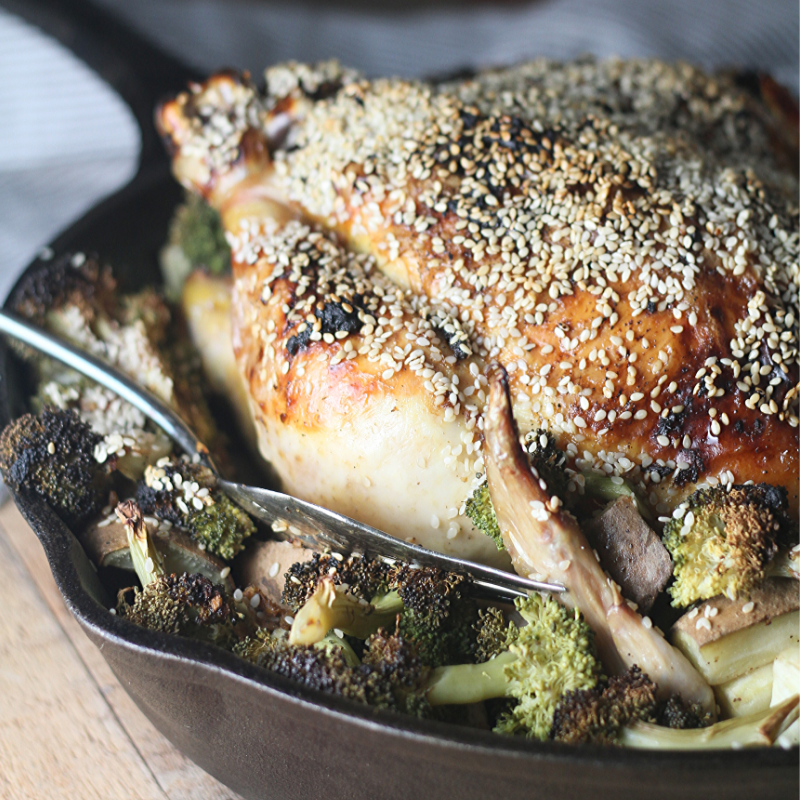 Simplify your dinner prep with tasty, nourishing soups!  My short, practical ebook is filled with my family's favorite one-pot, gluten-free, real-food soup recipes.
Get your copy of Nourishing Soups today!
This post may contain affiliate links, which means I make a small commission at no extra cost to you.
See my full disclosure here.
Paleo Sesame Garlic Chicken with Broccoli & Sweet Potatoes is a simple one-pot meal with flavorful results fancy enough for guests or a special occasion.
In fact, Older Bro, age 11, requested this meal for his most recent birthday dinner.  It's the only way my kids will eat broccoli without complaining!
I have been known to double this recipe and make two birds at the same time.  My family loves this Paleo Sesame Garlic Chicken, and leftovers are a mom's best friend!
White vs Orange Sweet Potatoes
Be sure to look for white sweet potatoes, which have a more subtle flavor than regular orange-colored sweet potatoes.  White sweet potatoes closely resemble regular white baking potatoes in appearance, but are sweeter and more nutrient-dense.  Their neutral color perfectly pulls together the aesthetics of this dish while providing greater nutrition than regular potatoes.
In other words, you could substitute regular sweet potatoes but the end results won't look as good.  You could also use regular white potatoes but the nutritional value will be lower.  I prefer white sweet potatoes for this Paleo Sesame Garlic Chicken recipe because of their color, flavor, and nutritional value.

How to Find Pastured Chickens
When it comes to purchasing the best chicken available, look for a local farmer selling pasture-raised birds.  Local, pastured chicken is far superior to "organic" grocery store chicken.  Don't be misled by labels at the store.
"Free range" simply means the chickens aren't kept in cages.  It doesn't mean they're actually free-ranging.  "Organic" means the chickens were raised without prohibited substances like hormones, GMOs, antibiotics, & pesticides.  It does not mean they are eating the things chickens are supposed to be eating.
Even if there are no farms near you, I'm betting you can find at least one farmer who is delivering to your area.  Many farmers within driving distance of big cities love to sell their farm products at farmers markets and health food stores.  If there is enough demand, some farmers will even make drops at a residence.
Once you've found a source for clean, pastured chickens, you can enjoy one of your delicious birds in this Paleo Sesame Garlic Chicken…
Print
Paleo Sesame Garlic Chicken with Broccoli & Sweet Potatoes
Author:

Prep Time:

20 mins

Cook Time:

1 hour 30 mins

Total Time:

1 hour 50 mins

Yield:

6

servings

1

x
---
---
Instructions
Preheat oven to 425.
Begin heating a 12-inch cast iron skillet or dutch oven over med-high heat until very hot, about 3-5 minutes.
In a small bowl or 2-cup Pyrex measuring cup, combine: 2/3 c. coconut aminos, 2 TB toasted sesame oil, 1 TB grated ginger, 6-8 minced garlic cloves and 1 tsp ground black pepper.
Pat chicken dry and season with about 1/4 tsp unrefined sea salt.
When skillet is hot, add 2 TB toasted sesame oil and heat about 30 seconds.
Place chicken breast side down in the skillet and sear 3 minutes or until golden and crusty.
Turn chicken and sear the other side for about 3 minutes.
Remove skillet from heat and scatter potatoes around chicken. Add broccoli pieces on top of the potatoes.
Pour the coconut aminos mixture over chicken and veggies.
Sprinkle sesame seeds over chicken and veggies.
Roast 1 hour to 1 hour 30 minutes, or until a thermometer registers 175 (insert in thigh).
If possible, stir veggies and spoon drippings over chicken and veggies once or twice during cooking.
Remove skillet from oven and serve with delicious drippings from the bottom of the pan.
---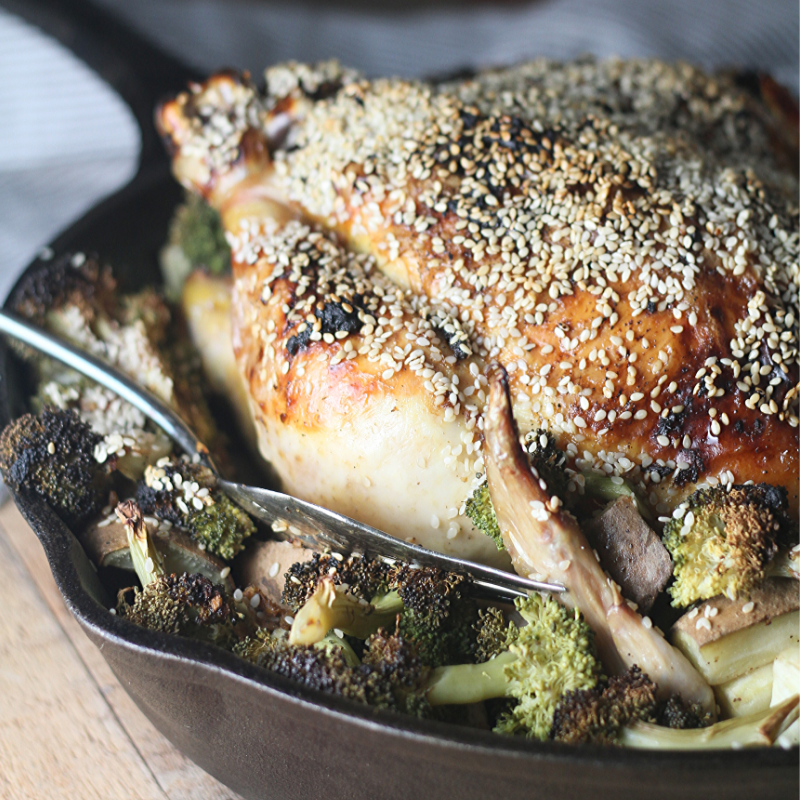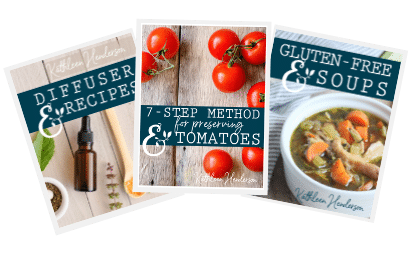 Sign up NOW for my best tips delivered weekly to your inbox!
You'll also get instant access to my library of free ebooks and resources.