Help Me Makeover Our New Kitchen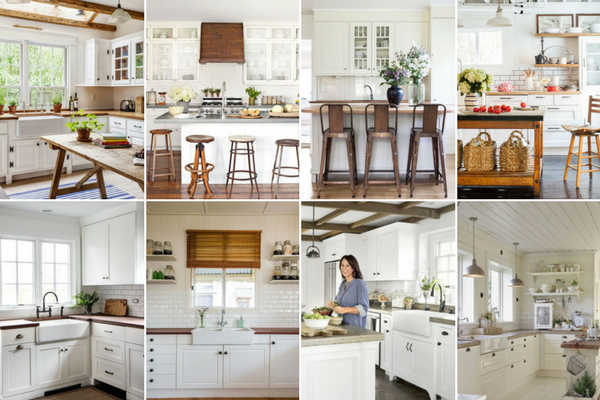 This post may contain affiliate links, which means I make a small commission at no extra cost to you.
See my full disclosure here.
Y'all, we closed on the new farm last Friday.  It still feels a bit surreal, but it's really happening!  It's time to hit the ground running with renovations, and I need your help!
The new house is technically move-in ready, but we're hoping to complete at least a few of our biggest projects before moving in.  The good news is that we can continue to live in our current house until it sells, which give us some time to get the new house ready.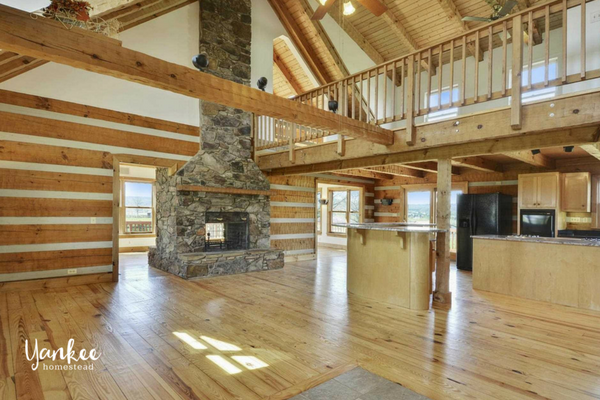 The project list
The biggest tasks on our list of projects:
refurbish the kitchen
reconfigure the laundry-mudroom / guest bath / master bath (which are all lined up in a row)
remove strange dividing wall in the basement
install a bathroom in the basement, in an already-plumbed space
The last two projects, removing a dividing wall in the basement and installing a bathroom in an already-plumbed space, plus lots of miscellaneous small tasks, seem to fall into the DIY category.
The first two projects, refurbishing the kitchen and a complete overhaul of the laundry / mudroom / guest bath / master bath, are definitely beyond the scope of our abilities.

Kitchen updates
First up is the kitchen renovation.  I am so excited to have a bigger kitchen with more storage, a gas range, double ovens, and island seating.  Happy dance!
But the cabinets need some TLC, the counters have got to go, and the dishwasher is placed so high that our kids can't reach the top rack.
About that second island…it definitely offers additional storage and extra seating for guests, as well as for family meals and homeschool lessons.  I love that.
On the other hand, it gives off a sort of Jetsons vibe, don't you think?  We're just not feelin' that rounded shape and those swirly pink space-age counters.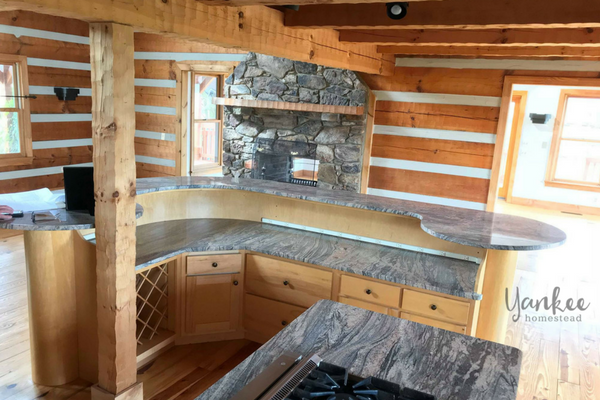 Help me makeover our new kitchen!
I have a few ideas cooking, but am a girl in need of some feedback.  Time is short.  I meet with the contractor and cabinets guy TODAY!
So hit me with your best kitchen ideas, and the sooner the better!  Here's what I'm thinking…
1. Refinish all cabinetry to white.
2. Remove appliance garage.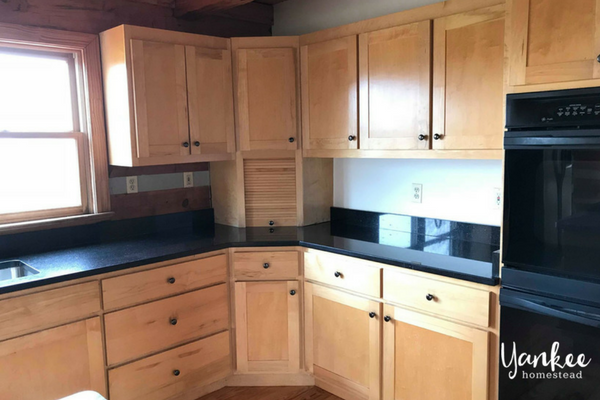 3. Remove set of upper cabinets to the right of the window.  Replace with two open shelves.
4. Add white subway tile back splash.
5. Move dishwasher down to floor level and add shelf above.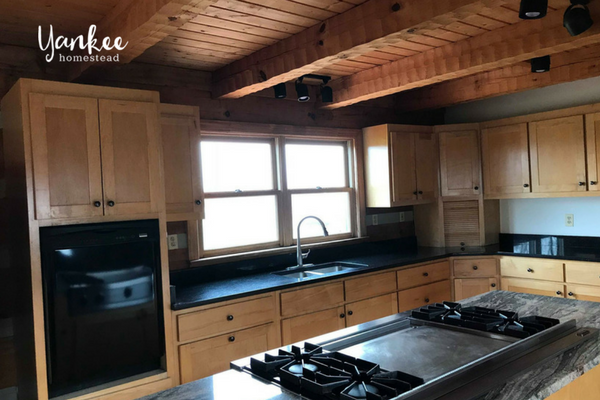 6. Paint tongue & groove ceilings white, leaving wood beams bare.
7. Change out light fixtures.  (White?  Track lighting?  Pendants?)
8. Replace appliances with stainless steel.
9. Install large white apron front sink.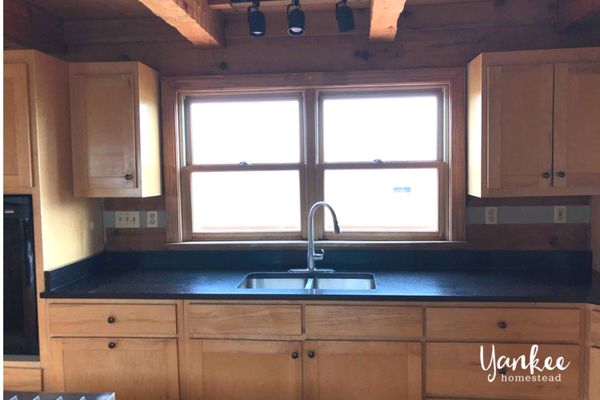 10. Replace all counter tops with butcher block.  (Or poured concrete? Or white stone?  Or a combination?)
11. Modify the two-tier island and counters to a squared-off shape.  Less Jetsons, more farmhouse style.
Kitchen inspiration 
Here are a few images of the look I'm going for.  Check out more ideas on my Kitchen Pinterest board.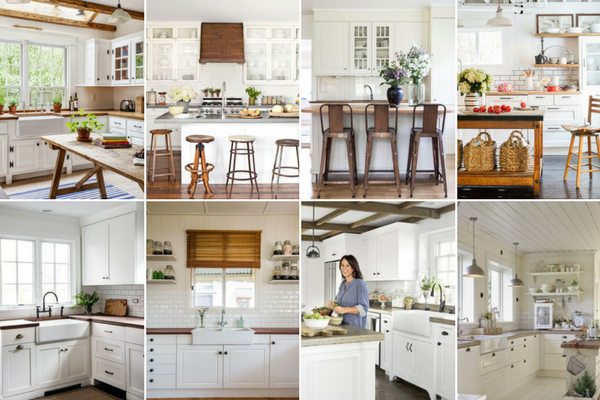 If you have experience with any of these specific challenges, I would love to hear from you…
Tiling over a log & chink wall
Modifying a dated island–specifically, adding corners to a rounded island base
Replacing a section of upper cabinets with open shelves
Choosing new countertops: will butcher block add too much wood in a space that already has so much wood, or will it tie everything together?  Should all four countertops be butcher block or should we mix it up a little?
What changes would you make to bring this kitchen space up to date?  I want to hear your ideas!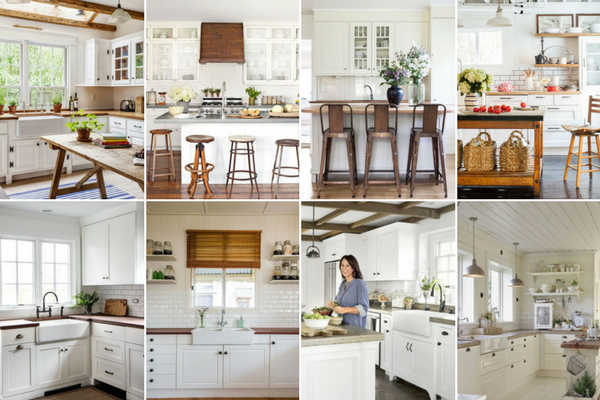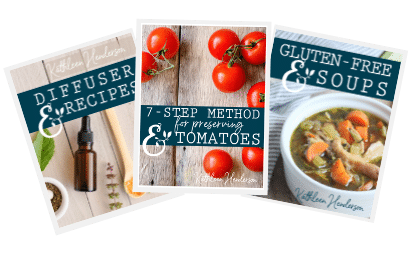 Sign up NOW for my best tips delivered weekly to your inbox!
You'll also get instant access to my library of free ebooks and resources.