Join the Seasonal Club.  Ditch the processed life! Learn to grow, source, preserve, and prepare real foods ALL YEAR LONG!  LEARN MORE >>
Join the Seasonal Club.
Ditch the processed life! Learn to grow, source, preserve, and prepare real foods ALL YEAR LONG!  LEARN MORE >>
Make Your Own Dehydrated Peach Chips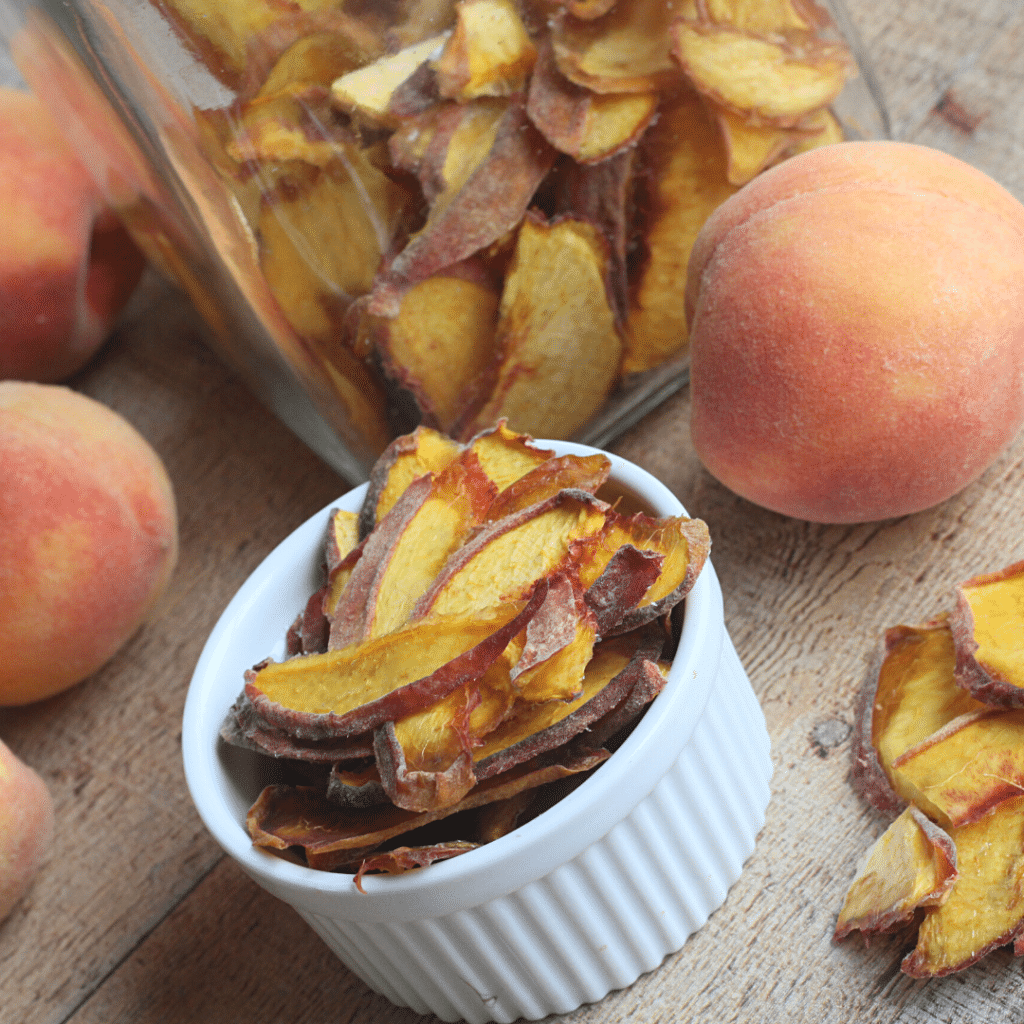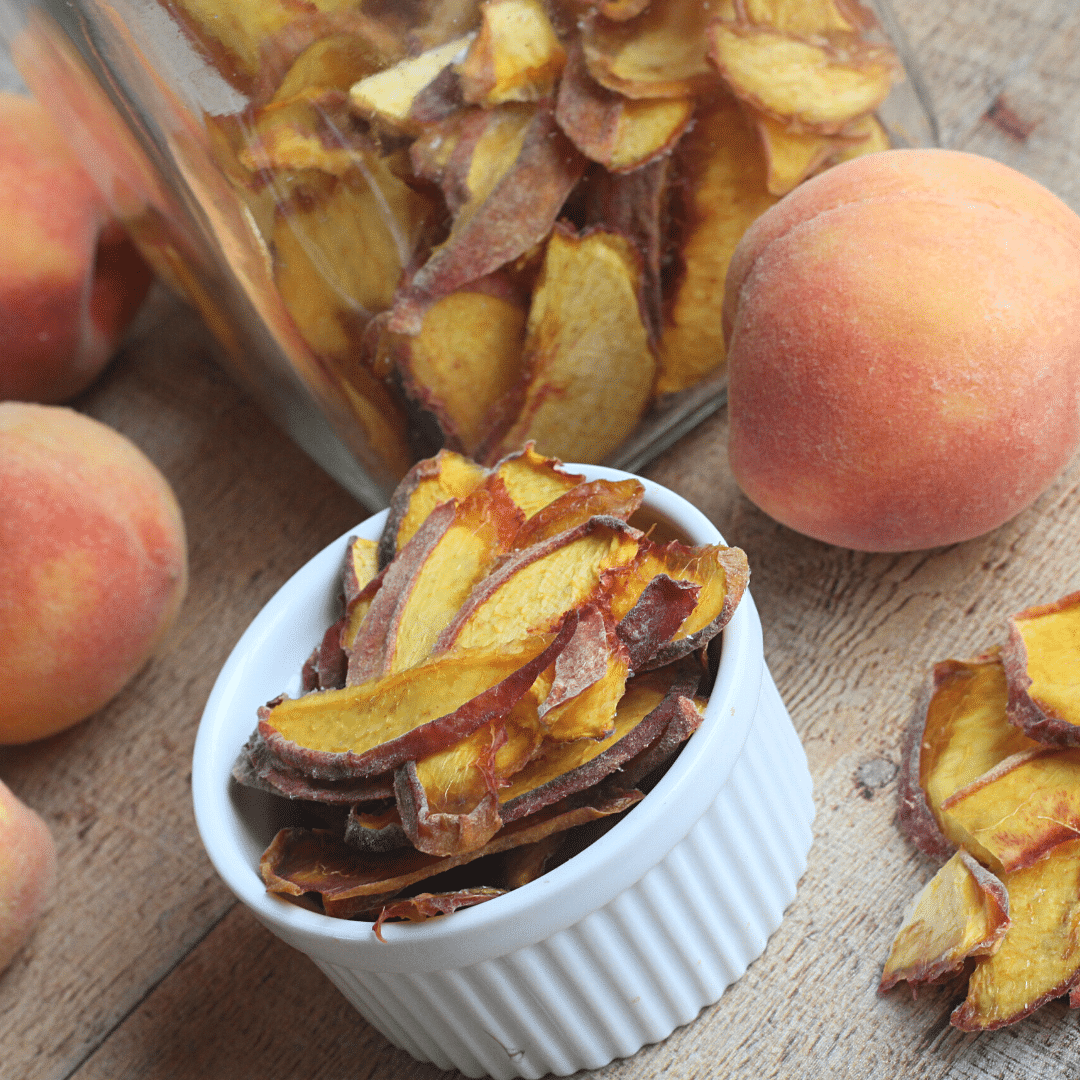 This post may contain affiliate links, which means I make a small commission at no extra cost to you.
See my full disclosure here.
Instant peach tree
One of the best things about these dehydrated peach chips is that they came from our very own peach tree! It feels a little bit like cheating, to buy a new property and enjoy the fruit from trees that someone else planted.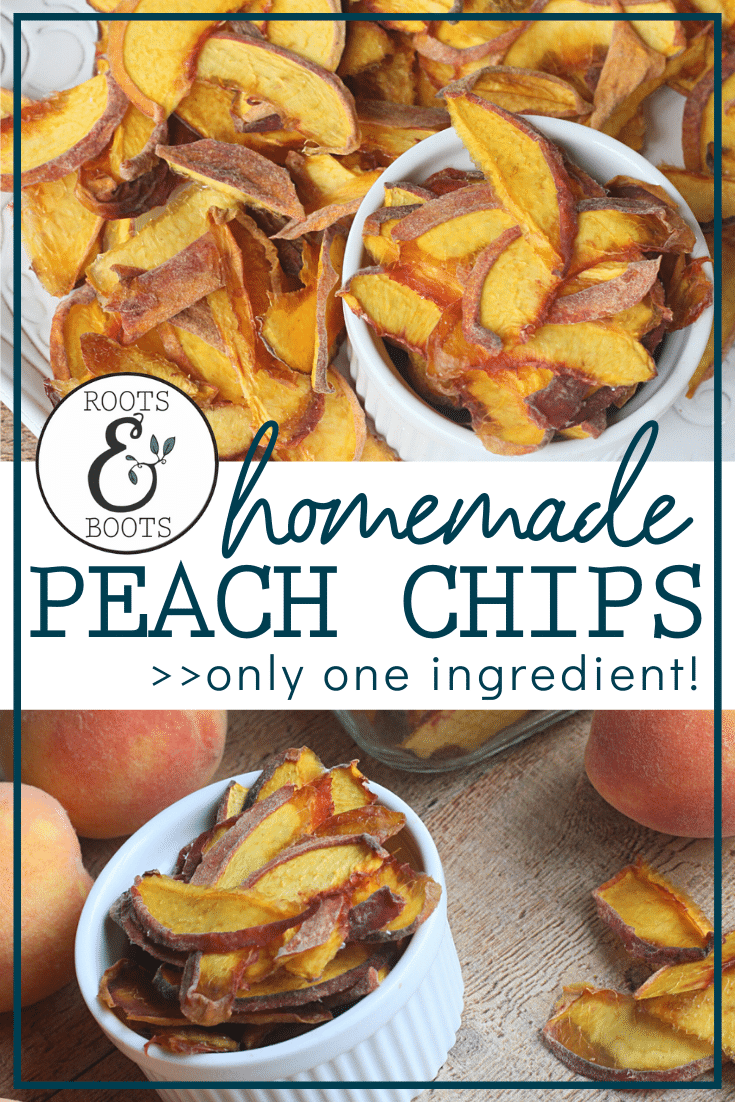 It also feels a little bit like hitting the jackpot. Apples! Peaches! On trees that are already mature and producing, with no help from us. All we had to do was pick the fruit and turn it into yummy things to eat all year long.
Looking for more peach recipes? Try these: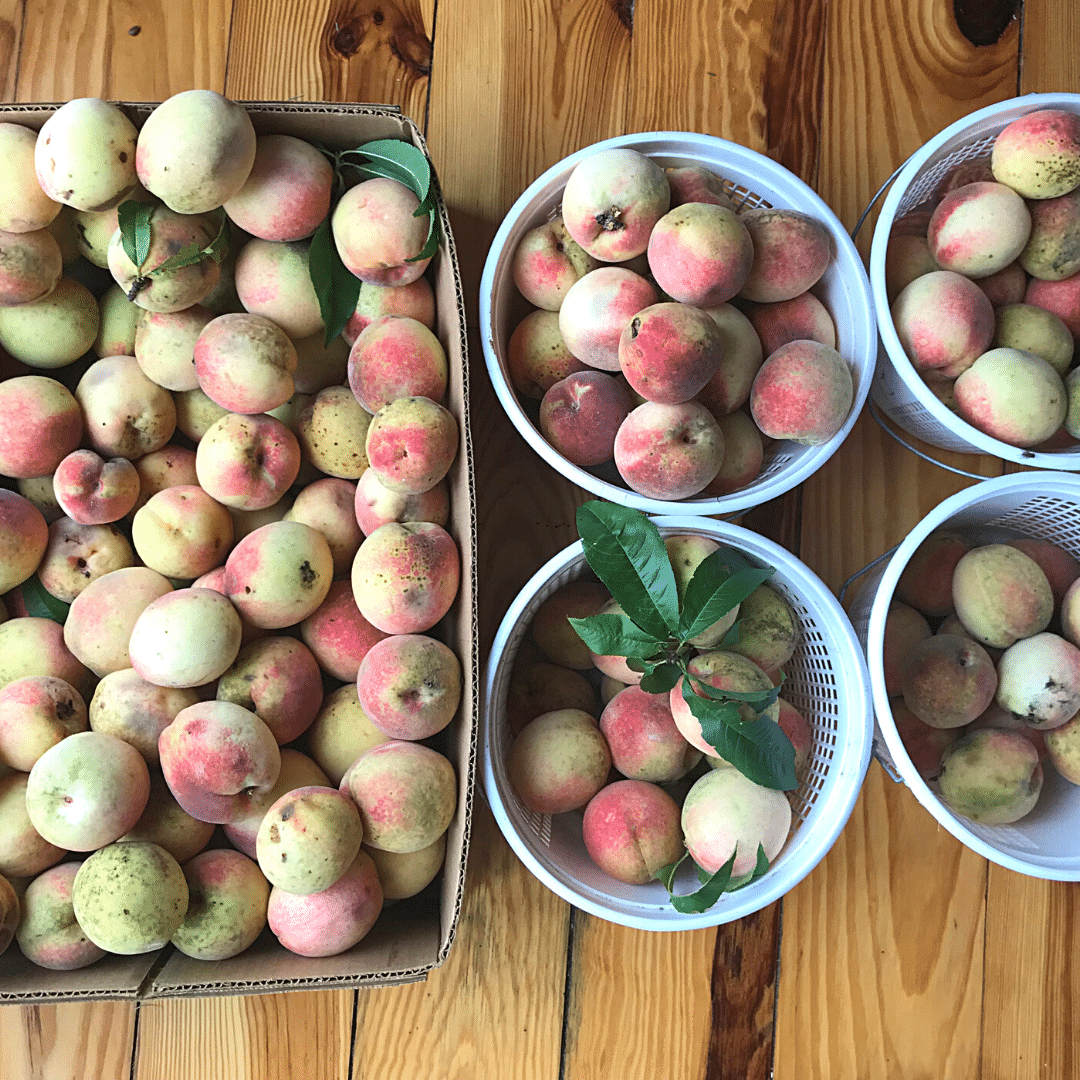 Kitchen helpers
Dehydrated peach chips are like candy at my house: my boys can plow through an entire batch faster than you can say "hungry hungry hippos" which is why I've trained these capable young lads to make dehydrated peach chips without my help. #momwin
It's a pretty simple process: slice, spread, dry, eat. The almost-12yo does the slicing and the 8yo does the spreading. They've both perfected their respective jobs and are pretty proud of the fact that they can work together to produce a 9-tray batch of dehydrated peach chips.
The 4yo's job is to sneak fresh peach slices and peach chips when no one is looking.
Busy little squirrels
The first batch, which I helped with, was largely consumed by the fistful, and without permission. It was gone in the blink of an eye.
For the second batch, I asked them to "put up" the chips in tightly sealed jars. The boys had worked so hard on this batch, and they remembered how quickly the first batch disappeared, that there was no protest. They all (except the 4yo) agreed we should reserve this batch to eat in the winter.
We've decided we all feel like squirrels, gathering and storing our nuts for the cold months to come. It's a lot of work when you add up the apples and peaches and tomatoes and beets and peppers and green beans and berries and more, but it's also very rewarding.
I love that our boys get to experience the joy of growing and harvesting food, and then putting it away for the year to come, until it's time to repeat the process all over again next year.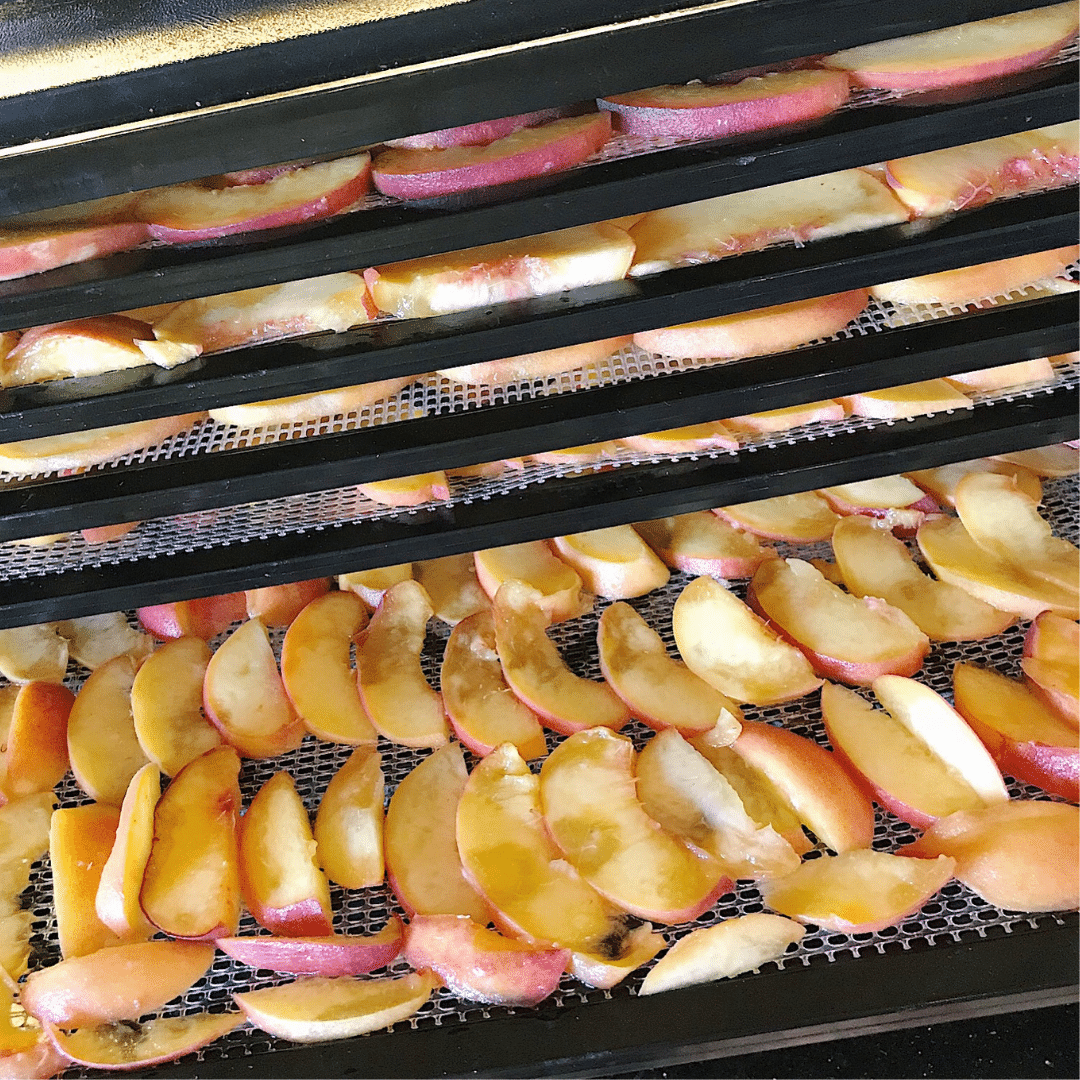 Dehydrator = less stress
These dehydrated peach chips are yet another reason to love my dehydrator. I'm so serious when I say that my dehydrator was one of the absolute best purchases ever. This is the one I have.
Growing our own food makes me so happy. I love it. But when the harvest comes in, it can feel pretty darned overwhelming. Stressful, even.
How to get all the food put away in a timely fashion without wasting any of it and without losing your mind? The dehydrator is the answer!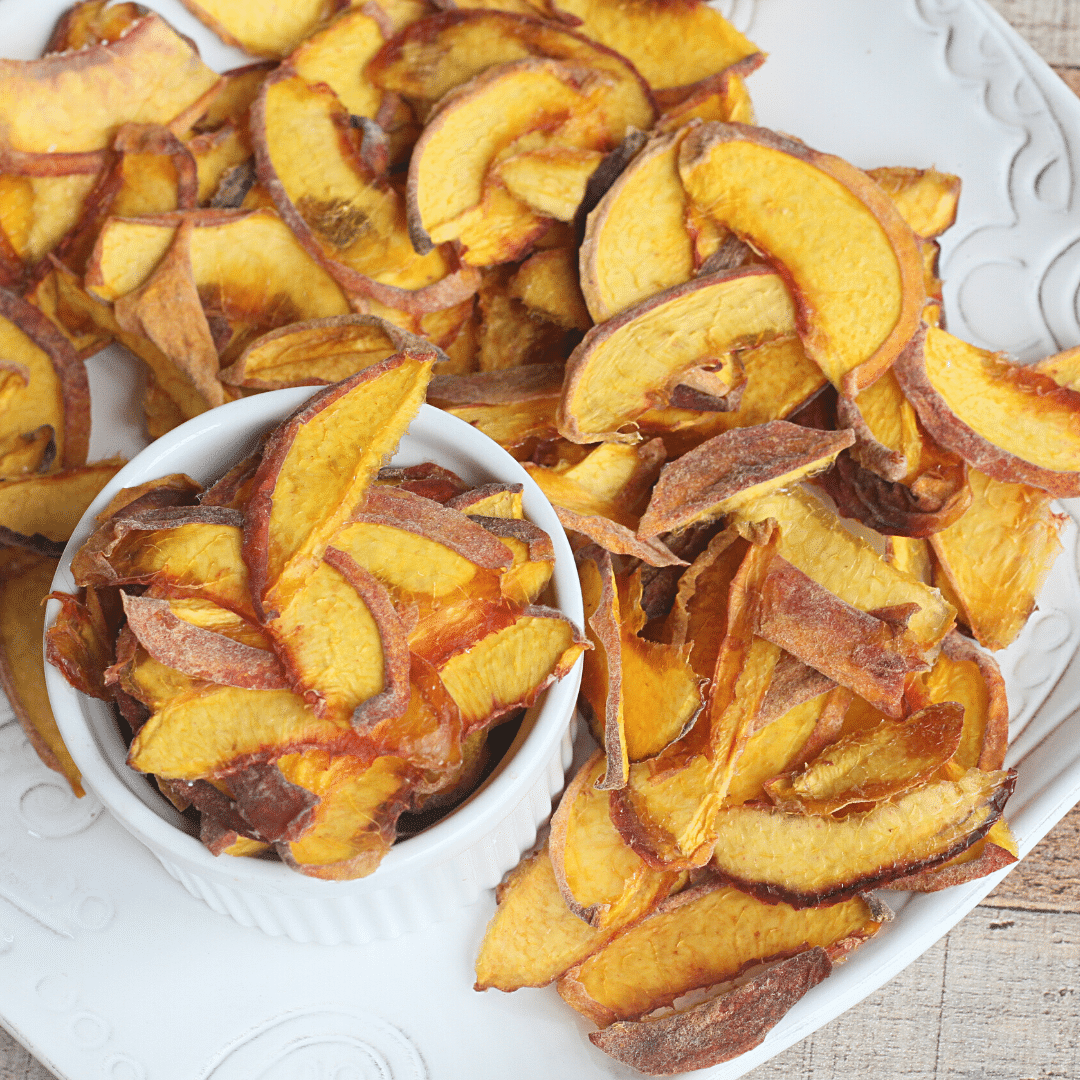 So when, just a few days after we returned from picking over 60 pounds of peaches at a local fruit farm, we realized that our very own peach tree was loaded with ripe peaches, I did not despair. Or at least I did not despair nearly as much as I would have BD (before dehydrator).
I canned peaches like crazy: peach jam, peach butter, sliced peaches. I made a peach pie. We ate fresh peaches at every meal.
And then we turned the surplus into delicious dehydrated peach chips. Super simple, especially with the help of my junior assistants.
Other foods we like to dry in the dehydrator:
Print
---
---
Instructions
Rinse and drain peaches.
Slice. The more uniform the slices, the more even the drying process.
(I do not treat the slices.)
Spread peach slices on dehydrator trays.
Dry at about 135 for 8-12 hours.
Allow chips to cool. They will crisp up as they cool.
Store in airtight jars or containers.
(Hide from family members.)
---
12 NOURISHING GLUTEN-FREE SOUP RECIPES
Simplify your dinner prep with these tasty, nourishing soups!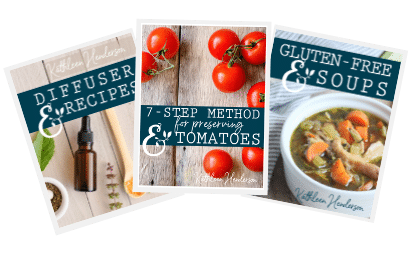 Sign up NOW for my best tips delivered weekly to your inbox!
You'll also get instant access to my library of free ebooks and resources.