Canning Honey Sweetened Blackberry Jam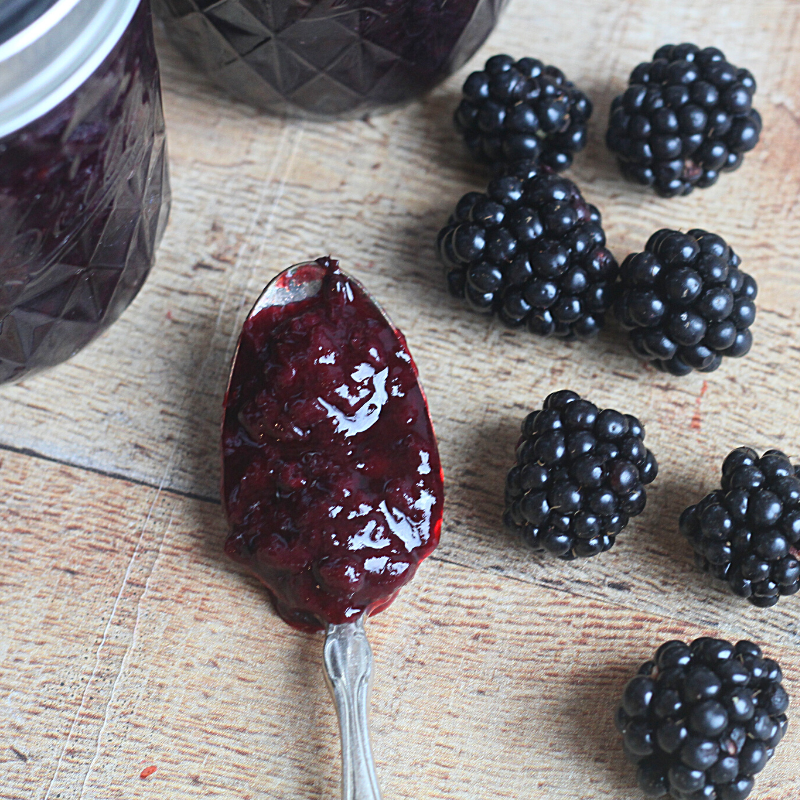 Simplify your dinner prep with tasty, nourishing soups!  My short, practical ebook is filled with my family's favorite one-pot, gluten-free, real-food soup recipes.
Get your copy of Nourishing Soups today!
This post may contain affiliate links, which means I make a small commission at no extra cost to you.
See my full disclosure here.
If you're looking for a simple, sugar-free recipe for blackberry jam, you're going to love this Honey Sweetened Blackberry Jam!
My own family will probably be sick of honey sweetened blackberry jam by next year, becauseI canned 32 jars this summer. 32, y'all!
I had to make up for lost time since our big move to the new farm completely consumed my life right through (sniff sniff) strawberry season and then (sniff sniff sob) blueberry season.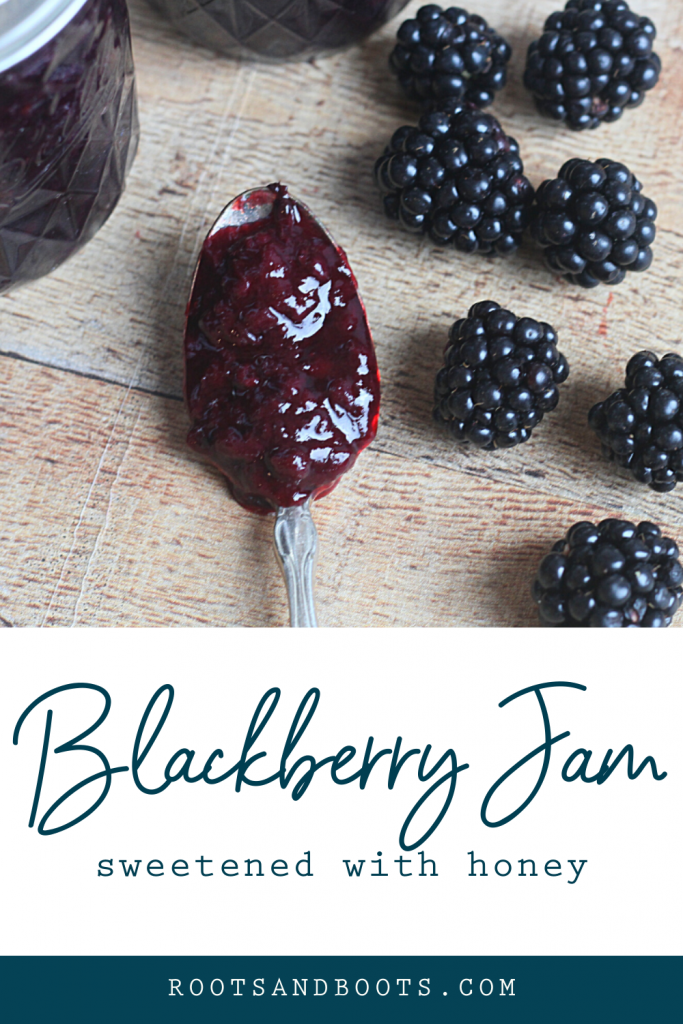 So there will be no strawberry or blueberry jam for the Henderson clan this year, but we shall have blackberry jam. And peach jam, but I'll save that story for another time…spoiler alert: our new farm came with a mature peach tree!
Back to the honey sweetened blackberry jam…
The boys and I picked a ton of blackberries at a local fruit farm, and I wanted to turn most of our haul into jam. You know, to make up for the aforementioned jam shortage at my house.
I had hopes of canning jam without sugar or processed pectin, but didn't plan ahead and wound up needing to get those berries jammed before I had a chance to grab some Granny Smith apples. So I fell back on the Pomona's Pectin I like to keep stashed away just in case.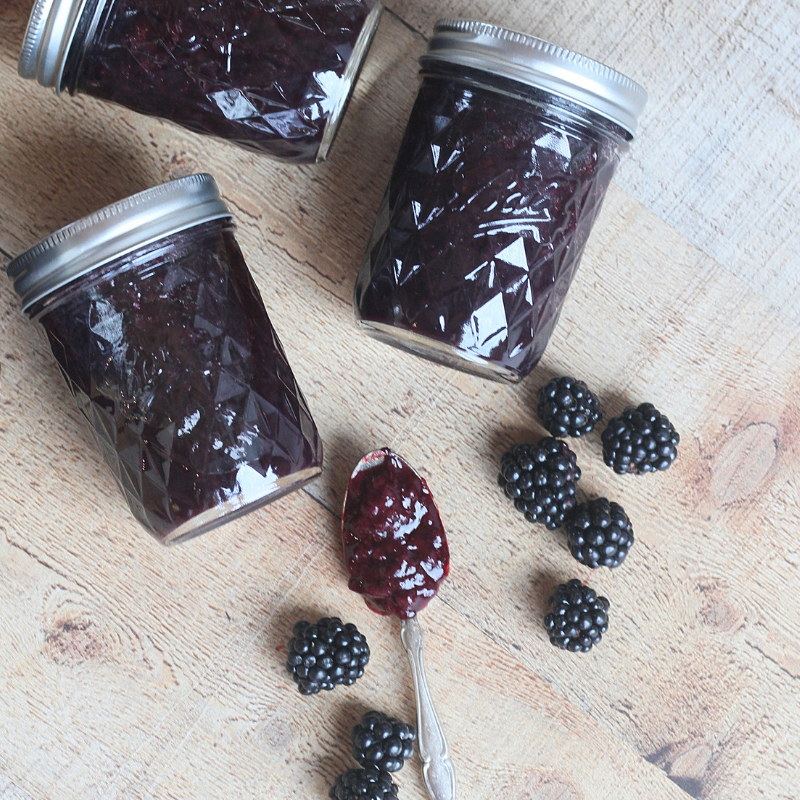 Pomona's Pectin is simple to use and produces a firmer jam than what you'd get from using the natural pectin in apples. And it's less processed than regular canning pectin, which feels like a reasonable compromise to me.
More jam recipes without sugar (and some without pectin):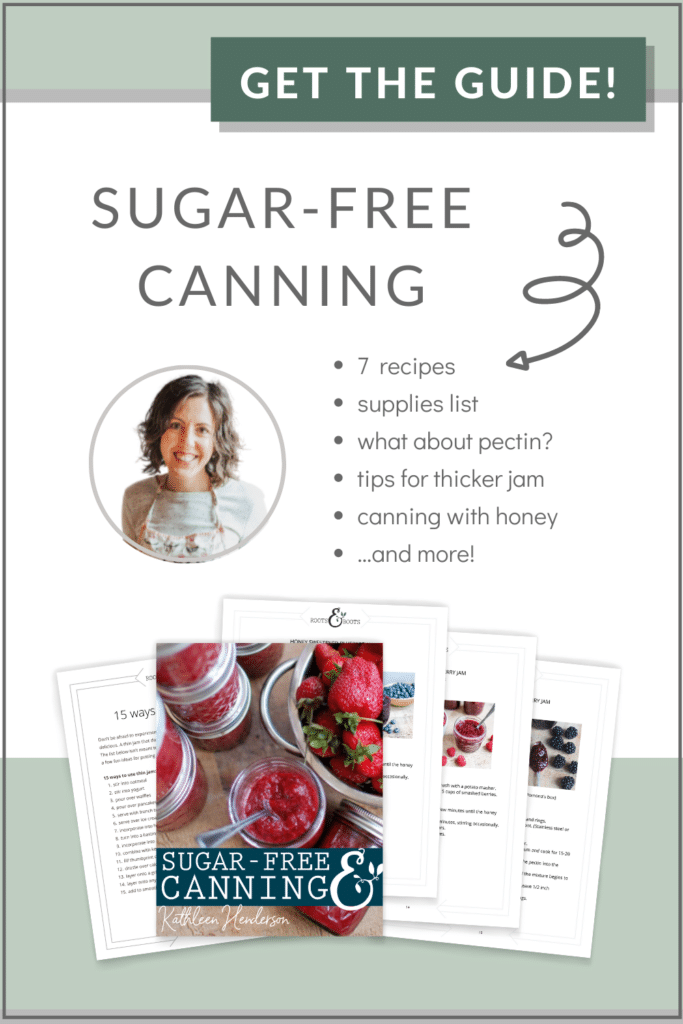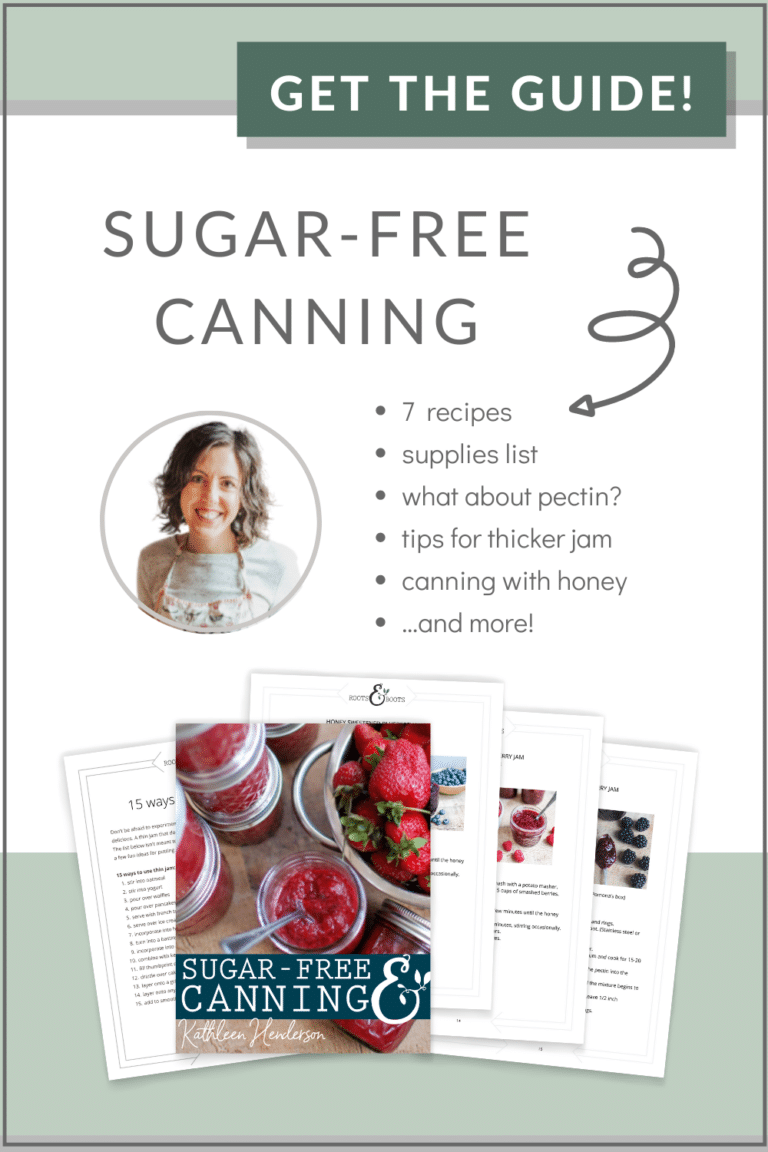 Maybe next year after we're finally settled (at least I hope we'll be settled by then!), I'll attempt a honey sweetened blackberry jam with natural pectin. Unless, of course, my family refuses to eat even one more jar of blackberry jam, in which case I might have to can 32 jars of honey sweetened blueberry jam just to make up for going without it for a year…
Print
Honey Sweetened Blackberry Jam
Author:

Yield:

6

half pints

1

x
---
4

lbs blackberries

2

c. honey, divided

2

TB lemon juice

1

TB calcium water (use the calcium packet from your Pomona's box)

1

TB Pomona's Pectin
---
Instructions
Prepare a boiling water bath and 6-8 half pint jars, lids, and rings.
Rinse the berries and place in a low, wide, nonreactive pot. (Stainless steel or enameled cast iron.)
Use a potato masher to crush the berries well.
Add 1.5 cups honey, 2 TB lemon juice, and calcium water.
Bring mixture to a rolling boil, then reduce heat to medium and cook for 15-20 minutes, stirring frequently.
When the berry mixture has reduced by about 1/4, stir the pectin into the remaining 1/2 cup of honey and add it to the berries.
Raise heat to high and boil for another two minutes until the mixture begins to thicken.
Remove pot from heat and spoon the jam into hot jars. Leave 1/2 inch headspace.
Wipe the rims with a clean, wet cloth and add lids and rings.
Process for 10 minutes in a boiling water bath.
---
Special thanks to Marisa McClellan for her book Naturally Sweet, a real asset in the quest for simple canning recipes without sugar.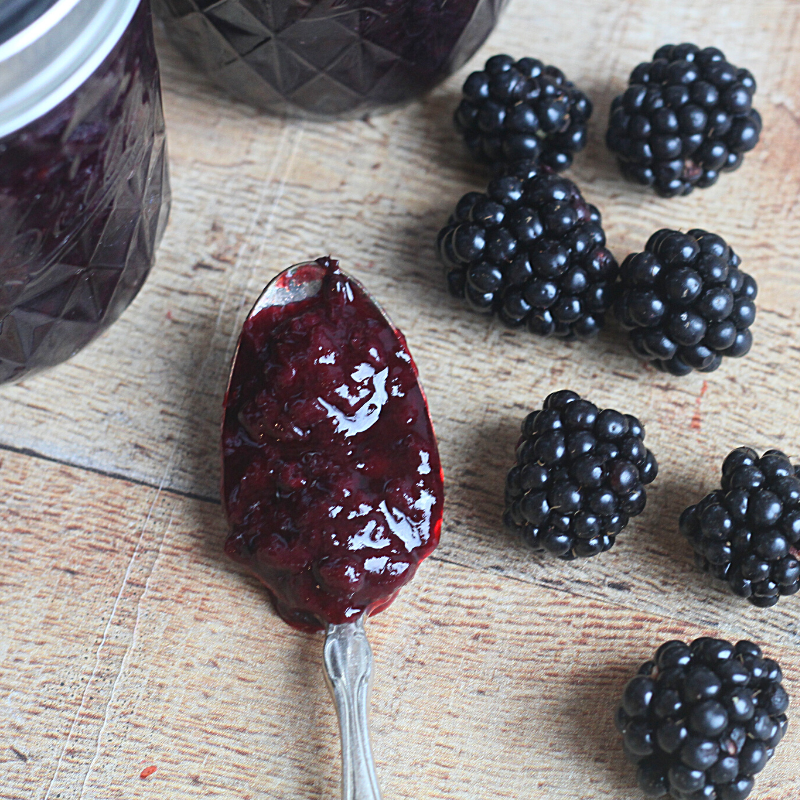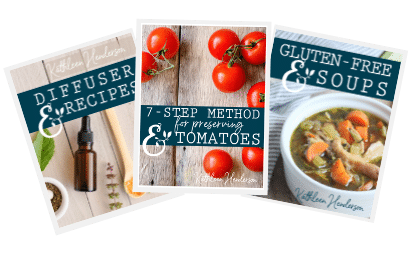 Sign up NOW for my best tips delivered weekly to your inbox!
You'll also get instant access to my library of free ebooks and resources.