Join the Seasonal Club.  Ditch the processed life! Learn to grow, source, preserve, and prepare real foods ALL YEAR LONG!  LEARN MORE >>
Join the Seasonal Club.
Ditch the processed life! Learn to grow, source, preserve, and prepare real foods ALL YEAR LONG!  LEARN MORE >>
Canning Honey Sweetened Strawberry Jam Without Pectin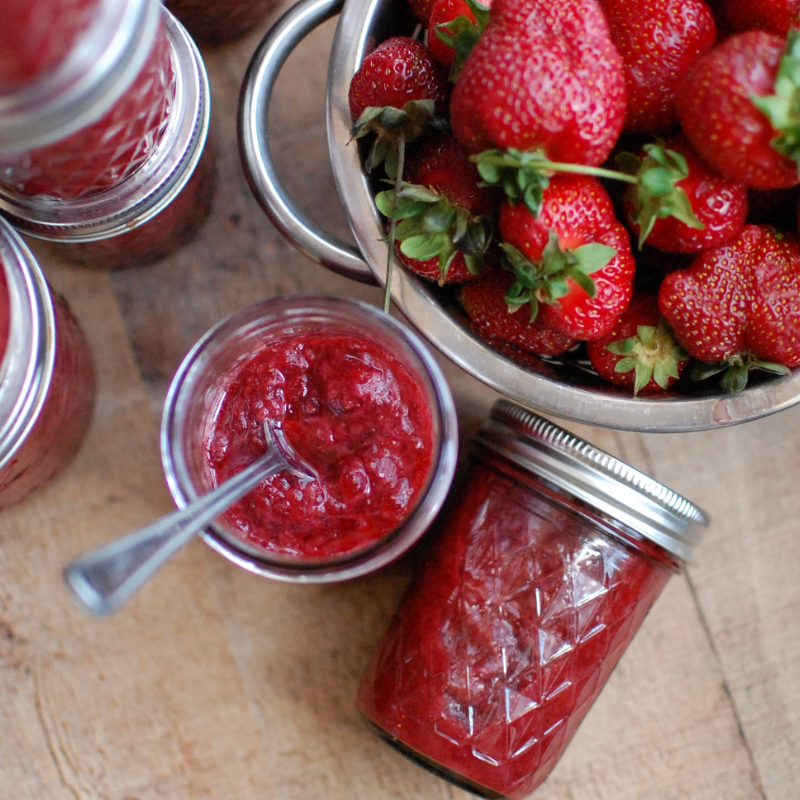 This post may contain affiliate links, which means I make a small commission at no extra cost to you.
See my full disclosure here.
Determined to land on a solid recipe for canning Honey Sweetened Strawberry Jam Without Pectin, I've conducted batch after batch of experiments with more than 60 pounds of berries this spring. I'm excited to share the results with you!
Looking for more ways to use up lots of strawberries?
If you really don't care about the ins and outs of how I arrived at this recipe, feel free to skip to the end. Otherwise, you might be wondering…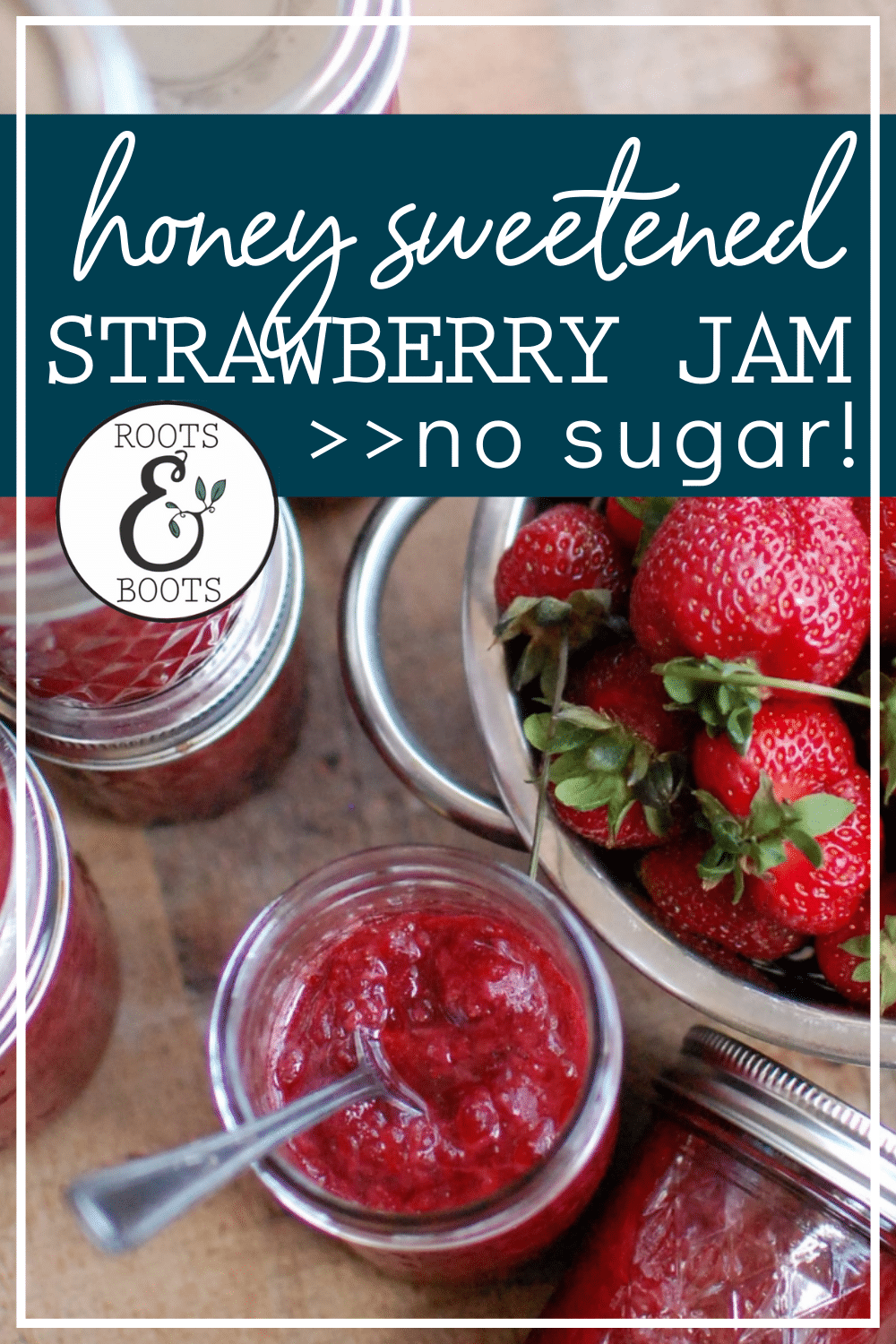 Canning Honey Sweetened Strawberry Jam Without Pectin
1. Why honey?
If you've followed me here at Roots and Boots for very long, you know the only thing I make with sugar is this perfect sugar scrub.
Sugar is bad news, people. It basically poisons the body. Remember how a bunch of diseases used to be tied to saturated fat? And "authorities" warned us against eating things like butter, bacon, and even coconut oil?
Well, it turns out all those diseases are actually linked to sugar. While this doesn't apply to our home canned strawberry jam, keep in mind that on the ingredients label of any processed food, sugar can masquerade as syrups, nectars, fructose, dextrose, lactose, and more.
At my house, we aim to avoid all added sugars. I try not to worry too much when we eat out at a restaurant or a social gathering, but in my own kitchen I rely on natural sweeteners like raw, local honey; stevia; dates; bananas; maple syrup; and coconut sugar.
Honey is my favorite, because it's actually a nutritious food. Granted, cooking raw honey does destroy some of those nutrients. But it's still a much better choice than granulated white sugar.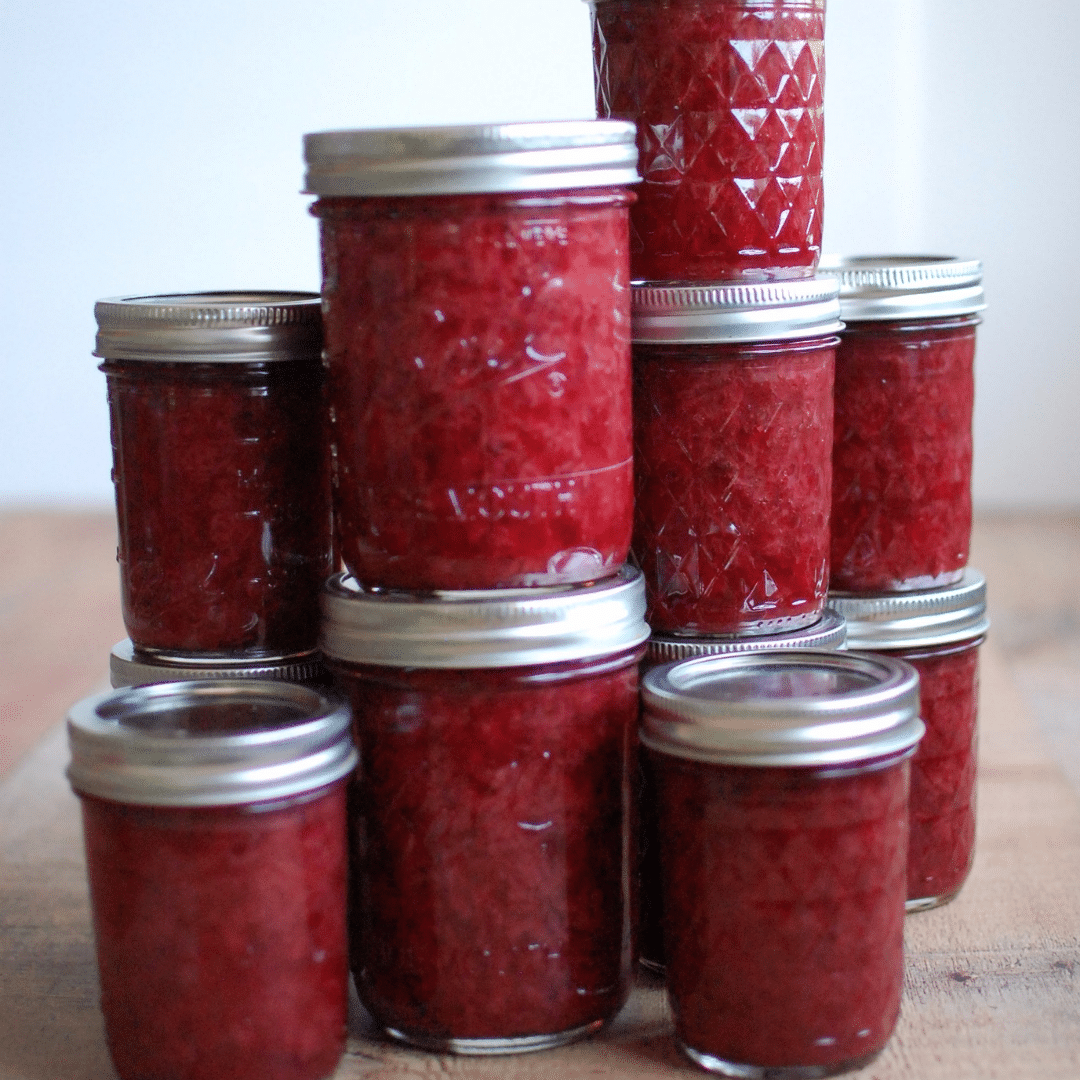 2. Why such a small amount of honey?
Have you seen regular canning recipes for strawberry jam? Yikes! It almost gives me a heart attack just to read the recipes, let alone consume the jam consisting of equal parts strawberries and sugar. Oh my word.
Did you know that the sweeter our food, the sweeter we like it? It's true. By reducing our sweetness intake, we can actually train our taste buds to be satisfied with less and less sweetness.
So I'm constantly looking for ways to reduce my family's need for sweetener. This is one way.
You may be interested to know that reducing the sweetener (whether sugar or honey) does not make a canning recipe unsafe. It may, however, reduce the shelf life of your jam once opened. This is a good reason to stick with the smallest jar that your family will consume within a short period of time.
Reducing the amount of sweetener will also affect the set of your jam. The ratio of sugar, fruit, and pectin is what achieves a nice firm set in home canned jam. Therefore, canning honey sweetened strawberry jam without pectin produces a softer end result. This jam will not be quite as thick and firm as store bought jam, or jam canned with lots of white sugar.
We've found this recipe to be suitable for spreading on toast and PBJ sandwiches, but it's definitely less thick than regular jam. It's not a bad thing, just different from what you may be used to and something to be aware of.
Also, I've found this jam will thicken up a bit after about two weeks on the shelf, or after refrigeration. If for some reason your jam never thickens up, do not despair. It's amazing as a strawberry syrup for pancakes, ice cream, yogurt, granola, and more!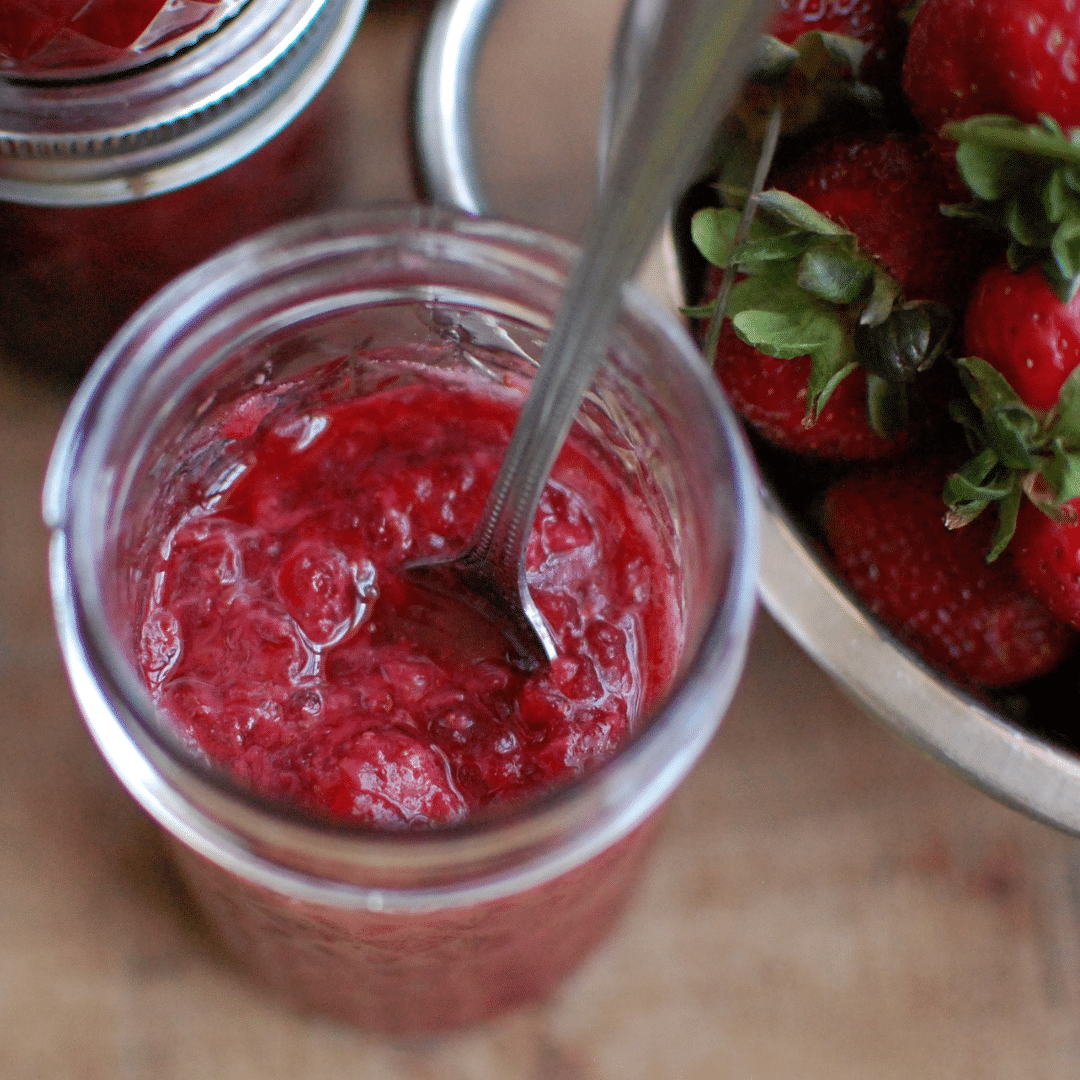 3. Why no pectin?
In general, I try to stay away from processed foods. I do love Pomona's Pectin, which is a more natural, less processed option for achieving a firm set, but it can be pricey and is still not organic.
Plus, I just love the idea of canning jam with completely natural, whole foods. Honey instead of sugar, apples instead of pectin.
The Healthy Home Economist points out that commercially produced pectin contains GMO dextrose and citric acid. Another problem with pectin is pesticides. Commercial pectin comes from citrus fruits, which are one of the most heavily sprayed fruit crops.
If I'm going to all the trouble of canning my own jam in order to know exactly what's in our food, it doesn't make much sense to add a processed ingredient that probably contains pesticides.
Although, sadly, I have yet to find a local source for organic strawberries. But I'm still looking!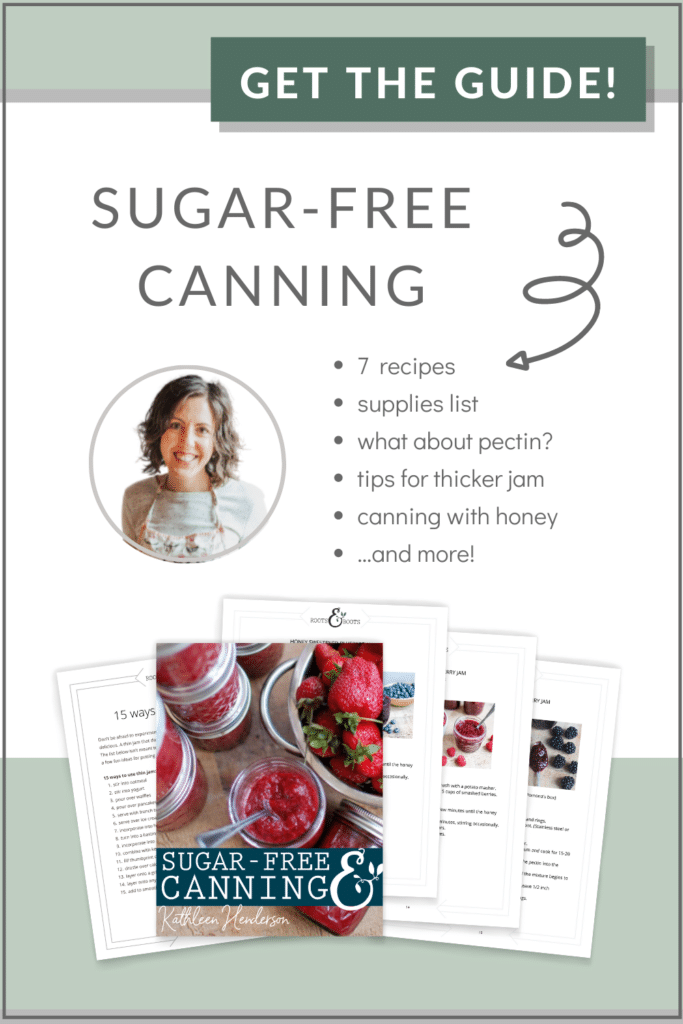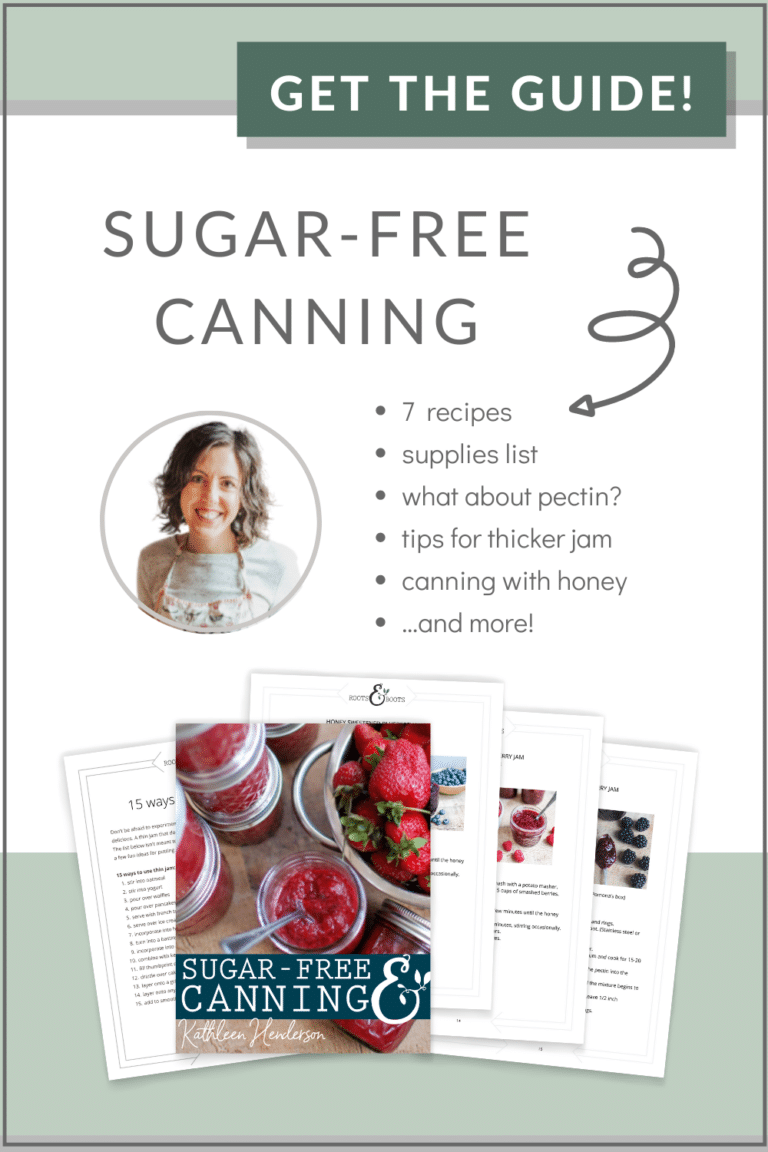 4. Why apples?
It would be more accurate to talk about canning honey sweetened strawberry jam without commercial pectin, because we do actually need pectin to make jam. It's just that we're using the natural pectin present in all fruit and especially in fruits like apples.
Be sure to use granny smith apples, because they're higher in pectin than other apple types. For my first batch, I used two small gala apples instead of four cups of granny smith. It didn't get very thick, but is delicious as a syrup over pancakes and yogurt!
More jam recipes without sugar (and some without pectin):
Print
Canning Honey Sweetened Strawberry Jam Without Pectin
Author:

Yield:

10

-

12

half pints

1

x
---
16 cups

sliced strawberries (

6

pounds)

4 cups

shredded granny smith apples, with skins

1.5 tablespoons

lemon juice

1 cup

honey
---
Instructions
Prepare your canning supplies: hot water bath canning pot with rack, hot sterilized jars, warm lids & rings, funnel, ladle, jar lifter, magnetic lid wand, clean towel, clean wet cloth. See these recipes for more details about the canning process: How to Can Green Beans; Roasted Tomato Sauce for Canning or Freezing.
Core and shred the apples to get 4 cups.
Place berries, shredded apple, and lemon juice in a medium to large pot on the stovetop.
Bring to a boil, then reduce heat.
Stir in honey.
Simmer gently for 15-30 minutes, stirring and scraping the sides from time to time.
Optional: mash berries with a potato masher or immersion blender. Or just leave them the way they are and call them preserves. (wink)
Continue to simmer for 15-30 minutes until mixture has thickened. This jam will not get as thick as jam made with purchased pectin.
To freeze jam: allow to cool completely, then ladle into freezer safe containers. Be sure to allow adequate head room. See this tutorial on freezing food in glass jars.
To can jam: ladle hot jam into hot, sterilized jars, leaving 1/4 inch head space. Add lids and process in a hot water bath canner for 10 minutes.
---
Notes
Click here to shop my favorite kitchen tools and real food ingredients.
Remember: this jam will not be as firm as store bought jam or jam canned with lots of sugar.
The smaller the jar, the safer the jam in terms of shelf life once opened.
This jam will thicken up a bit after a few weeks, or after refrigeration.
12 NOURISHING GLUTEN-FREE SOUP RECIPES
Simplify your dinner prep with these tasty, nourishing soups!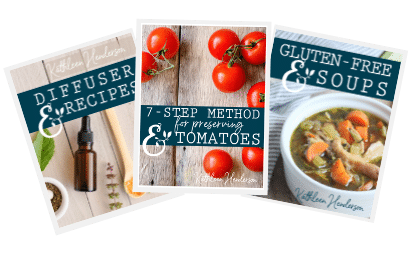 Sign up NOW for my best tips delivered weekly to your inbox!
You'll also get instant access to my library of free ebooks and resources.