Join the Seasonal Club.  Ditch the processed life! Learn to grow, source, preserve, and prepare real foods ALL YEAR LONG!  LEARN MORE >>
Join the Seasonal Club.
Ditch the processed life! Learn to grow, source, preserve, and prepare real foods ALL YEAR LONG!  LEARN MORE >>
Honey Sweetened Lemon Curd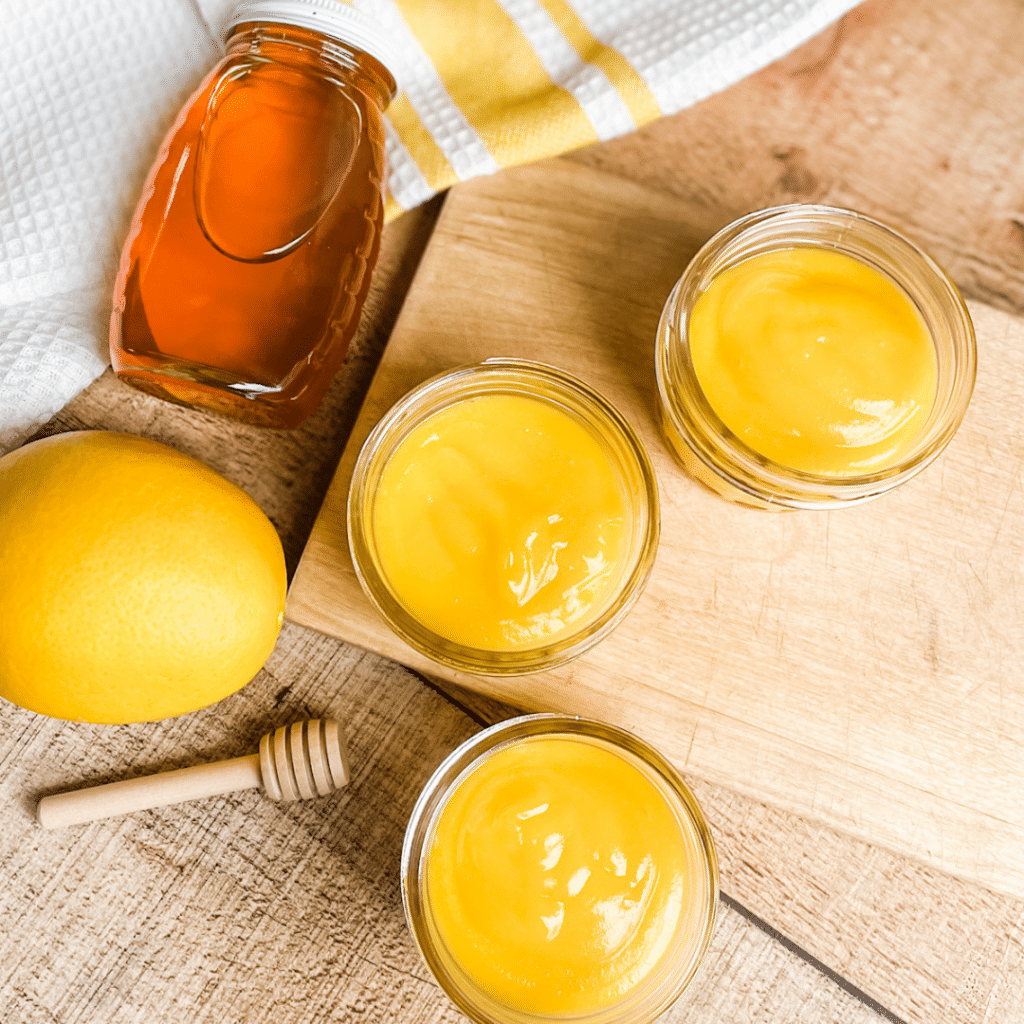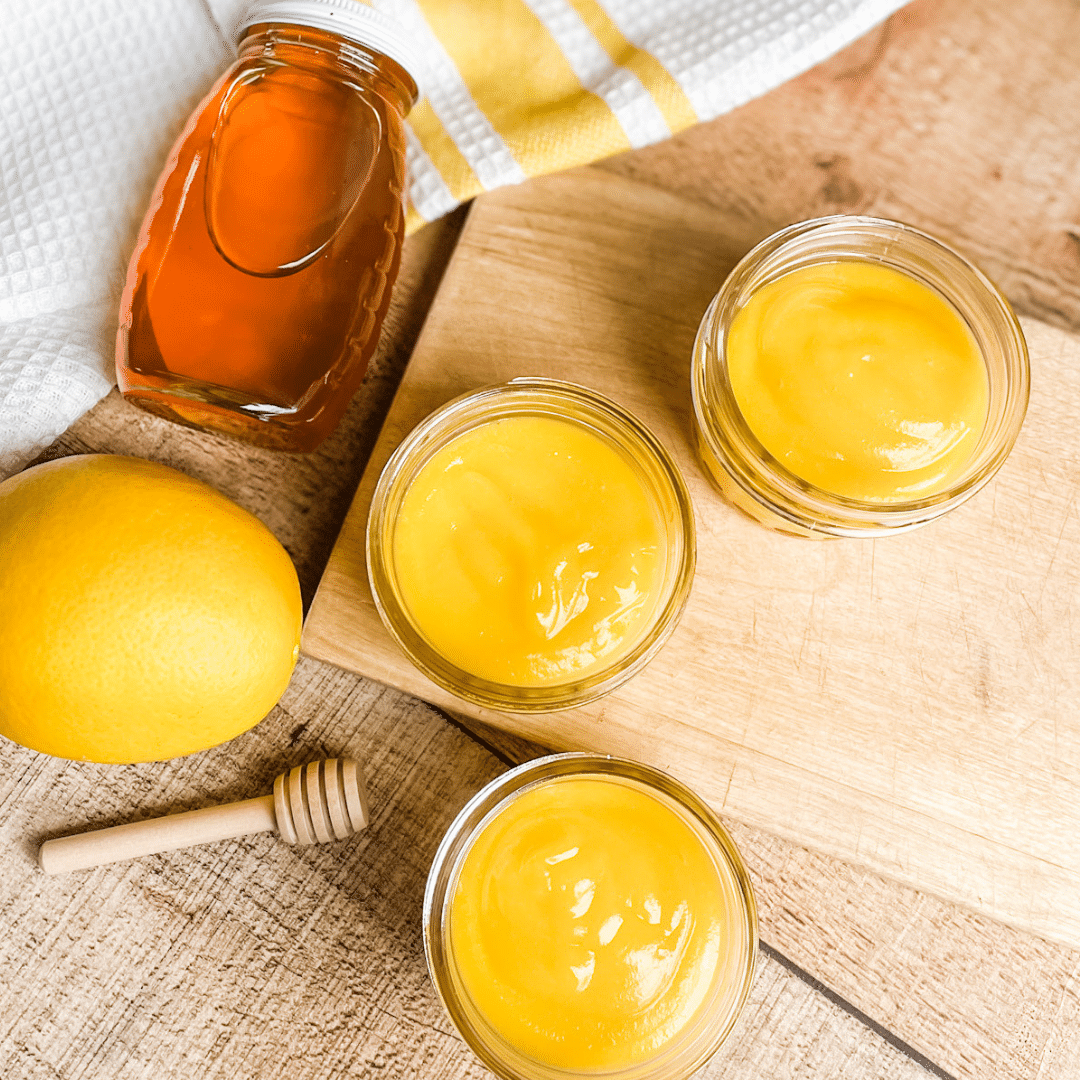 This post may contain affiliate links, which means I make a small commission at no extra cost to you.
See my full disclosure here.
When life gives you lemons, make this paleo-friendly, honey-sweetened lemon curd!
We inherited a potted lemon tree from a friend, who had received it from a random Facebook acquaintance. The original owner was moving out of state and couldn't take it. I'm still not exactly sure why my friend took it and then rehomed it with us, but I'm not complaining!
I had absolutely no idea what I was doing with an indoor citrus tree, but it seems happy. We keep it indoors during the winter and move it outside on the deck when temperatures warm up in the spring. Every December we get 10-15 beautiful, fragrant lemons with thin skin and a sweet taste which leads me to believe they are Meyer lemons.
Every winter, I absolutely love turning our homegrown lemons into this honey-sweetened lemon curd.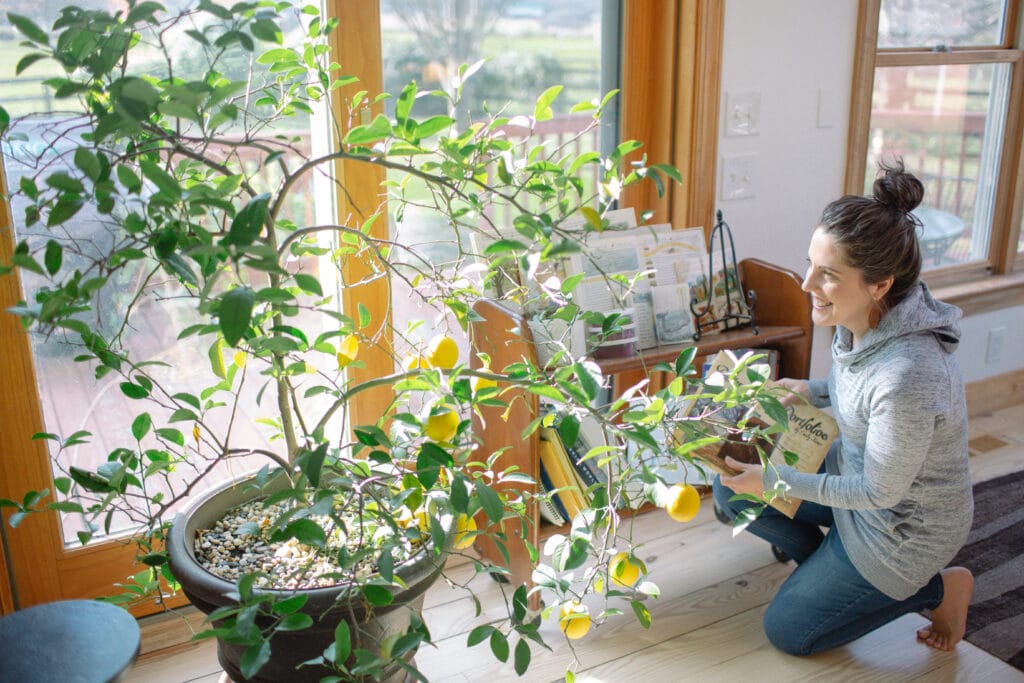 How to make honey-sweetened lemon curd
The process is pretty simple: simply combine lemon zest, lemon juice, eggs, coconut oil, honey, and salt in a medium saucepan. Heat over low, whisking constantly. Then strain and pour into jars.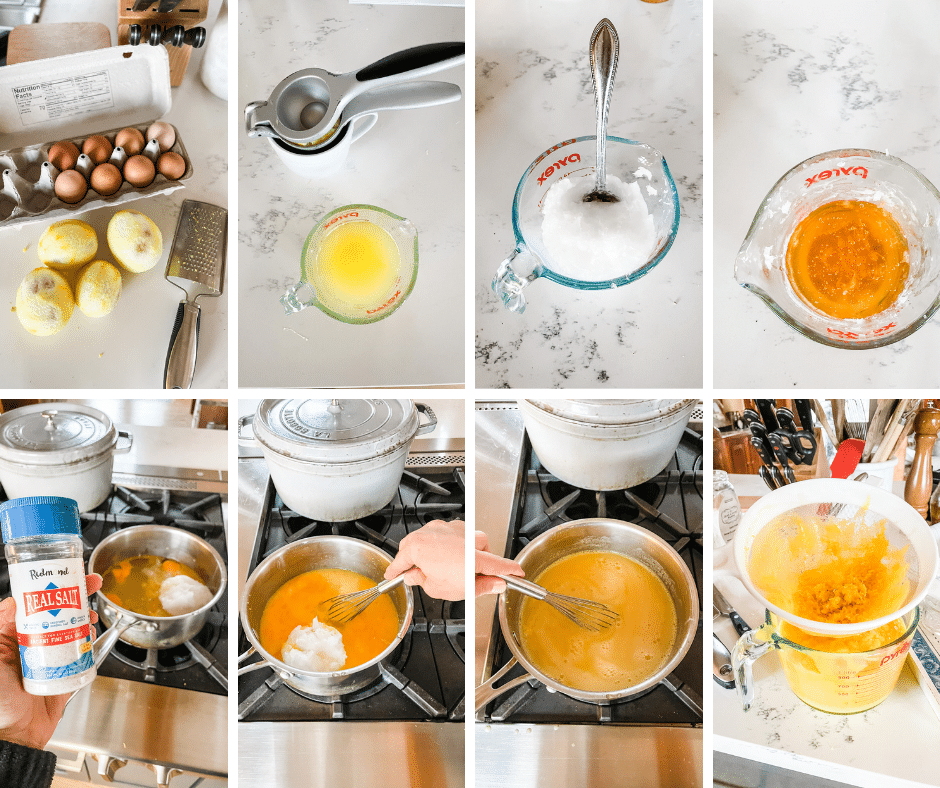 I've kept homemade lemon curd in the fridge for several weeks and even up to a month. It also freezes well.
9 ways to use honey-sweetened lemon curd
I love my lemon curd with dark chocolate: it's a match made in heaven!
For example:
You can also turn it into:
tart/pie – use this crust and fill it with lemon curd
mini-tarts – same as above, but use muffin or mini-muffin tins
More ideas:
Print
Honey Sweetened Lemon Curd
Author:

Prep Time:

15 minutes

Cook Time:

10 minutes

Total Time:

25 minutes

Yield:

5

servings

1

x

Category:

Desserts
---
zest of

2

lemons

1/3 cup

honey

1/2 cup

coconut oil (or unsalted butter)

4

eggs

1/2 cup

lemon juice, freshly squeezed

1/8 teaspoon

fine sea salt (see notes)
---
Instructions
Combine all ingredients in a medium saucepan.
Heat on low, whisking constantly until all ingredients are combined and have thickened slightly.
Strain mixture and pour into jars.
Refrigerate or freeze and use as needed!
---
12 NOURISHING GLUTEN-FREE SOUP RECIPES
Simplify your dinner prep with these tasty, nourishing soups!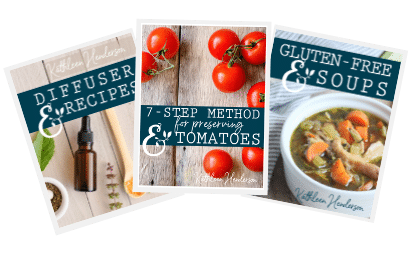 Sign up NOW for my best tips delivered weekly to your inbox!
You'll also get instant access to my library of free ebooks and resources.