25 Ways to Use Fresh Basil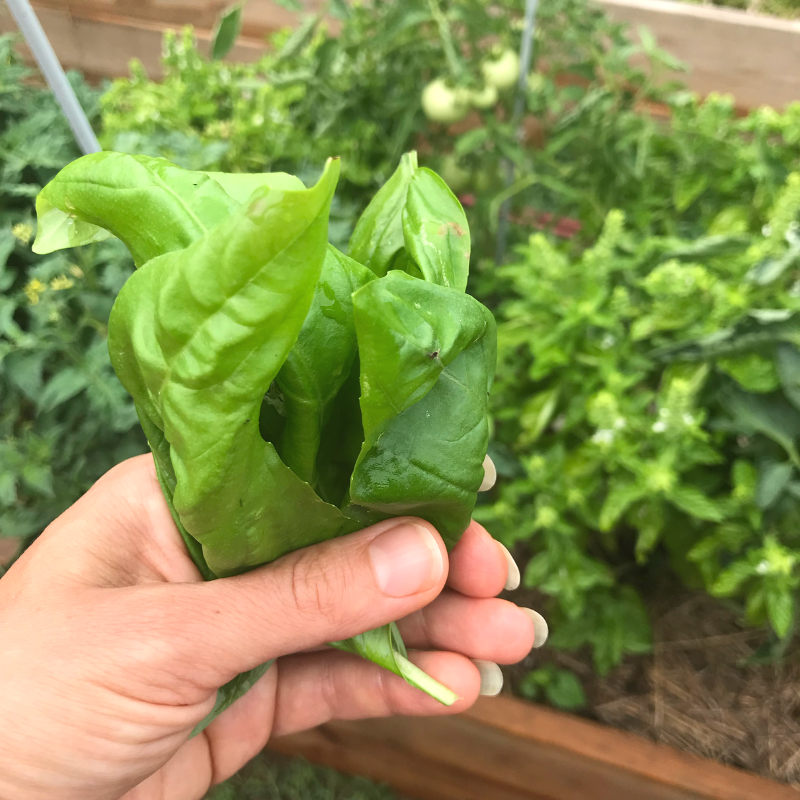 Turn your tomato harvest into delicious food to enjoy all year long!  My short, practical ebook will help you make the most of your tomato harvest through canning, freezing, drying, and more.
Get your copy of Preserving Tomatoes today!
This post may contain affiliate links, which means I make a small commission at no extra cost to you.
See my full disclosure here.
Is your basil growing like crazy this summer? Too much basil is a good problem! Try one of these 25 ways to use fresh basil.
It would be a shame to let all that herbal goodness go to waste, but I know it can feel a little overwhelming to stare down a heap of fresh basil and ask yourself what in the world you're going to do with so much basil.
Good news: you can make your basil harvest last all year long by preserving it now! Just by growing a few basil plants, you should have plenty of fresh basil to enjoy some now and save the rest for later. You can't go wrong with any of the 25 ways to use fresh basil from the list below.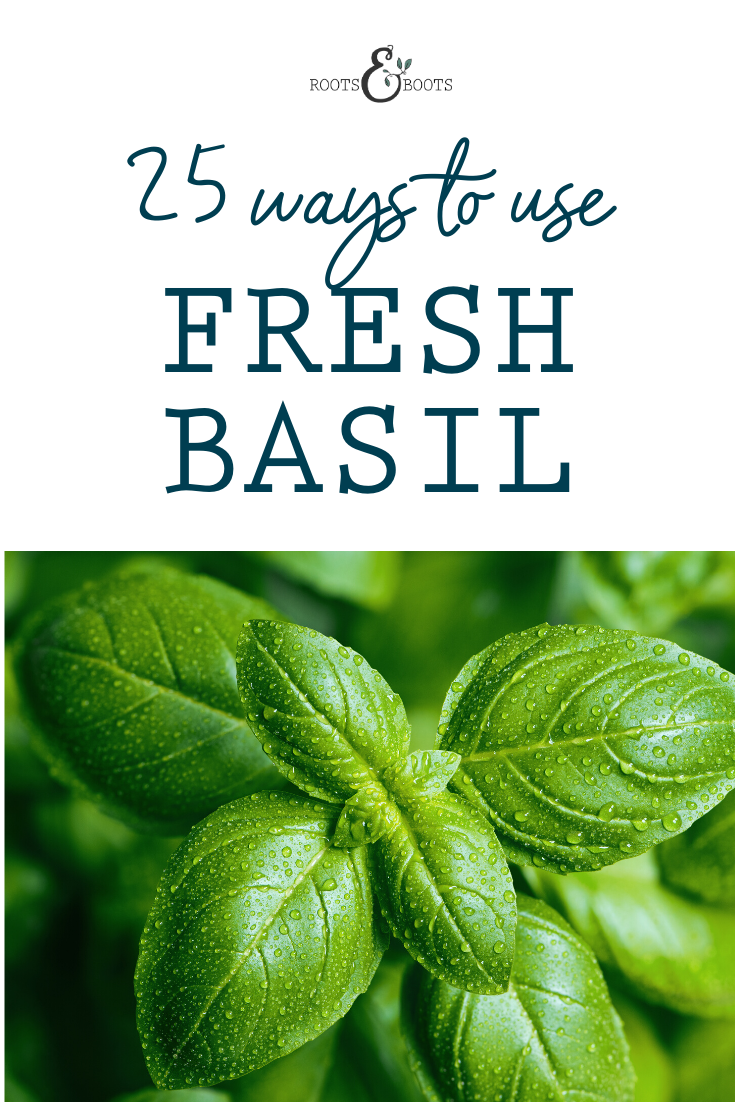 Health Benefits of Basil
Just in case you need extra motivation to put your basil harvest to use, consider the following health benefits of consuming basil.
antioxidant: fights free radical damage, slows the aging process, and fights disease
anti-inflammatory: fights inflammation, which is the root cause behind most diseases
cancer-fighter: contains phytochemicals that can help to fight cancer
immune support: protects against harmful bacteria growth
anti-stress: acts as a natural adaptogen to help the body cope with stress
alkalizer: alkalizes the body and restores proper pH level
digestive aid: promotes healthy gut flora, reduces bloating & water retention
mood boost: fights depression by stimulating neurotransmitters
Read more about the benefits of basil here.

Basil Harvesting Tips
First of all, I definitely recommend making several basil harvests throughout the growing season. Basil is one of those plants that will reward you with new growth after it's been pinched back.
Plan to cut back your basil after it's really filled out, and then watch for it to fill out again, and again, and however many times you want to repeat the process.
I made a quick video to show you how I prune my basil…
Basil actually tastes sweeter, too, when you keep the little flowers pinched off. I know it can be hard to keep up with so much flower-pinching, though, so just do the best you can and don't worry if some flowers form. Just remind yourself how awesome the flowers are for attracting pollinators to your garden.
After harvesting, you'll want to pluck off all the leaves and rinse them well. I like to rinse and spin my basil leaves in a big salad spinner. Then pick one or more of these 25 ways to use fresh basil, and get to work storing up that beautiful garden harvest to enjoy now, and all year long.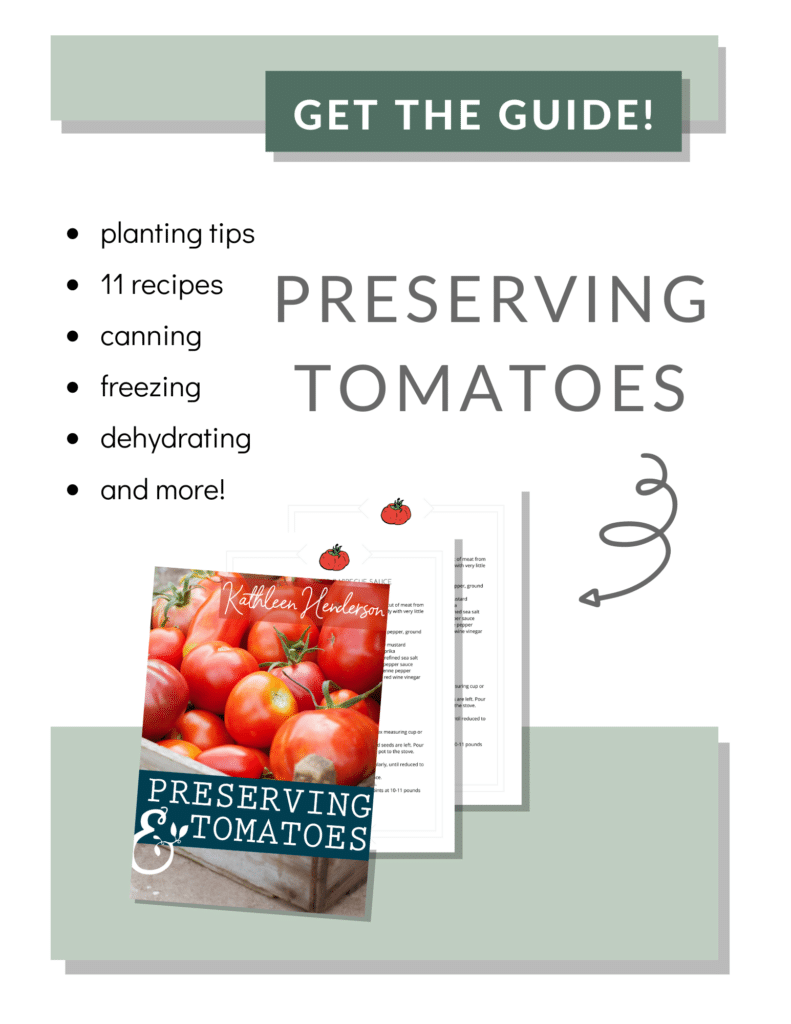 25 Ways to Use Fresh Basil
Add to homemade tomato sauce.
Add to homemade pizza.
Make pesto.
Make a LOT of pesto and freeze in ice cube trays for future use.
Add pesto to leftover meat & veggies for a totally new dish.
Transform pasta or veggie noodles with pesto and goat cheese.
Spread pesto on a sandwich. Even easier: layer on a few basil leaves.
Stir pesto (or chopped basil leaves) into scrambled eggs.
Make creamy pesto chicken soup. For a Paleo version, use diced zucchini or even carrots in place of the beans.
Add a few leaves to your salad for an extra kick.
Make caprese salad or stackers with sliced & salted garden tomatoes, layered with whole or chopped basil leaves, and mozzarella, and drizzled high quality olive oil. Optional: add a drizzle of high quality balsamic vinegar.
Jazz up plain mayo with chopped basil leaves and some minced garlic. Awesome on sandwiches and burgers!
Make basil butter by adding chopped basil leaves to melted butter. Spread on warm bread, use it to cook scrambled eggs, stir into cooked veggies.
Create a simple basil-flavored vinegar for use in marinades, salad dressings, and drizzling over chicken or fish.
Add chopped fresh or dried basil to homemade salad dressing.
Make basil jelly. I totally want to try this, but without all the sugar. If you find a great honey-sweetened recipe for basil jam, let me know!
Add basil sprigs to a bouquet of cut garden flowers for a major aroma boost.
Dry the leaves and store in an airtight container. Crush just before use.
Whip up a batch of homemade herbamare with your home-dried basil.
Make basil tea by pouring 1 cup boiling water over a handful of fresh basil leaves. Steep for 5 minutes, then sweeten to taste.
Puree fresh leaves and freeze in ice cube trays with a bit of olive or avocado oil for future use.
Puree leaves and freeze in thin layers, then place in freezer bags. Later you can break off small sections for cooking.
Chop flowers or leaves, then rub on bug bites to relieve the itch.
Rub flowers or leaves on skin to repel mosquitoes.
Add a handful of leaves to a relaxing bath, along with one or two cups of Epsom salts.
What's your favorite way to use fresh basil? What would you add to this list of 25 ways to use fresh basil?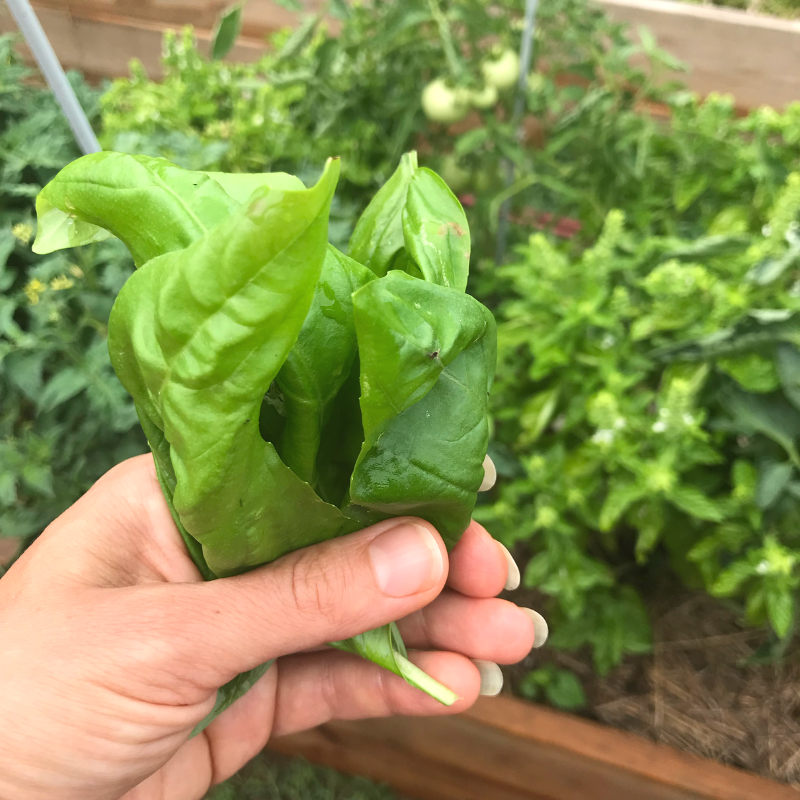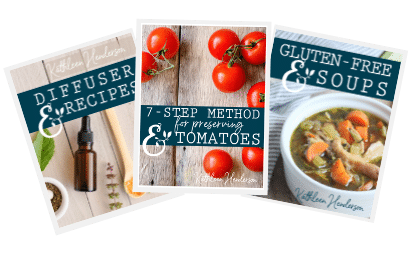 Sign up NOW for my best tips delivered weekly to your inbox!
You'll also get instant access to my library of free ebooks and resources.