Join the Seasonal Club.  Ditch the processed life! Learn to grow, source, preserve, and prepare real foods ALL YEAR LONG!  LEARN MORE >>
Join the Seasonal Club.
Ditch the processed life! Learn to grow, source, preserve, and prepare real foods ALL YEAR LONG!  LEARN MORE >>
How to Grow Shelling Beans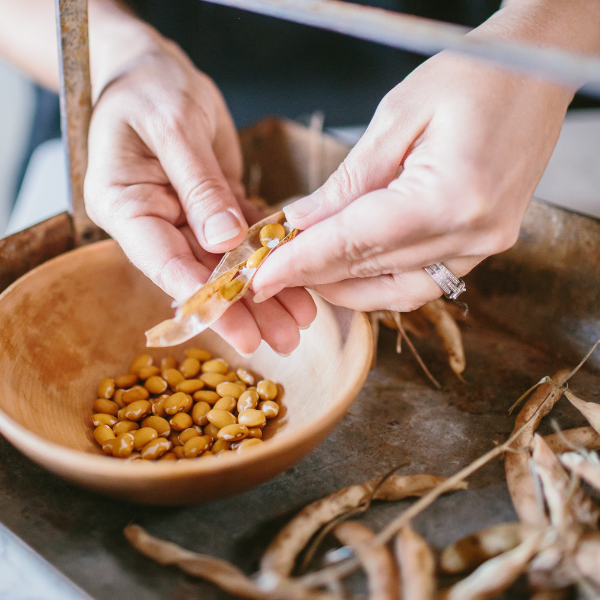 This post may contain affiliate links, which means I make a small commission at no extra cost to you.
See my full disclosure here.
Wondering how to grow shelling beans? Shelling beans, or dried beans, are one of the easiest foods to grow.

What are shelling beans?
Shelling beans are the dried seeds inside of bean pods. Instead of eating the entire pod, such as with green beans, we allow the pods to mature and then dry.
When the pods have dried, we open them and remove the dried bean seeds. These are dried beans, also known as shelling beans!
Why grow shelling beans?
First of all, shelling beans are super easy to grow.
Secondly, they store very well. You can cook and can them for easy meals, or simply store them in dried form until you need them.
Thirdly, homegrown shelling beans taste better than store bought varieties. The flavors are much more complex, and many more options are available.
Fourthly, many more varieties exist for the home gardener as opposed to the varieties available at the grocery store. Many shelling beans are just gorgeous! Why limit yourself to black, pinto, and kidney, when you could have Zuni Gold, Good Mother Stallard, 1000 Year Old Cave beans, and more?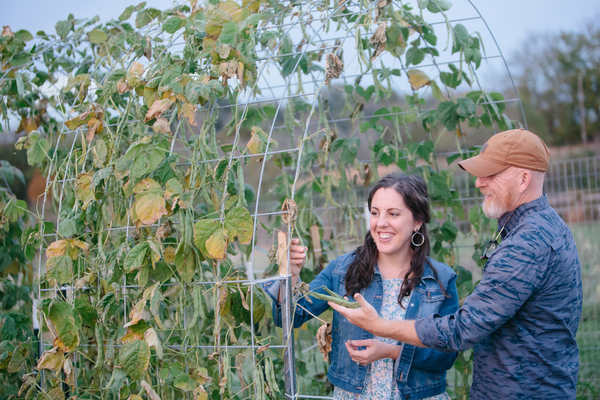 How to grow shelling beans
In my zone 7A garden, I have a wide window of time in which to plant beans. I often wait to plant shelling beans until June. This still gives them plenty of time to grow and mature before our first fall frost arrives in October.
You can definitely plant them earlier if you like, but this schedule works well for me.
Shelling beans require average soil, just like green beans. Many varieties are climbers and will require trellising of some sort. I like to grow mine on arches made from cattle panels.
After planting, shelling beans require very little care. I usually try to guide them up the trellis as they grow, but if I don't get to this task, they still do just fine.
How to harvest shelling beans
Leave your bean vines on the trellises until one of two things happens:
they mature and become completely dried, turning yellowish-brown OR
a hard frost is predicted for your area
If you have to harvest your beans before they've fully dried on the vines, do not despair. I do this all the time.
It's definitely best to allow the pods to dry on the vine. However, if they have begun to dry and you expect freezing temperatures or severe rain, you can go ahead and harvest the pods.
Whether the beans have fully dried or not, simply spread them in a single layer on shelving lined with cardboard or newspaper. It's best to use wire shelving, which will allow a good airflow both over and under the beans.
You want the pods to become completely dry and brittle. If they are still green, they are not ready. If they are pliable, they are not ready.
Watch this short video about harvesting shelling beans. Can't see the video? Click here to watch.
How to shell shelling beans
This should be self-explanatory, but shelling your bean pods is as simple as breaking open each pod and releasing the dried beans into a storage container.
Do make sure that the beans are completely dried before sealing them in an airtight container. Once fully dried, they will keep indefinitely in glass jars or the airtight storage container of your choice.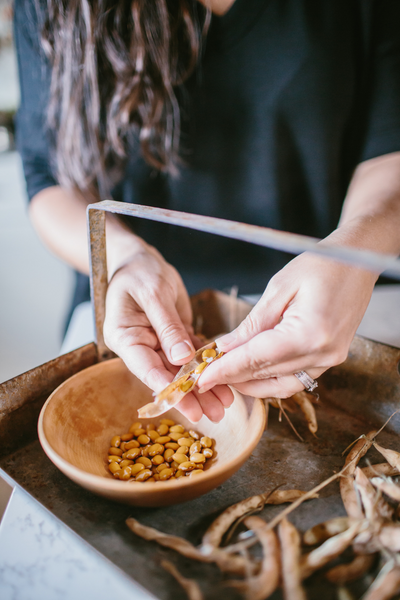 How to use homegrown shelling beans
Dried beans require soaking. Whenever I include beans in our meal plan, I soak them overnight the day before I need to use them.
Soaking dried beans
I don't measure the water, but simply place my dried beans in a large bowl and fill the bowl with warm water up to the top, then cover and allow to sit overnight.
Measuring dried beans
The biggest question when it comes to cooking with homegrown beans is how to measure the equivalent amount of canned beans called for in your favorite recipes. Here are some loose guidelines for cooking with homegrown dried beans:
2 cups of dried beans = 1 pound of dried beans
1 pound of dried beans = About 6 cups of cooked beans
1 part dry beans = 3 parts cooked beans
1 cup dried beans = 3 cups of cooked beans
1/3 cup dried beans = 1 cup of cooked beans
Heaping 1/2 cup of dried beans = one 15-ounce can of beans
1 1/2 cups of cooked beans, drained = one 15-ounce can of beans
Favorite recipes using beans
Have you tried growing your own shelling beans?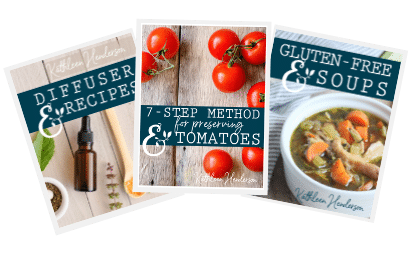 Sign up NOW for my best tips delivered weekly to your inbox!
You'll also get instant access to my library of free ebooks and resources.