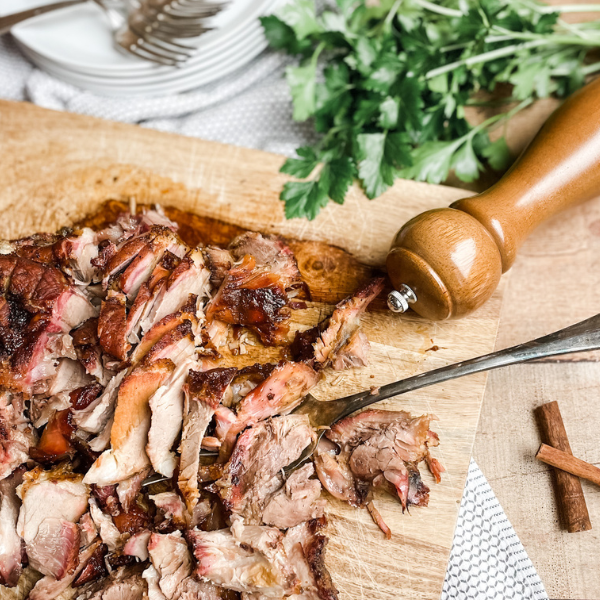 Simplify your dinner prep with tasty, nourishing soups!  My short, practical ebook is filled with my family's favorite one-pot, gluten-free, real-food soup recipes.
Get your copy of Nourishing Soups today!
This post may contain affiliate links, which means I make a small commission at no extra cost to you.
See my full disclosure here.
Wondering how to make a brined and smoked ham? You'll love this recipe!
Ladies, if your husband asks for a smoker, may I humbly recommend you oblige him? It's the gift that keeps on giving, the gift that gives back.
Seriously, investing in a smoker was one of the best decisions we've made. My husband loves to smoke meat, and I love that he loves to smoke meat.
Most weeks he smokes a big batch of meat that we eat from throughout the week. It's the best!
Making a brined and smoked ham is a fairly simple process, similar to brining and smoking a turkey.
How to make brined and smoked ham
Brining and smoking a ham is a fairly simple process, but it does require planning ahead.
The first step is to thaw the ham, if frozen, about two days before you plan to serve it.
Next, you'll brine the ham for 12-24 hours.
Finally, you'll rub and smoke the ham, add a honey glaze, and finish smoking.
The actual smoking time takes about 30-45 minutes per pound of ham, with a final rest period of 20-30 minutes at room temperature.
The end results are simply delicious!
Any leftover ham can be enjoyed for breakfast (easy ham and egg bake recipe coming soon) or in soup, etc. Find my family's favorite Ham & Bean Soup recipe in my Nourishing Soups ebook.
Print
---
Description
This simply brined and smoked ham is bursting with flavor.
---
You will need:
smoker
hardwood blend pellet mix
clean bucket (3-5 gallons)
basting brush
aluminum foil
meat thermometer
Brine
6

–

7

-pound ham

1 cup

unrefined sea salt

1 cup

sugar (optional)

2

–

3

celery sticks

1

–

2

carrots

2

cinnamon sticks

2 teaspoons

dried fennel

2 teaspoons

ground allspice

2 teaspoons

ground cloves

2 teaspoons

ground nutmeg

2 teaspoons

garlic powder

2 teaspoons

onion powder
Rub
1 tablespoon

paprika

1 tablespoon

sea salt

1/2 tablespoon

pepper
Glaze
Honey, to cover ham
Optional: add a bit of ground cinnamon to the honey
---
Instructions
Thawing the ham (2 days before serving)
Remove ham from freezer and allow to thaw overnight at room temperature in a cool spot such as a garage.
Brining the ham (12-24 hours before serving)
Plan to brine the ham for at least one hour per pound.  Brining for a full 24 hours is even better.
Bring 1 gallon water to boil on the stovetop.  Turn off heat and add salt and sugar, whisking until well dissolved.
Add this mixture to a clean five-gallon bucket.  Add ice and cold water to fill bucket about halfway, and stir well.
Add remaining ingredients.
Submerge the ham in this brine and let it sit overnight in a cool spot.  An extra refrigerator comes in handy for holding the entire bucket of brining ham.  Cover bucket with a lid, cutting board, or foil to keep out bugs and to keep the ham completely submerged.
Smoking the ham (about 30-45 minutes of smoking time per pound of ham)
The next day, remove the ham from the brine and place on a cutting board.  Do not dry the ham.  Rub the dry rub mixture all over the ham.  If you run out of rub, simply mix more in a 2:2:1 ratio.  (Note: if you happen to grow your own paprika powder like we did, keep in mind that it will be much more potent than store bought paprika.  Proceed with caution!)
Open the smoker vent halfway, then heat to 270 degrees F using a hardwood blend pellet mix.
Place the ham fat side up on the grill.
Smoke until internal temperature reaches 150 degrees F.
Remove the ham from the grill, slice a checkerboard pattern in the fat of the ham, apply honey glaze, wrap in foil and place back on the grill until internal temperature reaches 165 degrees F.
Remove from the grill and, without removing the foil covering, allow to rest at room temperature for 20-30 minutes.
Slice and serve.
---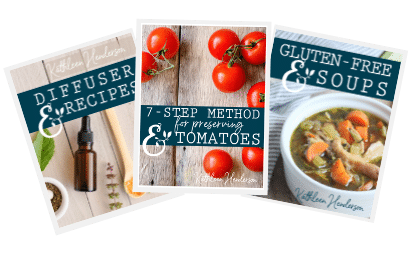 Sign up NOW for my best tips delivered weekly to your inbox!
You'll also get instant access to my library of free ebooks and resources.