Join the Seasonal Club.  Ditch the processed life! Learn to grow, source, preserve, and prepare real foods ALL YEAR LONG!  LEARN MORE >>
Join the Seasonal Club.
Ditch the processed life! Learn to grow, source, preserve, and prepare real foods ALL YEAR LONG!  LEARN MORE >>
This post may contain affiliate links, which means I make a small commission at no extra cost to you.
See my full disclosure here.
Looking for a simple brined and smoked turkey recipe with tender and delicious results? You've come to the right place.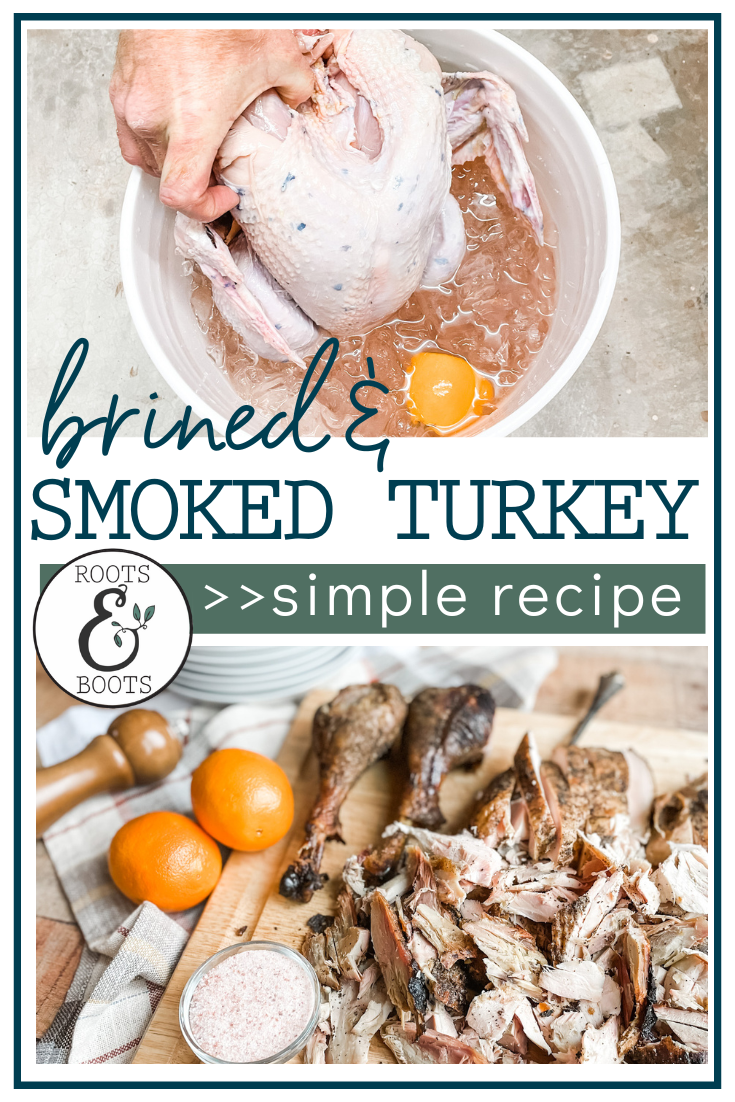 Brined and smoked turkey
Traditionally, my family enjoys a brined and smoked turkey for our Thanksgiving celebrations. However, we're also known to brine and smoke a turkey a few times throughout the year.
The smoked meat is delicious, and the leftovers make an amazing
Smoked Turkey Soup
. In fact, sometimes we smoke a turkey just to turn it into this soup!
Of course, we use our
homegrown pastured turkeys
for this recipe. At Thanksgiving, we enjoy a fresh turkey that has never been frozen. The extra turkeys go into the freezer to be enjoyed throughout the year.
This brined and smoked turkey recipe uses just a few ingredients to produce consistent results, with tender, delicious meat to grace your holiday table, special occasion, or simple family meal.
Sample turkey timeline
Preparing a large bird for a big celebration like Thanksgiving or Christmas dinner can feel intimidating. The timing can get tricky, especially if you fail to allow adequate time for thawing and brining.
The bigger the bird, the longer it will take to thaw. Similarly, the colder the thawing location, the longer it will take to thaw. If you're new to the process, allow extra time for thawing and reserve space in the refrigerator to stash the thawed bird until it's time to start the brining process.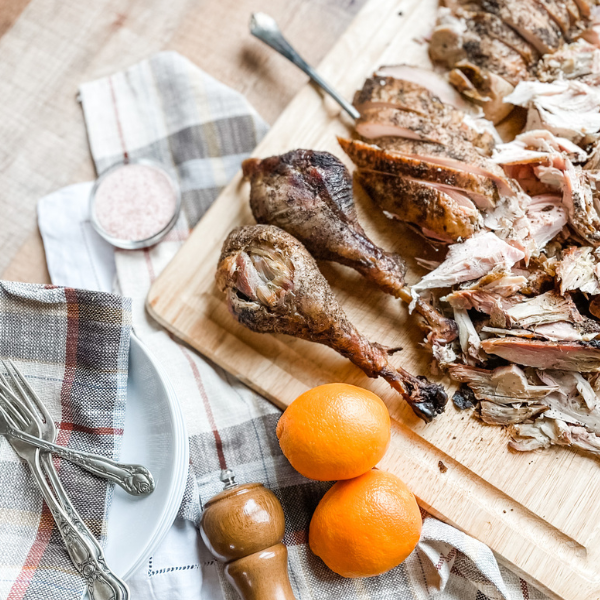 Here's a loose timeline from freezer to dinner plate:
Tuesday (morning): Remove turkey from freezer and allow to thaw at room temperature in the garage. When thawed, transfer to refrigerator.
Wednesday (anytime): Brine turkey for up to 24 hours, keeping it cool at all times. Add ice if necessary, or reserve space in an extra refrigerator to hold the bucket.
Thursday (around 9 am or 4 hours before you plan to eat): Remove turkey from brine and begin smoking process.
Thursday (1:00 pm): Eat.
More real food recipes for Thanksgiving:
Print
---
You will need:
smoker
clean

5

-gallon bucket
large tin pan
aluminum foil
meat thermometer
Brine
12

–

20

lb turkey

2

–

4

cups of salt

1

–

2

cups of sugar
Optional: 2 oranges, sliced
Rub
2 cups

unrefined sea salt

1 cup

ground black pepper

1/2

pound butter, or more as needed
---
Instructions
Thawing the turkey (2-3 days before eating)
Remove turkey from freezer and allow to thaw at room temperature in a cool spot such as a garage.
If the turkey thaws more quickly than anticipated, transfer to refrigerator.  Thawing time can vary, depending on the size of the bird and the room temperature.
Brining the turkey (12-24 hours before eating)
Bring 1 gallon water to boil on the stovetop.  Turn off heat and add salt and sugar, whisking until well dissolved.
Add this mixture to a clean five-gallon bucket.  Add ice and cold water to fill bucket about halfway, and stir well.
Optional: add 2 sliced oranges to the brine mixture.
Submerge the turkey in this brine and let it sit overnight in a cool spot.  An extra refrigerator comes in handy for holding the entire bucket of brining turkey.  Cover bucket with a lid, cutting board, or foil to keep out bugs and to keep the turkey completely submerged.
Smoking the turkey (4 hours before eating)
The next day, remove the turkey from the brine and drain the bird as best you can over the sink.  Do not dry the turkey.  Rub salt and pepper mixture all over and inside the turkey.  If you run out of salt and pepper rub, simply mix more in a 2:1 ratio.
Open the vent all the way, then bring the temperature to 325 degrees.
Place a can or two of water in the smoker, adding water as necessary throughout the smoking process to avoid letting them run dry.
Cook turkey uncovered until a thermometer reads 155 degrees (or until desired browning has occurred.) You may need to wrap the wings and legs with foil if they brown too quickly. Expect a 15-pound turkey to take approximately 1.5 hours to reach 155 degrees, but plan to check the temperature every 30-45 minutes as the time can vary.
Once the turkey reaches 155 degrees, remove from the grill and place in a tin pan. Cut the butter into small cubes and spread all over and inside the turkey. Add more butter if necessary to cover the entire bird.
Cover the entire pan and turkey with foil, return to the grill and continue cooking until a thermometer reads 165 degrees (insert thermometer in thigh and breast).
Remove from the grill and, without removing the foil covering, allow to rest for 30 minutes.
Slice and serve
---
12 NOURISHING GLUTEN-FREE SOUP RECIPES
Simplify your dinner prep with these tasty, nourishing soups!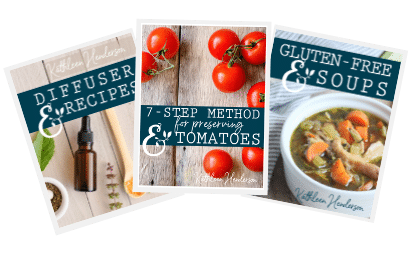 Sign up NOW for my best tips delivered weekly to your inbox!
You'll also get instant access to my library of free ebooks and resources.