Vintage Diaper-Changing Station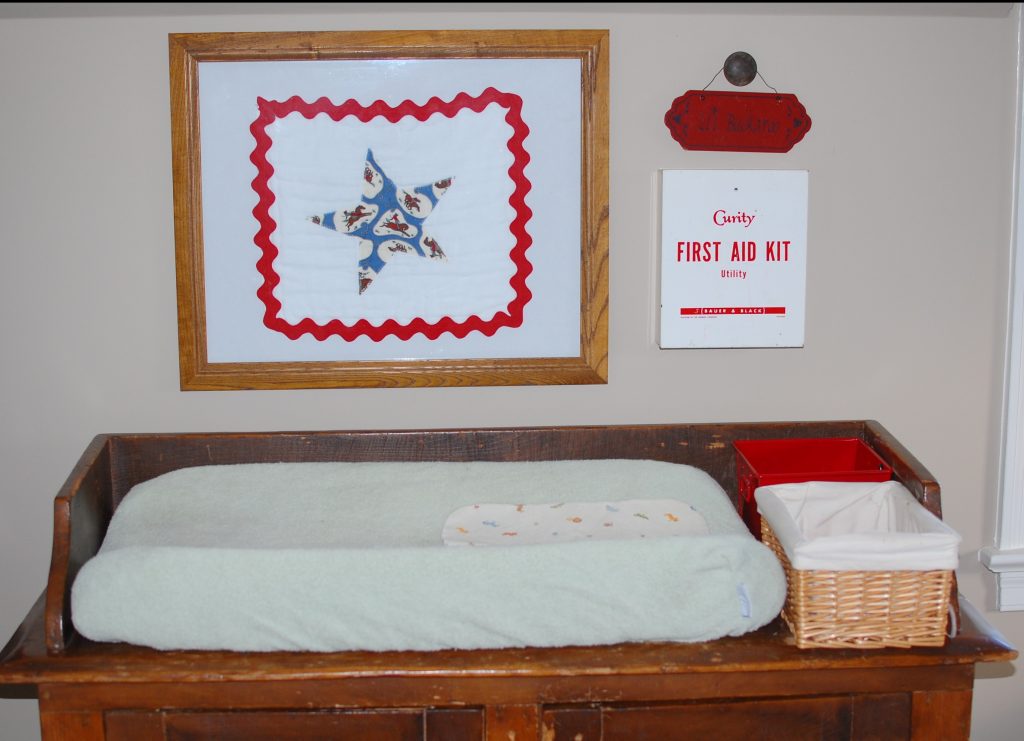 This post may contain affiliate links, which means I make a small commission at no extra cost to you.
See my full disclosure here.
  And yet another example of why I love to decorate with junk…..
Little Brother is actually potty trained now, but he still wears a diaper for sleeping purposes.  When we no longer need the changing pad, I'll probably use the top of the sideboard as a bookshelf or display space.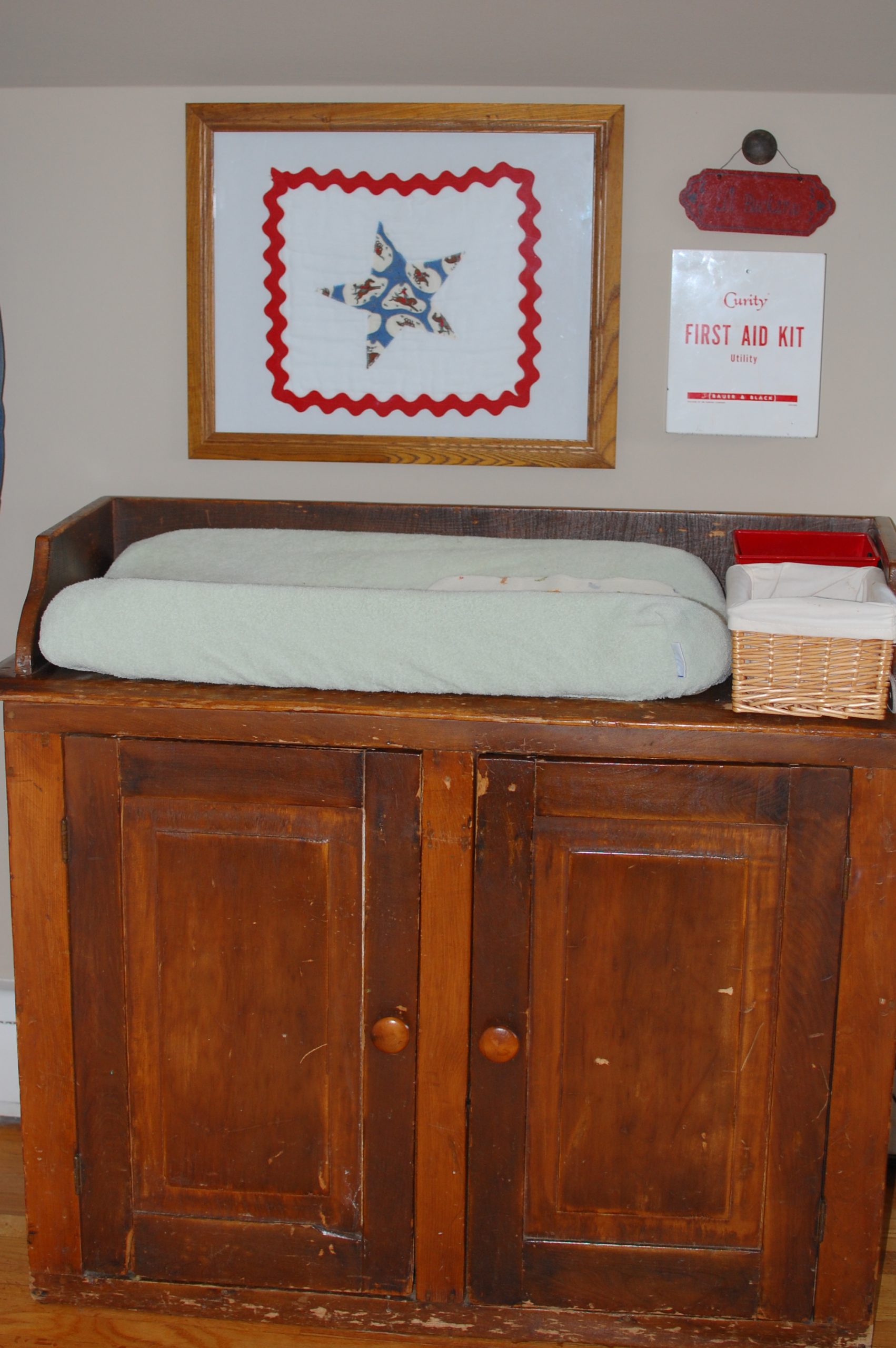 I love the way this turned out!  
The awesome, antique sideboard came from that same, generous couple I mentioned in this post: Why I Decorate With Junk.  It was FREE.
The appliqued cloth diaper was a baby gift from a friend.  I mounted it in an oak frame from Hobby Lobby.  (I can't remember the price of the frame, but I'm sure I bought it at 40% off with a sale or coupon and spent no more than $20).
The red Lil' Buckaroo sign came from the awesome, local Goodwill store back in Texas.  I think it was $1.50.
The wooden knob (from which the Buckaroo sign hangs) was a random treasure from my husband's shop out back.  (And if you've ever wondered how to attach a knob to the wall, stay tuned for that post, coming up…).
The fabulous, vintage first aid kit was a prize find at a local antique shop.  It was exactly what I needed to complete the space!  And it's super-functional, to boot!  I think I paid $25 for it, which was a bit of a splurge.
We use canvas bins to store clothing inside the sideboard, sort of like drawers.  We also keep a trashcan on one of the bottom shelves.  The bins were baby gifts; the basket-turned-trashcan came from a local thrift shop for a few dollars.  [Update: see pictures below for an inside view.]
Oh, and the changing pad and cover were baby gifts, too.
The red, metal caddy and the lined baby-wipes-basket were also thrift store finds, and of course I can't remember their prices.  Not more than a few dollars total.
Grand total:  approx. $35–$50 (depending on the prices of the frame and thrift store items)
Other posts you might like: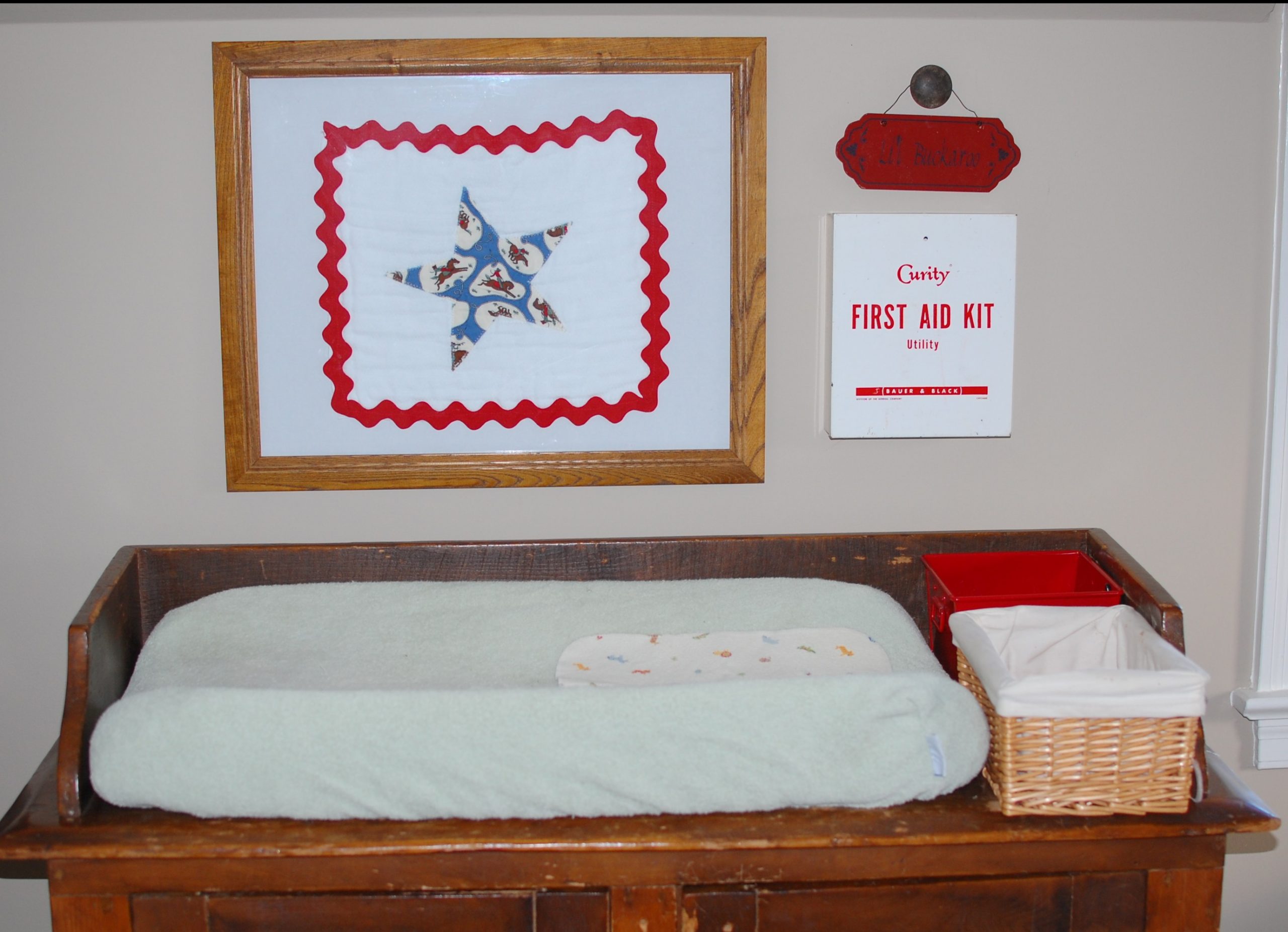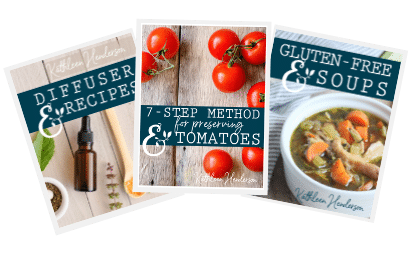 Sign up NOW for my best tips delivered weekly to your inbox!
You'll also get instant access to my library of free ebooks and resources.