Boost Your Immune System with Make-Your-Own-Elderberry-Syrup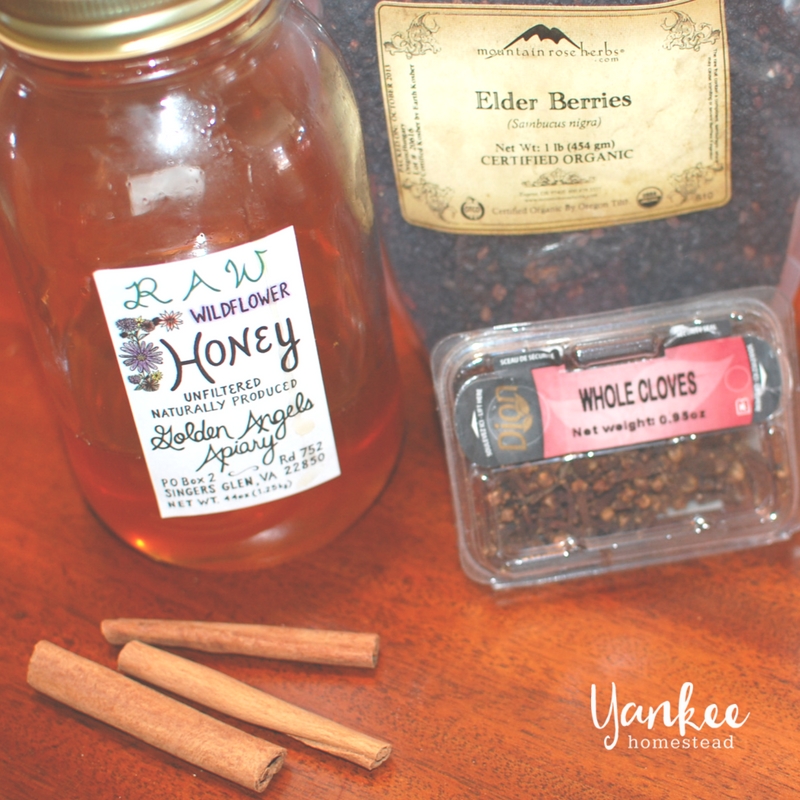 This post may contain affiliate links, which means I make a small commission at no extra cost to you.
See my full disclosure here.
Have you tried elderberry syrup? It's a natural way to support the immune system, especially during the cold and flu season.
We used to buy Dr. Dunner Sambu Guard to keep on hand for when the kids were fighting something.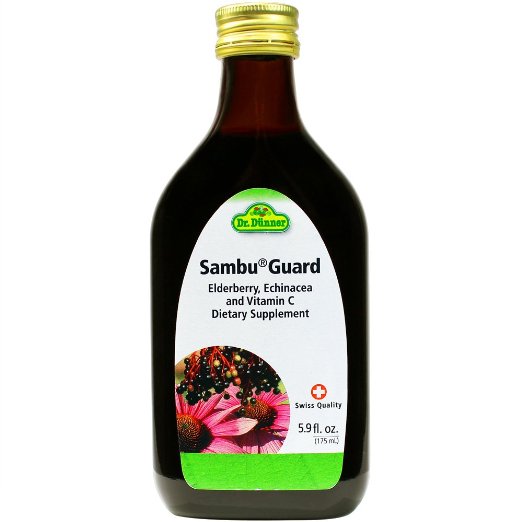 Sambu Guard ingredients:
wildgrown elderberry fruit and flower concentrates
acerola fruit powder
certified organic echinacea
water
honey
fructose
citric acid
The cost really adds up, though, with multiple kids over an entire fall/winter season! So when two different friends each gave me a recipe for make-your-own elderberry syrup, I thought I'd give it a shot.
DIY Elderberry Syrup
We've been using the homemade version as needed for about six months* now, and I really like having something safe and natural on hand to give the boys' immune systems a boost.
I also like having control over how much sweetener to add, and what kind. I was never crazy about the fructose in Sambu Guard.
You can find different recipes for elderberry syrups and teas floating around on the internet, and I imagine they're probably all good. The key is to ingest elderberry extract in some fashion; the exact specifics may not be crucial.

All about elderberry:
Elderberry is a well-known natural remedy for colds, the flu and more.
The berries contain B-complex vitamins, calcium, potassium, vitamins A and C, and much more.
The uses of elderberry include cleansing the system, easing constipation, enhancing immune system function, fighting inflammation, lowering fever, soothing the respiratory tract and stimulating circulation.
[Elderberries] contain compounds that can inhibit the enzyme that flu viruses use to penetrate our cell membranes. In an Israeli study, most of the children and adults who took elderberry extract daily for flu, starting as soon as their symptoms began, got rid of it in two or three days, compared to at least six days for those who got no elderberry extract. [source]
Other ingredients:
Cinnamon is anti-inflammatory.
Clove is antiseptic and antimicrobial. It also aids digestion, increases circulation, and relieves pain.
Essential oils: I prefer to use whole foods for this recipe but will use one drop of essential oil if I happen to be out of whole cloves or whole cinnamon sticks. For a tripled batch of elderberry syrup I add just one drop Clove oil or one drop Cinnamon oil, after I've strained the liquid and allowed it to cool a bit.
Print
Make-Your-Own-Elderberry-Syrup
Author:

Prep Time:

5 mins

Cook Time:

45 mins

Total Time:

50 mins

Yield:

2 cups

1

x
---
Description
I often double or even quadruple this recipe, and store the excess in our extra fridge. Multiplying the recipe to use 2 cups of elderberries will yield about 1 quart of finished syrup.
---
1/3 cup

dried elderberries

4 cups

water

5

cloves (antiseptic, antimicrobial, aids digestion, increases circulation, pain reliever)
raw local honey, to taste (lI use about 2 TB)
---
Instructions
Combine all ingredients except honey and bring to boil.
Turn down heat and simmer for 30 minutes or until reduced.
Let cool to room temperature and then stir in honey.
Strain mixture and pour into bottles. (Dark bottles are best. I use recycled bottles.)
Store in fridge.
To use, take 1 TB every 3 hours to treat flu or colds. Take 1 TB twice daily to prevent flu or colds.
---
Notes:
I did not use any honey in my first batch! My boys had quite a shock when we switched over to this homemade, honey-free syrup after finishing up the Sambu Guard. So I added some drops of vanilla stevia and that seemed to do the trick. I may use honey next time, as I've relaxed my no-sugar rules a bit in recent days.
Update: We've made several batches now with raw, local honey. Works great and tastes much better! 🙂 Note–I've never used the full 1/3 cup listed in the original recipe…it's probably more like 1-2 tablespoons.
*Update #2 [9/16]: We've now used this recipe for several years. I love it! I still use raw, local honey–about 2-3 TB per quart of finished syrup.
Sources: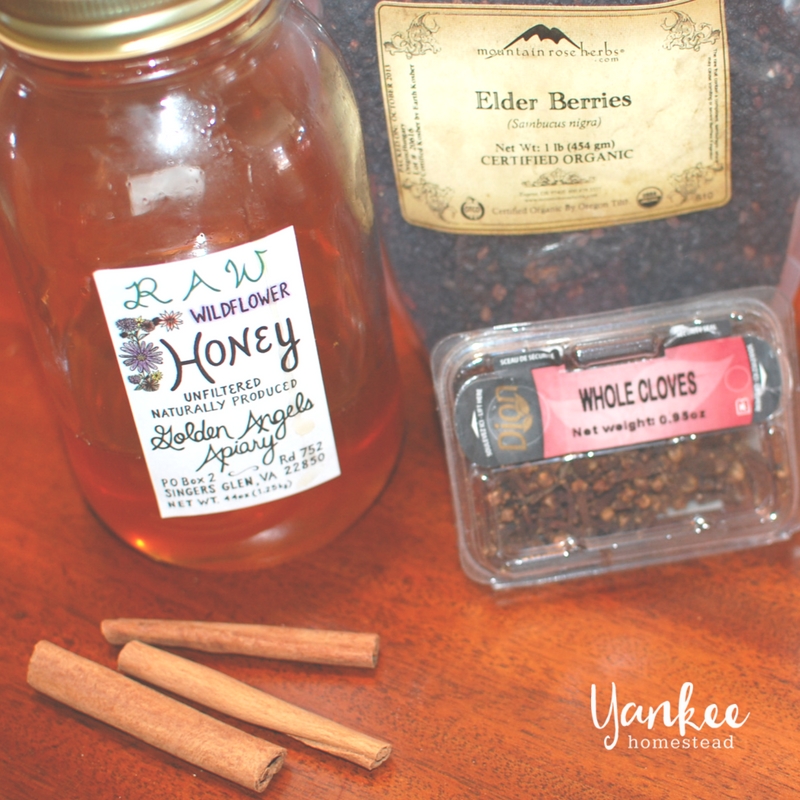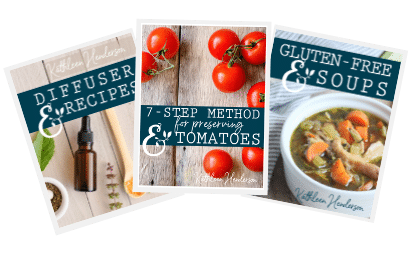 Sign up NOW for my best tips delivered weekly to your inbox!
You'll also get instant access to my library of free ebooks and resources.