Join the Seasonal Club.  Ditch the processed life! Learn to grow, source, preserve, and prepare real foods ALL YEAR LONG!  LEARN MORE >>
Join the Seasonal Club.
Ditch the processed life! Learn to grow, source, preserve, and prepare real foods ALL YEAR LONG!  LEARN MORE >>
The Best Way to Keep Your Vegetable Garden Watered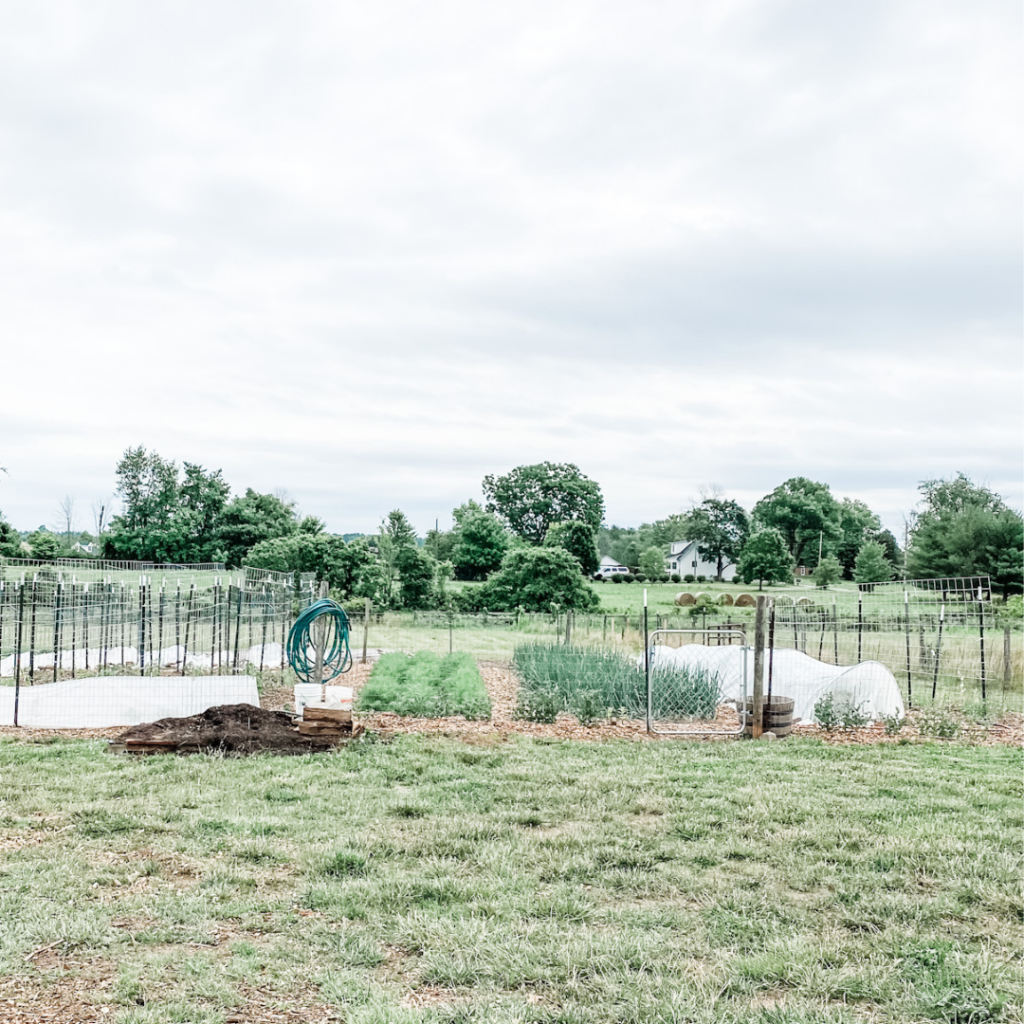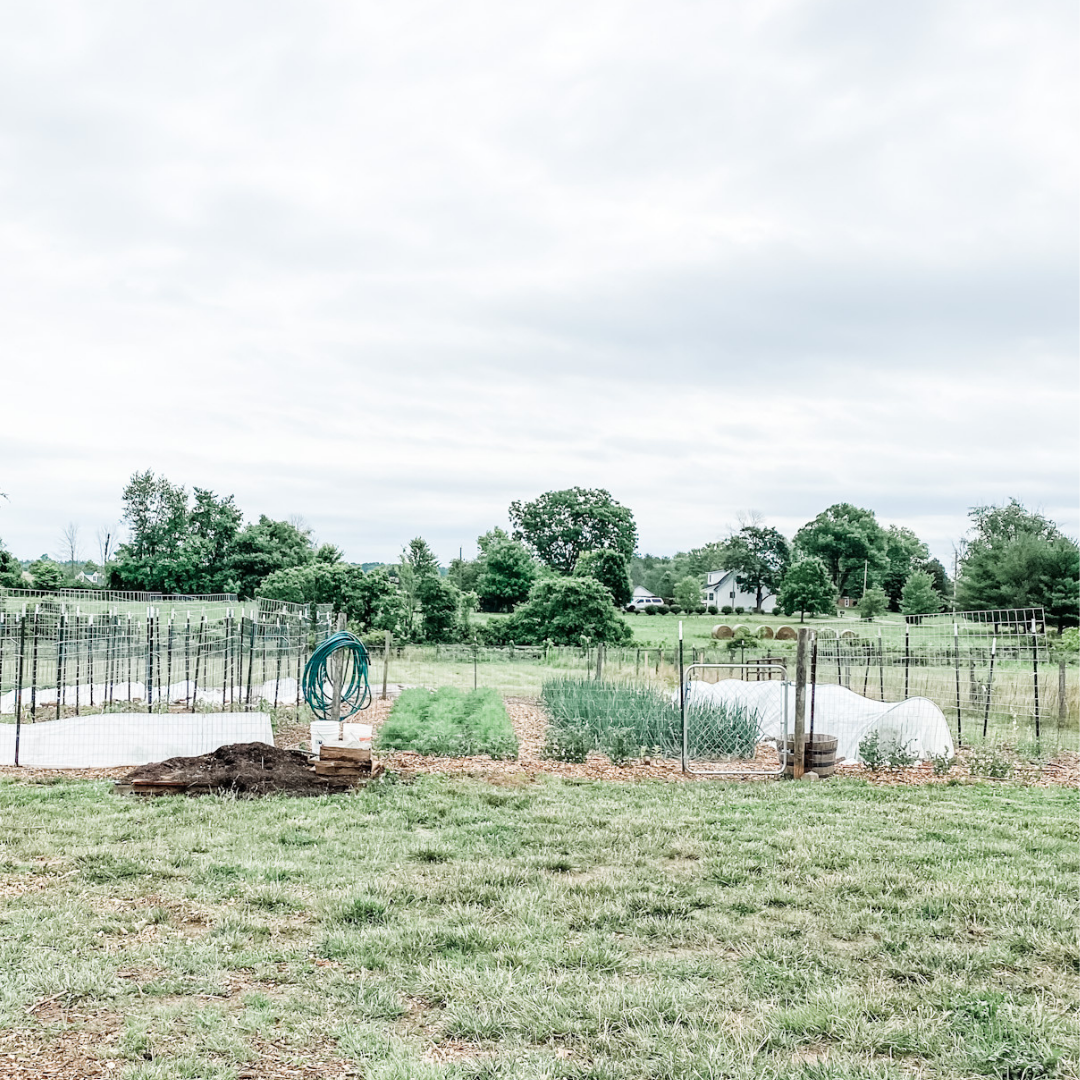 This post may contain affiliate links, which means I make a small commission at no extra cost to you.
See my full disclosure here.
Most gardeners know that a soaker hose is the best way to keep your vegetable garden watered.
But have you tried this soaker hose? It's my favorite and has saved me so much time and trouble in my in-ground garden!
Let's take a look at how this soaker works and why I love it so much. Plus I'll show you my system for connecting multiple soaker hoses to keep my entire garden watered.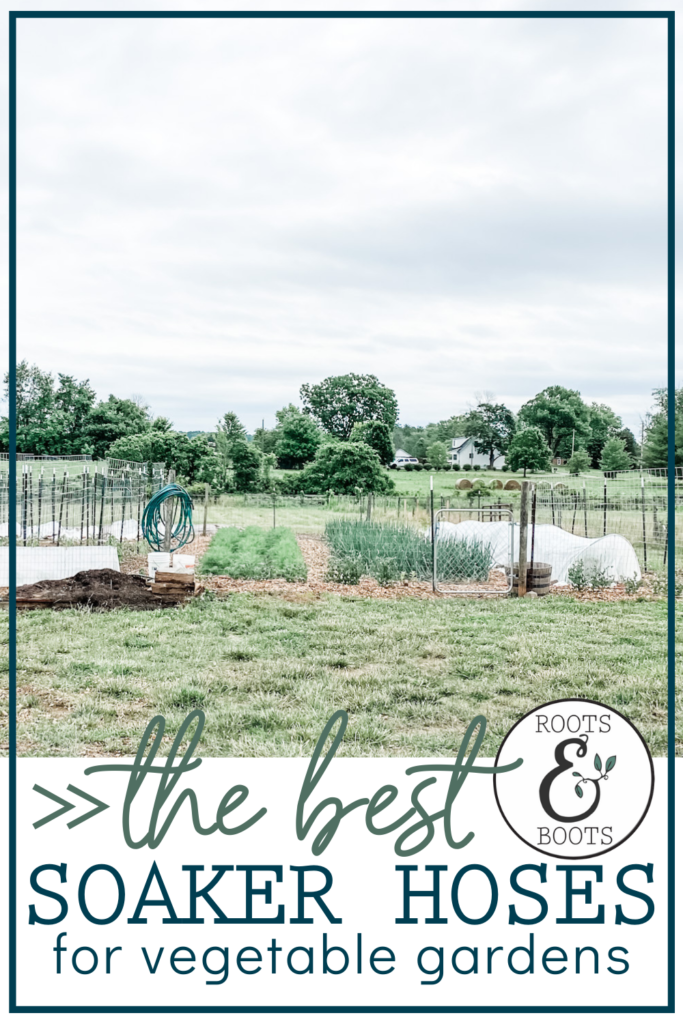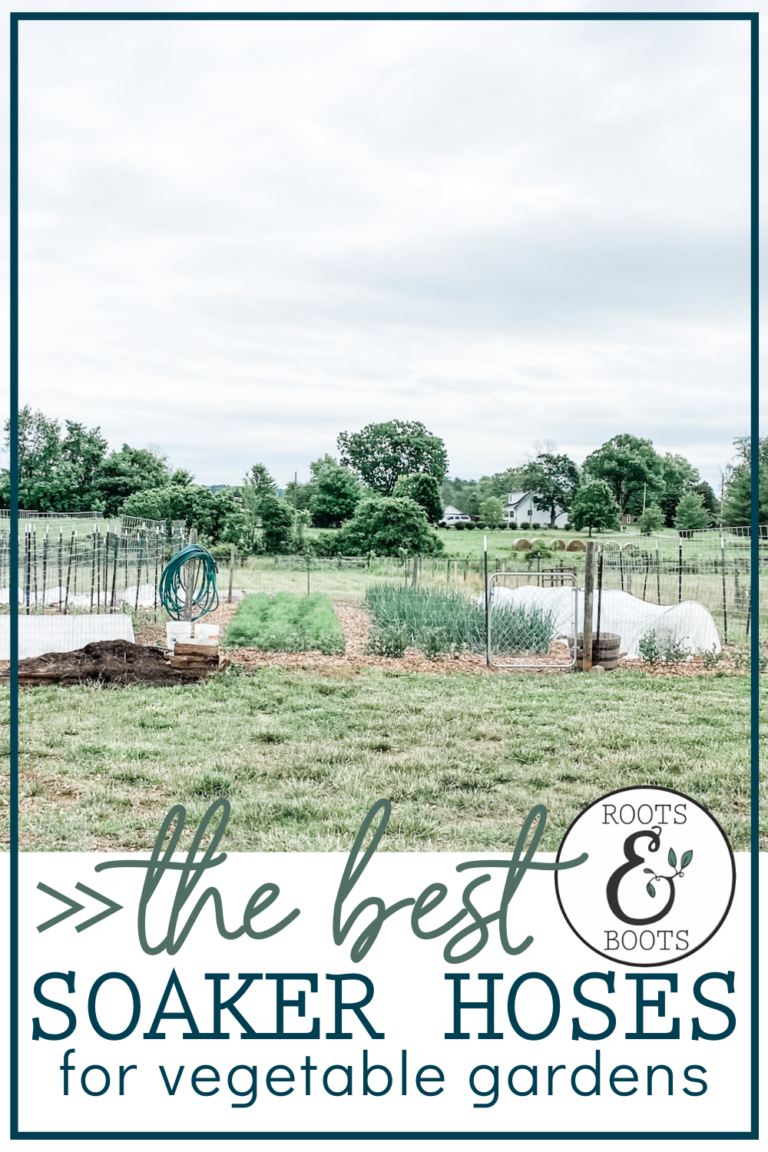 And by the way, if you've already invested in a different type of soaker hose, it's ok! You can use any type of soaker hose to achieve the same type of full-garden watering system I'm going to show you at the end of this post.
Need to irrigate raised garden beds? This is how we added drip irrigation to our raised bed kitchen garden.
More about gardening:
Favorite features of this soaker hose
Dual function
I love the versatility of this soaker hose's dual functions: one side drips like a typical soaker hose while the other side sprays like a sprinkler.
Flat shape
The flat shape of this soaker hose has worked so well in my garden. I'm a big fan.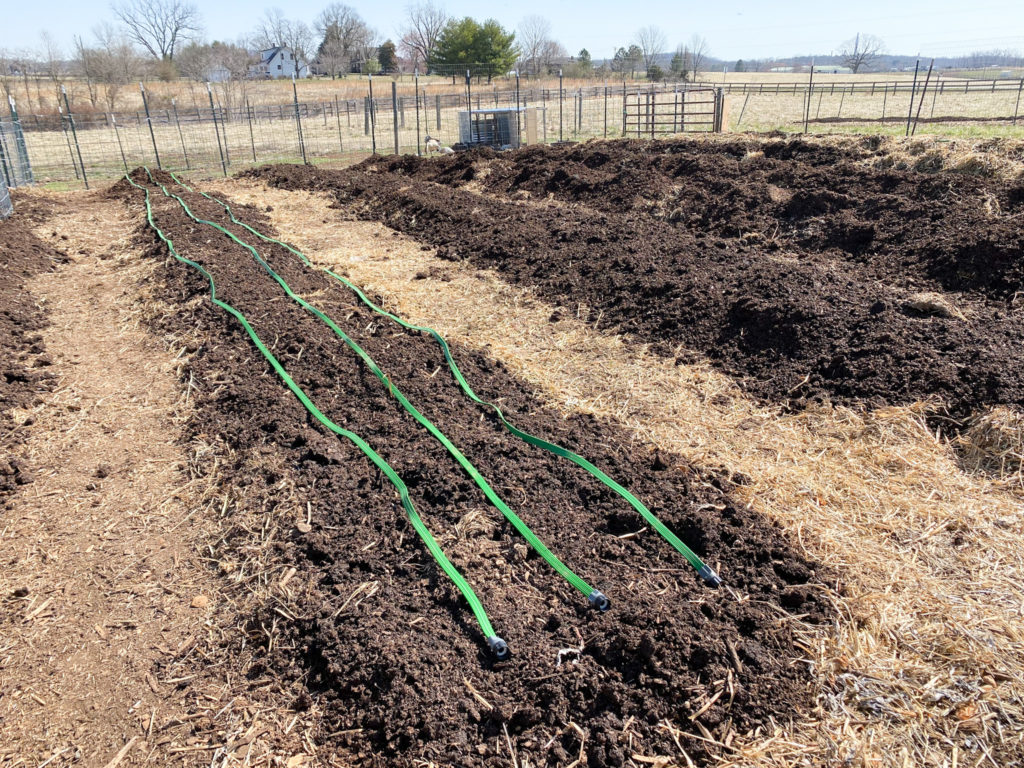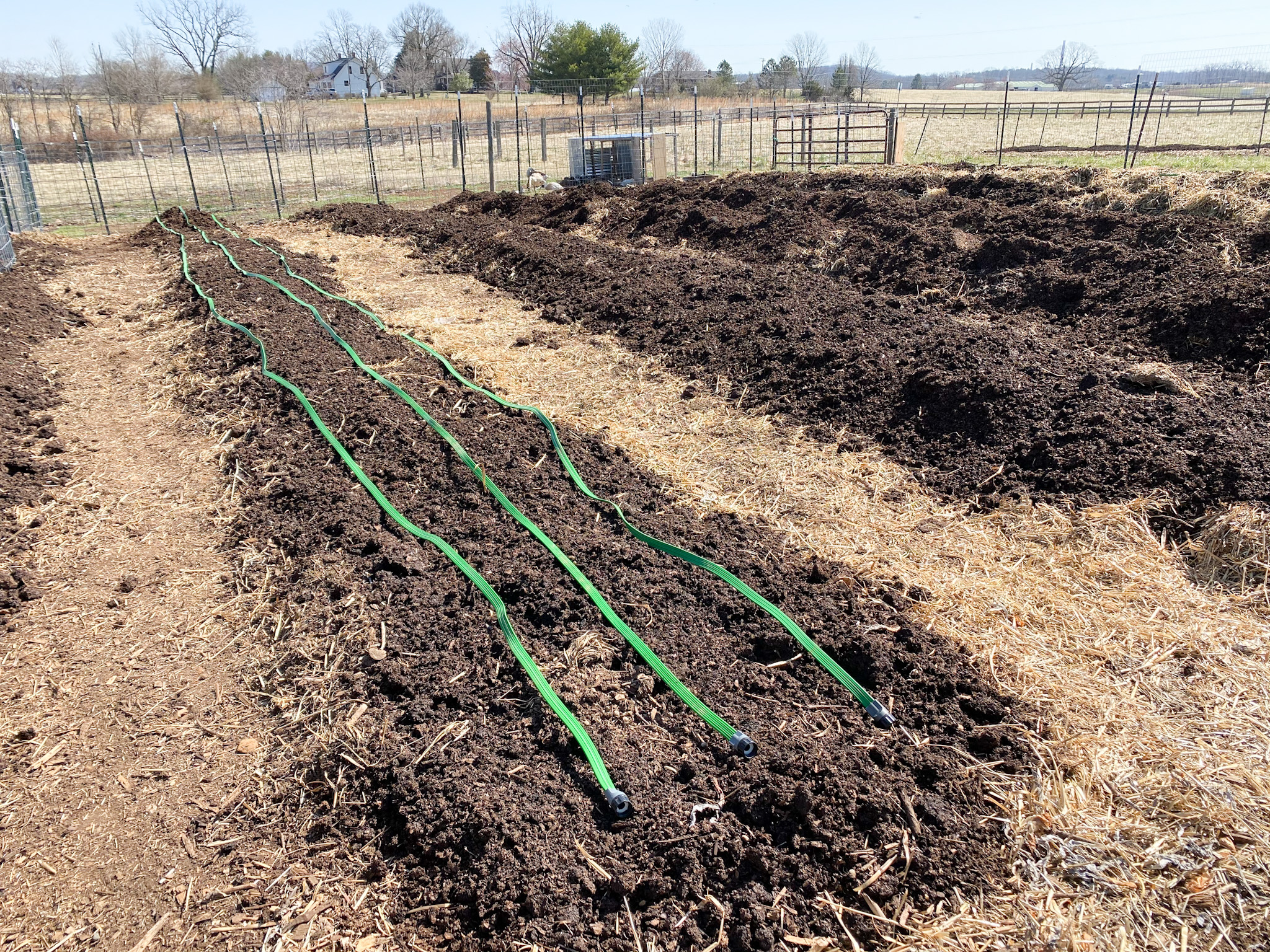 Green color
Personally, I love how the bright green color of these hoses makes them stand out in my garden as I lay them out. It makes them so easy to work with and get them into place! After the plants and hoses are situated, I mulch right over the hoses.
Connector ends
Handy couplings at each end allow for easy linking. This was so helpful last year for my tomatoes!
Perfect length
50 feet is a standard length, and it works perfectly for the 45-50′ rows in my in-ground garden. For longer rows, simply connect one or more hoses together as described above.

The best way to keep your vegetable garden watered
To keep your vegetable garden watered, you'll want to create a system of soaker hoses that span your entire space. You'll need soaker hoses, obviously, plus a few other key supplies:
old garden hose to cut into custom pieces
Step 1: lay out hoses
Depending on the situation, you may want to lay out the hoses first or you may decide to situate your plants first.
With carrots, I sow the seeds directly in the ground. Therefore, I arrange my hoses first, and stake them in place. Then I use the hoses as a guide for planting my seeds. I follow this same process for any direct seeded plants.
With tomatoes or any other seedlings, I like to lay out my hoses where I think I want them, and then plant the seedlings. Finally, I stake the hoses in place.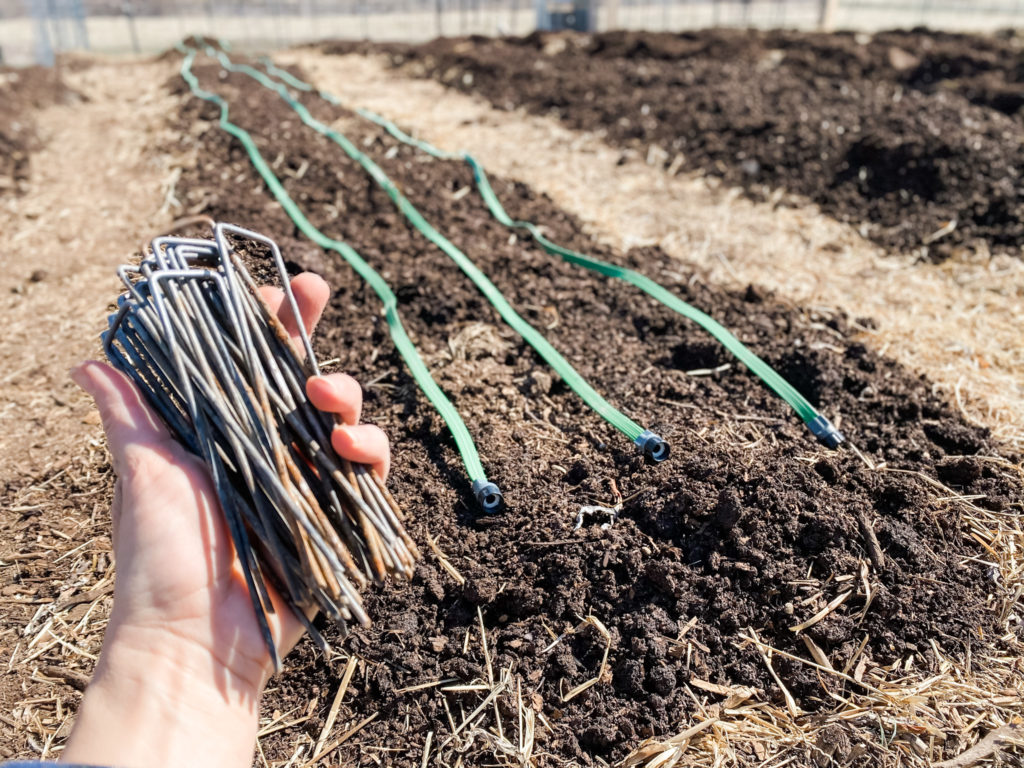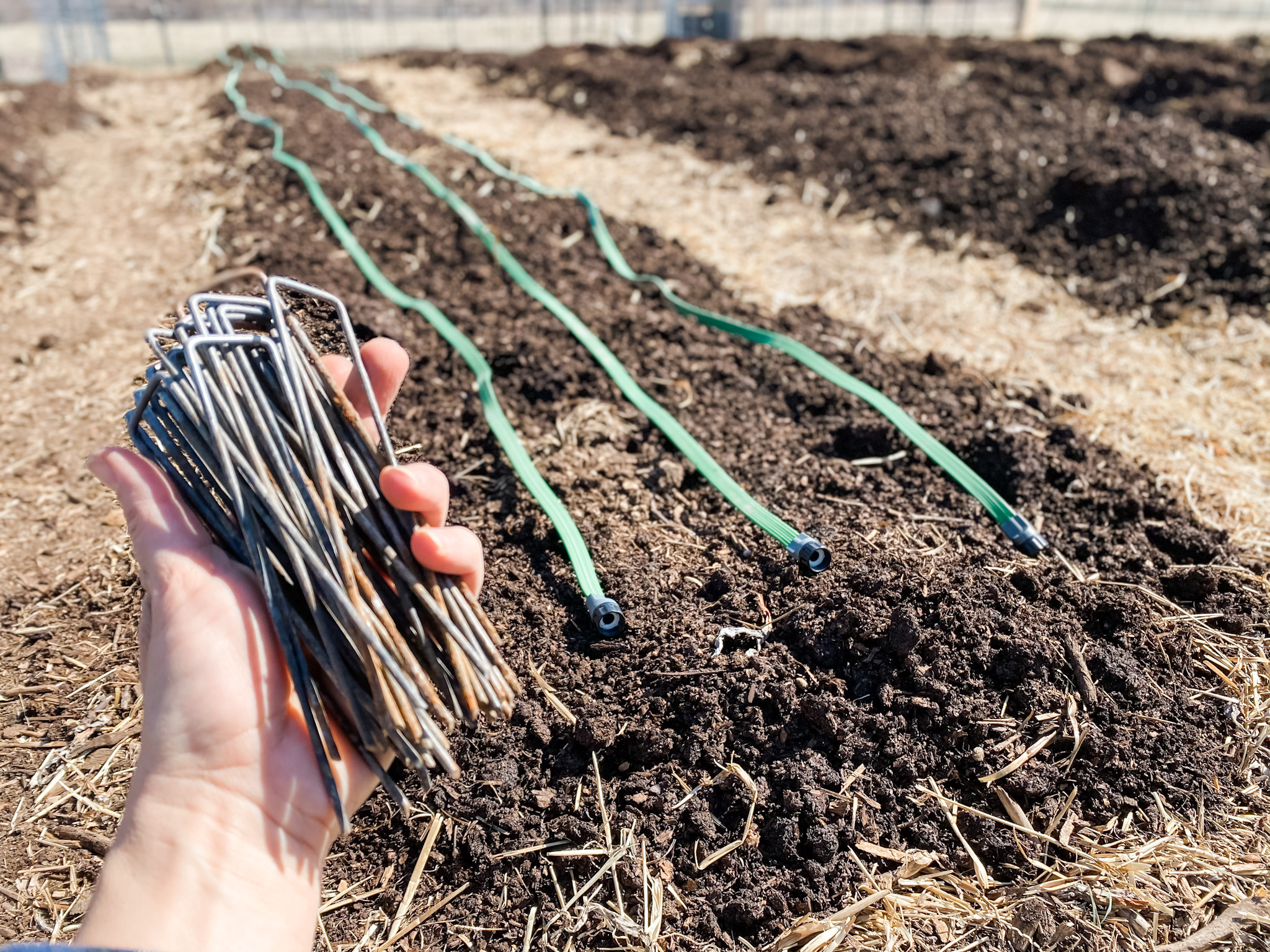 Step 2: add stakes
The stakes are a key part of this system! Trust me: do not attempt to use soaker hoses without stakes. Stakes are relatively inexpensive and will you last you for many garden seasons.
You will especially need a stake at each end of the hose, plus wherever you need to curve the hose. From there, don't go overboard! Just use a stake every so often to keep your hose in place.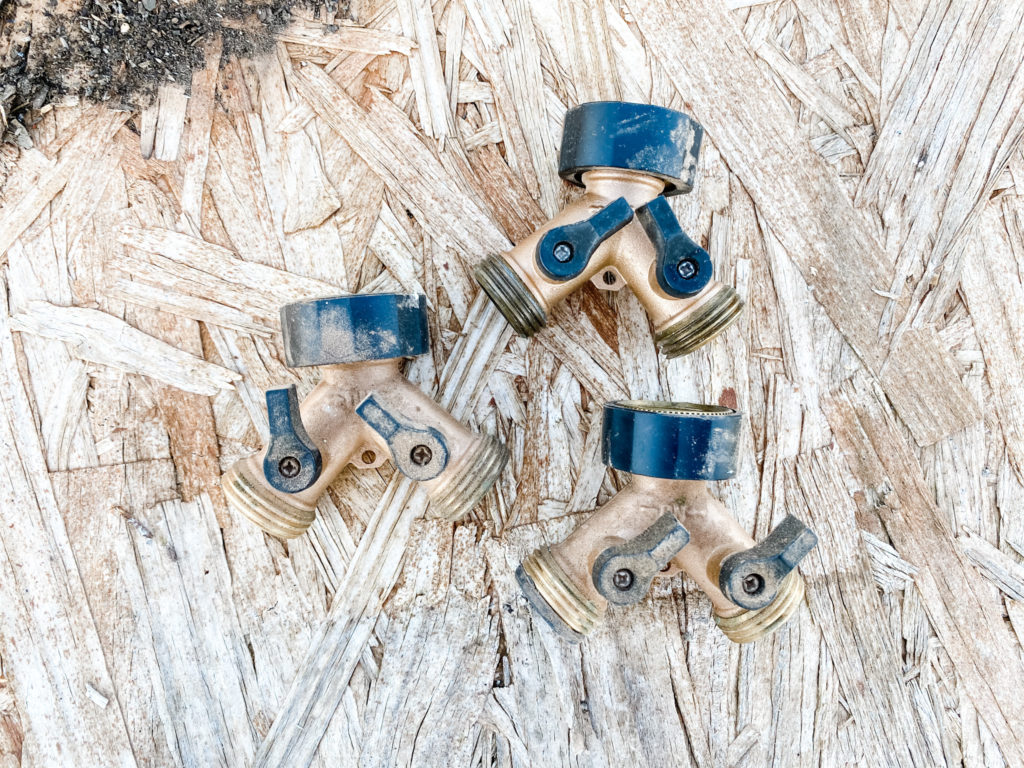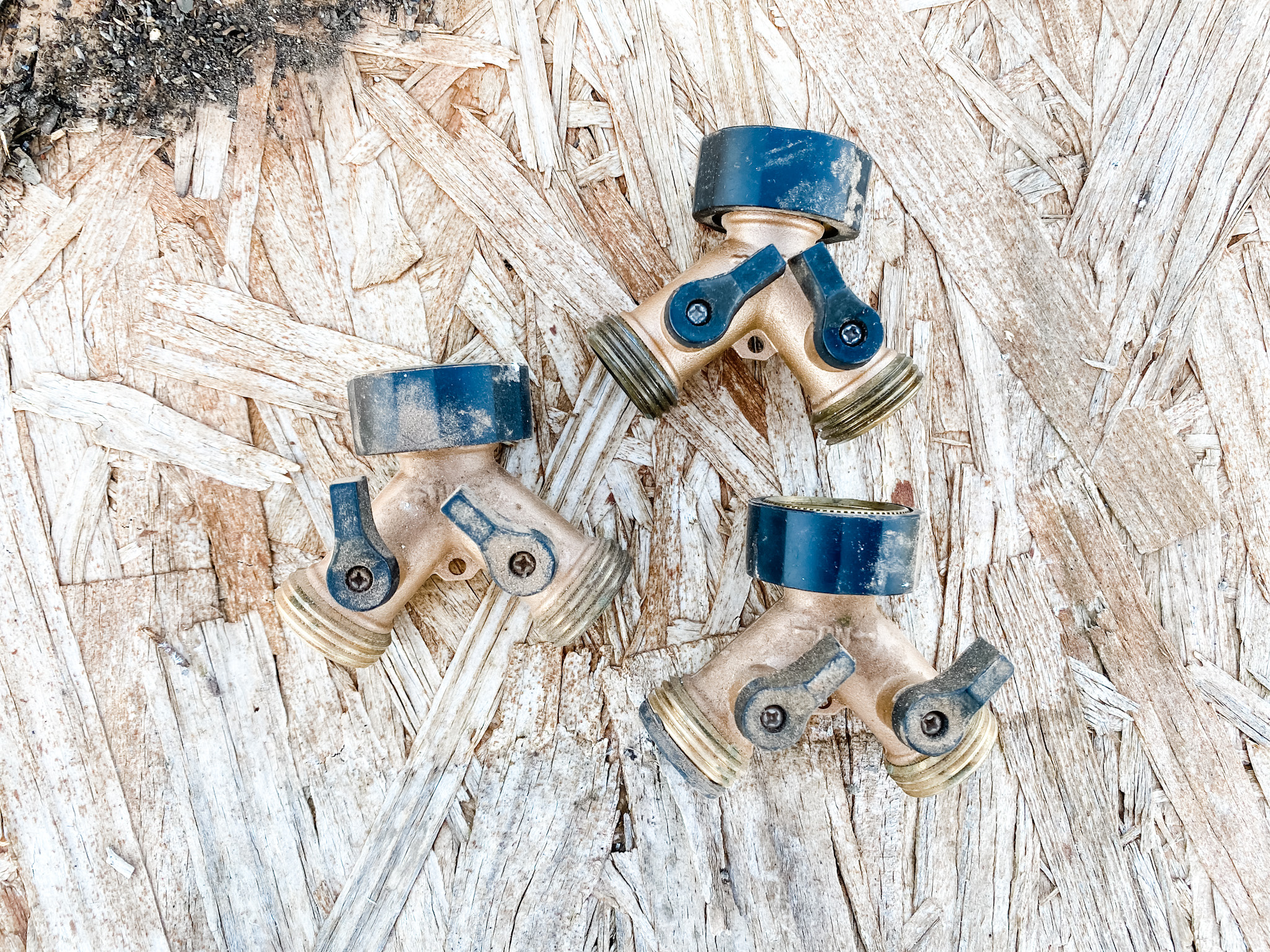 Step 3: add hose splitters
I'm still playing around with this, but I like to use a hose splitter to run two or three hoses down the rows for one crop.
Example: I use two hoses for my 50′ rows of brassicas (broccoli and cauliflower). Instead of connecting the hoses together, I prefer to use a hose splitter to run two individual hoses.
I also use a hose splitter where the garden hose enters my garden. One hose runs from the pump to the garden, where there is a hose splitter. The hose splitter directs pieces of old hose fitted with new couplings to additional hose splitters at the head of each section of crops.
Note: hose splitters come in 2-way, 3-way, and 4-way versions.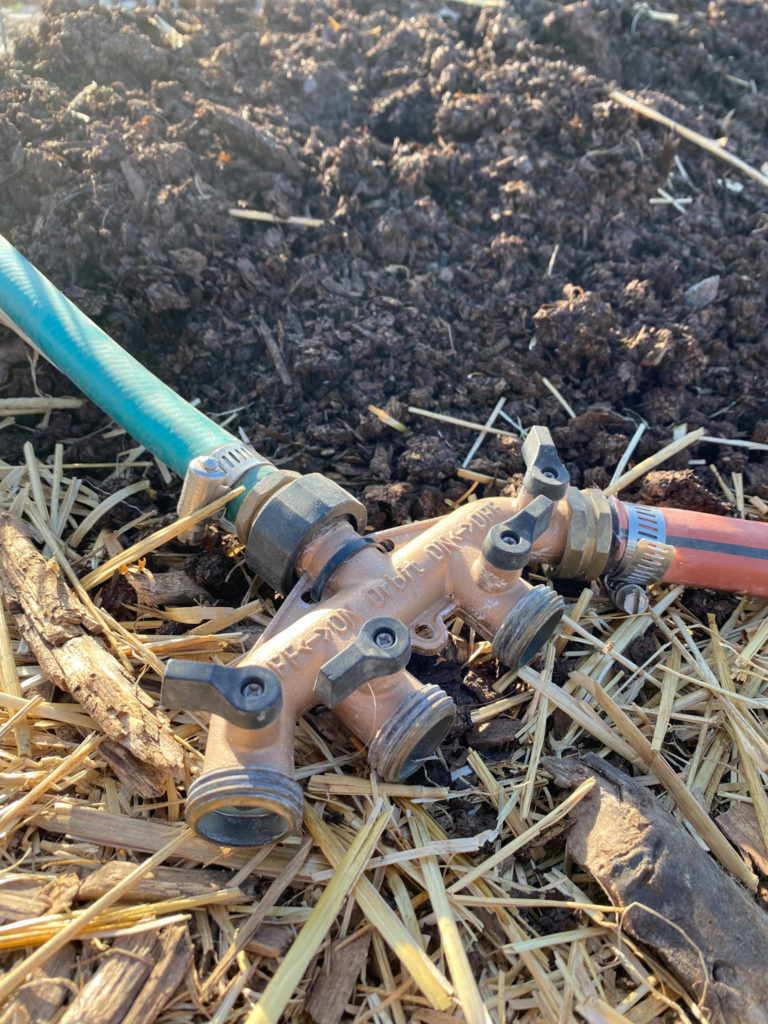 Step 4: add garden hose from water supply
As mentioned above, you'll add a garden hose from your water supply to your garden.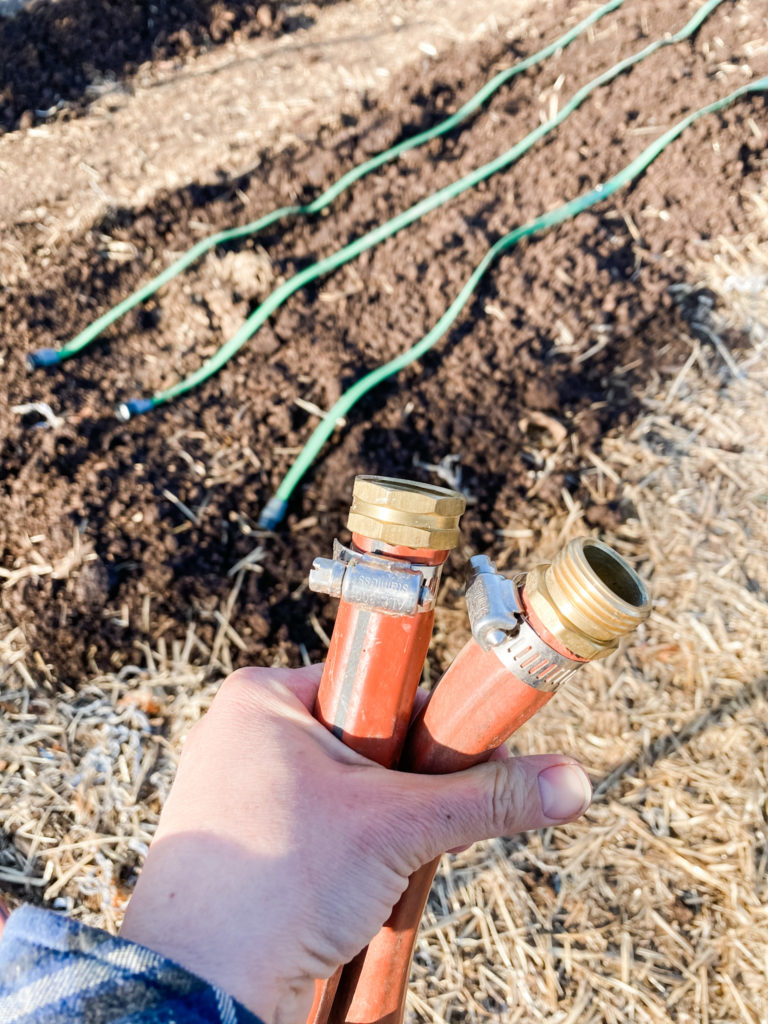 Step 5: use old garden hose to customize
We keep old garden hoses on hand for this purpose. If a hose springs a leak, no problem! You can cut out the leaky spot and add couplings to the remaining hose.
We use this process to cut custom lengths of old hose for connecting the main garden hose to each of our rows of crops. One custom hose length runs to the carrots, one to the tomatoes, one to the squash, one to the brassicas, and so forth.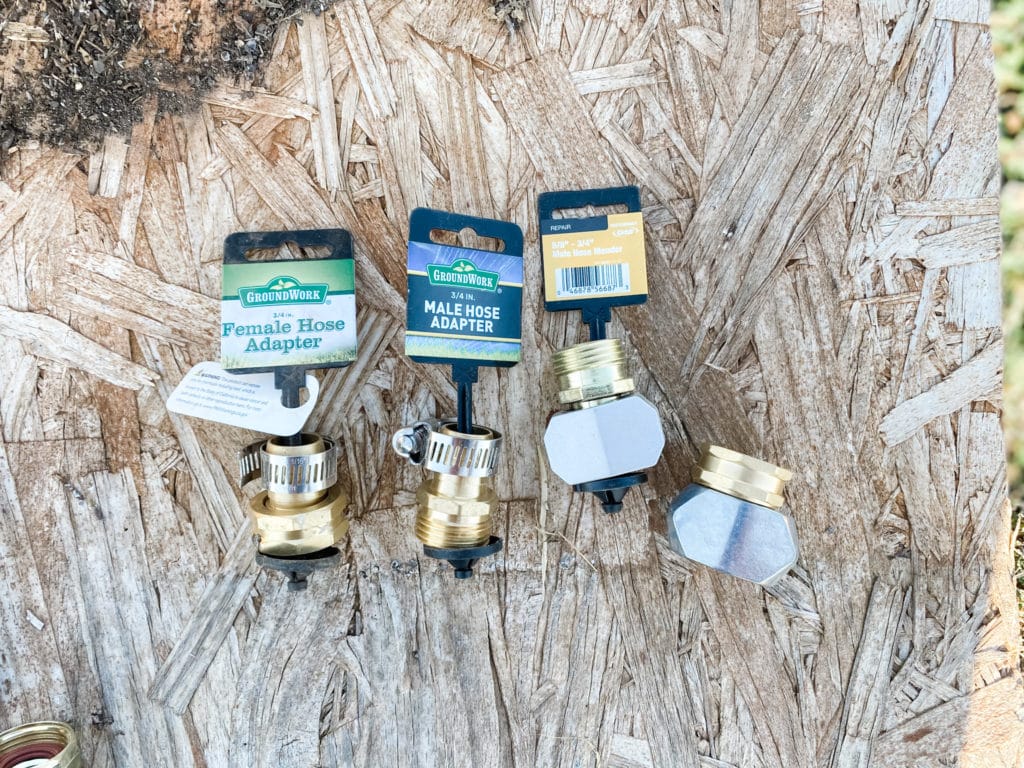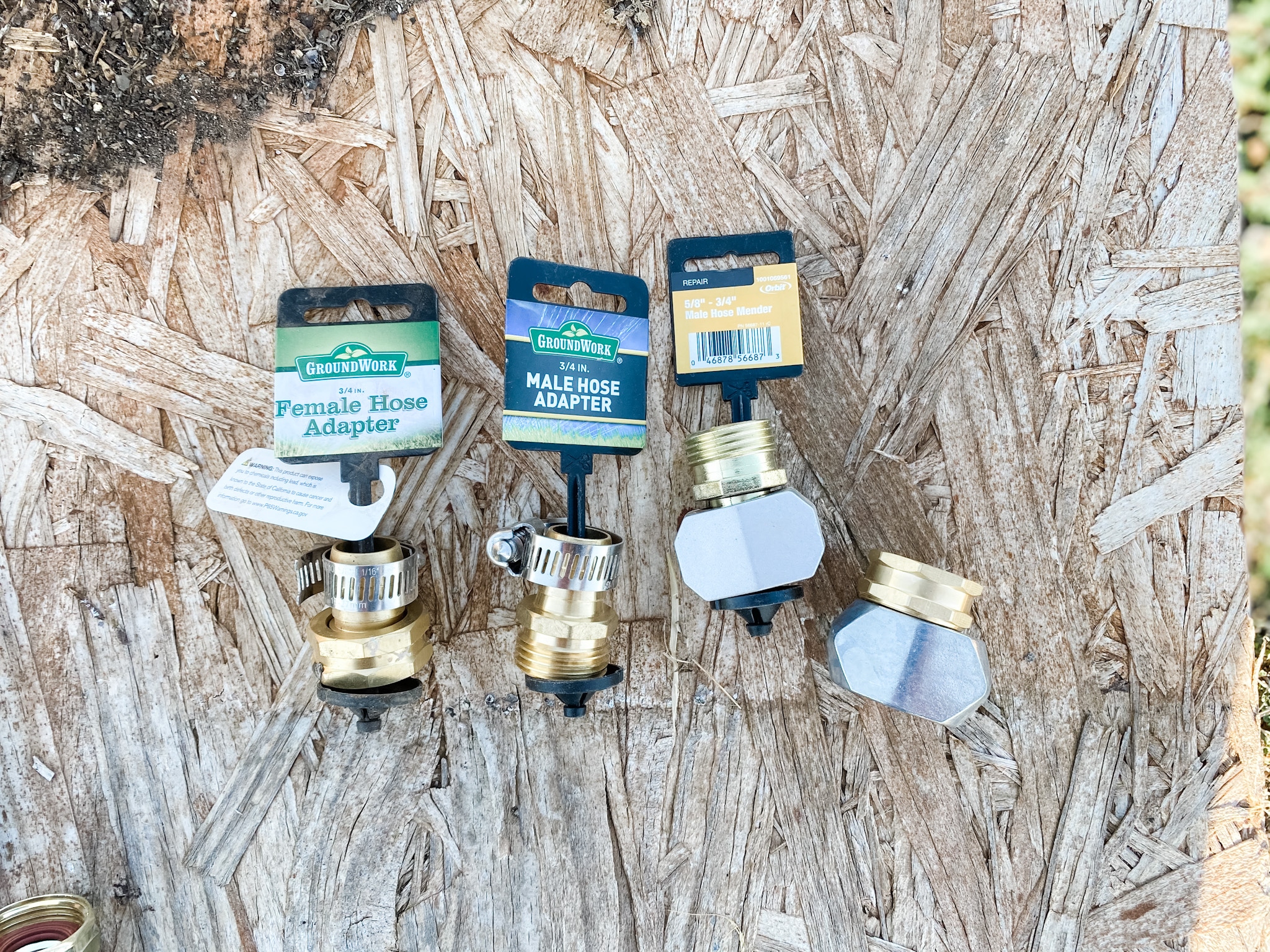 Why not connect all the hoses together?
In a nutshell, running a separate hose to each crop provides ultimate flexibility. Here's a closer look at why I prefer to run individual hoses to each section of my garden.
1. Water needs
Different crops have different water needs. I like the ability to water each crop as necessary, instead of all together.
2. Water pressure
If I watered my entire garden all at once, the pressure at the very end of the line would be very weak. Staggering the watering times allows for maximum pressure all the way down the line.
3. Water supply
It takes a lot of water to water my entire in-ground garden all at once. Staggering the watering times prevents unnecessary draining of our well.
So worth it
I have gardened for decades now (yikes!) and can tell you that creating an easy way to keep your garden watered is one of the best things you can do to have a successful garden. It is well worth the time and expense to set up a system now that will carry you through an entire season of food-growing.
A simple watering system will save you so much time and frustration, and will help you grow healthy plants and reap a bountiful harvest.
Ready to get started? Tell me about your plans! Already have a great watering system? I'd love to hear about it!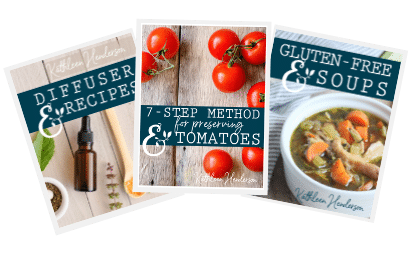 Sign up NOW for my best tips delivered weekly to your inbox!
You'll also get instant access to my library of free ebooks and resources.