Perfect Gifts for Farm Kids
This post may contain affiliate links, which means I make a small commission at no extra cost to you.
See my full disclosure here.
It can be tricky to find the perfect gifts for farm kids, so I've worked hard to put together a list of tools, gear, and other things we consider to be essential for the kids on our own small farm.
If you're shopping for grown up homesteaders, gardeners, foodies, or cooks, you'll also want to check out my Great Big List of Homestead Gifts.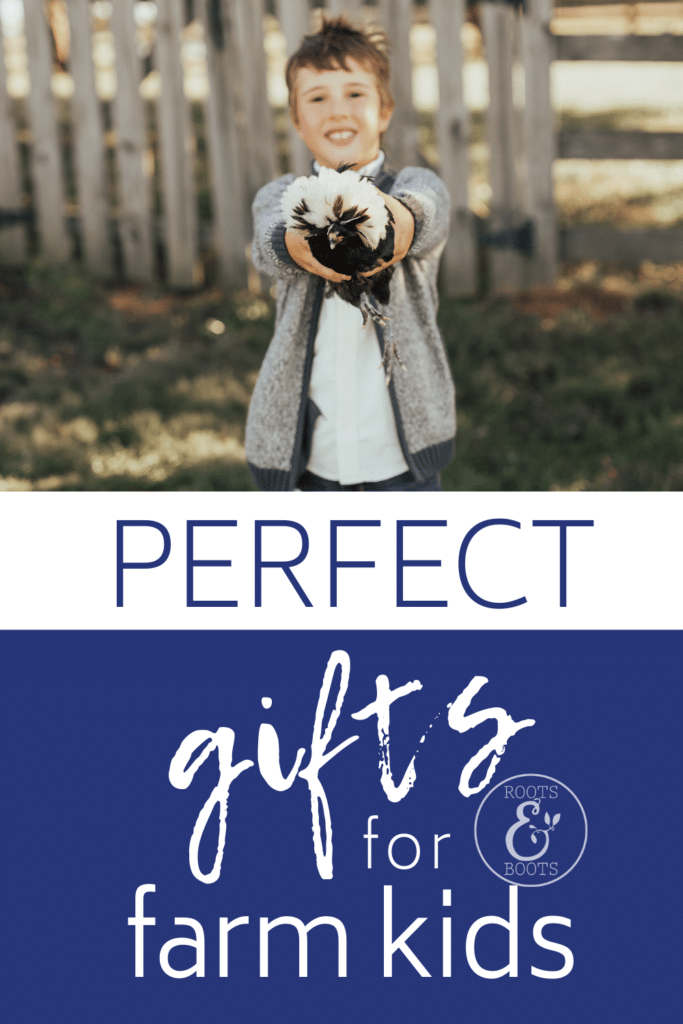 Perfect Gifts for Farm Kids
Disclaimer: our crew is entirely male, so you'll notice a slight bias towards that gender, but many items on the list below are equally applicable to both girls and boys.
And whether you have farm girls or farm boys, I'd love to hear what you would add to our list!
Knives
All of the people on our farm ages 8 and up wield an ever-growing collection of knives. Except me, actually. Maybe I'll find one in my Christmas stocking this year…
Knives come in handy for so many purposes around the farm and the house. They make perfect gifts for farm kids or any kids!
Swiss army pocket knife: Small or large. Both older boys and Mr. Native Texan use the fire out of these knives.
Utility knife / multitool: Larger than a pocket knife, a good utility knife really comes in handy around the farm. Both older boys and Mr. NT have their own multitool and use them often.
Leatherman: A more advanced, higher quality multitool option that my oldest son and husband have upgraded to. Super sturdy and long-lasting.
Jack knife: A streamlined knife option, usually with one single blade.
Machete: Handy for kids who spend lots of time in or near fields and forests.
Whittling knife: Perfect for kids who like to be busy with their hands.

Weapons
Did I mention we have all boys on our farm?

Farm & Garden Tools
Any job is made infinitely easier when you have the right tool. For kids, that often means the right tool in the right size.
Ask a kid to dig a hole with an adult-sized shovel and he'll feel frustrated and discouraged. Ask him to do it with a tool that's just his size and he'll complete the job with pride and satisfaction.
Kid-sized wheelbarrow: We have kid-sized (pictured below), medium-sized (vintage), and full-sized versions and each size is used often.
Kid-sized shovel: Both pointed and square edge shovels are useful for youngsters who are learning to help with farm and gardening chores. This set contains 2 rakes, 1 pointed shovel, and a hoe.
Kid-sized rake: Leaf rakes are useful for raking mulch and leaves, while a garden rake tends to be a bit sturdier for little ones. We have both. This set contains 2 rakes, 1 pointed shovel, and a hoe.
Kid-sized hoe: A must-have for pint sized gardeners! This set contains 2 rakes, 1 pointed shovel, and a hoe.
Kid-sized push broom: Our boys learned to help sweep out the barn and garage at an early age.
Kid-sized snow shovel: Little ones love to help with this chore, especially when they have a shovel of appropriate size. Just this year our 4yo cleared the entire back deck with his trusty little snow shovel, without being asked!
Rope: Yes, seriously. For so many reasons.
Bike trailer: Our 12yo son asked for a bike trailer for his birthday. He uses it often to transport all sorts of cargo all over the farm.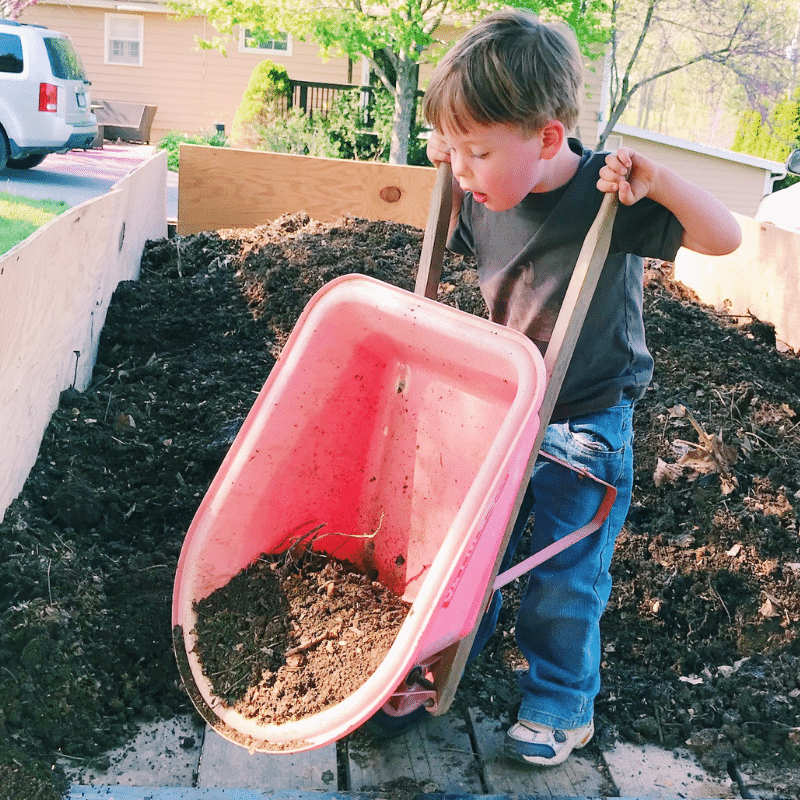 Hand Tools
Kids can be a real asset on the farm and can develop useful, lifelong skills when they have access to appropriately sized tools. Kid-sized tools are definitely perfect gifts for farm kids.

Apparel
Wearing the right gear can make or break a kid's (or adult's) attitude towards farm chores. Make sure your farm kids have what they need to brave the elements.
Head lamp: For night time chores and also reading in bed.
Digital watch: For waking up to do farm chores, and for setting alarms as task reminders throughout the day. This one is a good size for younger kids. This one is designed for women but works well for boys who don't want a watch that feels too big or bulky.
Muck boots: Everyone on the farm needs a serious pair of waterproof muck boots, including the kids. Thick rubber rain boots will work, or you can splurge on top quality muck boots.
Work gloves: Our 4yo wears these gloves every day. This size is designed for 7-9 years. And the older boys like these.
Rain coats: Every farmer needs adequate protection from the rain! Sturdy and affordable rain coats for kids are hard to find, but we've been pleased with this one and this one for the older boys, and a simple rain coat from Old Navy for the 4yo.
Flannel hoodie: You'll find a full set of flannel hoodies hanging in our farmhouse mudroom. They are the perfect farm jacket!
Cowboy boots: My boys' favorite choice of footwear off the farm. We bought synthetic boots for a short while but found them to scuff easily. Now we spring for real leather boots.

Books by Topic
Help your farm kids build a library that will serve them for years to come. The topics will vary according to each kid's interests, but here's a list to get you started.
Inspired by this list of top gifts for farm kids, my own farm kids are helping me compile a list of our favorite picture and chapter books for homesteading kids, as well as a list of our favorite outdoor adventure books. Stay tuned…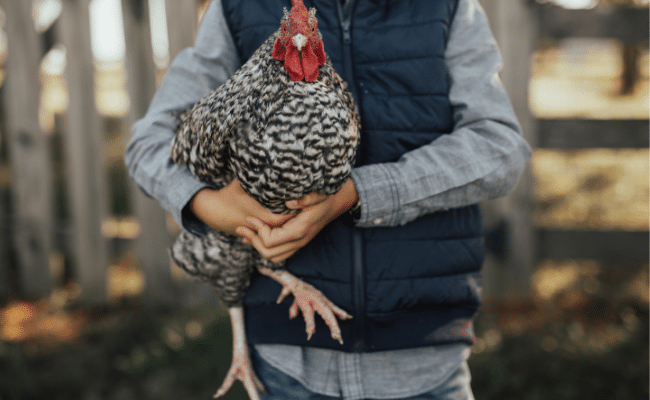 Enterprise Contributions
Farm kids are an enterprising bunch and you can support their budding entrepreneurial endeavors by contributing materials and supplies. The possibilities are endless, but I've listed a few ideas below…
Animals: Chickens, ducks, rabbits, goats, sheep, etc. Poultry can be ordered online from Murray McMurray Hatchery. You'll want to find a local source for other farm animals.
Fencing: Portable fence is a must-have for almost any critter on a sustainable farm. We like Premier1.
Coop: Give a pre-made coop or build one together.
Hutch: Meat rabbits require a hutch. Gift a pre-made hutch or build one together.
Plants: Fruit trees, Nut trees, pine trees, berry bushes, kiwi vines, herbs, and more. Find a local organic source or order online from Stark Bros.
Seeds: Vegetables, sunflowers, zinnias, etc. Find a local organic nursery or order from Johnny's Seeds.
Workshops: Send your farm kid to a workshop about raising goats, butchering chickens, or trapping predators.

Outdoor Play
All work and no play makes Johnny a dull boy. Farm kids need to play, too!
Outdoor play equipment is especially important for homeschooled farm kids and for farm families who love to entertain or who regularly host farm customers.
I've already compiled lists of recommended sporting goods and equipment for outdoor play on this list of 100+ Non-toy Gifts for Kids, so be sure to check that out!
More Gift Ideas
Our kids definitely do not need more stuff, which is why I've worked hard to compile a few more lists of useful and meaningful gifts for kids. You'll find more perfect gifts for farm kids on these lists…
What would you add to this list of gifts for farm kids? Which gifts have your farm kids loved?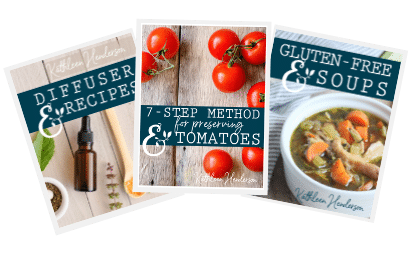 Sign up NOW for my best tips delivered weekly to your inbox!
You'll also get instant access to my library of free ebooks and resources.