How to Can Sugar-Free Jam: The Ultimate Guide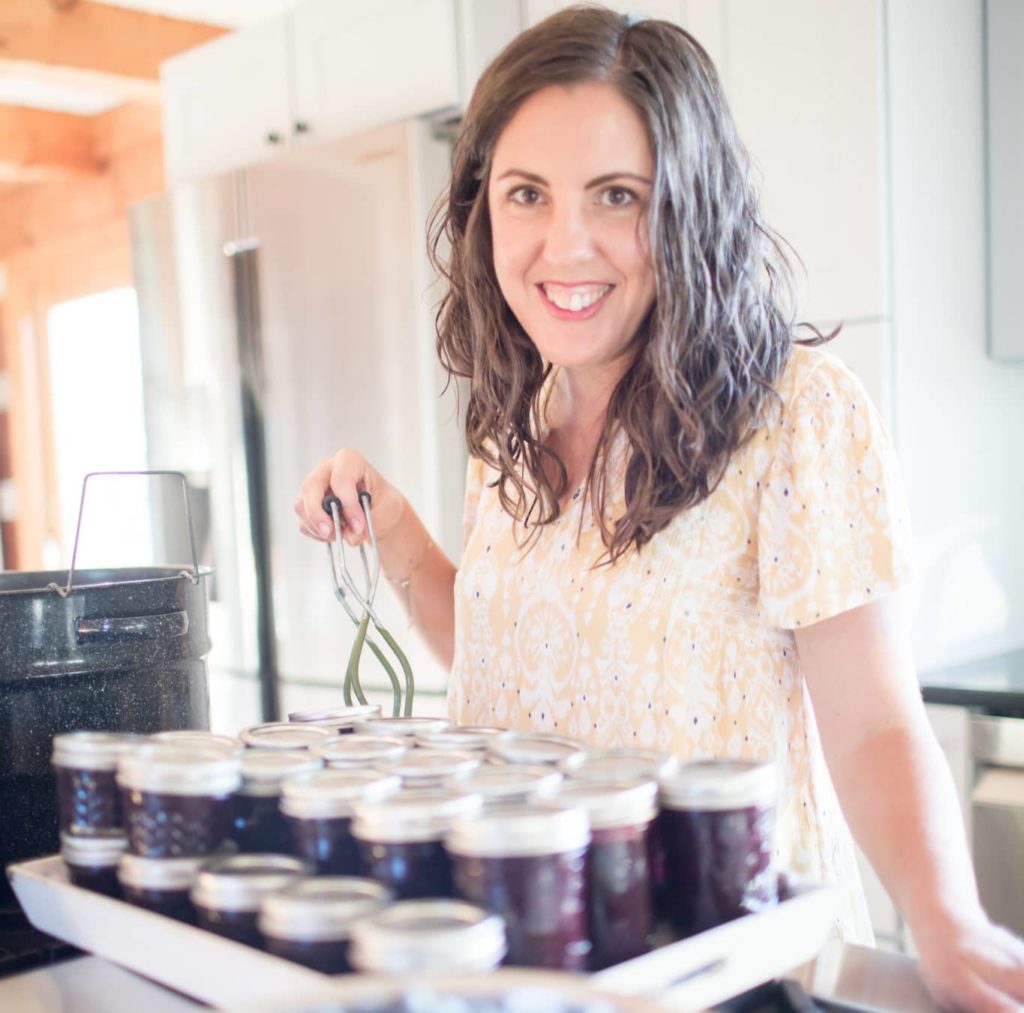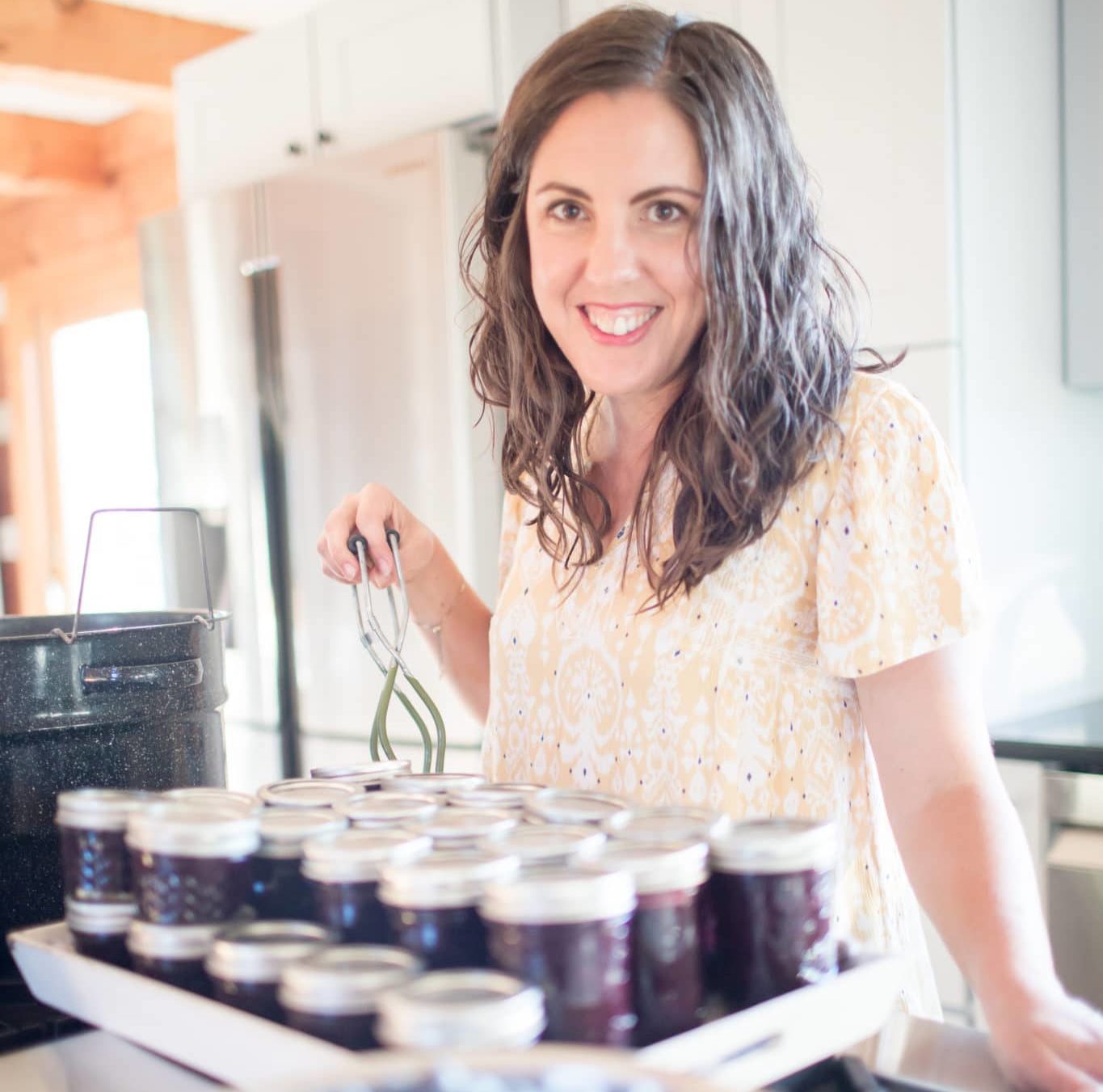 This post may contain affiliate links, which means I make a small commission at no extra cost to you.
See my full disclosure here.
Good news: it's totally possible to can sugar-free jam that is both delicious and shelf stable. And the best part of all? You can feel great about indulging in these healthier versions of your favorite home canned jams.

How to can sugar-free jam: the ultimate guide
When it comes to canning jam, many people think that sugar must be added in order to preserve the fruit, to achieve a proper gel, or to retain the fruit's color. However, these are all myths.
Many fruits can be safely canned without sweeteners at all, although I do prefer to sweeten my jams with local honey. Maple syrup is another good option.
Lemon or lime juice is typically added to increase the acidity and make jam safe for canning. The amount of juice added is enough for safe canning but not enough to impact the fruity flavor of the jam.
Even pectin can be optional, for reasons I'll outline below.
Canning sugar-free jam is so simple that I often recommend it for newbies. Honey-sweetened jams are versatile, tasty, and healthier than store bought versions or sugary homemade jams.
Listen in as I answer questions submitted by Instagram followers on the topic of canning sugar-free jams…can't see the video? Click here to watch.
Top fruits (and veggies) to use for sugar-free jam
I prefer to use local, in-season, and sometimes even homegrown ingredients for canning jam. However, you can definitely can fruit from the farmers market or grocery store, including frozen fruit.
Apples

Blackberries

Blueberries

Peaches

Raspberries

Strawberries

Tomatoes

Peppers
Sweeteners to avoid
In addition to refined sugar, I recommend avoiding the following sweeteners in home canned jam.
Agave: agave nectar is not the "healthy" natural sweetener it's often cracked up to be. In comparison with honey, agave contains a much higher concentration of fructose and far fewer nutrients and antioxidants. Personally, I steer clear of agave nectar.
Stevia: stevia is actually safe to use for canning, but I've never tried it. For canning, liquid stevia is easier but powdered stevia is the least refined option. Personally, I limit stevia to very occasional uses and choose local honey for sweetening sugar-free jam.
Xylitol: according to my research, xylitol is safe for canning but I avoid it for several reasons. Xylitol is processed, often comes from GMO corn, and can cause intestinal distress.
Aspartame: aspartame is not a healthy sweetener for jam or anything else, and it can cause an off taste in canning.
Corn Syrup: by now, most of us are aware of the health dangers associated with corn syrup. For this reason, I do not recommend using it for canning jam.

What about pectin?
Pectin is not necessary, although pectin-free jam may turn out a bit soft and loose. Soft jam doesn't bother me one bit, because it's still delicious!
When I began to emphasize real foods and eliminate processed foods from my family's diet, I made it my mission to learn to can fresh, seasonal foods as simply and healthfully as possible. For me, this means no refined sugar. It also means avoiding pectin when possible.
Another option is to use the natural pectin in fruits such as apples in order to help thicken up a honey-sweetened jam. Find out more in my Sugar-Free Canning ebook!
4 tips for a thicker jam
Don't be afraid to experiment with honey-sweetened jams, knowing that the results will always be delicious. A thin jam that doesn't set well is still wonderful for stirring into yogurt or oatmeal, pouring over pancakes or waffles, topping vanilla ice cream, and more.
Find more ideas for using thin jam in my Sugar-Free Canning ebook!
For best results in achieving a thick, sugar-free jam, try these tips:
Use a low, wide pan. A low, wide pan provides more surface area, which allows for faster water evaporation.
Cook a bit longer.

A longer cook time may help to reduce and thicken the jam.

There's a bit of a learning curve here, however, because cooking for too long can cook away the natural pectin.

Resist the urge to stir.

Stir only enough to prevent scorching.

Keep batches small.

Typically, the smaller the batch, the thicker the jam.

Batch size
While it's true that batch size can affect the jamminess of jam, I often disregard this tip. Who has time to can multiple small batches of jam? Not me, which is why I constantly push the limits for jam batch size.
Personally, I'd rather turn out more jam in one batch, even if it's a bit on the soft side.
Therefore, I tend to double and sometimes even triple or quadruple jam recipes, including my own. Just keep in mind that the bigger the batch, the greater the chances for a softer, looser jam.
Jar size
When it comes to canning jam, I recommend using the smallest jar your family will eat in one or two sittings. Once you open the seal of your honey-sweetened jam, it's important to eat it up quickly. You don't want to risk it spoiling!
For this reason, I tend to can most jams in 4-ounce jars.
Honey-sweetened jam: 7 recipes
My natural sweetener of choice is honey. The flavor adds a delicate twist to many fruits, and you'll typically need to add less honey than sugar to a jam recipe.
I can't wait for you to try my favorite recipes for honey-sweetened, home canned jams! Probably my very favorite honey-sweetened jam recipe is this one for Blueberry Jam.
You'll find six more, plus the blueberry jam recipe and tons of helpful tips for learning how to can sugar-free jam, in my Sugar-Free Canning ebook.

Have you tried canning with honey? Can you see yourself learning to can sugar-free jam?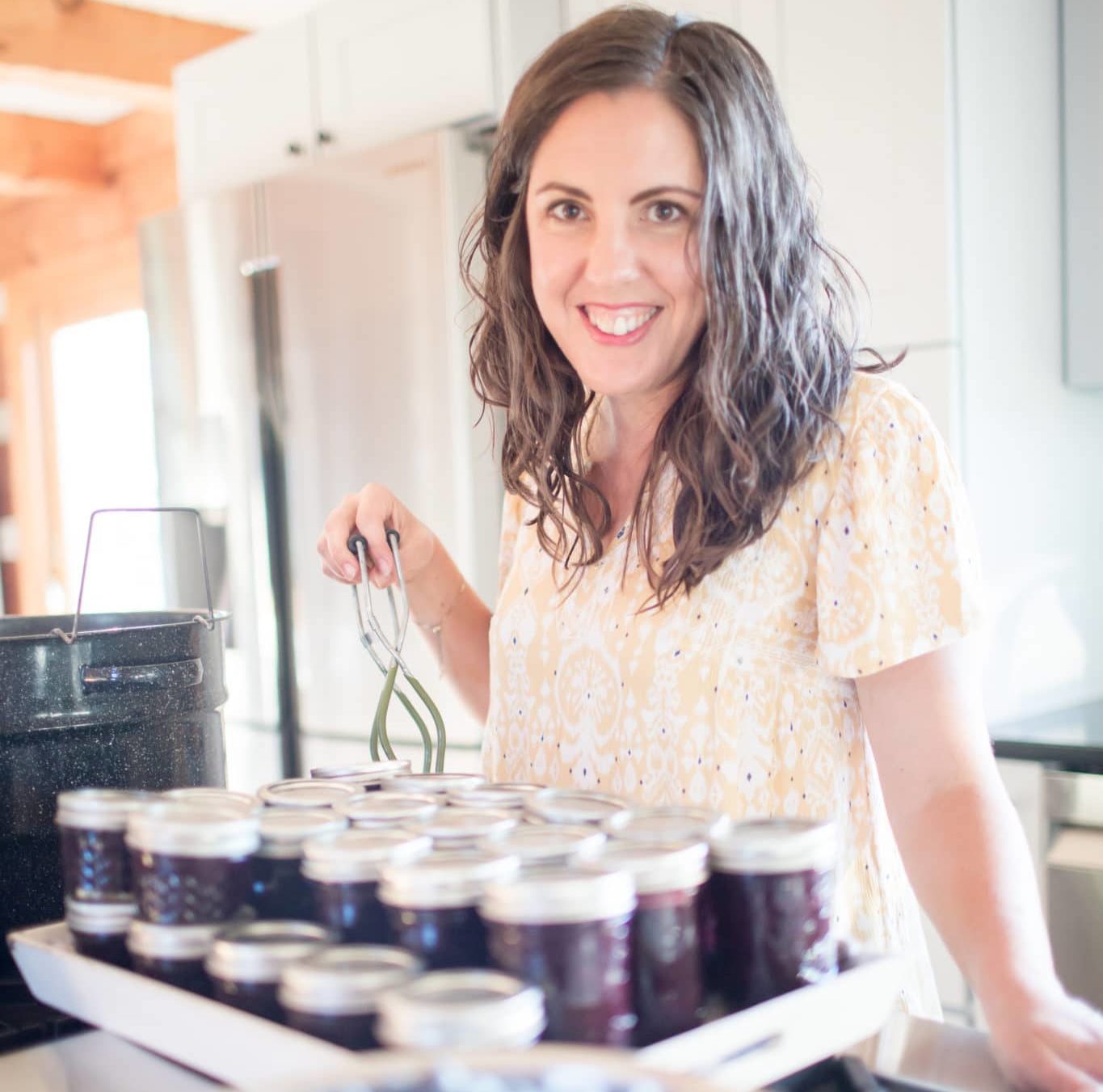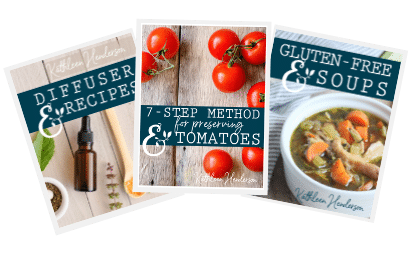 Sign up NOW for my best tips delivered weekly to your inbox!
You'll also get instant access to my library of free ebooks and resources.