Essential Oils for Muscles & Joints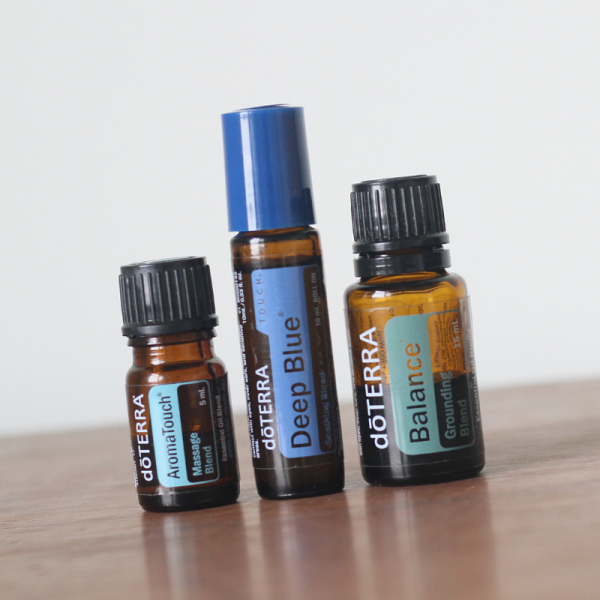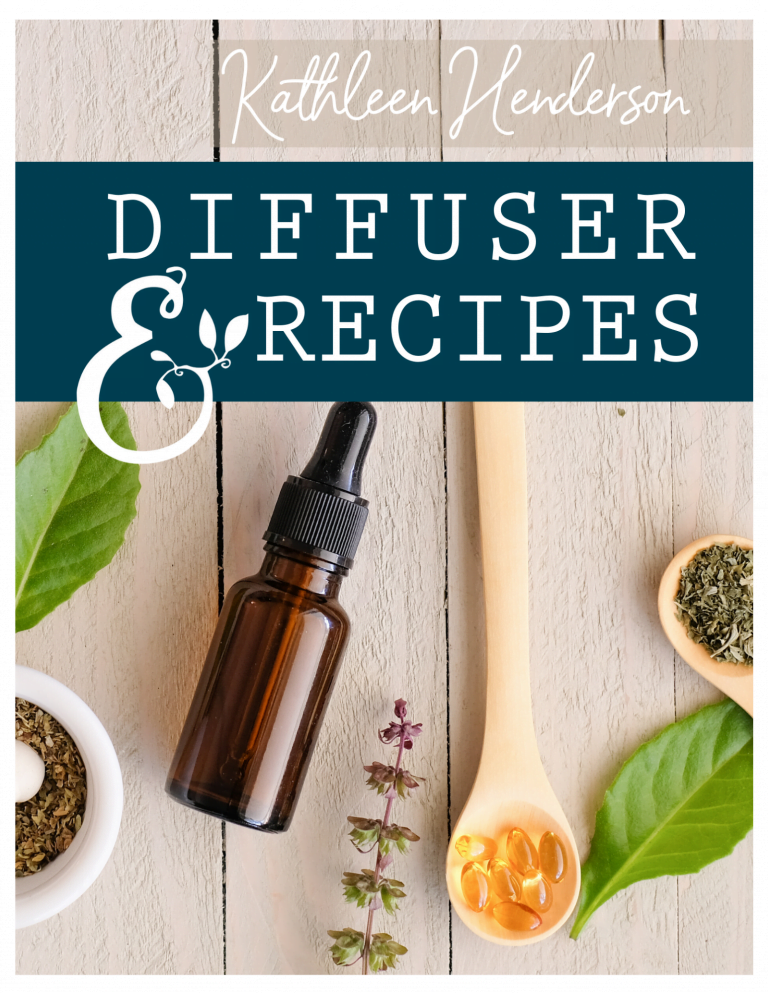 Get your free copy of 100+ Amazing Diffuser Recipes today!
No matter what life brings your way, there's a diffuser blend for that!  My short, practical ebook is packed with 100+ recipes to diffuse for immune support, sleep & relaxation, energy & good mood, focus & concentration, holiday & seasonal aromas, and more!

This post may contain affiliate links, which means I make a small commission at no extra cost to you.
See my full disclosure here.
If you ever feel tired and sore after a workout or a day of gardening or just from the effects of growing older, you're going to love these essential oils for muscles & joints.
Many essential oils are soothing to sore muscles and joints, but the ones listed below are a great place to start. Scroll all the way down to see the list, or check out my quick video all about essential oils for muscles & joints!
You'll also want to check out this list of 10 Ways to Use Essential Oils for Muscles & Joints.
Using Essential Oils for Muscles & Joints
A few tips to keep in mind…
1. Body Chemistry (Try, Try Again)
Everybody has different body chemistry. For this reason, the best oils for soothing one person's muscles and joints might not necessarily be the best oil to soothe another person's muscles & joints.
The moral of the story: try, try again! Keep trying until you find the oil or combination of oils that works best for your body.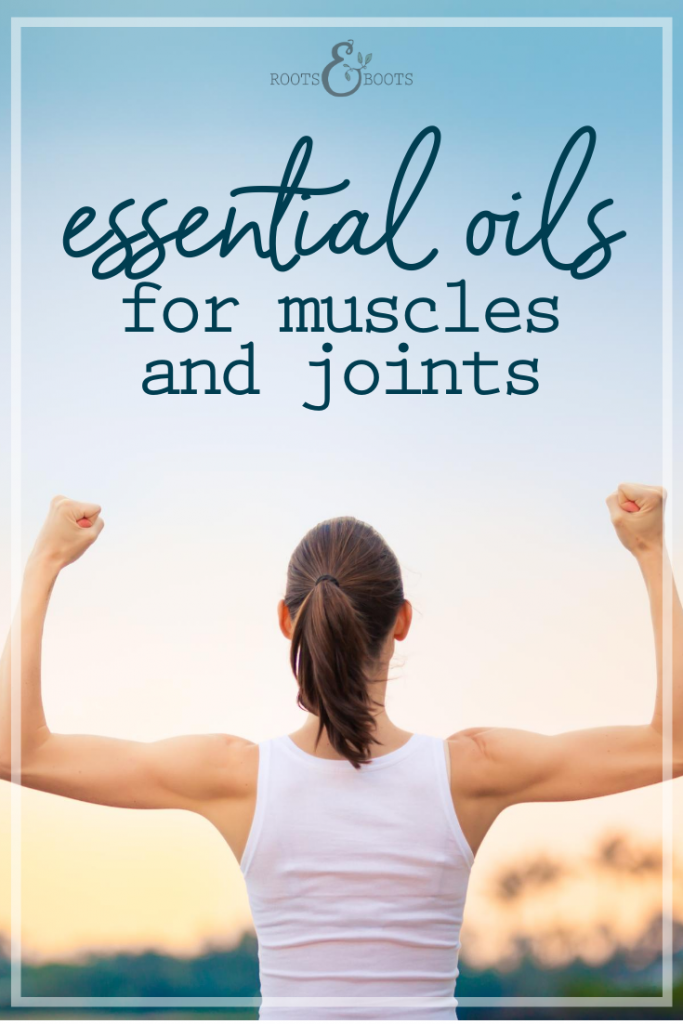 2. Always Dilute
It's a great idea to dilute essential oils for topical use, especially when addressing areas of discomfort in the body.
For one thing, a little essential oil goes a long way. 1-4 drops of essential oil is sufficient for one application. Now 1-4 drops of essential oil won't go very far if you're attempting to cover an entire area, or two knees, etc. Diluting those 1-4 drops of EO with a carrier oil allows you to stretch that same amount of EO over a much larger area.
Secondly, there is a "flash off" effect when essential oils are applied neat, without dilution. Some of the EO evaporates. Diluting with a carrier oil prevents the flash off effect, allowing more essential oil to penetrate the skin and to penetrate more deeply. This also produces a longer lasting effect, which is especially helpful when addressing aches and pains.
Be sure to spend about 20-30 seconds rubbing the diluted EO into the skin. This also helps to drive the oils deeper into the skin and to produce a longer lasting effect.
Dilution Ratios
I like to use Fractionated Coconut Oil, but you can use any vegetable oil or even an unscented lotion.
For adults, start with 3 drops essential oil to 1 tsp carrier oil. Increase up to 10 or even 15 drops per teaspoon as needed. 1 tsp = 5 ml.
For children, aim for 1-3 drops essential oil to 1 tsp carrier oil.
For babies, use 1 drop essential oil for each TB carrier oil. 1 TB = 20 ml.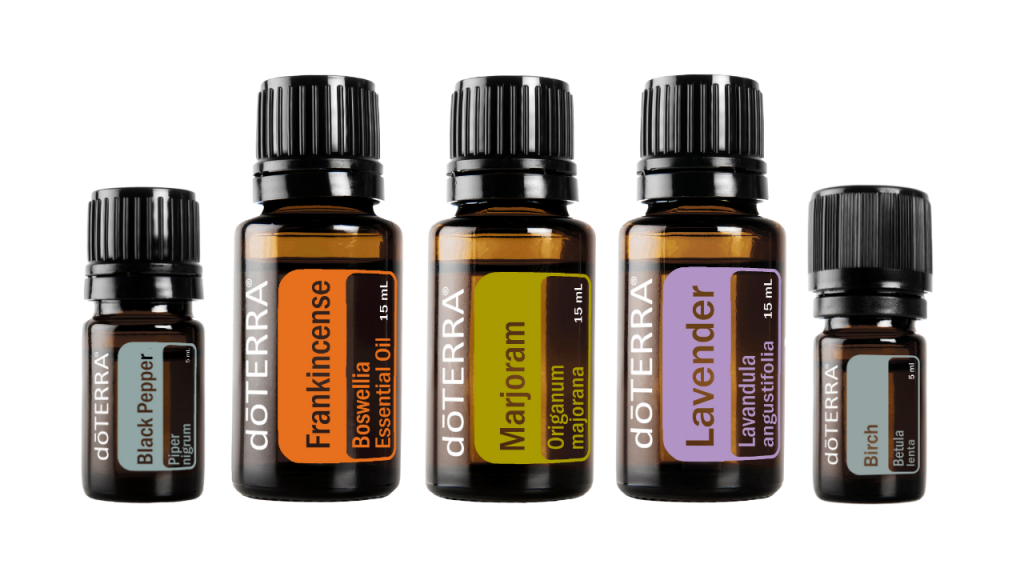 3. Mix & Store
You know what they say…If you keep junk food in the house, you'll probably eat it. Well, it applies to essential oils, too. If you keep the right oils nearby, you'll probably use them in your time of need.
In my experience, I'm much more likely to use my oils more consistently when I anticipate and prepare for my regularly occurring health needs.
For example: I tend to deal with lower back issues, so I figured out a good blend for that, then mixed up a batch with a carrier oil and stored it in a bathroom cabinet. This way, I can immediately reach for that blend when I need it. If you have a troublesome lower back, too, check out my custom blend of three oils here: Essential Oils for Lower Back Support.
I recommend making a list of your most common aches and pains, then experimenting until you find what works best for each concern. If a combination of oils is most effective, go ahead and mix up your custom blend and store it where you'll need it most.
You might mix up two or three bottles of the same blend to stash in multiple spots: nightstand, bathroom, purse, desk drawer, etc.
Be sure to label your blends so you can remember which oils are in them! Ahem. I also recommend writing down the recipe so you can replicate it later. Ahem again. By the way…Rosemary has been shown to enhance memory function…
Essential Oils for Muscles & Joints
Click here for my favorite way to purchase essential oils.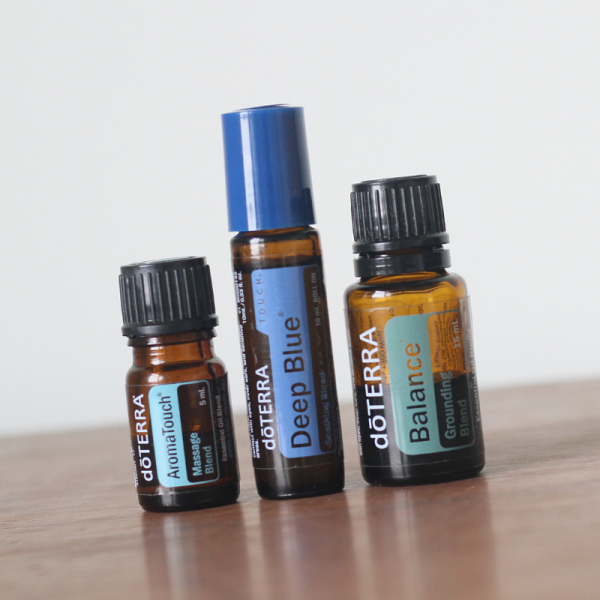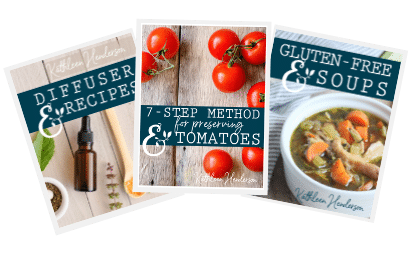 Sign up NOW for my best tips delivered weekly to your inbox!
You'll also get instant access to my library of free ebooks and resources.