8 Ways to Help Kids Eat More Veggies
A diet focused on real foods obviously includes plenty of vegetables.  However, if your kids are like mine, it can be a challenge to work substantial quantities of veggies into their daily meals.
If you could use a few ideas for helping your kids eat more veggies, read on!
Pssst!  If you're ready to stop relying on unhealthy processed foods and start nourishing your family with simple, real food meals, you'll want to join my subscriber list pronto!  All Yankee Homestead subscribers will receive a special gift later this week, and I think you're going to love it.
Will My Kids EVER Eat Veggies Without Complaining?
Once upon a time, I was pretty sure my kids would NEVER eat veggies without complaining.  And I couldn't imagine they would ever like to eat vegetables.
Over the years, however, I've learned a few strategies that have helped my kids eat more veggies (without complaining).
My three boys now range from ages five to twelve.  While they still don't love to eat vegetables, they've made definite improvements.  Year by year, their list of acceptable vegetables has grown and vegetable-associated complaints have decreased.
Family meal times are more pleasant (except for potty humor, but that's another story) and their diets are more well-rounded.  That's a win in my book!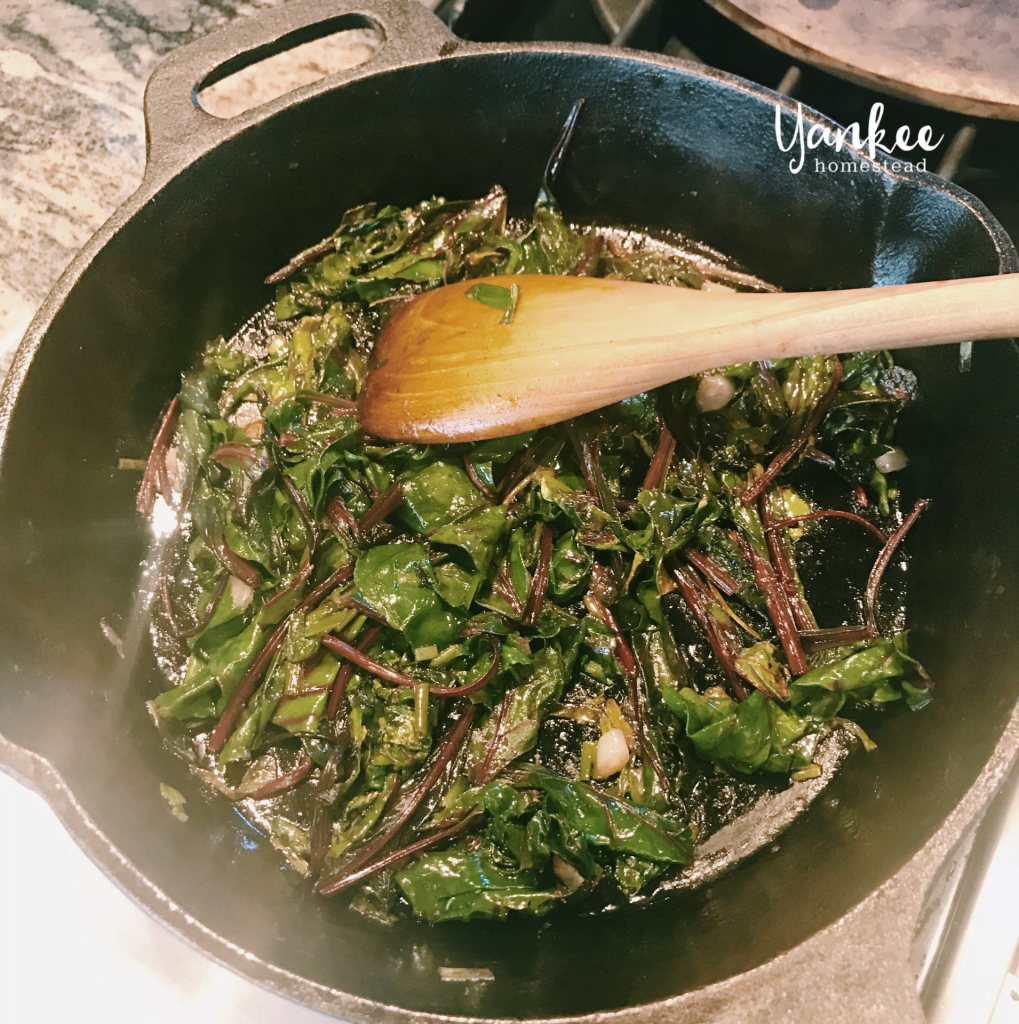 8 Ways to Help Kids Eat More Veggies
These tips may seem simple, but I guarantee that consistent practice will lead to more and better veggie consumption.  It may not happen over night, but don't give up.  Eventually your kids will eat more veggies, and they might even discover a few favorites!
1. Stock the fridge
It's a no-brainer that your kids can't eat the veggies that aren't there.   Therefore, the first step in helping kids eat more veggies is to keep plenty of veggies in the fridge (or pantry)!  Every week, or whenever you do your grocery shopping, make it a habit to stock up on a variety of veggies.
2. Offer a variety
At our house, almost every dinner includes at least two vegetables and often three or four.  While I try to serve the veggies that my children prefer, I also make a point of introducing new vegetables on a regular basis.
And just because they don't enjoy a certain vegetable on the first or second try, doesn't mean they'll never enjoy it…or at least eat it willingly.  For this reason, I continue to offer a variety of veggies at every evening meal, most lunches, and some breakfasts.

3. Let them choose
At meals that include more than two veggie options, try allowing your kids to choose one to avoid.  This gives them some ownership over the veggies that do end up on their plate, which makes them more likely to eat those veggies willingly.
4. Add extra veggies
I'm constantly looking for ways to add more veggies to the foods we already enjoy.  A few foods that make it easy to sneak in extra veggies:
5. Prepare veggies simply
When I learned the art of simple veggie preparation, it totally changed my meal time game plan.  Most vegetables taste best when sautéed or roasted with a healthy fat like real butter or coconut oil, and seasoned with a dash or two of unrefined sea salt.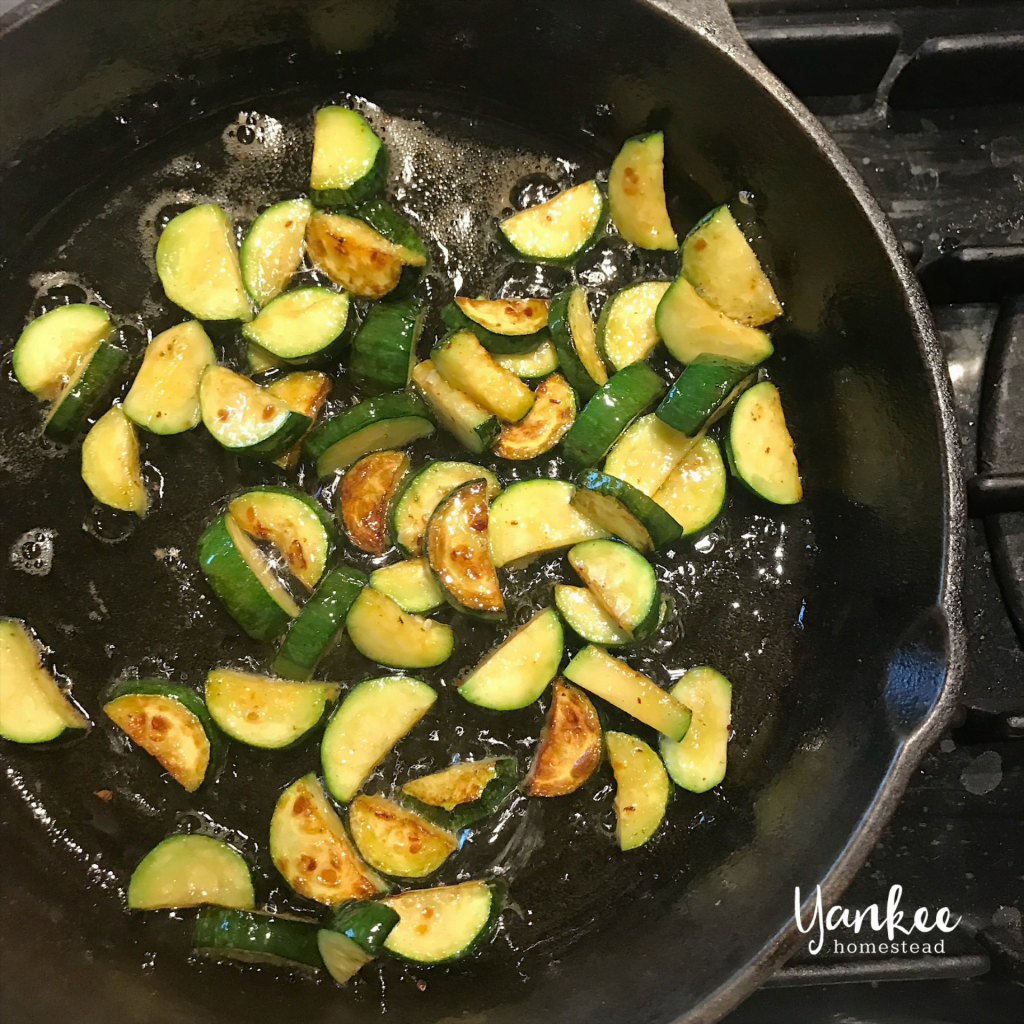 On top of providing amazing flavor, this style of cooking simplifies my meal prep efforts.  Instead of trying to keep track of complicated recipes, I know just what to do with almost any veggie: simply chop and roast or sauté!
Find a few of my favorite simple veggie "recipes" here.
6. Let kids cook
After you've brushed up on the art of simple veggie prep, teach it to your kids!  All of my kids have learned to help in the kitchen, and my oldest son in particular has embraced the role.
When kids help Mom make dinner and when they advance to take on certain parts of, or even the entire meal, they want to eat what they've helped to prepare.
Teach them to chop potatoes, spiralize zucchini, and shred carrots.  Younger kids can use a nylon knife, while older kids can be trained to handle a sharp knife.
7. Grow veggies together
If possible, try growing at least one veggie or herb with your kids.  In the absence of a yard, even a balcony or a windowsill will do. In my experience, kids are much more interested in trying foods they have helped to grow and harvest.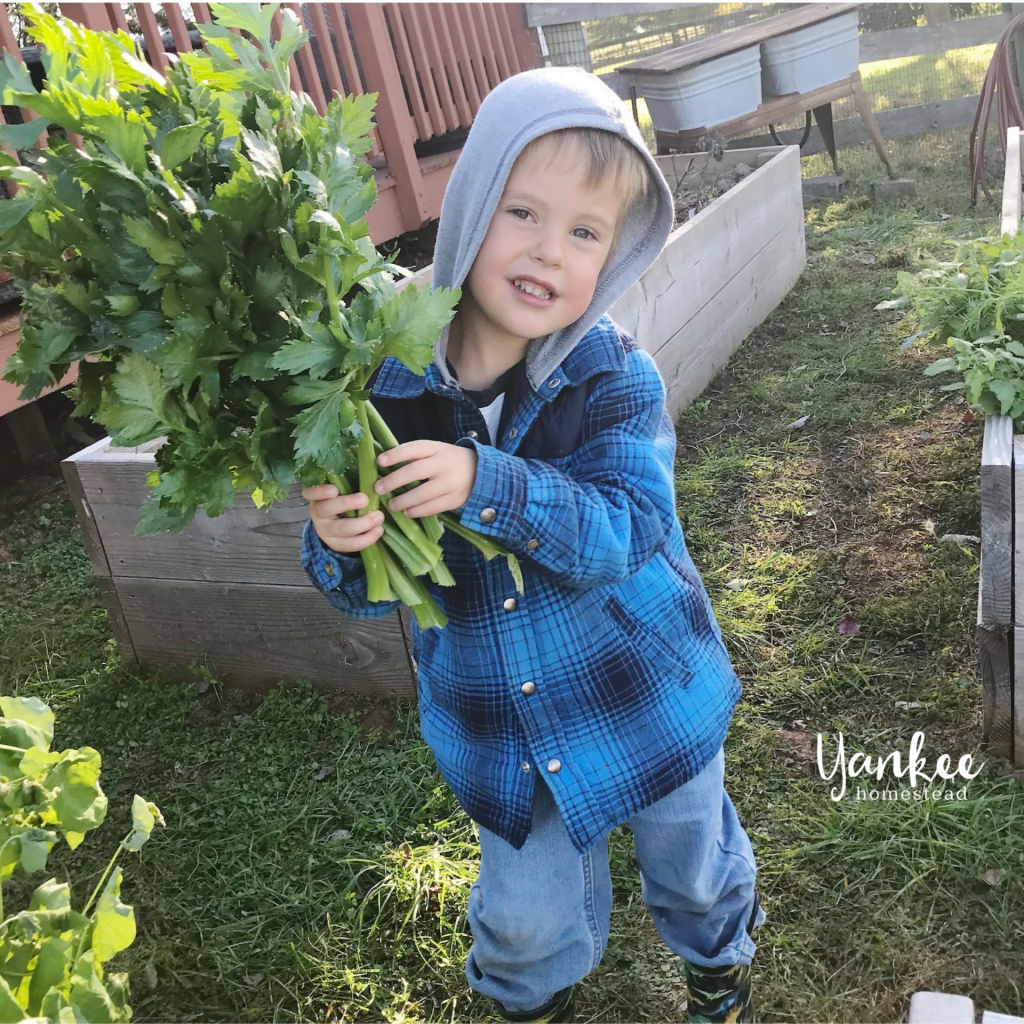 8. Buy local veggies
Even if you're able to grow veggies at home, you probably won't grow every vegetable your family enjoys.  So take your kids to the farmer's market and let them help you shop.
Take time to teach your kids where food comes from and how special it is to eat foods grown in their own community.  When kids get to meet the people who grow their food and when they understand the significance of buying local, they'll feel a stronger connection to the food on their plate.
More ideas here: How to Teach Kids Where Food Comes From.
Bonus: Don't give up!
Maybe you are blessed with children who love to eat salad and brussel sprouts and all things leafy, green, or earthy.  Or maybe, like me, your kids won't even eat your delicious homegrown tomatoes.
They'll help me harvest tomatoes, but they won't eat them!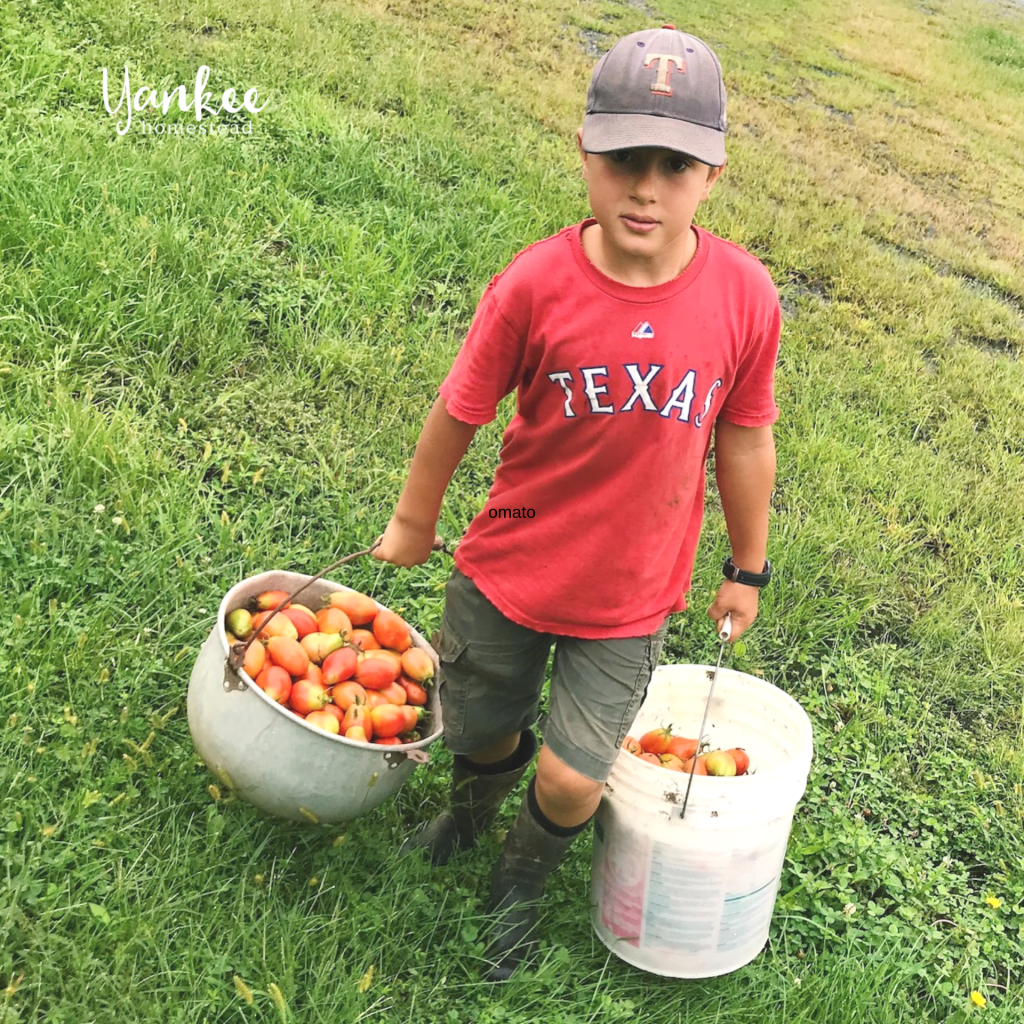 But no matter where your family is on the vegetable spectrum, I promise that these eight strategies will help your kids eat more veggies.
As my own boys get older, even though they still won't eat tomatoes, I'm happy to report that they each have grown to appreciate more and more vegetables every year.  And they complain less and less about the veggies that aren't their favorites.
The key is to persevere.  Keep buying, serving, and maybe even growing a variety of veggies; keep letting your kids choose, teaching them to cook, and working extra veggies into the foods they already enjoy.
And before you know it, you'll be sharing tips with other moms to help their kids eat more veggies.
Remember: if real food is a priority at your house but you struggle to get healthy meals on the table, you're going to love the special gift I'm working on for my email subscribers.  Not on my list?  Join it here!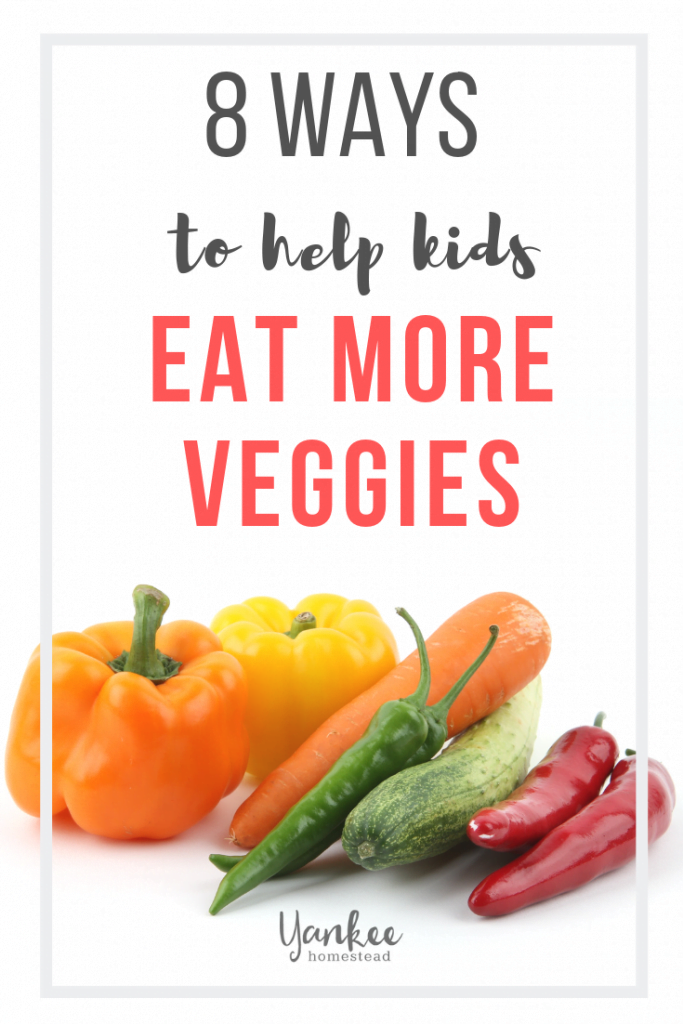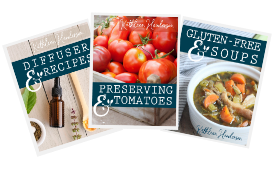 Sign up NOW for my best tips delivered weekly to your inbox!
You'll also get instant access to my library of free ebooks and resources.