Join the Seasonal Club.  Ditch the processed life! Learn to grow, source, preserve, and prepare real foods ALL YEAR LONG!  LEARN MORE >>
Join the Seasonal Club.
Ditch the processed life! Learn to grow, source, preserve, and prepare real foods ALL YEAR LONG!  LEARN MORE >>
8 Tips for Switching to Cloth Napkins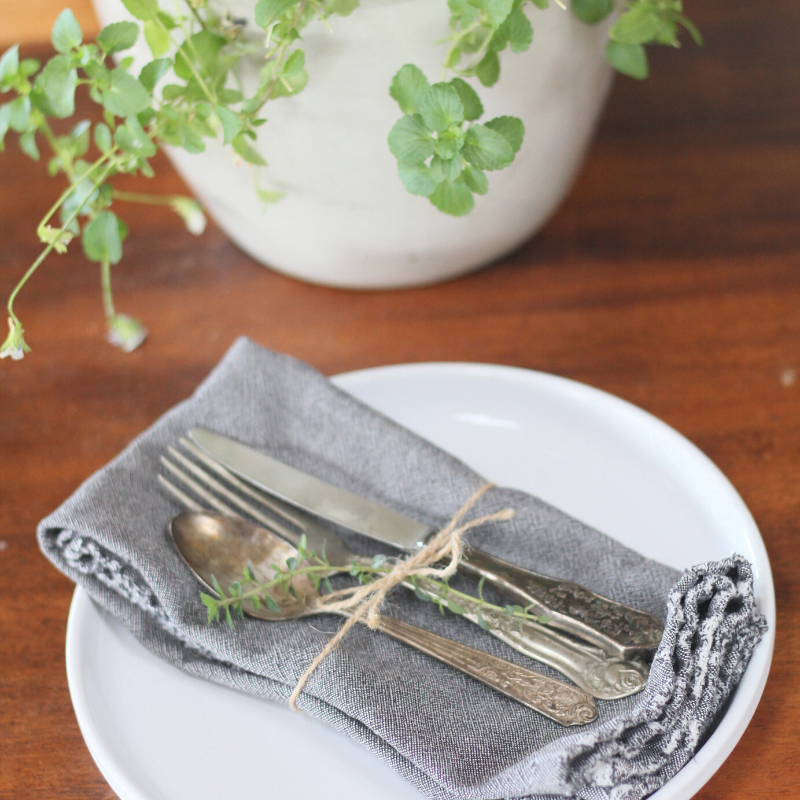 This post may contain affiliate links, which means I make a small commission at no extra cost to you.
See my full disclosure here.
Apparently, cloth napkins evoke strong reactions.  Who knew?
Last week I shared three steps to a paperless kitchen for those looking to reduce household waste.  The first step is to replace paper napkins with cloth napkins, and I shared a bit about that on social media.
I received so many comments, mostly from my fellow fans of cloth napkins.  These cloth napkin aficionados mentioned some pretty great tips, plus I've got a few of my own to share.  If you're ready to make the switch, this post is for you!
By the way, if you're also looking to reduce your dependence on plastic, you can find a few of my favorite ways to do that:
8 Tips for switching to cloth napkins:
I am so excited for you to take this step towards a paperless kitchen!  Once you start using cloth napkins, paper napkins will feel so flimsy and wasteful.  Also, your family meal times will feel just a bit more special and you will save money in the long run.
Ready?  Here's how to make the switch…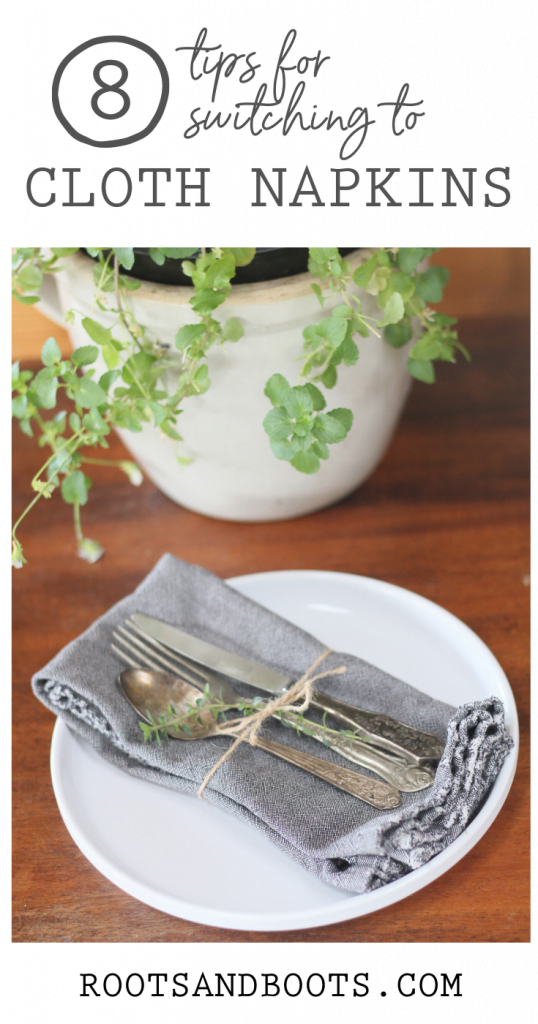 1. Start with three sets
Three sets is the bare minimum for getting started.  Basically, you want enough napkins for each member of your family, times three.
If you use the same napkins for an entire day (like we do: see #5), this means you'll need to wash napkins every few days.  Over time, you can build up your stash of napkins and stretch out the days between washings.
In our experience, daily use cloth napkins last for at least three years.  The more sets you have in rotation, the longer each set will last.
My family cycles through three or four sets of napkins.  One of those sets was gifted to us at our wedding over 16 years ago!  I purchased the other sets inexpensively at HomeGoods.
This affordable 100% cotton set is an Amazon bestseller, with over 30 colors to choose from.
We also keep two sets of cloth napkins for special occasions, one set for travel, and a huge stash of cotton bandanas that we pull out for parties.
2. Think outside the box
I love the tip shared by Denise, one of my Facebook followers.  Her local fabric store sells sample fabric swatches by the pound, which make perfect napkins for her family.  Denise recommends trimming the edges with pinking shears to reduce fraying.  That's it!  No sewing involved.
If you do sew, you can easily turn any random fabric, or even a thrifted tablecloth into affordable napkins for your family.
Michele, a friend on Instagram, started her napkin collection with leftover fabric from her own projects.  No need to spend lots of money as you build your stash of cloth napkins.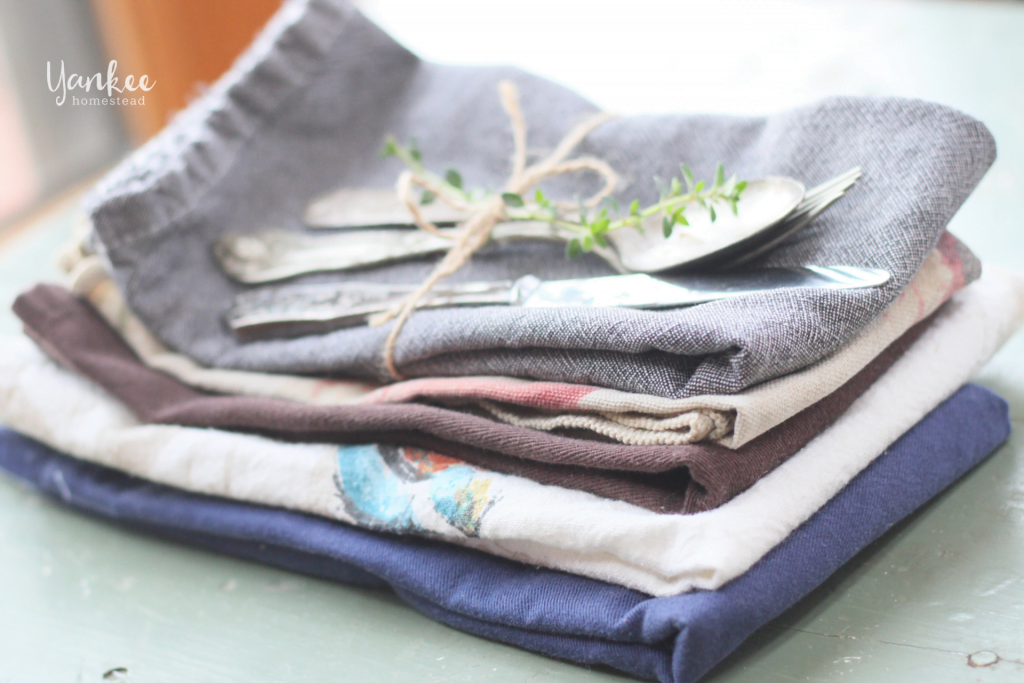 3. Choose dark colors
We eat real food at my house, and real food gets messy.  We're not fancy or anything, but I do prefer to see unstained napkins on my dining table.  I also do not have time to slave over stain treatments.
Therefore, I prefer to use dark napkins.
Many a time I've been tempted to buy beautiful napkins with light colored backgrounds.  Such beautiful patterns!  And light colored linens, and ticking stripes.  I'm a sucker for stripes. 
But then I close my eyes, and I envision what those napkins will look like with spaghetti sauce or cooked blueberries smeared across the stripes.  In the end, practicality wins out and I reach for the dark, solid-colored napkins.
4. Consider the material
This is probably obvious, but for daily family use, you'll want to choose sturdy cotton fabrics for your cloth napkins.  Skip the fancy lightweight napkins and opt for durable materials that will hold up to daily use and frequent washings.
5. Select a size
We prefer standard size napkins that are large enough to lay across a person's lap.  However, when my kids were small and we were first getting started with cloth napkins, we got away with a much smaller size.
I actually enlisted a friend's help (because sadly, I don't sew) to convert large napkins I'd received as a gift into smaller napkins about the size of a standard paper napkin.  We divided each large napkin into quarters.
These small napkins served us well for years, and we still use them for travel purposes.  But as the kids have gotten older, and as I've worked to grow our napkin stash, we have definitely come to prefer larger napkins.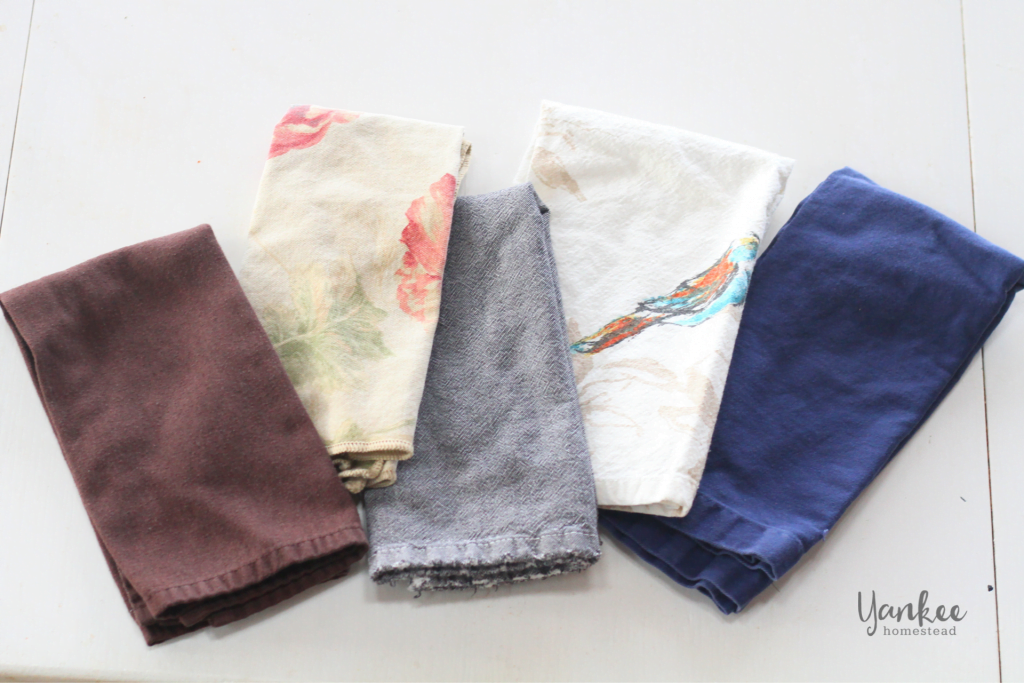 6. Use multiple times
At our house, we use the same napkin all day.  Using a clean napkin for every meal would create too much laundry and would speed the deterioration of our napkins.
We eat most meals at home, together.  Mr. Native Texan works from home and we homeschool the boys, so we spend a lot of time together around the family table.  Each person starts the day with a clean napkin, and at the end of the day we toss all the napkins in the laundry.
We used to gather up the napkins after each meal.  At times we stacked them by age order, and sometimes we used personalized clothespins to mark each napkin.
Currently, we just leave our napkins folded neatly on the table between meals.  Does it make the table look cluttered?  Yes, especially because we also use the same drinking glasses all day.  Those stay on the table between meals, too.
But again, practicality wins out in the end.  If my goal were to maintain a perfectly styled home at all moments, it would over-complicate our real, everyday lives.  Leaving the napkins on the table works best for the rhythm of my family's life, so I've decided to overlook the clutter.
Tip: one thing that does help to reduce visual clutter is for everyone to use a matching napkin.  If you love multiple colors and patterns, go for it!  If you prefer less visual clutter, try to stick with matching napkins.
7. Store nearby
We keep our napkins in a drawer next to the dining table.  This makes it easy for the table-setter (at our house, always the youngest kid) to place a fresh set of (matching) napkins on the table each morning.
If there is no drawer near your table, how about designating a basket or a box for napkin storage?  Keep the system simple!  The simpler the system, the better your chances of sticking with cloth napkins.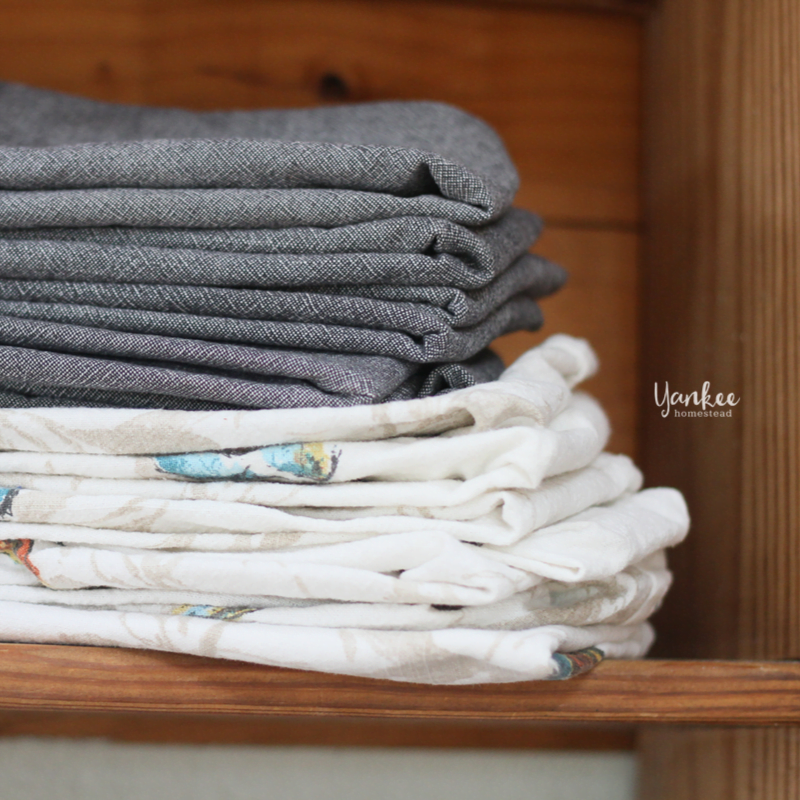 8. Teach kids to fold
Cloth napkins provide the perfect opportunity to teach little ones how to fold.  Even toddlers and preschoolers can learn to fold a square in half, and in half again, and then one more time.
At our house, the kids fold all the towels and household cloth.  It's a good skill for them to learn, and it frees me up for more complicated tasks.
I do make an exception for the master bathroom towels, which are complicated.  They are huge Turkish towels and I like them to fit a certain way into the linen closet, so my OCD self just folds them the way I like them to be folded.
Do the kids fold the napkins perfectly?  No.  Do our napkins always look neat and tidy?  No.  Was this hard for me to accept at first?  Yes.
But good news: If I can get over it, you can too.  I promise!
Ready to make the switch?
Are you ready to ditch paper napkins and elevate family meals with cloth napkins?  You'll also reduce household waste and save money in the long run.  I can't wait to hear how it goes for you!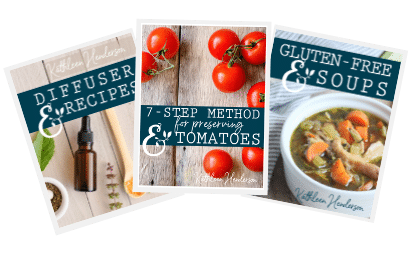 Sign up NOW for my best tips delivered weekly to your inbox!
You'll also get instant access to my library of free ebooks and resources.