4 Best Nontoxic Food Storage Containers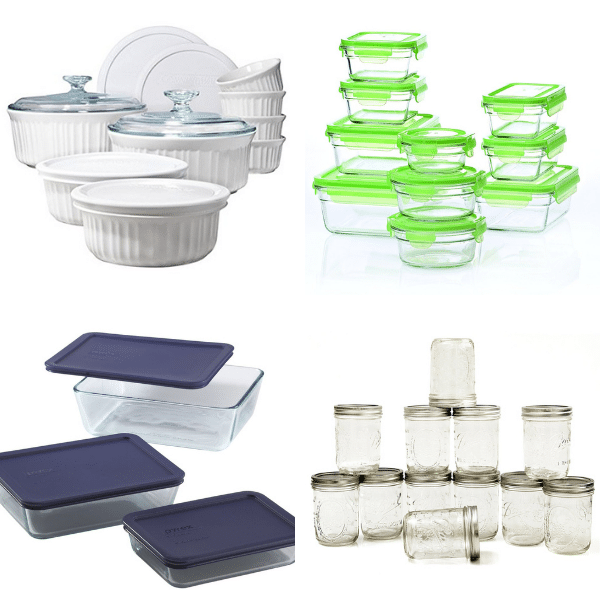 This post may contain affiliate links, which means I make a small commission at no extra cost to you.
See my full disclosure here.
Let's talk about nontoxic food storage.
It's a well-documented fact that plastic containers leach toxic chemicals into the foods they contain. Especially when subjected to real life conditions such as heat, sunlight, microwaves, and dishwashers, etc.
In other words, when we eat food stored in plastic containers, we are eating chemicals harmful to the endocrine and reproductive systems.
This is not good, my friends! It's not good for any of us, but especially for babies and young children, as well as for expectant mamas.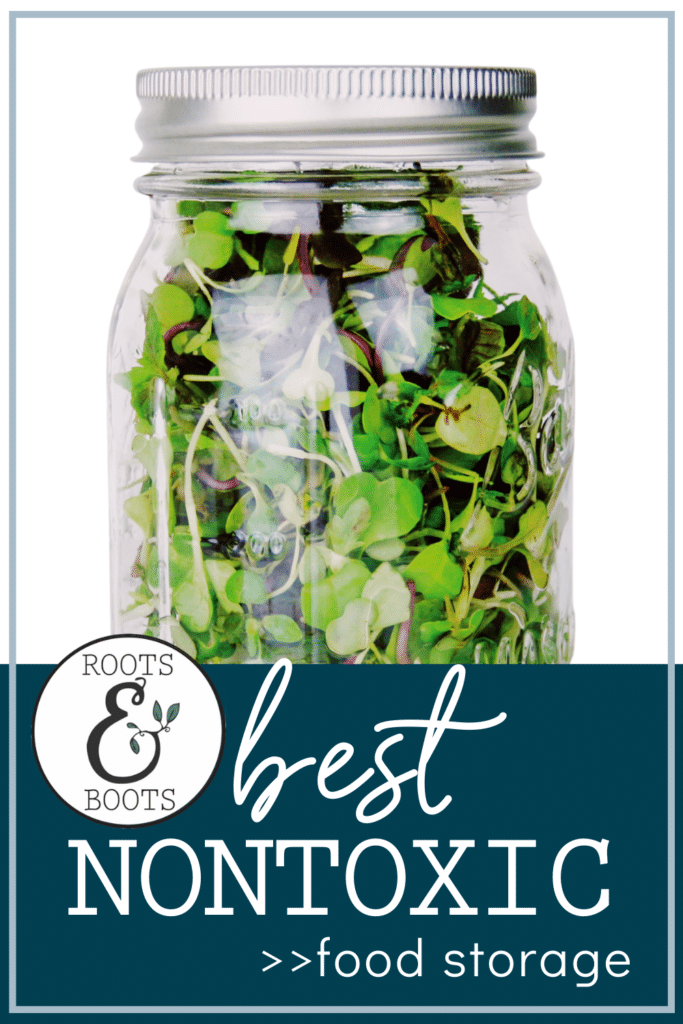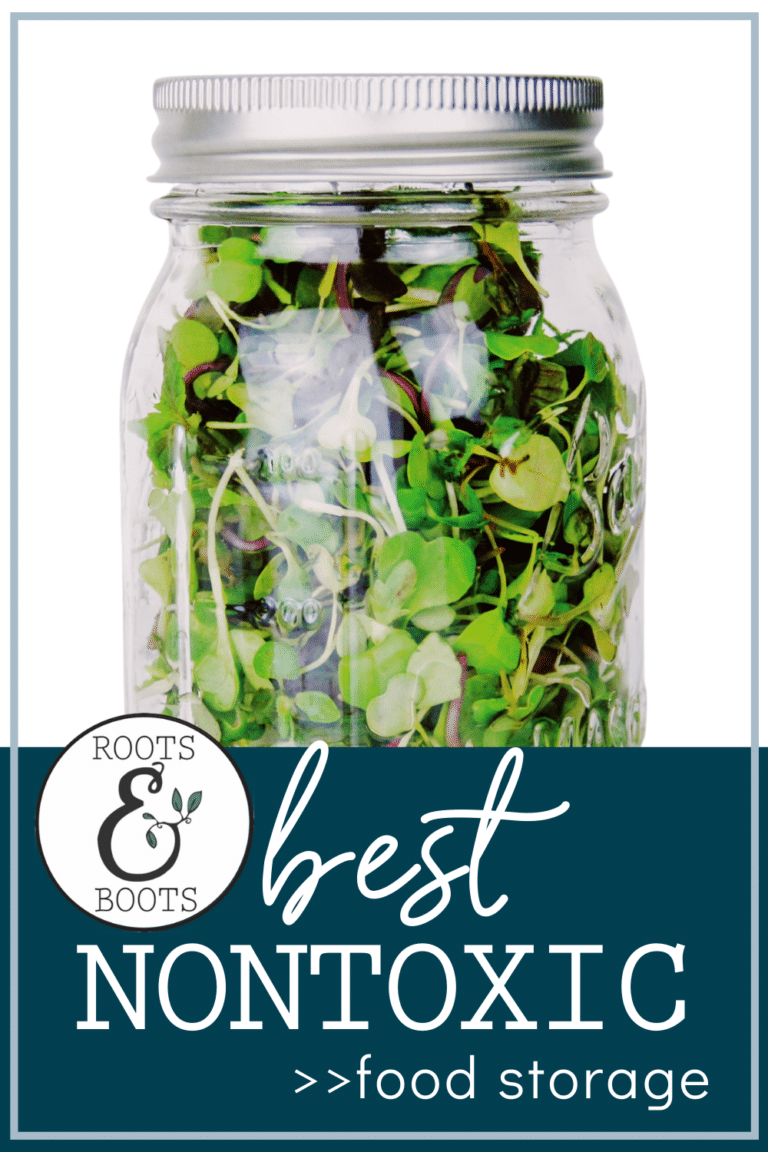 Several years ago, I began a quest to rid my kitchen of as much plastic as possible. Even with three young children, we use very little plastic. It can be done!
Below I share my favorite non-plastic, nontoxic food storage containers–the ones my family uses on a daily basis for baking, serving, storing, and transporting.
All of these options for nontoxic food storage are durable and affordable and have served me well for years. They're proven winners!
4 Best Nontoxic Food Storage Containers
I loved my first set of Snapware so much that I asked for a second set.
What I love about Snapware:
Clear – No more guess work in the fridge! I can see exactly what's in there. Storing leftovers in clear glass containers significantly reduces food waste.
Airtight – The lids snap on securely. Food stays fresh.
Easy to clean – All parts go in the dishwasher.
Oven safe – I often reheat food in the oven or toaster oven. My Snapware goes from fridge to oven and oven to fridge.
Freezer safe – I often transfer containers of leftovers from the fridge to the freezer.
Sturdy – We have dropped our Snapware on the floor, in the fridge, etc. We use the heck out of it. It's amazingly durable!
Nesting storage – The containers–even identical pieces–nest perfectly in the cupboard, maximizing storage space.
Fridge storage – The containers stack perfectly in the fridge, too.
Potential drawbacks:
Single pieces – The most commonly available set is not available in single pieces. This is a big frustration for me! I need more of the big containers, but they come only in a set. I could buy single snapware containers from other sets, but they wouldn't match the two sets I already own. This might seem silly, but it's actually quite practical. Containers from another set might not nest so perfectly with my existing set, and I suspect that lids from another set are not interchangeable with my current set. This would drive me crazy!

Hard to snap – The lids are not hard for me to snap, but they can be tricky for young, elderly, or physically challenged folks. The key is to snap opposite sides at the same time. I center the container in front of me and press firmly with the heels of both hands.
You can't go wrong with Pyrex! It's a kitchen staple. Before there was even a market for nontoxic food storage, there was Pyrex.
The exact I set I own is no longer available but these sets are comparable:
10 piece storage set
18 piece storage set
Clear
Easy to clean
Oven safe
Freezer safe
Sturdy
Two things I like better about Pyrex:
Serving bowls – In my opinion, Pyrex looks better on the table as a serving dish.
Easy lids – The plastic lids are much easier to snap on.
Potential drawbacks:
Less airtight – While the lids are easier to operate than Snapware lids, the seal is not as airtight.
Storge space – Depending on the set, the pieces do not nest as efficiently as Snapware containers.
Is Corningware still as popular as it was when I got married in 2003? I registered for two sets of Corningware bakeware and they're still going strong today.
Looks – Such a classic look! Looks fantastic on the table, at potlucks, etc.
Easy to clean – Everything goes in the dishwasher.
Oven safe – Even the glass lids, which are helpful for reheating leftovers.
Freezer safe – Yes, I've stashed leftovers in the freezer in my Corningware bowls.
Sturdy – Corningware is hard to break, although the flared lip can be vulnerable to chipping.
Potential drawbacks:
Mystery food – This is my main complaint about Corningware. All our other food storage pieces are see-through. It's a fact that more food is wasted when we can't see it.
Less airtight – Just like Pyrex, the lids are easy to secure but definitely not very airtight.
Lid deterioration – Corningware lids do not hold up well over time, making them even less airtight.
Made for canning, mason jars are the bomb for any kind of food storage. Wide mouth jars work the best.
Clear – No mystery foods!
Easy to clean – All parts go in the dishwasher.
(Oven safe) – Occasionally, I will stick a mason jar in the oven or toaster oven.
Freezer safe – I freeze all sorts of foods in mason jars!
Sturdy – With the exception of dropping them on concrete or tile, mason jars are pretty indestructible.
Storage space – While mason jars do not nest, they're still pretty efficient in the cupboard.
Fridge storage – Go vertical! Mason jars are super-efficient in the fridge.
Multipurpose – Mason jars are handy for so. many. purposes.
Potential drawbacks:
I can't think of a single drawback with mason jars!
Have you made the switch from plastic to glass?
Which are your favorite nontoxic food storage containers?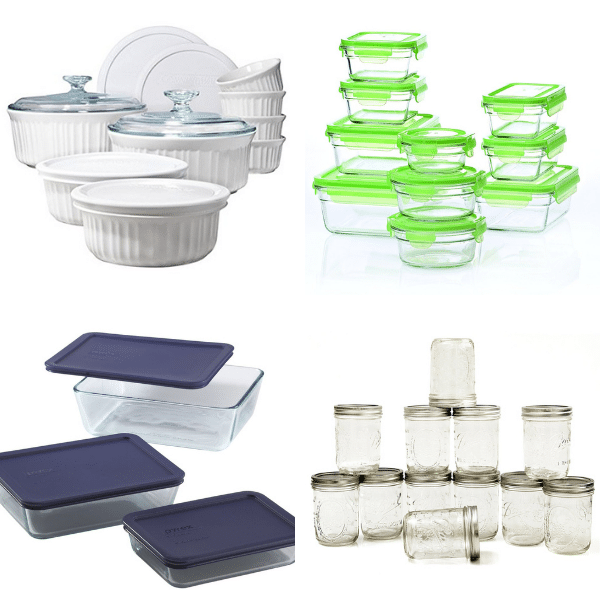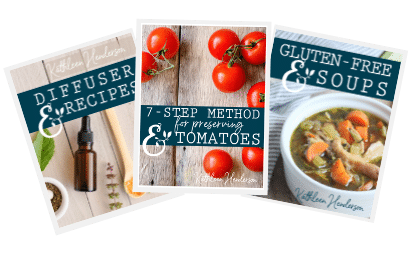 Sign up NOW for my best tips delivered weekly to your inbox!
You'll also get instant access to my library of free ebooks and resources.