Pack a Plastic-Free Lunch with LunchBots Stainless Steel Containers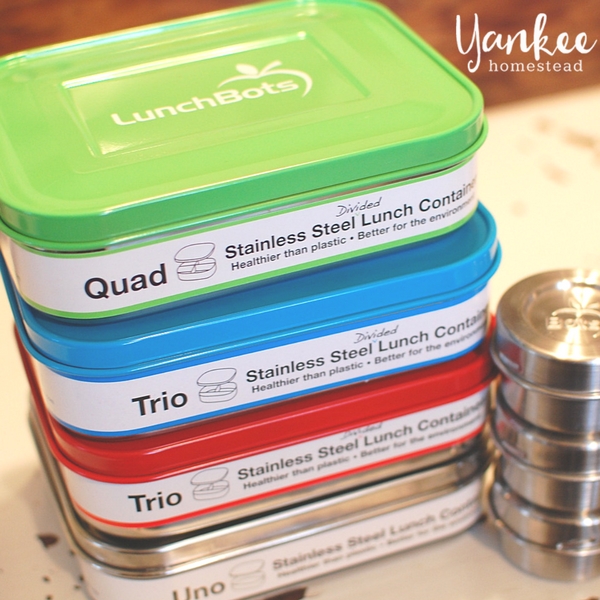 This post may contain affiliate links, which means I make a small commission at no extra cost to you.
See my full disclosure here.
Remember the stainless steel, divided lunch containers I mentioned in My Ongoing Household Detox Resolution, Phase Three: Kitchenware?  In my efforts to pack a plastic-free lunch, we invested in a set of LunchBots containers.  We've been using them for several months years now, so I thought I'd do a little review…
The verdict: We really like them!
Update (October 2017): More than four years later, our LunchBots are still going strong.  We love them so much that our collection has grown to include quite a few LunchBots in various shapes and sizes.  All the details are shared below…
Disclosure: This page contains affiliate links.  If you make a purchase using a link on this page, I may earn a commission.  (Your cost will not be affected.)  Thank you!  I'm so grateful for your support of this site, and I recommend only products that I love.
What we love about LunchBots:
While stainless steel LunchBots require a bit of investment over plastic containers and Ziploc bags, we've found them to be worth every penny.  Here's why…
PS–LunchBots are a perfect gift to put on your child's wish list for holidays and birthdays.  If you have friends or family members who love to give gifts to your children, let it be a useful and long-lasting gift.
Plastic-free
As I mentioned in My Ongoing Household Detox Resolution, Phase Three: Kitchenware, I'm trying to reduce our use of plastic, so these stainless steel bento containers are the perfect alternative.
Handy size
They're just the right size for the boys' lunches.  They even work well for Mr. Native Texan when he joins us for lunch on-the-go, as long as I pack his fruit separately.
UPDATE: There is now a large bento box, perfect for adult-sized meals.  We also love the smaller pico container, a handy size for smaller snacks or for separating certain foods from the rest of your meal.
Dishwasher safe
Except for the painted lids, which must be handwashed.  We found out the hard way…even though it's clearly stated on both the website and the product packaging. The actual containers, as well as the stainless steel lids (non-painted) go right into the dishwasher. Easy peasy!  UPDATE: Check out these awesome new dishwasher-safe lids!
Divided sections
Perfect for our on-the-go This-n-That lunches!  Plus, I think it's a proven fact that food is just more fun to eat from a divided container.  Or maybe that's just the OCD in me…
Easy to stack in a cooler
They stack so nicely, and the entire stack fits perfectly in our cooler.  Which means that everything stays put–we've had absolutely no spillage.
Built-in plate
The slight lip all the way around the lids make them the perfect plate when removed and placed upside down next to the divided container.
Durable
Our original Lunchbots are almost five years old and are still going strong.  We've used the heck out of them (have I mentioned I have three boys?) and they've held up amazingly well.  These babies are built to last.
Multiple sizes
More than four years after the purchase of our first set of LunchBots, we now own an entire collection in different sizes and shapes.  There is literally a LunchBots for any and every food-packing need!
We love these stainless steel containers!  They've held up very well despite frequent abuse from little hands over several years, and I'm confident they'll last for years to come.  Do you have any tips for packing a plastic-free lunch?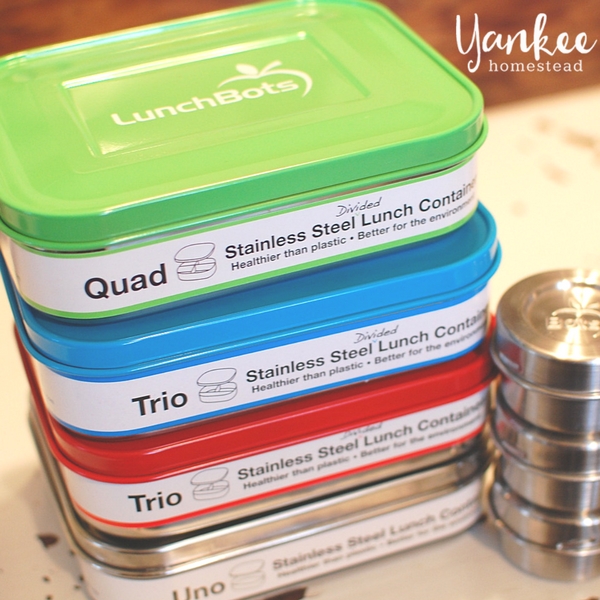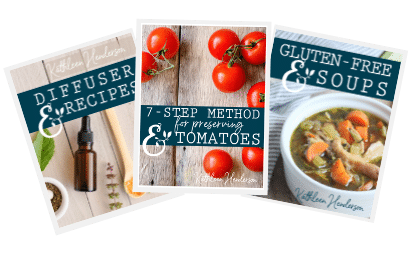 Sign up NOW for my best tips delivered weekly to your inbox!
You'll also get instant access to my library of free ebooks and resources.