8 Reasons to Love StitchFix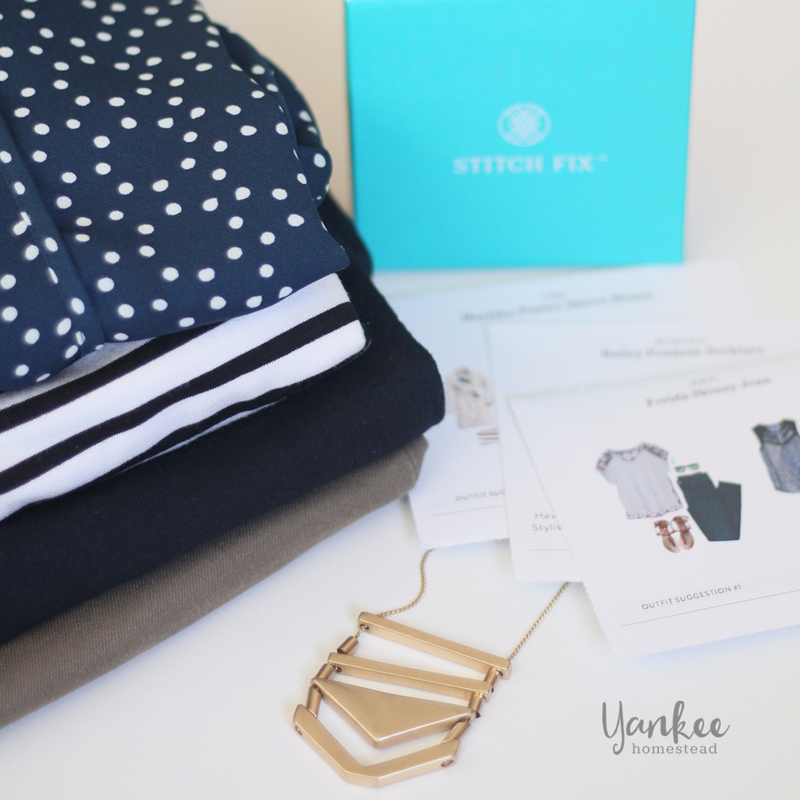 This post may contain affiliate links, which means I make a small commission at no extra cost to you.
See my full disclosure here.
What is StitchFix?
Have you heard of StitchFix?  It's an online styling service that mails you a box of five custom-picked pieces based on your needs and requests.  After toying with the idea for a few years (yes, really), I finally tried it…and I now have at least 8 reasons to love StitchFix.
I'm actually kind of surprised at how much I love StitchFix.  Mr. Native Texan is a big fan, too!
I Finally Tried StitchFix Because…
Remember my capsule wardrobe?  I'm still hooked on keeping a streamlined collection of versatile pieces that largely coordinate with each other.  It's made life so much simpler!
The trouble was, it was time for another wardrobe update but I just couldn't find time to search so specifically for each individual piece.  An excellent capsule wardrobe is a lot of work.  It takes a lot of time to look this good, people! ?
Specifically, I needed a pair of jeans, and the thought of venturing out to try on pair after pair in search of the ones that fit just right was producing a cycle of anxiety and despair.
A first world problem, I know, but how in the world would I find the time to squeeze jeans-shopping into my already full schedule?

Enter StitchFix
I'd actually considered StitchFix before.  But every time Mr. Native Texan and I discussed the possibility, we decided to stick with the existing plan.  He said I was really good at tracking down exactly what I needed, and for less money.
It was true, but this time around, Mr. NT and I agreed it could be worth the extra money if it saved my time and sanity.
My days are filled with homeschooling three boys, cooking real food from scratch, blogging, running an essential oils business, plus ministry involvements at church.  There just isn't any time left to shop for just the right jeans, cardigan, or boots.
So I finally did it.  I created a StitchFix account.

How StitchFix Works
Fill out your Style Profile
Choose a delivery date
When your box arrives, try everything on
Keep what you like and return the rest
Check out online
Provide feedback

My First 3 Fixes
So far, I've received three fixes.  It's worked out to one fix per month from August through October.  My November fix is schedule to arrive just before this post is published, and I'm hoping to share more about it soon. 
I brushed up my What to Wear Pinterest board and submitted very specific requests for each fix.  A few of the items on my wish list: jeans, skirt, plaid boyfriend shirt, dressy-ish shirts for church, neutral cardigan.
Here's what came in each fix…

Fix #1
Jayse Cable Cardigan ($64) – loved everything about this cardigan, except for the huge upper arms.
Wynona Two Pocket Top ($44) – loved the fit and cut of this shirt, but it was too much red for me.
Mariska Flutter Sleeve Blouse ($58) – loved the polka dot print, but flutter sleeves are not my thing.  One of my best features is my upper arms, shoulders, and neckline.  Flutter sleeves hide those best features and make my already broad shoulders look even broader.

Freida Dark Wash Skinny Jean ($98)- kept – This was my main goal for fix #1, so I was thrilled to receive jeans that fit well and can be dressed up for date night or even for church.  Pictured below, on the left.
Railey Pendant Necklace ($28)- kept – it wasn't one of my requests, but I had actually been in the market for a goldish-bronze pendant.  I'm still not sure how my stylist knew this, but it was perfect.

Fix #2
Roberta Pleated Skirt ($38) – I'd asked for a flared skirt, but this was terrible.  I almost didn't even try it on, and it looked every bit as terrible as I'd expected.
Brylie Knit Top ($42) – I adored this sweater, except for the cross in front.  Way too trendy for me, and felt a bit risqué.  Pictured above.
Manu Striped Contrast Knit Top ($48)- kept – Perfect for church!  I have this thing for black and white stripes…  Pictured above.
Hayford One Pocket Plaid Top ($38)- kept – I'd asked for a boyfriend style button up shirt to wear with leggings and skinny jeans.  This time, the color combo was perfect.  Pictured above.
Maddock Black Leather Bootie ($99)- kept – This is actually the one StitchFix item I wish I'd returned.  I'd asked for black booties, but didn't take much time to research a flattering style for my legs.  The boots are cute enough, but I wish I'd requested more time to decide.  See #4 on my list of 8 Reasons to Love StitchFix… I should have tried these booties on with more outfits.  An expensive mistake!
Update: These boots turned out to be perfect on a NYC getaway trip with Mr. NT.  Super cute with black tights and a little black dress.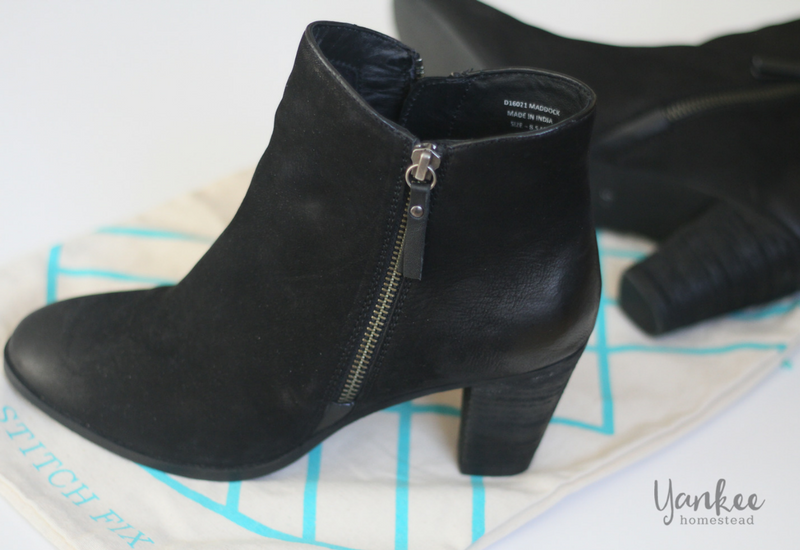 Fix #3
Madison Black Knit Swing Skirt ($44) – great idea, but the voluminous shape overwhelmed my small frame.
Chiana Bell Sleeve Blouse ($46) – I didn't love it.  Too much red, with a weird tiered fabric thing going on in front.
Leesa Hooded Cardigan ($88) – loved this, but really needed a dressier cardi without a hood.
Armando Olive Skinny Jean ($98) – kept – I absolutely love these jeans!  They're my new fall neutral.  Pictured below, on the right.
Sarkise Indigo Button Detail Blouse ($58) – kept – Perfect for church and business casual occasions.  Love the color, cut, fit, neckline, print, and adjustable sleeves!

What I've Learned After 3 Fixes
Cons
1. Expensive – With StitchFix, I'm definitely paying more per item.  For a gal who used to shop thrift stores and clearance racks, StitchFix price tags can be hard to swallow.
Note: Mr. Native Texan begs to differ.  He says I'm probably paying about the same amount, and getting nicer clothes that fit me better.  I'm purchasing fewer items, and only ones that I really love.  Plus I'm saving tons of time.  Time is money, he says!
2. Personal style can be hard to pinpoint – It can take at least a few fixes for your stylist to nail your personal style.  It can feel frustrating to receive several pieces that are "almost, but not quite".  If you need something right away, you might be disappointed.

Pros: 8 Reasons to Love StitchFix
1. Huge time-savings – This is a big deal for me, and it's the reason why I'm willing to pay extra for my StitchFix clothes.  I used to love shopping for clothes.  But at this stage of my life, shopping just feels like a big pain!
2. Convenience – I don't even have to leave my house!  I can try on each piece in the comfort of my own home, mixing and matching new items with the clothes I already own.  My husband can help me critique each outfit.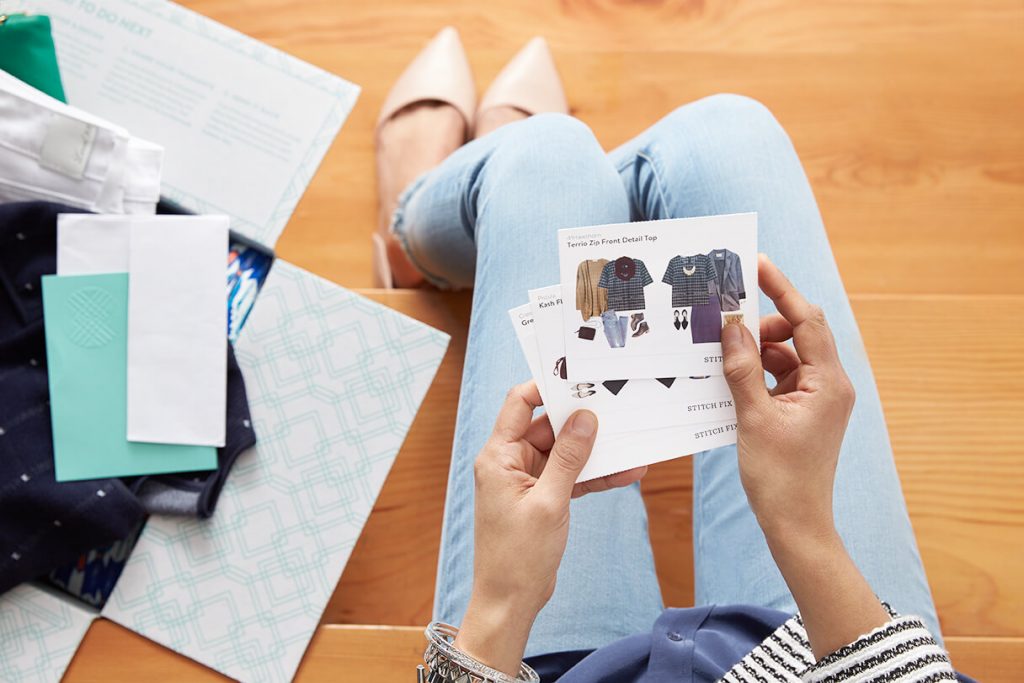 3. Style tips – Each piece in your fix comes with a little style card that provides outfit ideas.  How fun is that?
4. Take your time – Normally, you have three days to try on everything from your fix and decide what to keep.  If you need more time, there is now an option to extend that three day window.  I used that option for one of my fixes.  It was super-easy and took the pressure off.
5. Customer service – After washing the plaid one pocket shirt only once or twice, it developed a large hole in a side seam.  What a disappointment!  I contacted StitchFix right away, and they took care of it, promptly and cheerfully refunding my purchase price and telling me to keep the shirt.
Since I really loved the shirt, and the hole was at a seam, I opted to have it repaired at the dry cleaners.  It's not perfect, but I'm pretty sure nobody else will notice.  Except for my friends who read my blog… 
So now I have a shirt that I still love, but didn't have to pay for.  That's a major win in my book!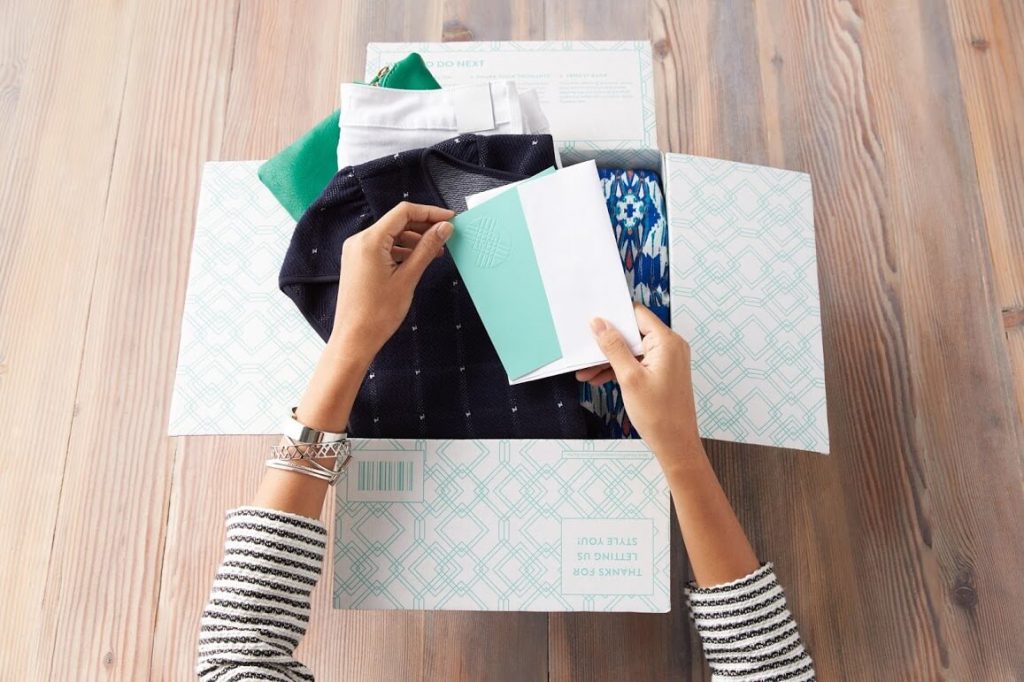 6. Fun – I can't deny the fun factor of having someone shop just for you.  And mail.  Who doesn't love mail?  Especially when that mail is a box of new clothes!
7. Flexible – You can sign up for automatic StitchFix deliveries at whatever frequency suits you best: every 3 weeks, every month, every other month, etc.  Or you can schedule fixes on demand.  I don't like to be tied to subscriptions or commitments, so I've chosen to schedule each fix on demand.  It turns out that I've ordered one fix per month, though, so maybe I should just request a monthly fix!
8. Great fit – According to Mr. Native Texan, this is one of the top three benefits of StitchFix.  He's a big fan of StitchFix because it saves me time and hassle, because he gets to help me decide what to keep (without leaving the house!!), and because my StitchFix clothes fit me better.  I must admit he's right.

4 Tips for Getting a Great Fix
Create a Pinterest board and share it with your stylist.
Be as specific as possible when submitting your fix request.
Provide detailed feedback after each fix.
Keep only what you love.  Be ruthless!

If you'd like to try StitchFix for yourself, I'd sure love for you to use my referral link.  StitchFix will waive your $20 styling fee as a new customer, so there's nothing to lose!  Click here to create your StitchFix account.  As always, I share only the things I truly love and use myself.  This is not a sponsored post, and all opinions are my own.  I really do love StitchFix, and would love to hear your thoughts…have you tried it?  What's holding you back?  What would you love about using a personal styling service like StitchFix?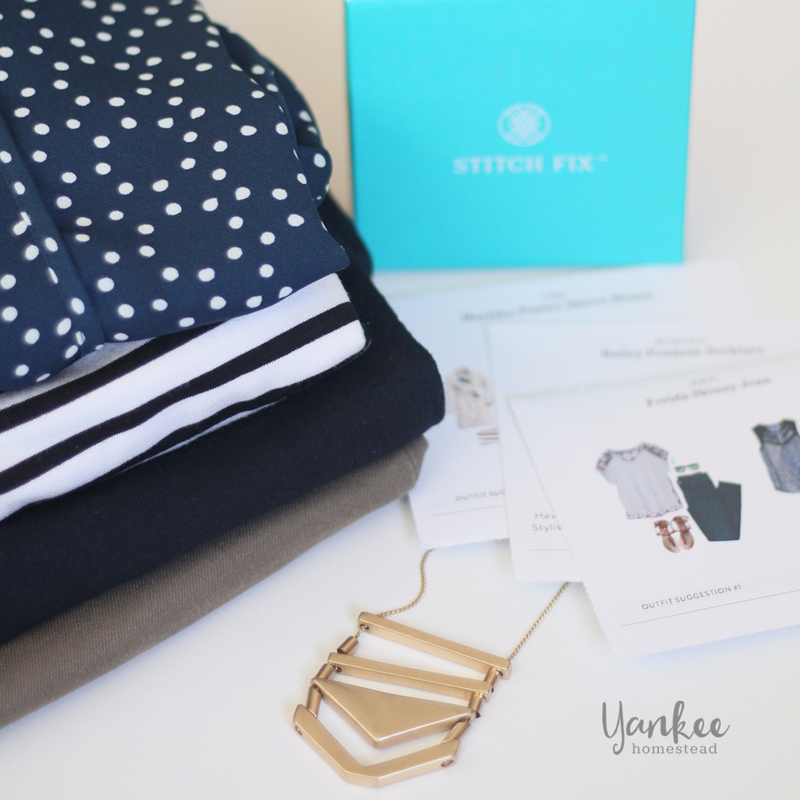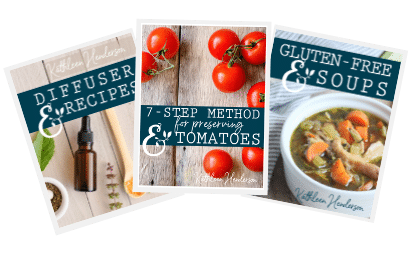 Sign up NOW for my best tips delivered weekly to your inbox!
You'll also get instant access to my library of free ebooks and resources.