35 Uses for Wild Orange Essential Oil
No matter what life brings your way, there's a diffuser blend for that!  My short, practical ebook is packed with 100+ recipes to diffuse for immune support, sleep & relaxation, energy & good mood, focus & concentration, holiday & seasonal aromas, and more!
Get your free copy of 100+ Amazing Diffuser Recipes today!
This post may contain affiliate links, which means I make a small commission at no extra cost to you.
See my full disclosure here.
Have you tried Wild Orange essential oil?  It smells amazing!
Wild Orange oil contains many beneficial properties:
supports healthy immune function
high in antioxidants
boosts energy and mood
cleanses and purifies
and more!
35 Uses for Wild Orange Essential Oil
Soothe occasionally sore muscles
Add to drinking water to help cleanse the body of toxins
Add to iced tea for flavor
Clean counter tops (in a spray bottle with water)
Clean cabinet doors (in a spray bottle or bucket with water)
Clean wood floors (in a spray bottle or bucket with water)
Clean gunk from stove top
Remove sticker goo
Add to unscented lotion
Add to chocolate brownies
Add to meal replacement shakes
Use with Peppermint to increase concentration
Use with soap or a vegetable oil (like olive or coconut) to remove sap from hands
Add to dish detergent for grease cutting power
Add to vanilla ice cream
Add to plain yogurt
Quicker picker upper in the afternoon
Layer with Elevation and Frankincense for a perfume
Soothe achey computer neck
Layer with Eucalyptus on the chest to support clear breathing
Inhale to lessen tension
Add to shampoo for a mood boost in the shower
Apply topically to abdomen to ease occasional constipation and promote proper digestion
Layer with Peppermint and Frankincense on the back of the neck to fight stress and fatigue
Make a room spray with about 5 drops of oil with water in a 2 oz. glass spray bottle
Diffuse with your hair!  Place two drops in your hands, then apply to dry hair.
Add to smoothies
Diffuse to fight winter blues
Help grumpy kids (or others) wake up happy by smoothing through their hair (see #26)
Add to hot tea with honey
Diffuse with Frankincense and Lavender for restful sleep
Mix with coconut oil and swish in the mouth for oil pulling
Mix with Fractionated Coconut Oil for a natural deodorant
Diffuse in the car on long trips
Add to liquid hand soap for cleansing and a wonderful aroma
What's your favorite way to use Wild Orange oil?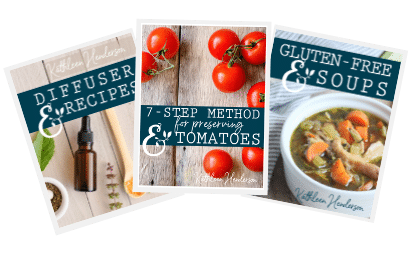 Sign up NOW for my best tips delivered weekly to your inbox!
You'll also get instant access to my library of free ebooks and resources.