Join the Seasonal Club.  Ditch the processed life! Learn to grow, source, preserve, and prepare real foods ALL YEAR LONG!  LEARN MORE >>
Join the Seasonal Club.
Ditch the processed life! Learn to grow, source, preserve, and prepare real foods ALL YEAR LONG!  LEARN MORE >>
200 Best Hoopla Audiobooks for Kids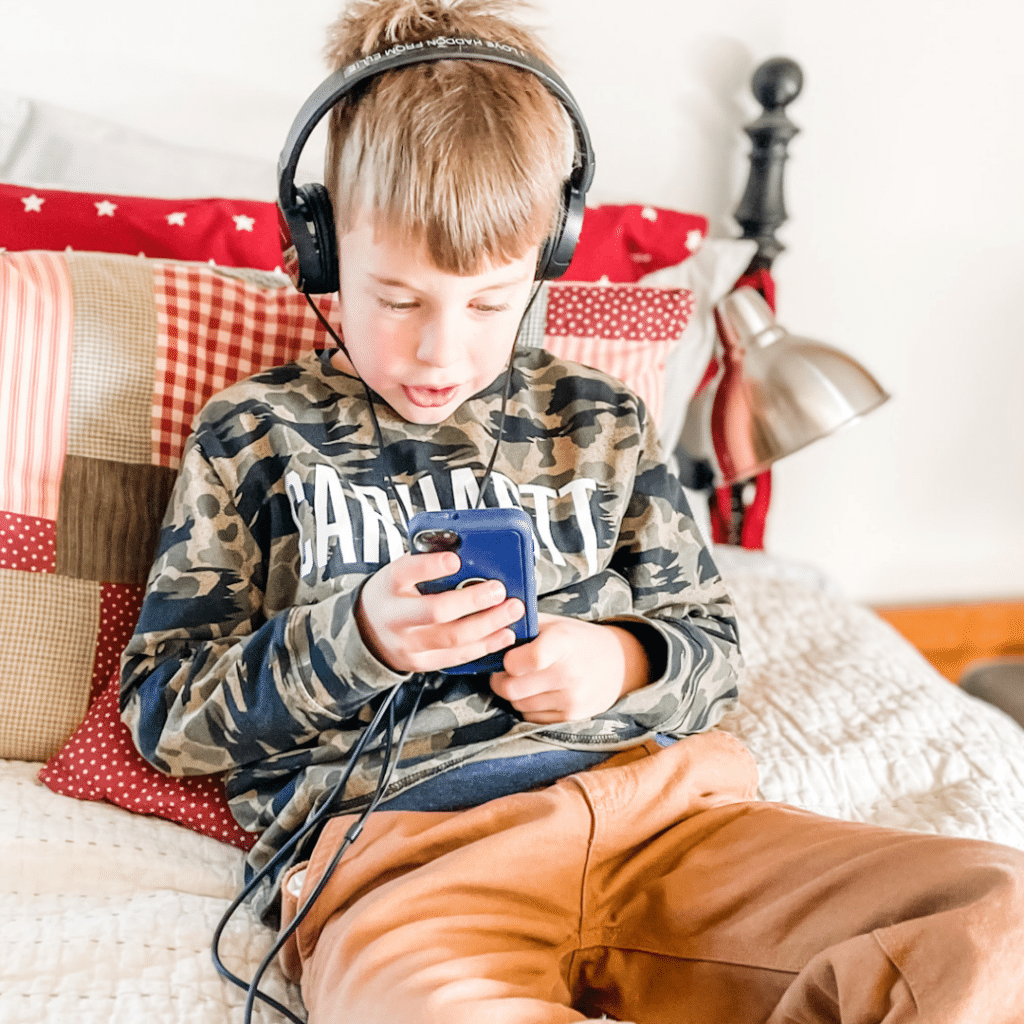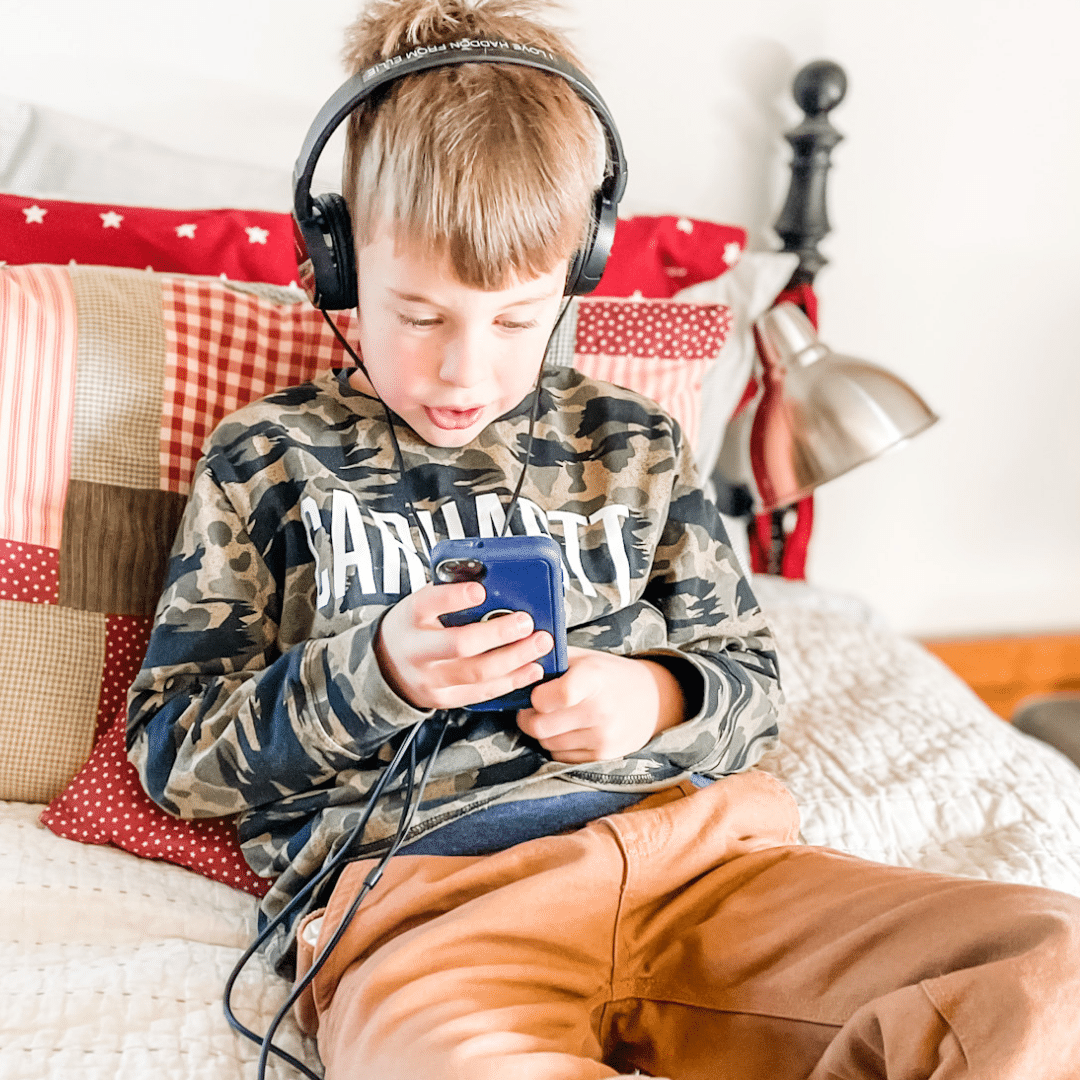 This post may contain affiliate links, which means I make a small commission at no extra cost to you.
See my full disclosure here.
This list of over 200 best Hoopla audiobooks for kids is the list I wish I'd had a few years ago when my kids first started listening. It's also the list I now refer to when my kids ask me what to listen to next.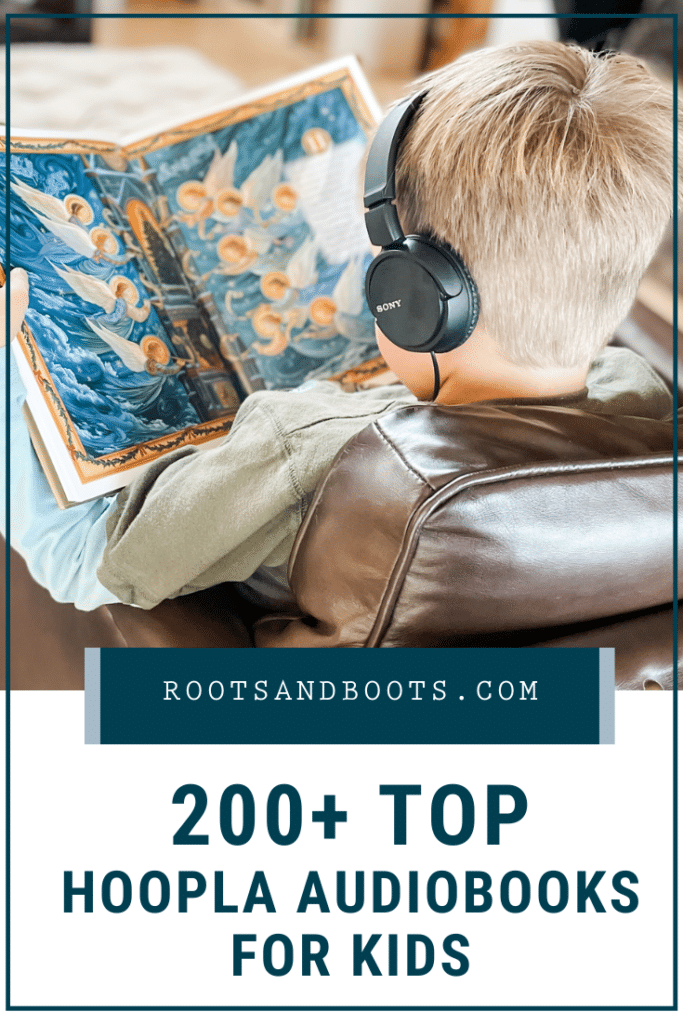 I hope this list of 200 best Hoopla audiobooks for kids helps you to skip over the worthless twaddle available on Hoopla and only listen to the good stuff. Stories have enormous power in the life of a child (or an adult!). What a tragedy to waste that opportunity with mindless, dumbed down, insipid writing.
Instead, teach your kids to gravitate towards life-giving stories like the ones you'll find on this list.
6 tips for Hoopla listening
Hoopla is a FREE app that works like a digital extension of your local library. To sign up for a Hoopla account, all you need is your library card number and an email address.
1. Unabridged
Always look for unabridged versions. Don't insult your kids by presenting them with dumbed down versions of the originals. Just skip right over any books bearing the word "retold" or "abridged".
2. iPod + headphones
Call us old fashioned (you wouldn't be the first!) but we give each kid their own iPod and headphones for their 6th birthday. The only thing they may use the iPods for are taking pictures, listening to audiobooks, and when they get a bit older, listening to approved music.
They absolutely love listening to audiobooks on their iPods during rest time, free time, and while doing chores. My youngest son loves to listen while playing with his Schleich farm and other open-ended toys. My older sons listen as they do dishes, vacuum, clean the bathroom, and more.
I like my kids to use headphones and not earbuds in order to protect their still-developing ears. I also have an initial talk with them about volume levels. Once in a while I'll listen to their headphones during their listening session to make sure the volume level is appropriate.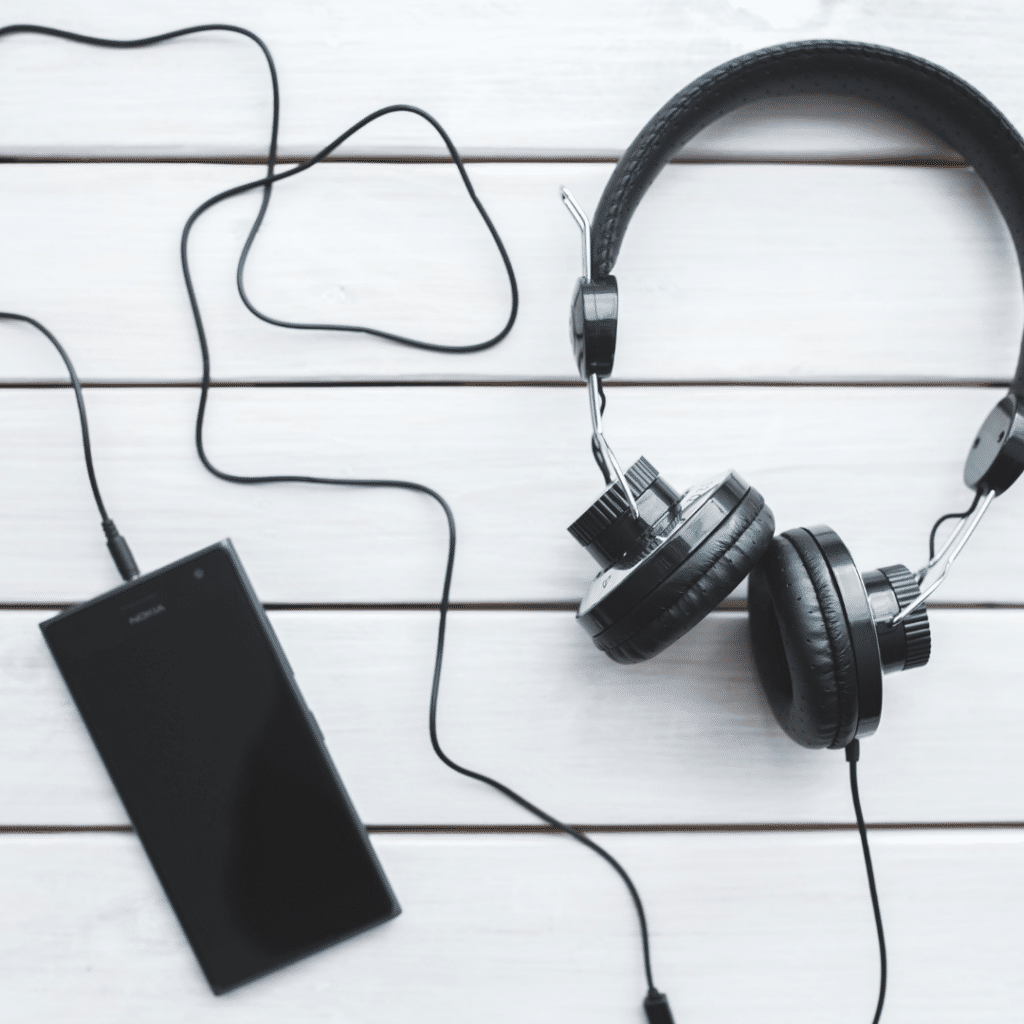 3. Individual accounts
Hoopla gives you 10 borrows per month. Since my kids can each blow through that many books on their own, we signed them up for individual Hoopla accounts. Two things necessary for a Hoopla account: a library card number and an email address. For my two youngest children, I used two of my own many email addresses to set up their accounts. My oldest son has his own email address.
Pro tip: store each child's login info in the notes app on his iPod. Believe me, you'll be glad you did. I take the extra step of storing each kid's login info in my own notes app on my phone, too. This provides double security for very important information!
4. Favorites
Hoopla has a favorites feature that works especially well for younger kids. My 7yo is not yet a strong reader nor can he navigate the Hoopla website on his own. So I use the list below to search Hoopla for him, and I mark each title I think he'll like. (Just tap the little heart icon.) I taught him how to find his "favorites", which allows him a good deal of independence with his listening.
5. Searching
Searching Hoopla can feel overwhelming. One tip that helps me is to click on a favorite book and then click on the author's name to find other titles by that same author. Similarly, when you click on a favorite book you'll notice recommended similar authors listed below. Click on those authors and you may discover a new favorite!
6. Bluetooth
If you drive an older car without Bluetooth technology, you can use this Bluetooth hack for older cars. Our family car (a Honda Pilot) and our farm truck do not have Bluetooth, and this hack works well for listening to Hoopla both vehicles.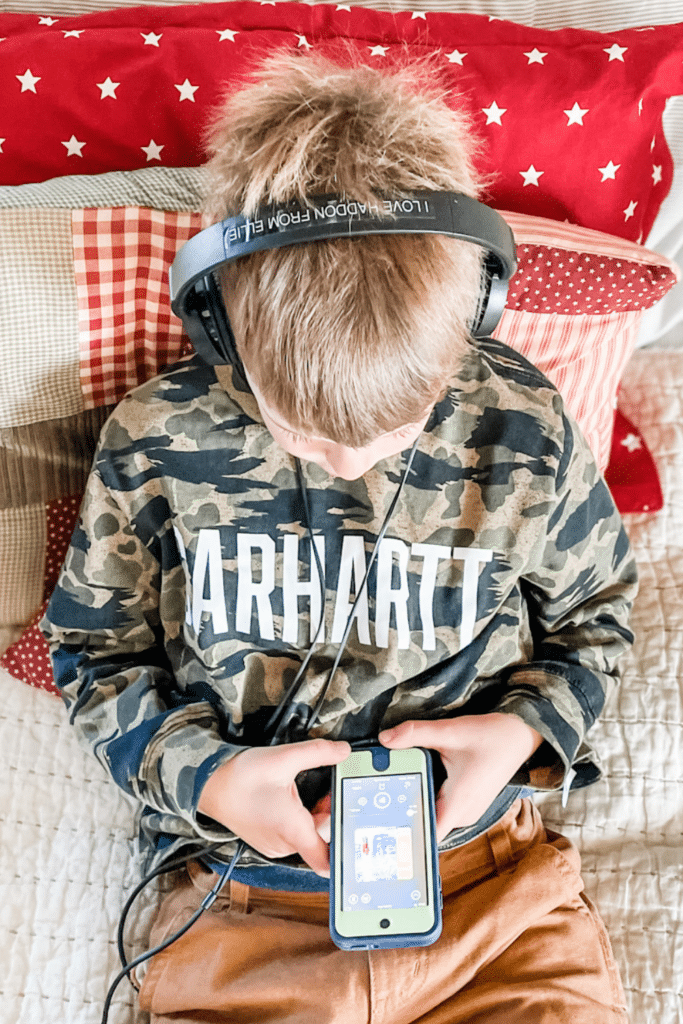 200 Best Hoopla Audiobooks for Kids
You might be wondering how I got 200 from a list of 100. The answer is that you'll find more than one title for many of the authors listed below.
For example, the excellent biography series by Janet and Geoff Benge includes over 50 titles. You'll also find many titles and series by Cynthia Rylant, James Herriot, Laura Ingalls Wilder, Beatrix Potter, Thornton Burgess, and others.
In fact, if I were to count every single possible title from the list below, I'm guessing the total would land somewhere closer to 300. This list should keep your family listening to the good stuff for hours and hours!
Age recommendations
I tried my best to list the following titles in approximate age order. Therefore, the books at the top of the list are best for young listeners while the books at the very end are good for older listeners or joint family listening.
And by the way, there are many more wonderful picture book titles than the ones I've listed below. In our opinion, it's usually not worth it to "waste" our borrows on a short picture book. But perhaps you have very young children who aren't ready for more advanced titles, and maybe they'll listen to those picture books multiple times per month. In that case, borrowing picture book titles might be worth it for you. Feel free to search Hoopla for additional picture book titles!
Availability
We have noticed that some titles become unavailable and then come back later. I have no idea why this happens, but thought you should know! And of course more titles are added all the time, so be sure to conduct your own searches from time to time.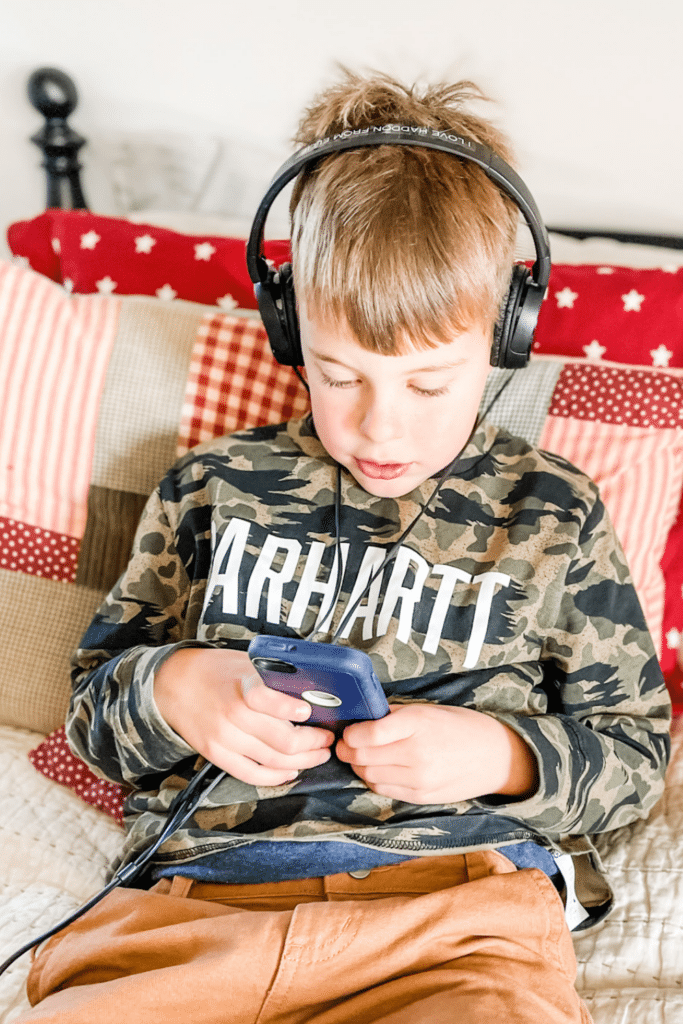 Happy listening!
Frog and Toad and others by Arnold Lobel
Daniel's Duck and others by Clyde Robert Bulla
Mike Mulligan and His Steam Shovel and others by Virginia Lee Burton
Make Way for Ducklings and others by Robert McCloskey
The House at Pooh Corner by A. A. Milne (narrated by Peter Dennis)
Winnie-the-Pooh by A. A. Milne (narrated by Peter Dennis)
A Year at Brambly Hedge collection by Jill Barklem
Stone Soup by Marcia Brown
The Story About Ping by Marjorie Flack
Tikki Tikki Tembo by Arlene Mosel
Aesop's Fables
Joyful Noise by Paul Fleischman
James Herriot's Treasury for Children
The Beatrix Potter Collection
Little Bear's Visit and others by Else Holmelund Minarik
Brave Irene by William Steig
The Biggest Bear by Lynd Ward
The Fox Went Out on a Chilly Night by Peter Spier
The Little Red Lighthouse by Hildegarde H. Swift
Peter and the Wolf by Sergei Prokofiev
Snowflake Bentley by Jacqueline Briggs Martin
Little House series by Laura Ingalls Wilder
Misty of Chincoteague and other horse stories by Marguerite Henry
A Bear Called Paddington by Michael Bond
The Story of Doctor Dolittle by Hugh Lofting
Raggedy Anne Stories by Johnny Gruelle
Thorton Burgess: many titles
Cynthia Rylant: many titles
The Children's Book of Heroes by William J. Bennett
Tales of Uncle Remus by Julius Lester
Stone Fox by John Reynolds Gardiner
Rascal by Sterling North
Lad, A Dog by Albert Payson Terhune
The Cricket in Times Square by George Selden
Mozart's Magnificent Voyage and others by Classical Kids
Hallelujah Handel by Susan Hammond
Tchaikovsky Discovers America by Susan Hammond
The Wind in the Willows by Kenneth Grahame
Miracles on Maple Hill by Virginia Sorensen
Ralph S. Mouse by Beverly Cleary
The Mouse and the Motorcycle by Beverly Cleary
Runaway Ralph by Beverly Cleary
Henry Huggins series by Beverly Cleary
Ribsy by Beverly Cleary
The Moffats and others by Eleanor Estes
The Boxcar Children series by Gertrude Chandler Warner
Green Ember series by S.D. Smith
All-of-a-Kind Family by Sydney Taylor
The Chronicles of Narnia by C.S. Lewis
Sarah, Plain & Tall series by Patricia MacLachlan
Heidi by Johanna Spyri
Caddie Woodlawn by Carol Ryrie Brink
Pollyanna by Eleanor H. Porter
Rebecca of Sunnybrook Farm by Kate Douglas Wiggin
Five Little Peppers and How They Grew by Margaret Sidney
Mary Poppins by P.L. Travers
Just So Stories by Rudyard Kipling- our favorite narrator is Jim Weiss, but he's hard to find on hoopla
The Melendy Family series by Elizabeth Enright (The Saturdays, The Four-Story Mistake, Then There Were Five, Spider Web for Two)
Gone Away Lake and Return to Gone Away by Elizabeth Enright
The Beloved Dearly by Doug Cooney
The Bronze Bow by Elizabeth George Speare
In Freedom's Cause and others by G.A. Henty
The Adventures of Huckleberry Finn by Mark Twain
The Adventures of Tom Sawyer by Mark Twain
By the Great Horn Spoon by Sid Fleischman
The Whipping Boy by Sid Fleischman
Peter Pan by J.M. Barrie
Little Women by Louisa May Alcott
The Secret Garden by Frances Hodgson Burnett
A Little Princess by Frances Hodgson Burnett
Little Lord Fauntleroy by Frances Hodgson Burnett
The Black Stallion by Walter Farley
The Blue Fairy Book by Andrew Lang
The Red Fairy Book by Andrew Lang
Best Christmas Pageant Ever and Best School Year Ever by Barbara Robinson
Indian Captive by Lois Lenski
Around the World in 80 Days by Jules Verne
The Yearling by Marjorie Kinnan Rawlings
Mrs. Frisby and the Rats of NIMH by Robert O'Brien
Johnny Tremain by Esther Hoskins Forbes
The Railway Children by Edith Nesbit
Black Beauty by Anna Sewell
Bonhoeffer, Student Edition by Eric Metaxas
The Treasure Seekers by Edith Nesbit
The Wouldbegoods by Edith Nesbit
Hans Brinker by Mary Mapes Dodge
On the Far Side of the Mountain by Jean Craighead George (Note that this is the 2nd book in a series. At the time of this writing, book 1 was not available on Hoopla. Also look for other titles by the same author.)
Old Yeller by Fred Gipson
The Hobbit by J. R. R. Tolkien
The Merry Adventures of Robin Hood by Howard Pyle
Otto of the Silver Hand by Howard Pyle
The Children of the New Forest by Frederick Marryat
The Wonderful Wizard of Oz by L. Frank Baum
The Vanderbeekers series by Karina Yan Glaser
The Princess and the Goblin by George MacDonald
Come On Seabiscuit! by Ralph Moody
Anne of Green Gables series by L.M. Montgomery
Swiss Family Robinson by Johann David Wyss
The Wednesday Wars by Gary D. Schmidt
YWAM Publishing biographies (50+) by Janet Benge, Geoff Benge
Voice of the Martyrs biographies (15+)
Two more that our family enjoyed but might not be everyone's cup of tea:
Nanny McPhee Returns by Emma Thompson
The Harry Potter series by J.K. Rowling
More book ideas for kids: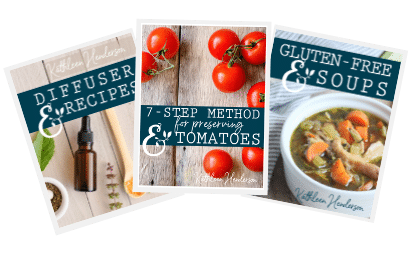 Sign up NOW for my best tips delivered weekly to your inbox!
You'll also get instant access to my library of free ebooks and resources.