Join the Seasonal Club.  Ditch the processed life! Learn to grow, source, preserve, and prepare real foods ALL YEAR LONG!  LEARN MORE >>
Join the Seasonal Club.
Ditch the processed life! Learn to grow, source, preserve, and prepare real foods ALL YEAR LONG!  LEARN MORE >>
12 Family Christmas Read Alouds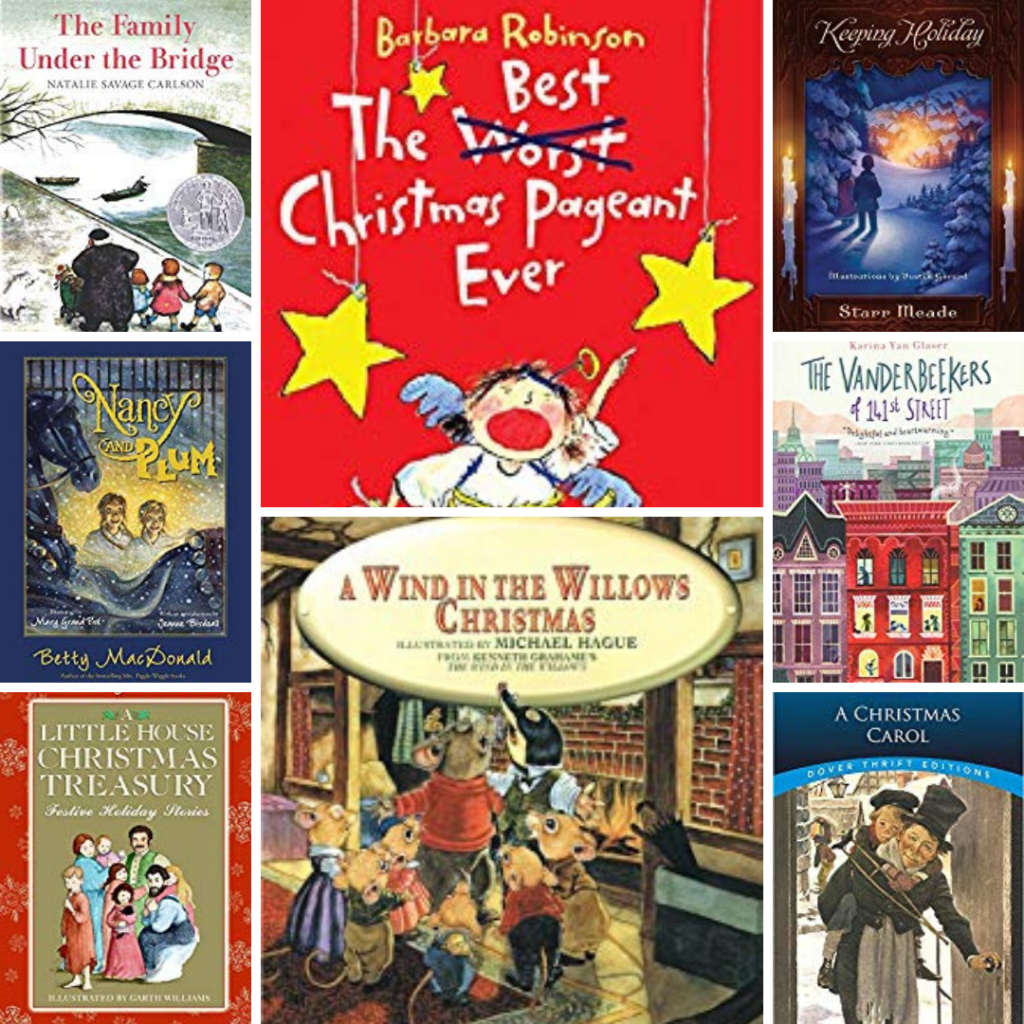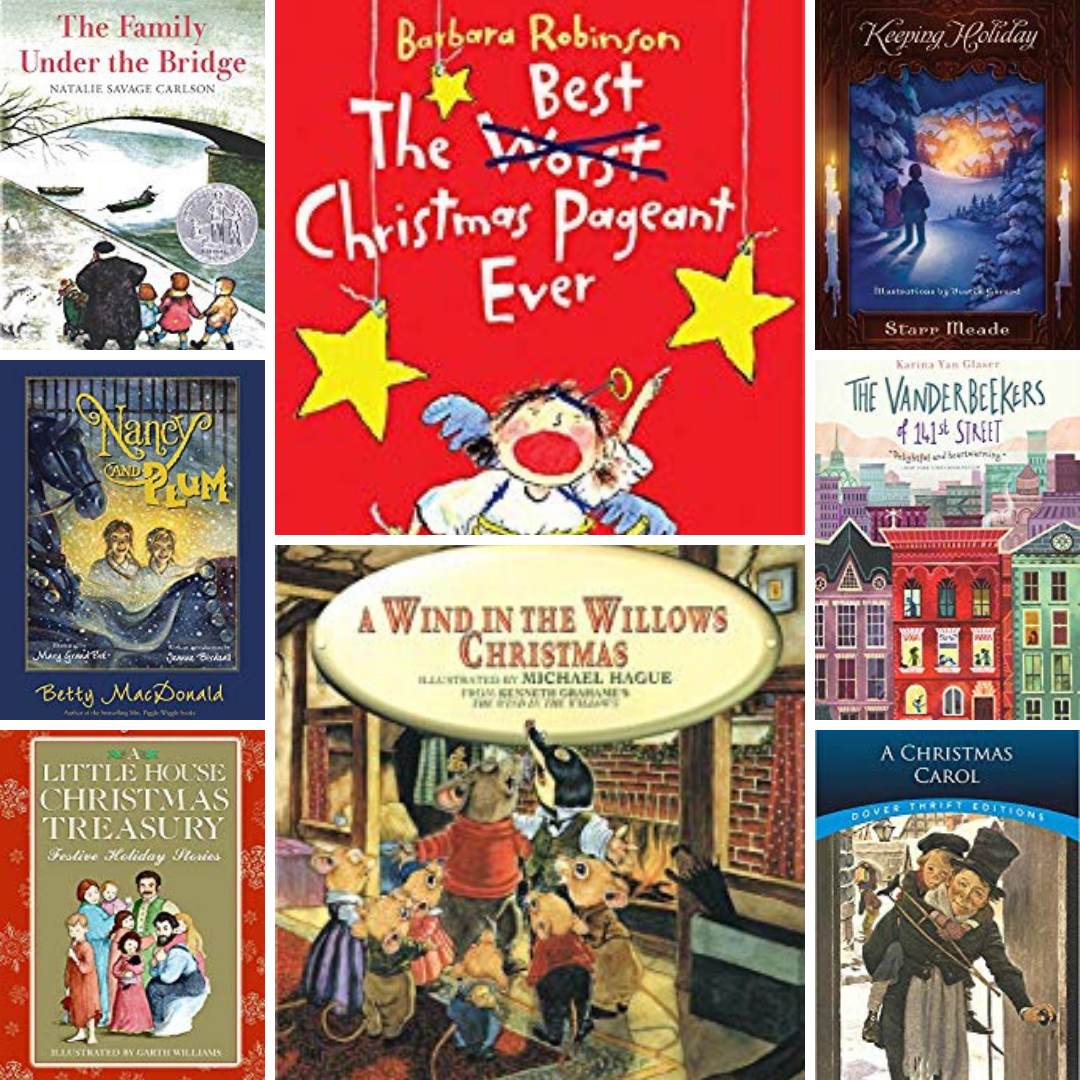 This post may contain affiliate links, which means I make a small commission at no extra cost to you.
See my full disclosure here.
December is such a cozy time of year, perfect for a family Christmas read aloud. Or two. Or twelve! And if your family has yet to discover the magical tradition of family read alouds, this holiday season is the perfect time to start.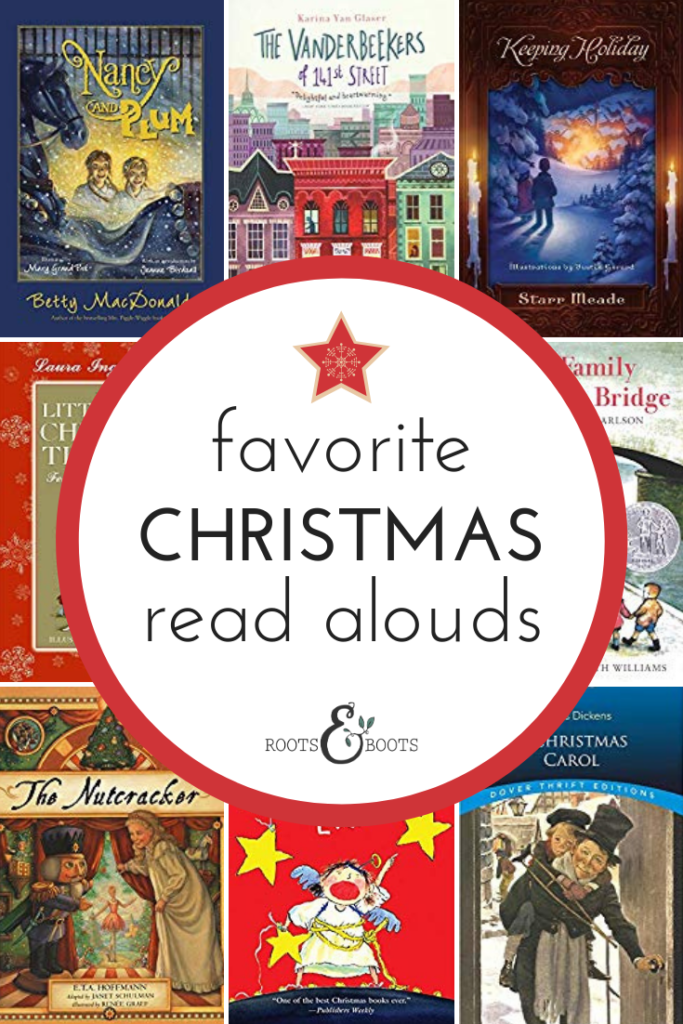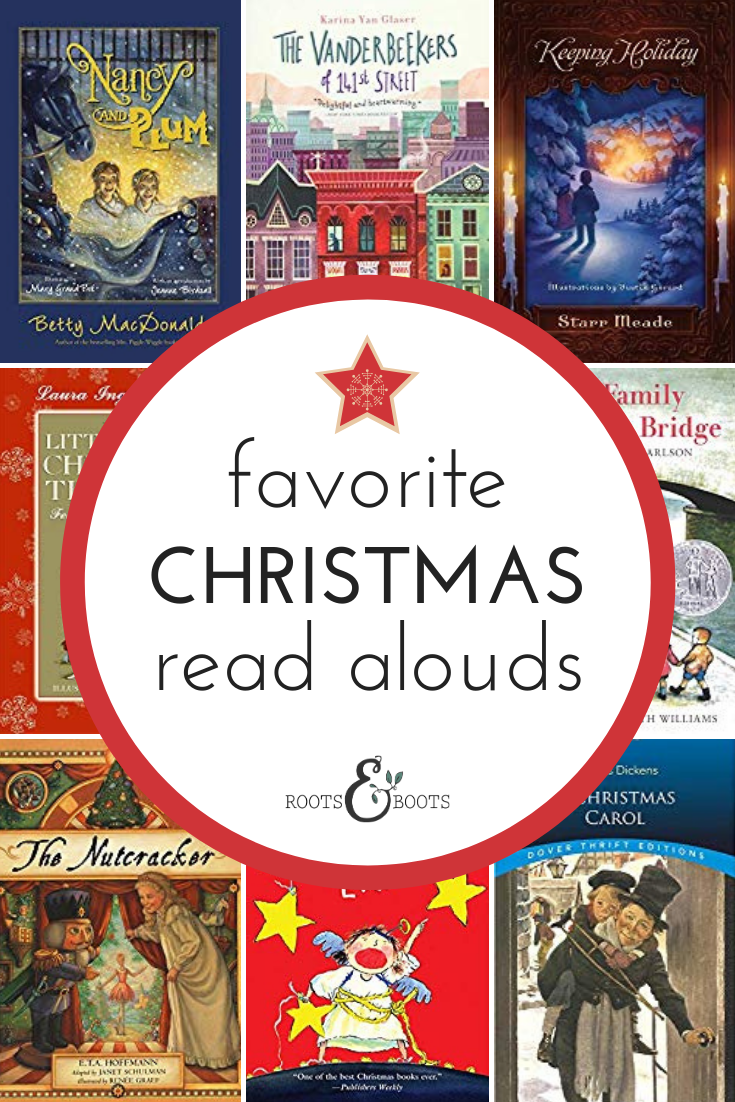 Reading aloud as a family doesn't have to be complicated! We do it here and there at meal times, and sometimes in the evenings after dinner. During the winter we like to cozy up to the fireplace, and in the summer we often sit on the front porch.
Parenting pro tip: audiobooks totally count as read alouds! My family is always in the middle of an audiobook, which we often listen to in the car.
By the way, if your car was made before the advent of Bluetooth technology, I highly recommend this affordable little gadget. It will revolutionize your car audio experience!
However you can work it into the rhythm of your family's life, you'll never regret time spent reading aloud together.
At my house, we typically introduce a new family Christmas read aloud each year. The trouble is, we usually love each one and want to read it again every December! Therefore, in one way or another, we usually listen to or read aloud most of the books on this list during every holiday season.
If family Christmas read alouds are a new tradition for your family, I definitely do not recommend trying to tackle all these books in one year! Instead, pick one or two for this year, and then add another one or two next year.
You might also be interested in this list: 32 Favorite Christmas Books for Kids.
Age range
Age range recommendations can be tricky. It totally depends on the family and on each individual child.
In our experience, we started reading "younger" books to our first child. However, our last child grew up listening to books well beyond his age range. And at the same time, our older kids still enjoy special books that have become traditions, even though they have outgrown the target age range.
If you have very young children, you might like these: 32 Favorite Christmas Books for Children and 10 More Beautiful Christmas Stories for Kids.
12 Family Christmas Read Alouds
My family adores the first nine books on this list. The last three are next up on our list of family Christmas read alouds. We're planning to read #11 for the first time this year!

You might be surprised at how early a child can begin to appreciate this Christmas classic by Charles Dickens. The audio version by Tim Curry is excellent! We listen to it every year.

This hilarious tale will have your whole family laughing out loud and then boohooing at the end. At my house, it wouldn't be Christmas without the Herdmans! We listen to the wonderfully narrated audio version every year.

Tchaikovsky's Nutcracker ballet is a popular Christmas tradition for many families, and I wanted my kids to become familiar with the original story by E.T.A. Hoffman. We found a beautifully illustrated children's version that my crew has enjoyed for years. The printed book includes an audio CD that weaves in Tchaikovsky's music. Every year we listen to the story while admiring the pictures in the book, and then we hang a special Nutcracker ornament on our tree.

The Vanderbeekers series was new to us this year, and we're thoroughly enjoying it! If it's new to you, too, you'll love reading book one during December. The first book in the series takes place during the week leading up to Christmas, with a serious family dilemma to solve by Christmas Day.
I must confess that I haven't actually read Keeping Holiday yet, but Greg read it to the boys several years ago. They all loved it! They've told me all about it, and my older readers enjoy re-reading it on their own every December. By the end of the book, you'll have this line running through your head: "You can't find the Founder; he finds you. He's not just the Founder, he's the Finder too."

The sixth title in the Little House series, The Long Winter isn't specifically a Christmas book. But it feels just right for December, with the entire book taking place during the winter and including the Ingalls family's Christmas celebrations.

If your family loves the Little House series, you'll love this compilation of all the Christmas sections from each of the Little House books. Such a fun addition to your family Christmas read aloud collection!

Has your family fallen in love with Rat, Mole, Toad, and Badger from Kenneth Grahame's The Wind in the Willows? If so, you'll love to revisit Rat and Mole's Christmas adventure. If not, this is the perfect introduction to The Wind in the Willows.

This short Christmas tale with beautiful wood engravings by Michael McCurdy is a little known title, but my family has come to love it. It's short enough to read in one setting, and we read it every year.

We haven't read this one yet, but I'm so intrigued by the book's description and by the raving reviews. It comes recommended from several sources, which is why it's on my list for next year's family Christmas read alouds. Have you read it? I'd love to hear your thoughts in the comments below.

This Newberry award-winning book is on our list for this year and I can't wait to read it to the boys! Update: we loved it!

I also look forward to adding this title to our family Christmas read alouds. We love Betty MacDonald's Mrs. Piggle Wiggle series at my house, and the boys will be so excited when I tell them she's written a Christmas story!
What about you – have you enjoyed any of these books? Do you have more family Christmas read alouds to add to this list?
More Christmas ideas: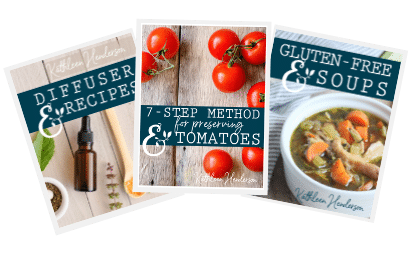 Sign up NOW for my best tips delivered weekly to your inbox!
You'll also get instant access to my library of free ebooks and resources.