Why We Stopped Eating Chicken from the Grocery Store
This post may contain affiliate links, which means I make a small commission at no extra cost to you.
See my full disclosure here.
Why We Stopped Eating Chicken from the Grocery Store
Did you know that most grocery store chicken is laced with arsenic?
Fact: arsenic is highly toxic.  It is considered a carcinogen and endocrine disruptor.  In other words, eating arsenic can lead to cancer and all sorts of autoimmune diseases.
Of course, no one in their right mind would consume arsenic, or feed it to their families.  But when we bring home commercially grown chicken from the grocery store, and then cook it (of course), that's in fact what we are doing.
Did you know that the arsenic-based drugs used in the United States have never been approved for animal feed in the European Union?  A few of these dangerous drugs are now banned in the U.S., but several of them are still on the market and are used widely in commercially grown meat.
Check out the list of sources below to read about the studies done on commercially grown chickens, including "antibiotic-free" and "organic" chickens.
Organic chicken contained the smallest amount, followed by antibiotic-free.  Regular chicken had alarming amounts of arsenic, a known carcinogen.  All three categories of chicken contained amounts of arsenic, and these levels have been shown to increase by nearly a third after cooking.
The following piece of information is highly interesting to me: Ann Marie over at Cheeseslave reports that arsenic is given to chickens to kill their thyroid, which fattens them up.  (It's also used to treat certain infections in the birds.)
You can see how this is advantageous to chicken producers.  But if it kills the chickens' thyroids, what does it do to the humans who consume the chicken?
Interesting to consider, isn't it?
Furthermore, did you know that the "free range" label on those organic chickens at the grocery store may not mean what you think it means?  Read more about that here: Homemade Chicken Broth, What that Free Range Label Really Means, and my Complicated Relationship with Sally Fallon.
Ignorance is bliss, I suppose.  When I learned all of this, I just couldn't bring myself to buy regular chicken at the grocery store anymore.  
We do still eat out regularly, and I try not to think about what's in the chicken at places like Chick-fil-A and other local establishments.  As much as possible, we eat at home, bring our own food, or patronize restaurants that use locally grown food and quality ingredients.  (See a few of our favorite places here, here and here.)
Currently, we buy our chickens from a local farm.  Update: we're now raising our own meat birds!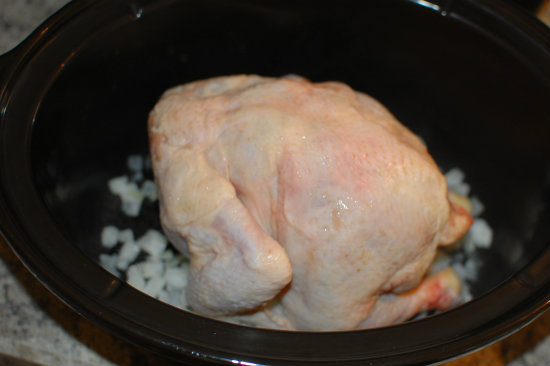 Yes, they're more expensive than grocery store chickens, but we buy them in the most economical way possible.  Purchasing whole birds is the most cost-effective way to obtain safe, locally grown chicken.  I cook them in the crockpot with this simple and tasty recipe: Whole Chicken in the Crockpot.
Not only is this the best price on high-quality chicken, but it allows me to make our own super-nutritious chicken broth from the same birds that we eat.
It's like killing several birds with one stone, so to speak.  (Sorry, couldn't resist.)
What about you–where does your chicken come from? 
 Sources: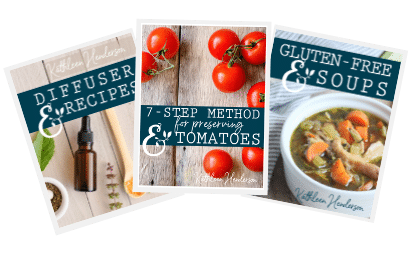 Sign up NOW for my best tips delivered weekly to your inbox!
You'll also get instant access to my library of free ebooks and resources.