Join the Seasonal Club.  Ditch the processed life! Learn to grow, source, preserve, and prepare real foods ALL YEAR LONG!  LEARN MORE >>
Join the Seasonal Club.
Ditch the processed life! Learn to grow, source, preserve, and prepare real foods ALL YEAR LONG!  LEARN MORE >>
8 Best Paleo Travel Foods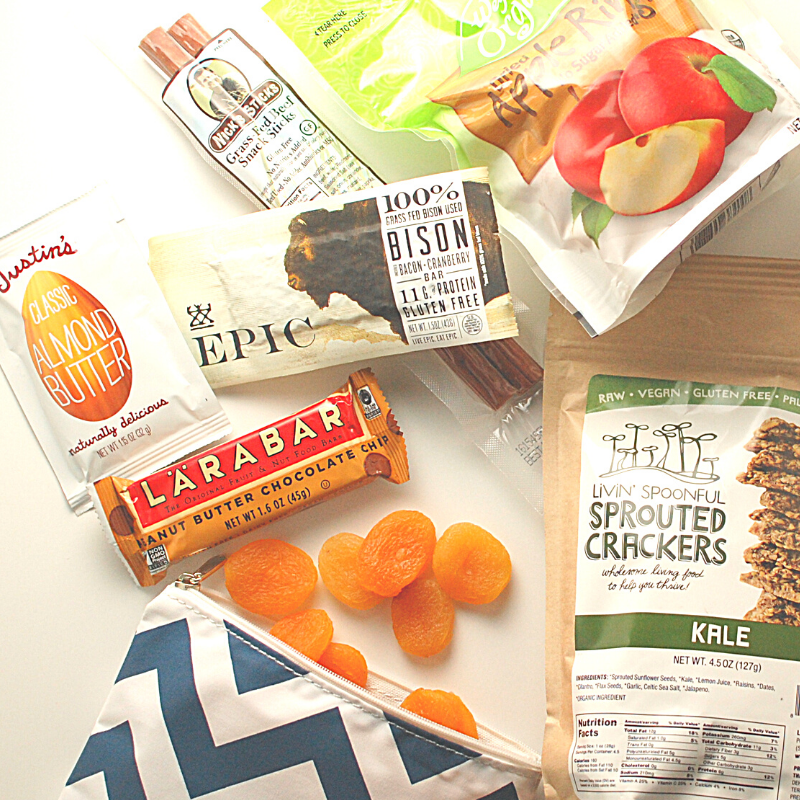 This post may contain affiliate links, which means I make a small commission at no extra cost to you.
See my full disclosure here.
Looking for awesome Paleo travel foods? I'm excited to share these favorites with you!
Traveling with Real Food
Following a nutrient dense, grain-free diet is pretty simple once you get the hang of it. At home, that is. It can be a whole 'nother story when you're traveling or even running errands for the day.
For short trips you could pack a small cooler of homemade food, but sometimes you just don't have the time or the space to tote along real foods that must be kept cold. And the longer the trip, the harder it can be to transport homemade real food.
Check out my list of 25 Real Food Snacks for Kids that work equally well for adults!

Prepackaged Real Food?
Prepackaged real food is basically nonexistent.
But there are a few good options that have saved me a lot of headache while traveling. I like to keep a few of these prepackaged Paleo snacks on hand at all times, in case I need a simple solution while out and about.
I keep at least one high protein snack in my purse for emergency situations, and there's always a larger stash in my pantry for restocking. For scheduled trips, I plan ahead and stock up on all my favorites.
Are dried fruits healthy?
Many of the foods listed below, namely those containing dried fruit, are not recommended as a regular part of a paleo or real food diet.
Although dried fruits seem healthy, they actually have a very high sugar content. Some dried fruits even have added sugar, and some are coated in unhealthy oils to keep them from sticking together.
At home I use dried fruits very minimally. I see travel as a special circumstance, though, and am totally fine with eating some dried fruits now and then in order to avoid more processed or grains-based alternatives.
Check it out: If you're not strictly Paleo, you should totally scroll down to the bonus section and check out a new favorite snack option I've recently discovered, along with a discount code if you'd like to try it.
Instead of dried fruits, this new snack contains freeze-dried fruits! It also contains freeze-dried cheeses, so be aware of that if you need to be dairy-free. Happily, the freeze-dried fruits in these snacks do not contain added sugars or oils.
And now for the list of my favorite Paleo travel foods…
8 Best Paleo Travel Foods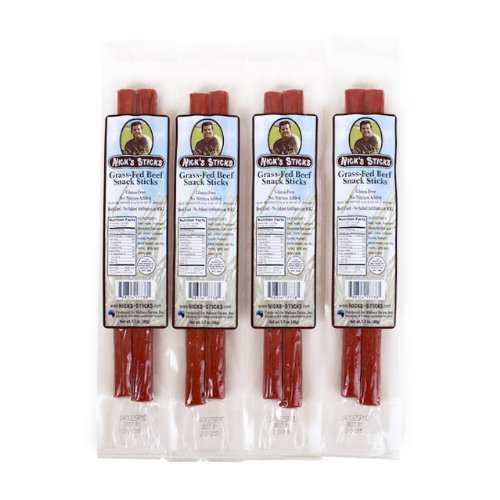 It's almost impossible to find high protein, shelf stable snacks with top quality ingredients and zero sugar. Good news: Nick's Sticks fit the bill! These sticks are definitely Paleo, and are a great option for traveling.
I often keep a package of these sticks in my purse for emergencies. Made from grass-fed beef with unrefined sea salt and other high quality seasonings, one package of two sticks packs a whopping 10 grams of protein with zero grams of sugar. I highly recommend Nick's Sticks!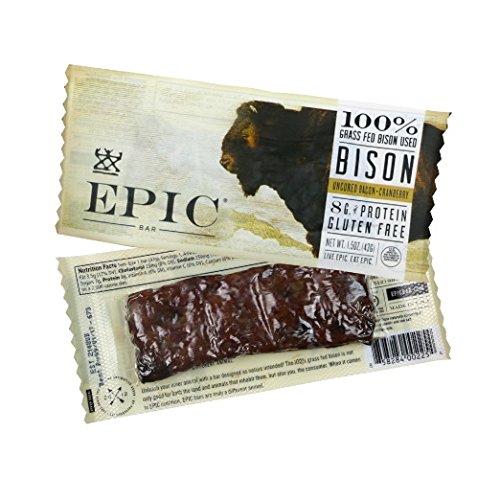 I was a little skeptical about these dried meat bars. But I decided to give them a shot after the knowledgeable owner of our local health foods store recommended them as a handy travel food. These little meat bars turned out to be a perfect solution for my 5-day trip with limited food options.
Epic bars are shelf stable, no refrigeration necessary. My favorite flavor is definitely Bison Bacon Cranberry. I now keep a few Epic bars on hand at all times, just in case I'll be out and about with limited options for real food.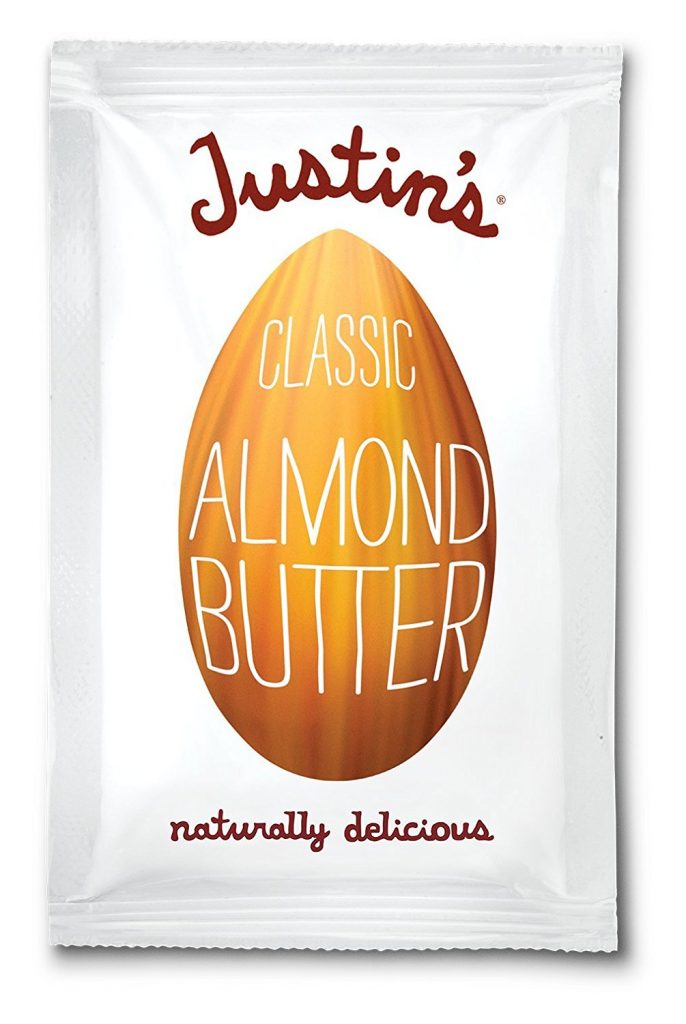 These little nut butter pouches are my favorite solution for an easy breakfast on the road. Give me a banana, a pouch of Justin's Almond Butter, and a cup of my favorite coffee substitute, and I'm good to go. They're also fantastic with an apple, celery sticks, and of course dark chocolate.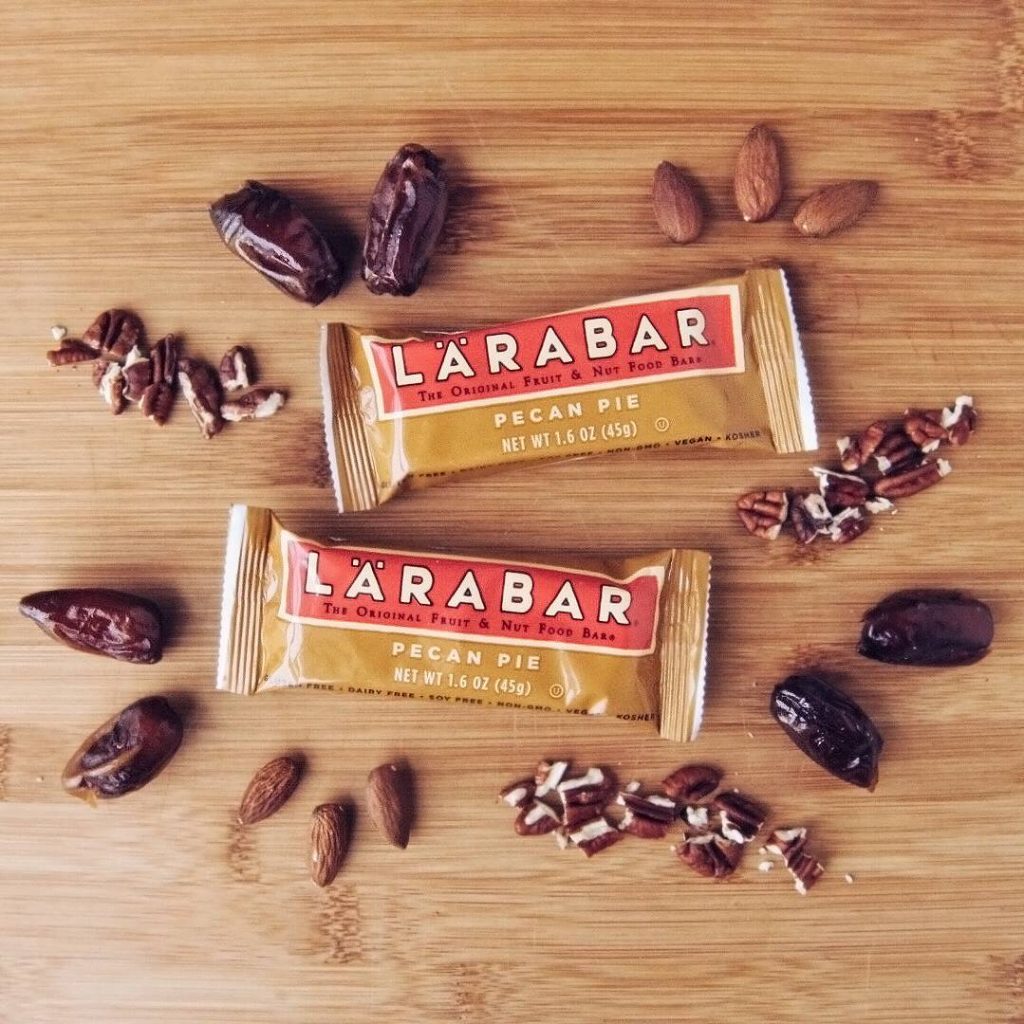 I'm not super crazy about Larabars because of their high sugar content. Most Larabars employ dates or other dried fruits for sweetness. But once again, I'd rather eat a Larabar when necessary than many alternatives. So I often carry one in my purse for emergency situations.
My favorite flavor is peanut butter chocolate chip. Not the healthiest option (and not Paleo), but it's pretty yummy! Healthier Larabar options include cashew cookie and pecan pie.
Adding a dehydrator to my kitchen was a total game changer! We use it almost daily. Fruit chips are a favorite treat to whip up in the dehydrator, and they travel well.
For those who'd rather purchase their fruit chips, I love this brand. Banana and Apple are my favorite varieties. I always pair dehydrated and dried fruit with a protein like nuts or homemade granola.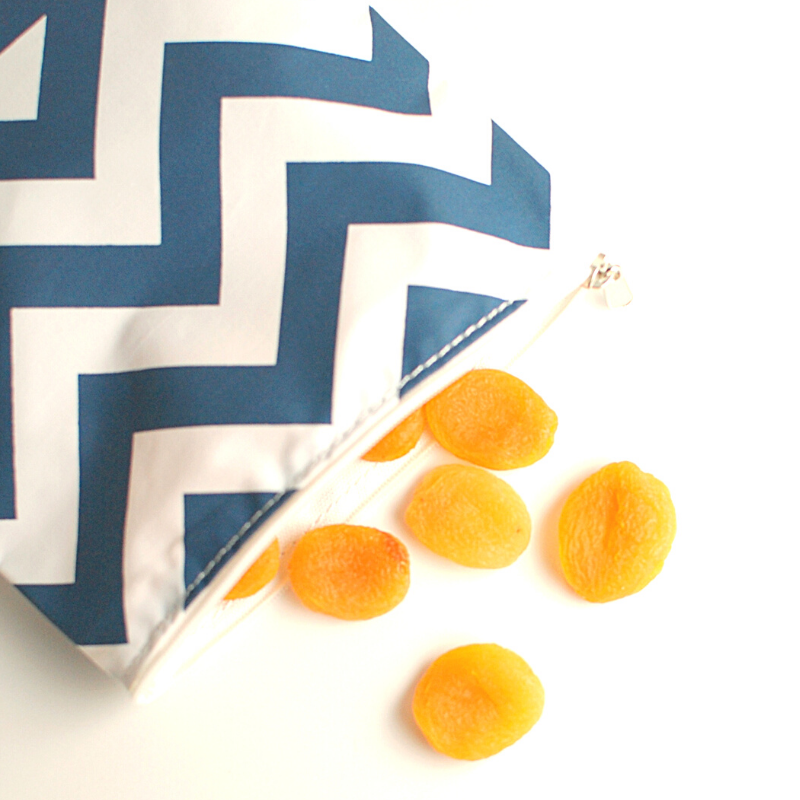 A softer version of the crunchy fruit chips listed above. Dried fruit travels really well, and pairs nicely with nuts or homemade granola. My favorites are apples and apricots.
Also pictured: Lunchskins medium reusable zipper bag.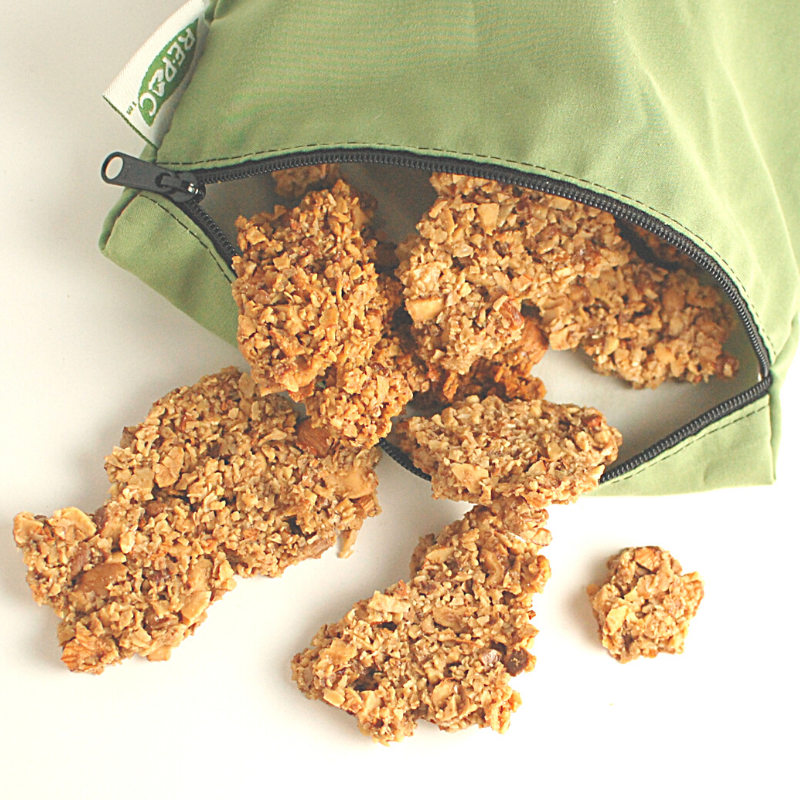 Granola is an awesome travel food! I haven't found a healthy premade version, so I just make my own. My favorite recipe uses nuts, seeds, shredded coconut, honey, cinnamon, and vanilla.
Pro tip: I like to quadruple the recipe and store it in glass jars to eat for breakfast and snacks at home.
Also pictured: my favorite Re-Pac reusable snack bags.

These crunchy little crackers travel well. Made from raw and organic ingredients, they're definitely more nutrient dense than most crackers. I don't eat sprouted crackers often, but they offer a little variety when I'm packing foods for an extended trip. Sourdough and Lemon are popular flavors, and I also liked Kale.

When MOR Snacks reached out to me about trying their healthy, new snacks, I felt skeptical. I'm pretty picky about ingredients and hardly any prepackaged snacks meet my criteria.
However, after reading over their ingredient list and trying several varieties of their snacks, I'm impressed! My favorite variety is Vineyard, and I would totally pack MOR snacks for trips or even errand days.
Order here and use code ROOTS to get 20% off your order!

This is not technically a food, but I had to include it on my list of best travel foods. I LOVE my Dandy Blend coffee substitute and I LOVE that it comes in handy little single-serving pouches! I carry these little pouches in my purse at all times.
It's super fun to ask the server for "a cup of hot water, please", plus it's free (the water) and so much better for you than coffee. I wrote all about the health benefits of dandelion root coffee here.
Paleo and real foodie friends, what are your favorite healthy snacks that travel well? What should I add to this list of Paleo travel foods?
12 NOURISHING GLUTEN-FREE SOUP RECIPES
Simplify your dinner prep with these tasty, nourishing soups!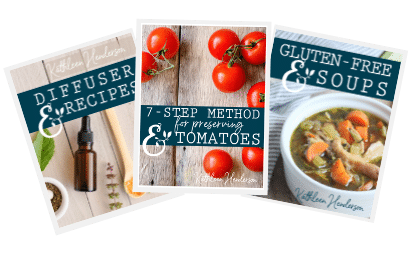 Sign up NOW for my best tips delivered weekly to your inbox!
You'll also get instant access to my library of free ebooks and resources.