Join the Seasonal Club.  Ditch the processed life! Learn to grow, source, preserve, and prepare real foods ALL YEAR LONG!  LEARN MORE >>
Join the Seasonal Club.
Ditch the processed life! Learn to grow, source, preserve, and prepare real foods ALL YEAR LONG!  LEARN MORE >>
What Type of Tomato is Best for Canning?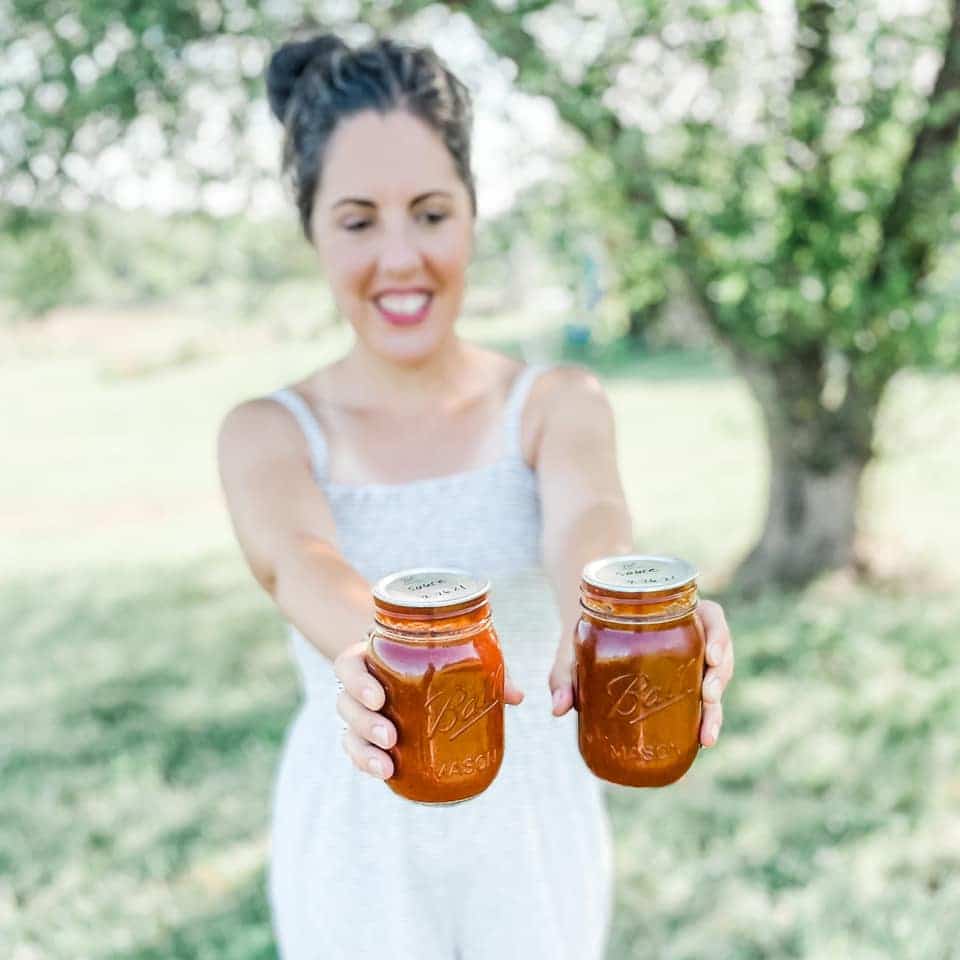 This post may contain affiliate links, which means I make a small commission at no extra cost to you.
See my full disclosure here.
If you plan to can tomatoes this year, you may be wondering what type of tomato is best for canning.
Or perhaps you're not even sure if it matters. A tomato is a tomato is a tomato, right?
The answer is simple: yes, there is a type of tomato that works best for canning.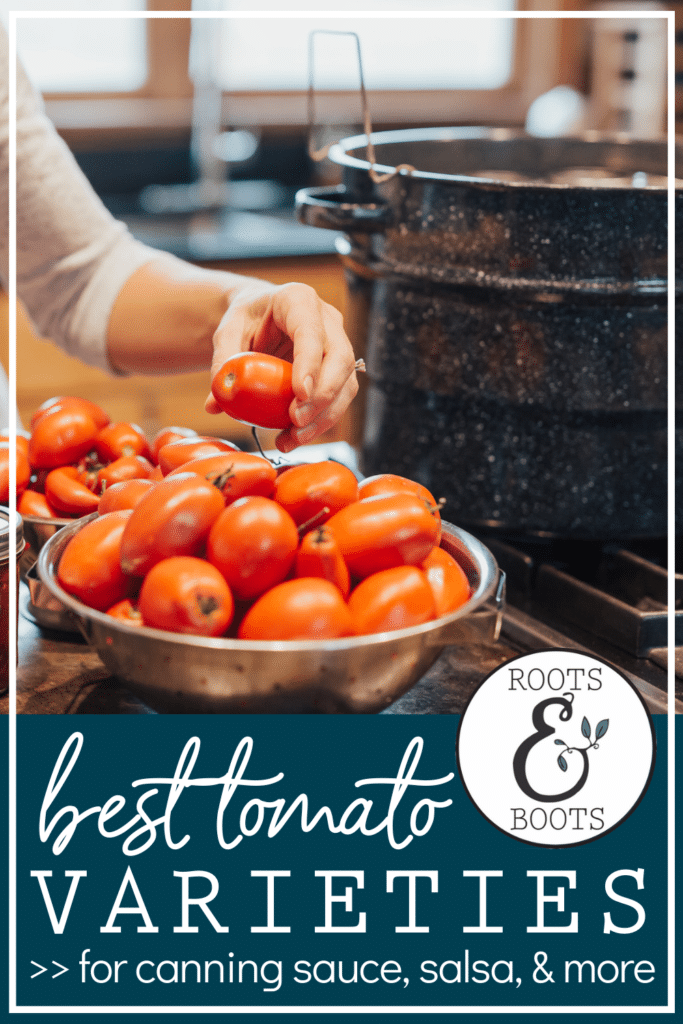 What type of tomato is best for canning?
Short answer: paste tomatoes are best for canning.
Long answer: technically, you can can any type of tomato, but the meatier the tomato, the better.
Paste tomatoes are known for dense, thick flesh, with a lower water content and fewer seeds than other tomato varieties.
These qualities make paste tomatoes perfect candidates for canning. When it comes to tomato sauce, soup, or salsa, starting with meaty paste tomatoes will reduce cooking time and produce thicker results.
10 best open-pollinated or heirloom tomatoes for canning
Hybrid paste tomatoes are also available, but I prefer open-pollinated or heirloom varieties. A bonus to growing open-pollinated types: you can save your own seeds for next year's planting!
On the list below, I've also marked each tomato as determinate or indeterminate. Similarly, I've labeled each variety that showed up in my research as resistant to Blossom End Rot.
Every tomato listed below provides excellent flavor. Any of the following varieties will make a good choice for canning!
Amish Paste – indeterminate
Marzano Fire – determinate, BER resistant
Saucey – determinate, BER resistant
Santa Maria – indeterminate, BER resistant
Heidi – indeterminate, BER resistant
San Marzano Redorta – indeterminate, BER resistant
Sausage – indeterminate, BER resistant
Principe Borghese – determinate
Opalka – indeterminate
Black Prince – indeterminate

My top picks
My very favorite paste tomato for canning purposes is number one on the list above: Amish Paste. I've grown it for years in my zone 7a garden and it makes delicious sauce, jam, salsa, BBQ sauce, and more.
I also grow Principe Borghese which has quickly risen to the top of my list of favorites. It's a small, flavorful tomato that has grown very well for me and is very versatile. Delicious for fresh eating, for sun drying, for roasting and freezing, and for adding to sauce or salsa.
Mix it up
Just like with applesauce, combining several types of tomatoes into one sauce can yield flavorful results. Don't be afraid to toss in a few non-paste varieties, or to mix your paste tomatoes.
That's the beauty of homemade: no two batches taste exactly the same. But every batch tastes amazing!
Preserving tomatoes
I love preserving tomatoes so much that I've compiled all my best recipes, tips, and tricks into a 28-page ebook. If you plan to grow, can, dry, freeze, or cook tomatoes this year, you've got to have this ebook!
This short, practical ebook will help you make the most of a tomato harvest, large or small. Turn your tomatoes into food to enjoy all year long!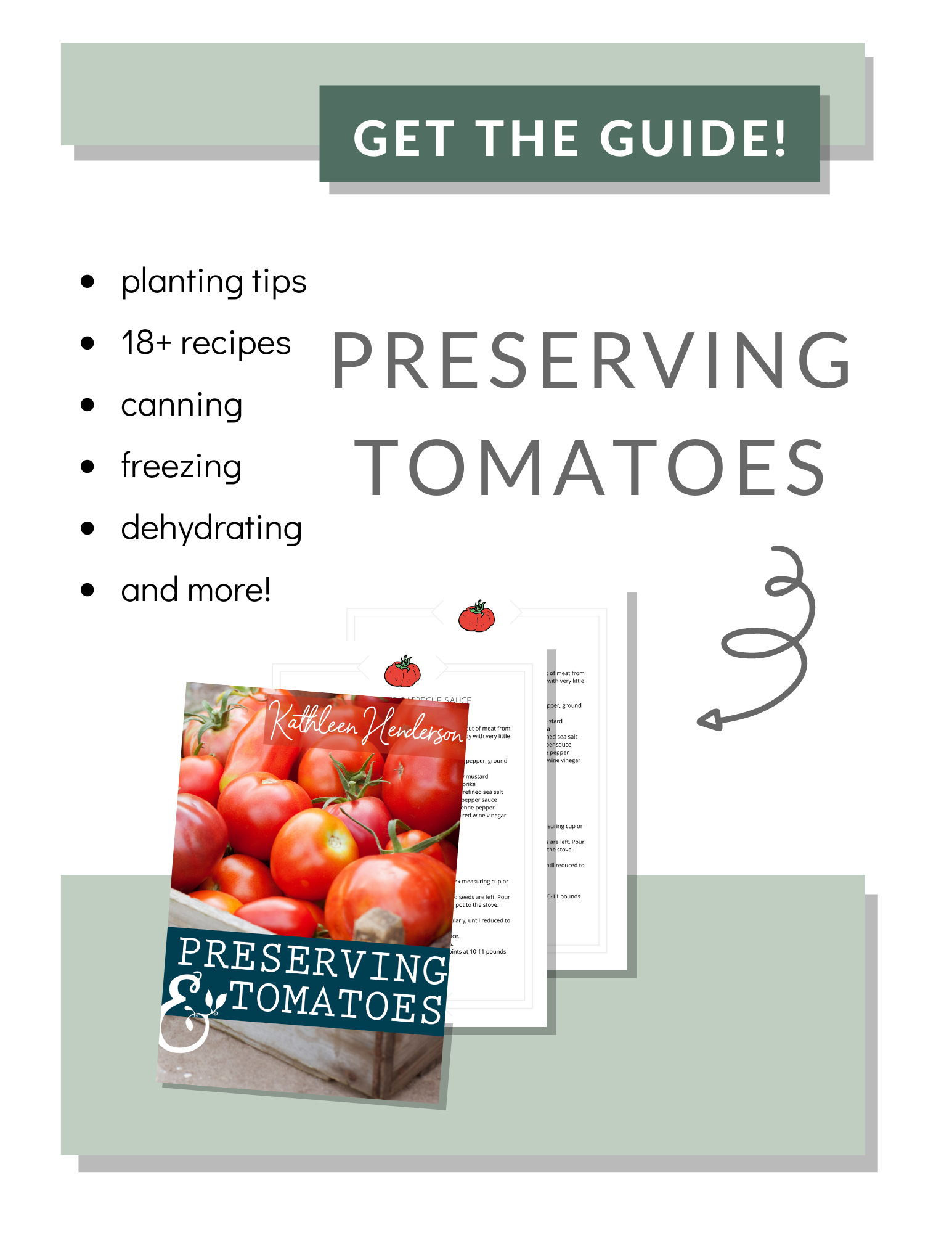 Do you grow paste tomatoes? In your opinion, what type of tomato is best for canning?
More about tomatoes: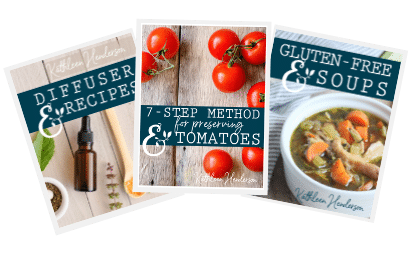 Sign up NOW for my best tips delivered weekly to your inbox!
You'll also get instant access to my library of free ebooks and resources.