Sauteed Spinach with Bacon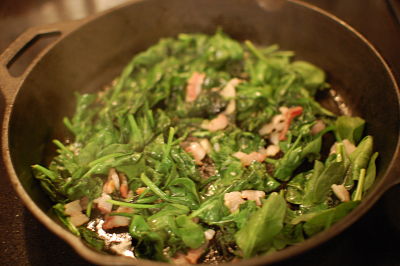 Simplify your dinner prep with tasty, nourishing soups!  My short, practical ebook is filled with my family's favorite one-pot, gluten-free, real-food soup recipes.
Get your copy of Nourishing Soups today!
This post may contain affiliate links, which means I make a small commission at no extra cost to you.
See my full disclosure here.
Did you catch yesterday's post Project: Eat More Veggies?   This spinach recipe is on our new list…
We love it with fish or chicken, or any meat really.  The boys will even eat it willingly if I chop it up and mix it with brown rice, and they've begun to choose this spinach as their second vegetable when there are several options on the dinner table.
Sauteed Spinach with Bacon
Ingredients:
3-4 strips bacon, uncooked
Fresh spinach, about one 12 oz bag (or more)
Unrefined sea salt, to taste
Instructions:
With kitchen shears, snip bacon into tiny pieces over a skillet.  (I use cast iron.)
Cook over medium heat until almost crisp.*
Add spinach, making a large mound.  (See picture below–the spinach will shrink drastically.)
Stir a bit, turn down heat and cover with lid.
After a few minutes, check to make sure spinach doesn't burn.  Stir.
Add more spinach, if you like, stirring to keep the "new" spinach on the bottom, and the wilted leaves on top.  Remember that spinach shrinks considerably as it cooks, so pile it on!
When spinach is cooked to your liking,** season with salt and serve.
*You can make this with already-cooked bacon, too.  I recommend sauteing the spinach in bacon drippings and adding the cooked, crumbled bacon near the end.
**The spinach in the picture shown at the top of this post is not cooked to my liking. 🙂  I snapped this picture while the spinach was still cooking, and then forgot to take another picture after it was finished.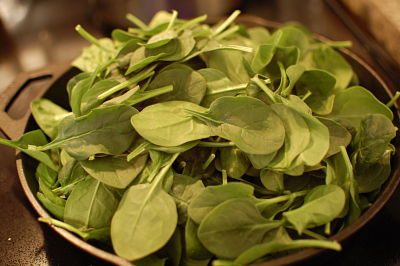 Looking for simple & tasty veggie recipes?  Check out 
these favorites
!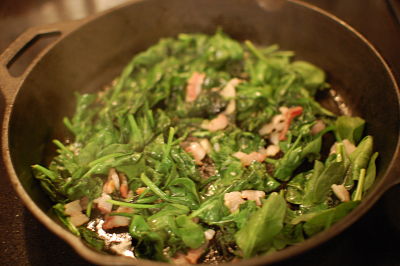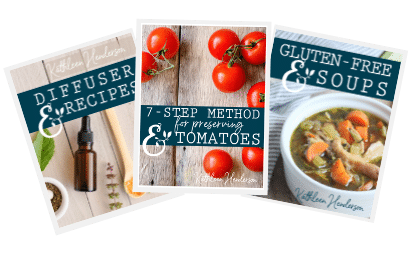 Sign up NOW for my best tips delivered weekly to your inbox!
You'll also get instant access to my library of free ebooks and resources.