Join the Seasonal Club.  Ditch the processed life! Learn to grow, source, preserve, and prepare real foods ALL YEAR LONG!  LEARN MORE >>
Join the Seasonal Club.
Ditch the processed life! Learn to grow, source, preserve, and prepare real foods ALL YEAR LONG!  LEARN MORE >>
Homemade Advent Wreath with Foraged Greens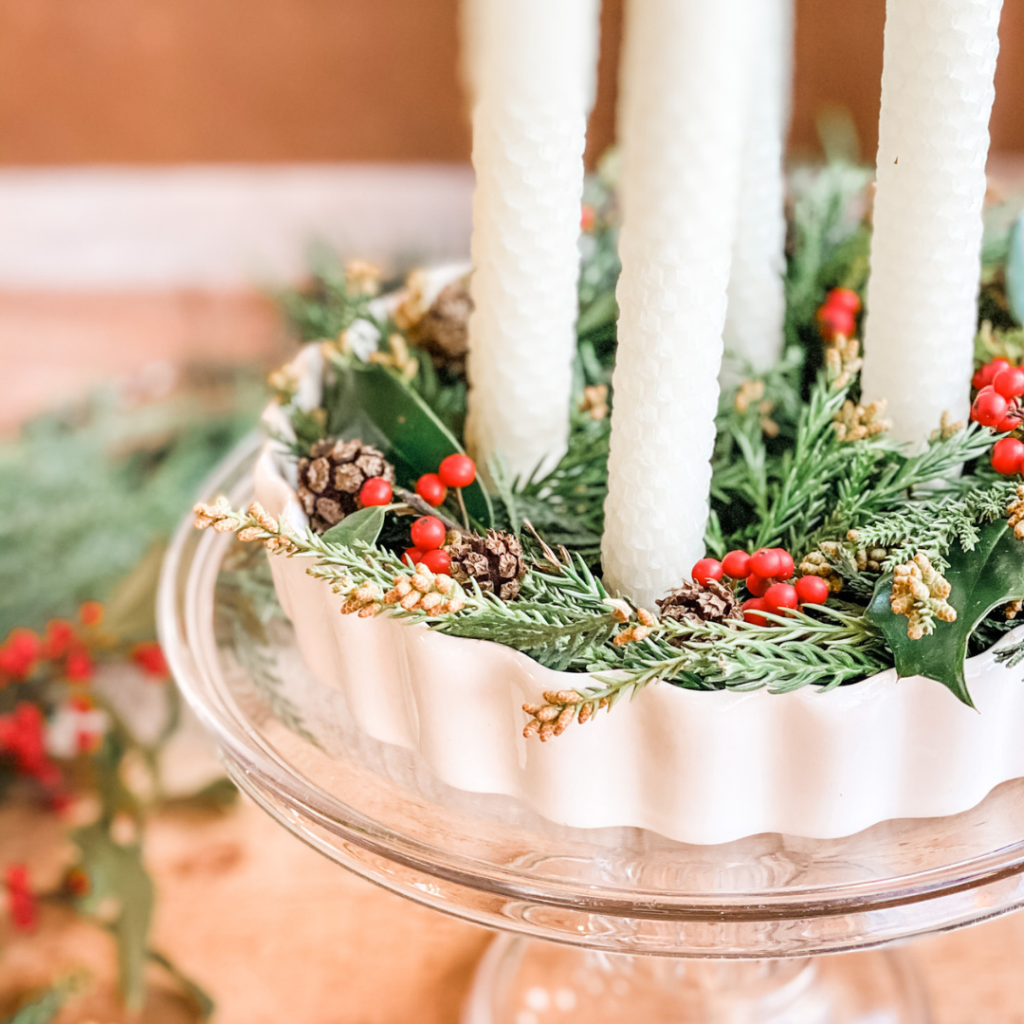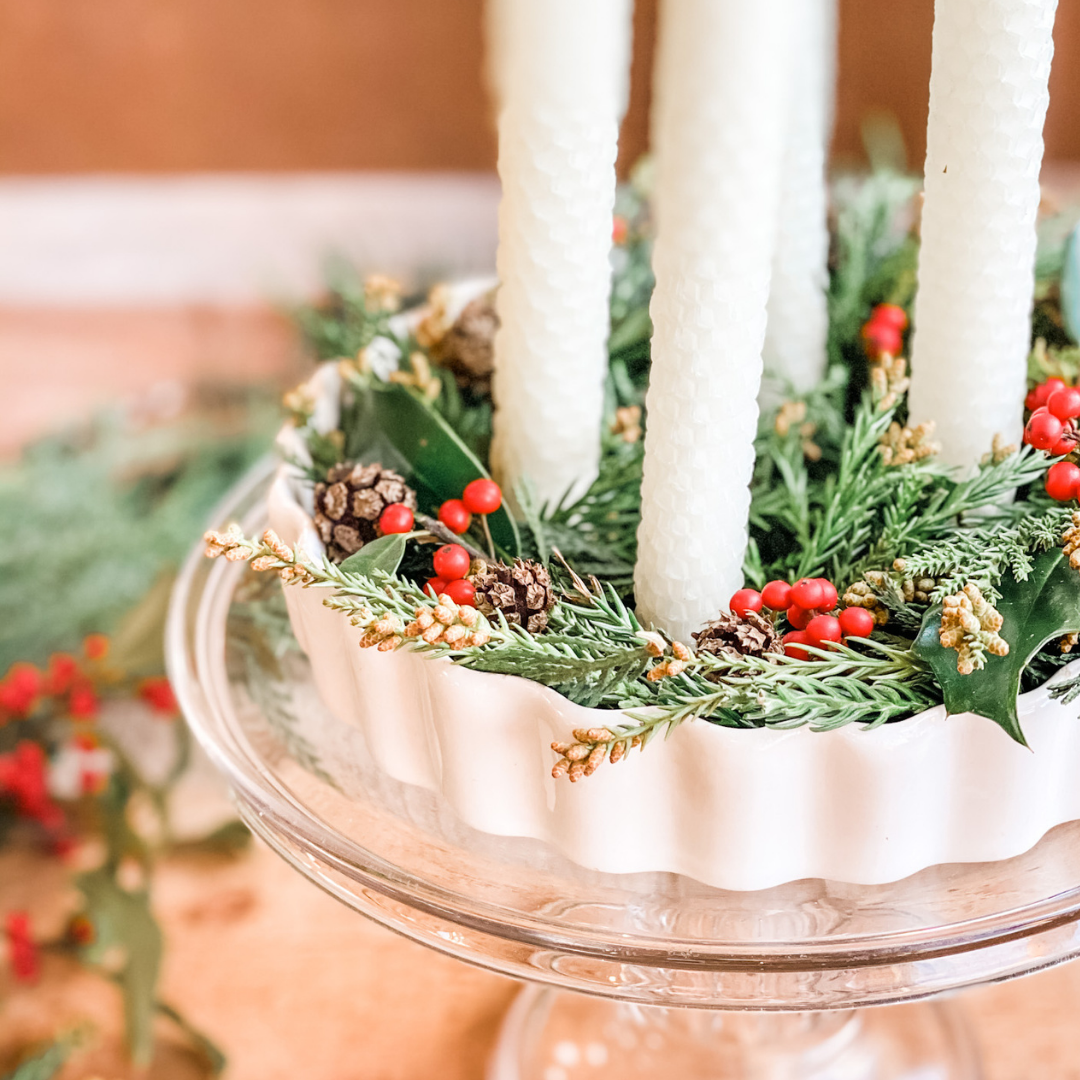 This post may contain affiliate links, which means I make a small commission at no extra cost to you.
See my full disclosure here.
This year I was determined to create a homemade Advent wreath with foraged greens.
The entire project took less than an hour to complete, including foraging for greens. Plus, I spent less than three dollars. And now I have a beautiful wreath to grace our table for this year's Advent season!
I'm teaming up with a few talented blogger friends to share ideas for Christmas DIY projects. Scroll to the bottom of this post for links to their ideas!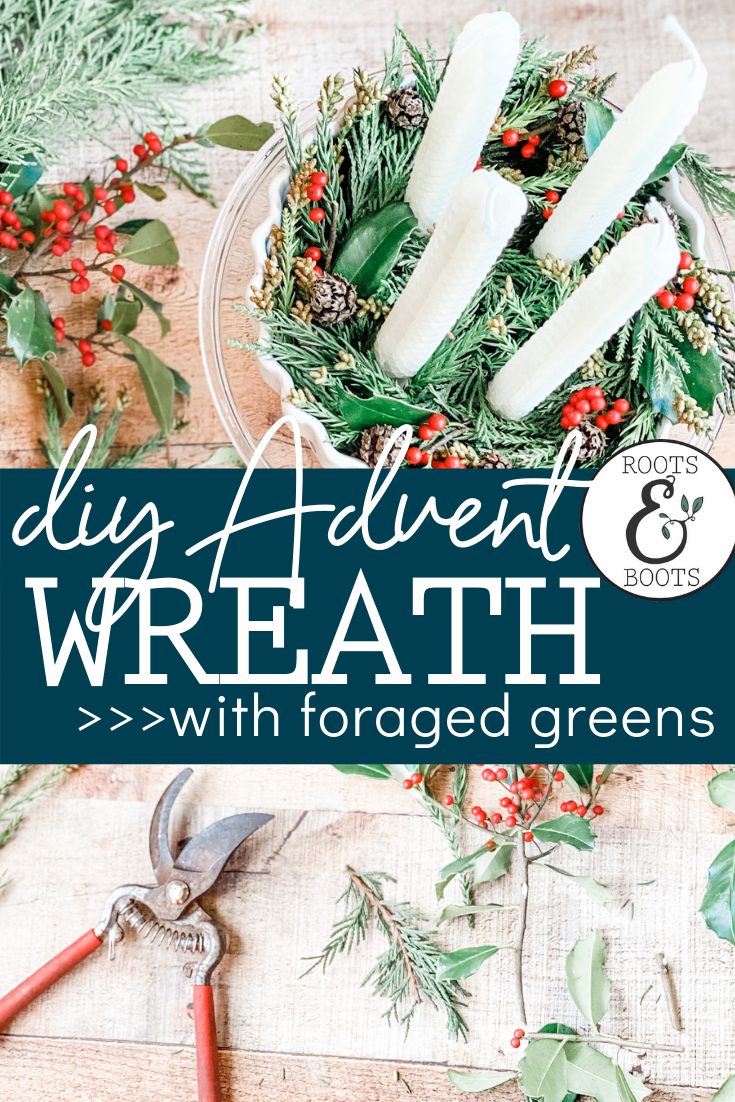 Homemade Advent Wreath with Foraged Greens
I've tried to incorporate Advent candles a few times over the years, but the tradition has never really stuck. We love our Jesse tree Advent tradition, and have also experimented with a few other Advent ideas.
This year, I was inspired to make my own Advent wreath using mostly things I already had on hand. The only thing I purchased was a cute little decorative tart dish, which I found at a thrift store for about $2.50.
The candles were a gift from a friend, and the greens and other natural elements came from my yard.
You could certainly use fake greenery, which would last from year to year. But there's something special about using fresh, real greenery.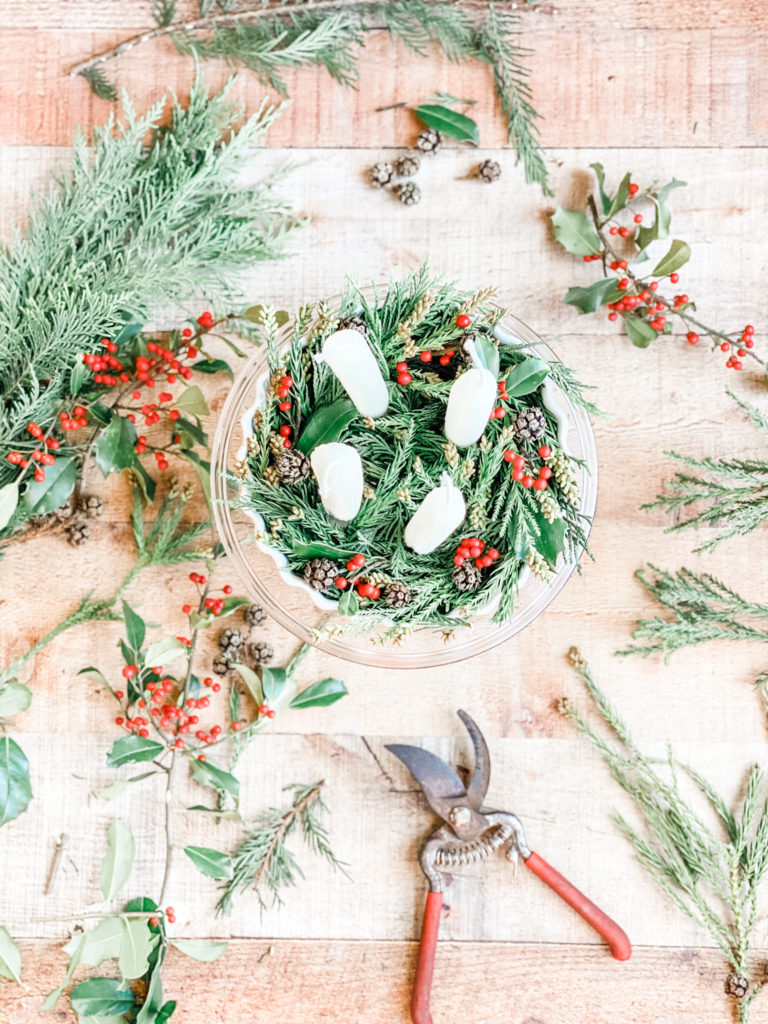 More Advent ideas:
Where to find foraged greens
your yard
your neighborhood
a friend's yard
nearby woods or park
local farm
Christmas tree farm
grocery store
floral shop
A few tips:
You won't need much! I filled a small basket with greens foraged from my yard, and used only about half of what I'd clipped.
Get creative! Use all one type of greenery, or mix it up with a variety of greens.
Think outside the box! If evergreens are hard to come by, try eucalyptus, nandina, azalea, or basically any greens you can find.
Add some bling! Consider adding berries, pinecones, or seed pods for visual interest.
Advent wreath ideas
The best part is that you can use what you have and customize your wreath according to the materials at hand. Options abound!
I've seen gorgeous homemade Advent wreaths nestled inside tea cups, vintage ring molds, old enamel bowls, and thrifted bundt cake pans. A round shape is common, but you could also arrange candles in a line down the middle of your table.
What I used:
1 small, decorative tart dish
4 homemade beeswax candles
assorted greens, berries, and pinecones

I actually started with shorter candles (pictured above), but then switched to taller taper candles (pictured below).
How to create an Advent wreath with foraged greens
It really is as simple as it looks.
The basic concept: determine candle placement, arrange greenery, attach candles, add bling.
Candle placement
I used a lighter to melt the bottom end of each candle and stick it to the tart dish. Later, I had to shift them a bit and re-melt and reattach, but it was helpful to have a working concept of where the candles would stand.
Greenery
I snipped greens into short segments that would lay nicely in a curved formation. Some greens are more pliable than others, so I had to play around with the best way to use each type of greenery. It's not an exact science and there's a bit of trial and error involved.
Attach candles
Once I had the greenery arranged to my liking, I reattached the candles more firmly. It was tricky to make good contact with the dish after adding the greenery, but it all worked out. Whew!
Note that if you're working with a vessel larger than my decorative tart dish, you might consider securing the candles with small candle holders or floral foam.
Add bling
Finally, I added a little bling to my Advent wreath by way of a few holly berries and tiny pinecones.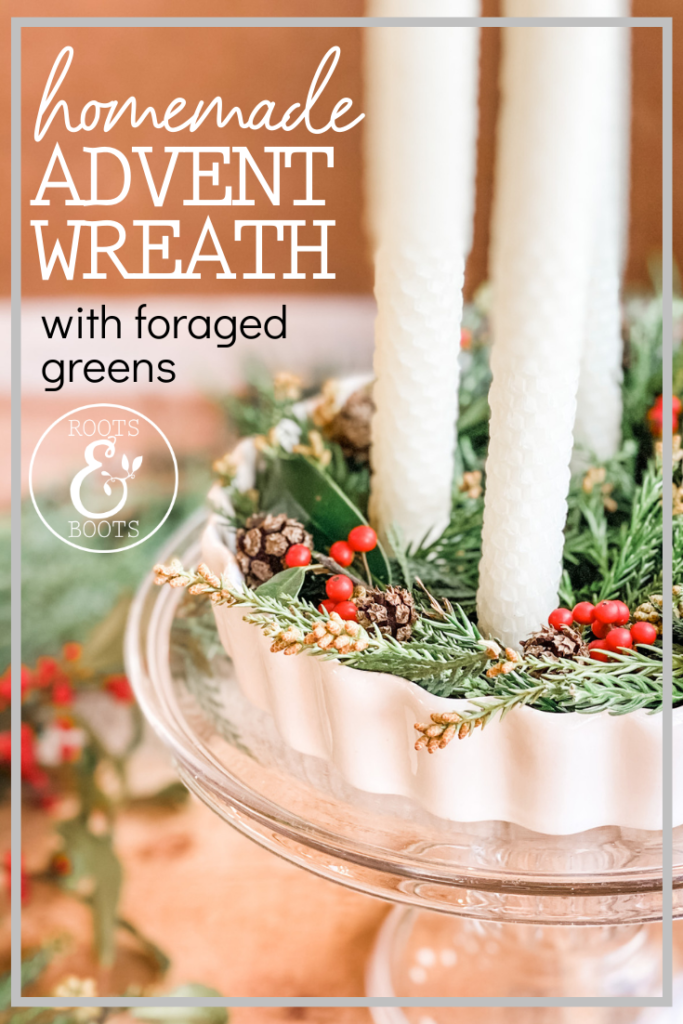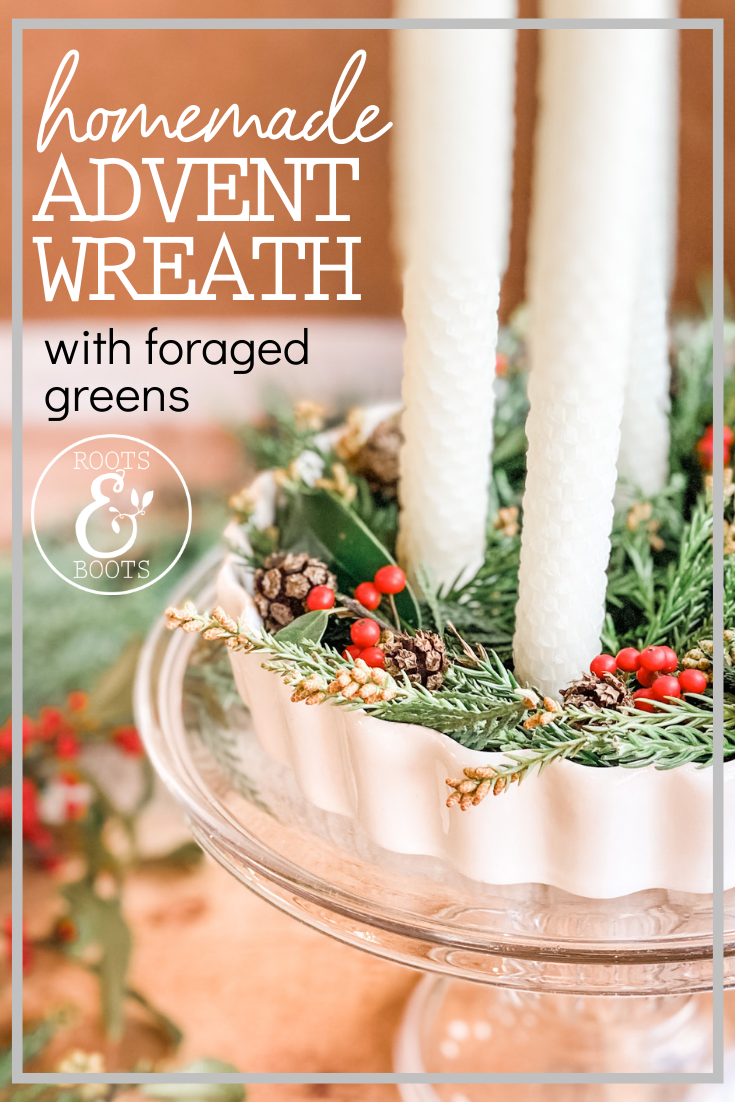 How to use Advent candles
Advent begins on the 4th Sunday before Christmas. Sometimes Advent season begins in November on the Sunday following Thanksgiving.
On each of the four Sundays leading up to Christmas, you will light your Advent candles. Start with one candle on the first Sunday. Light two candles on the second Sunday. And so on.
Along with the candle lighting, you'll want to incorporate a simple devotional reading or a Scripture passage, or both. I've provided several free, printable resources here: 4 Meaningful Ways to Celebrate Advent with Kids.
The reason for the season
At my house, I love to focus on Advent because it helps to balance a potentially commercialized holiday season.
With Advent candles, we have a weekly reminder of the true reason for the season. We get a glimpse of the longing, waiting, and expectation that the Christmas season is all about.
What about you? Do you celebrate Advent at your house? Have you ever used Advent candles or an Advent wreath? What do you think about creating a simple Advent wreath from foraged greens?
Hearth and Vine / The Little by Little Home / the Gal Down the Road
The Homemaking Momma / Emily's Project List / Twelve on Main
Recreated Designs / Roots and Boots / At Lane and High / Jenron Designs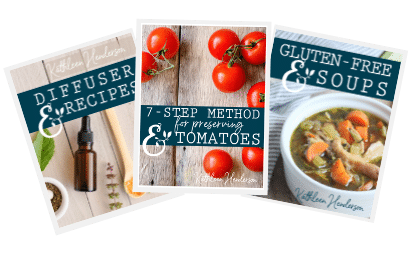 Sign up NOW for my best tips delivered weekly to your inbox!
You'll also get instant access to my library of free ebooks and resources.