3 Affordable Materials for Vegetable Garden Walkways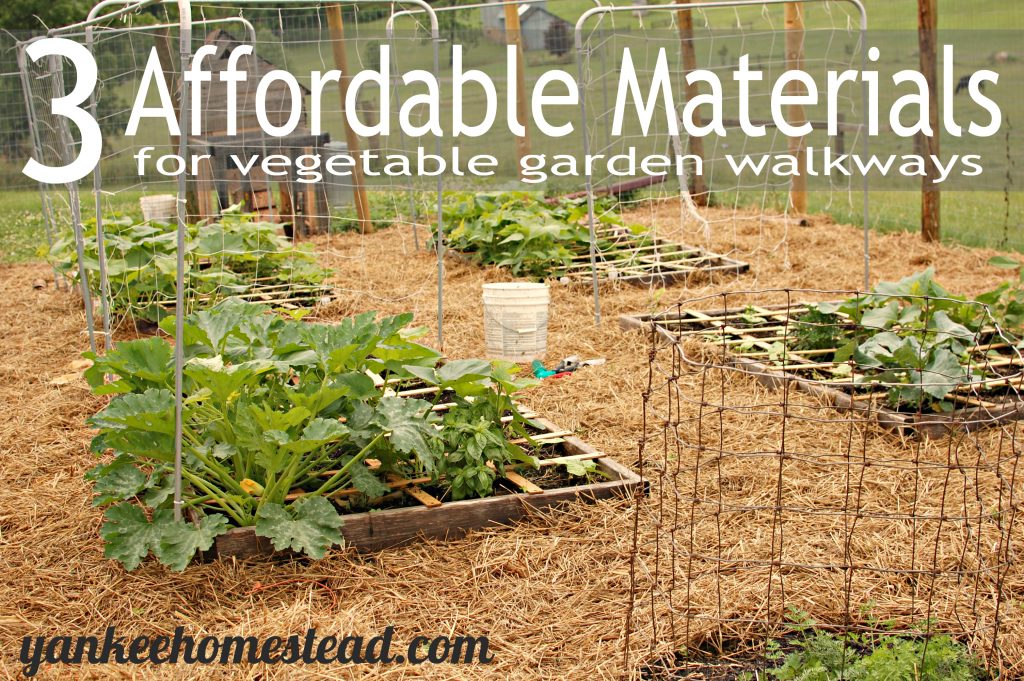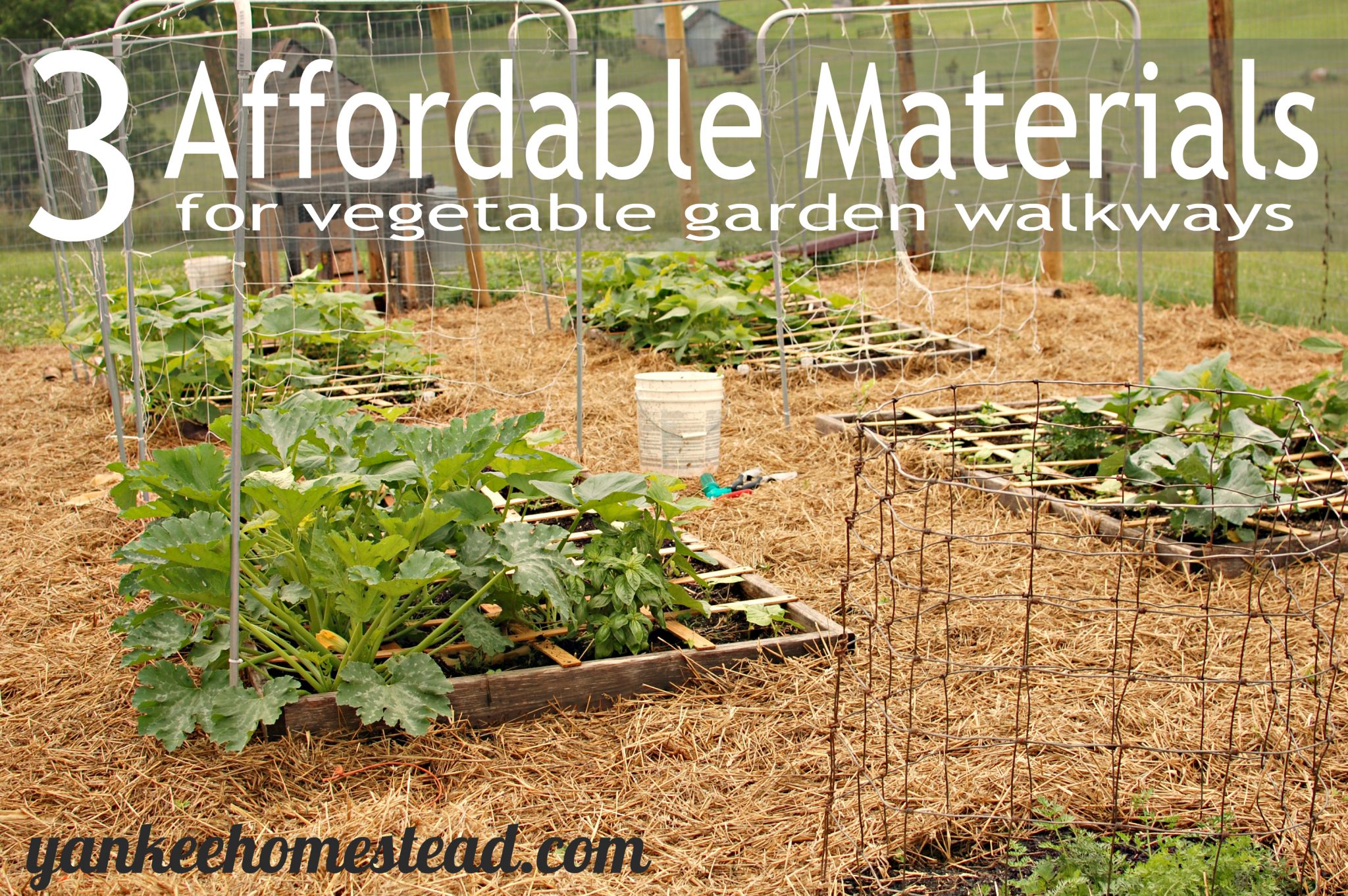 This post may contain affiliate links, which means I make a small commission at no extra cost to you.
See my full disclosure here.
Our square foot garden consists of 4 large wooden boxes separated and surrounded by a grid of substantial walkways, which means we've experimented with several options over the years for keeping those areas mulched and free of weeds.
Based on our own experience, here are my top three tips for creating affordable walkways in the vegetable garden…
3 Affordable Materials for Vegetable Garden Walkways:
We use two layers, starting with #1, and then adding either #2 or #3.
1. Newspaper Rolls
This was such a great find!  Granted, we have to make a bit of a trek to the nearest newspaper printer in our area, and they do charge a fee per roll.  It's totally worth it, though.
Most newspaper printers have leftover end rolls of plain newspaper that they're happy to get rid of.  If you're lucky, you can even get them for free.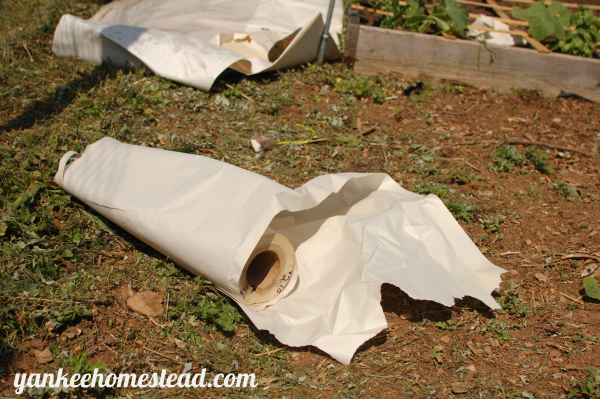 Newspaper rolls are just paper–no printing or ink to worry about.  And the best part is that they roll!  After much experience in using regular newspapers we've saved up, let me tell you that newspaper rolls are by far the best method for covering large areas quickly and effectively.
We use newspaper rolls as a first defense against weeds on our garden walkways.  It serves as the foundation for whatever natural mulch we choose as the finishing layer.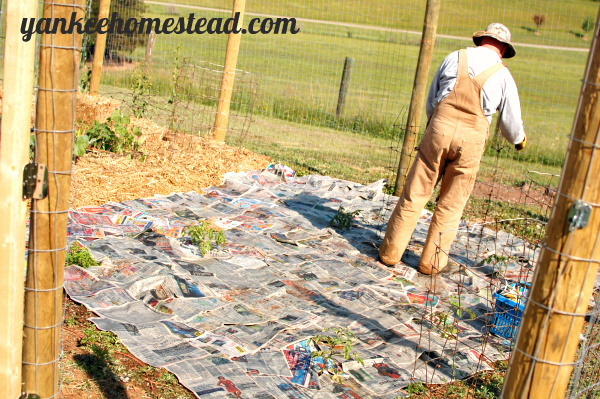 When you're covering a large area, sorting newspapers and spreading them by hand is back breaking work.  This year we ran out of newspaper rolls, and had to finish the tomato area with recycled newspapers.  Yikes!  It made us thankful for the rolls, and determined to make the trek for a new supply.
Tips for Mulching with Newspaper Rolls
1. Unlike the pages from regular newspapers, the paper rolls are super easy!  Just position one roll at the highest point of your garden area, and give it a kick.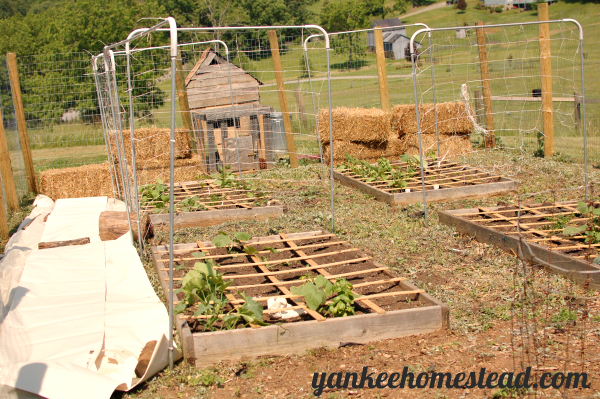 2. Be sure to use several layers, or even more.  The thicker the layers of paper, the better the weed control.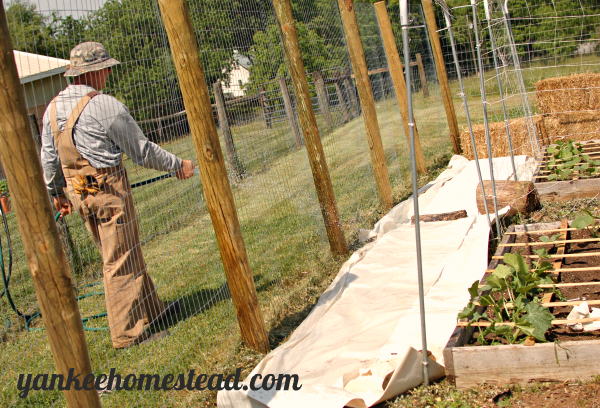 3. You'll also want to spray the paper with water immediately after rolling it out–this will keep it from shifting or blowing away.
4. Top it with some sort of natural mulching material, such as #2 or #3 on the list below.
2. Free Mulch
Did you know that utility tree trimmers are often willing–and even delighted–to dump a load of mulch on your property?
Several years ago, a relative in the tree business recommended we cut down a large pear tree in our front yard.  It wasn't the fruiting type, and it stood directly below a power line which required regular trimming by the power company.  Over time, it had started to look pretty silly with its top chopped off.  Plus, our relative called it a "junk tree".
So when a couple of utility guys knocked at our front door a few years ago to  inform us they'd be trimming the tree, I told them to "Just cut it down!"  They were happy to do so, and they were also happy to dump their entire load of mulch in our driveway.
Plus, since they were working in our area and I knew they'd have even more mulch to dump, I invited them to bring another load or two.   Do you have any idea how much mulch those big trucks can hold?  So. Much. Mulch.
I really wanted to let them bring more mulch (Did I mention it was free?), but Mr. Native Texan tactfully pointed out that A.) We don't own a tractor, and B.) We weren't prepared to store vast quantities of the stuff.
We used that mulch–on top of layers of newspaper rolls–for at least two full years of gardening.  It was awesome.
Tip: If you see utility workers trimming trees near your home, ask if they need a place to dump their load.  They're often grateful for a nearby spot to do so.  Note that you'll need suitable access for a huge truck with huge wheels to dump a huge load of mulch in a reasonable location.
Note: I was fairly confident no questionable sprays had been used for the trees on our rural gravel road, but you may want to consider what types of products have been sprayed in the areas being trimmed near you.
3. Straw
This year, we have no free mulch.  So we're experimenting with straw–it's cheap and it looks good.  We purchased several bales and simply spread it over the layers of newspaper.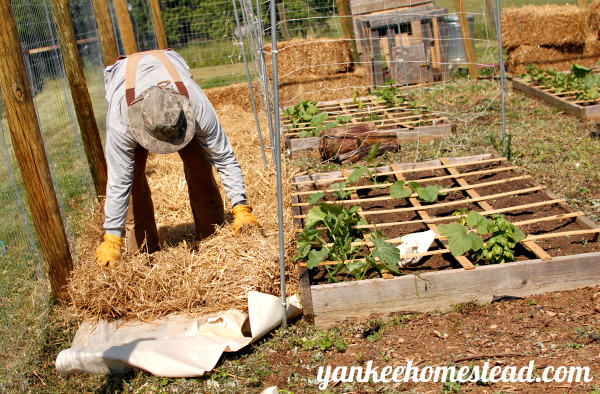 So far, so good!  I'll try to keep you posted as the gardening season progresses…

What's your favorite affordable material for vegetable garden walkways?
Garden Archives
We've enjoyed the Square Foot Gardening Method for several years now, and along the way we added chickens and guinea hens.  If you're curious about previous gardening adventures at the Yankee Homestead, read more here:
Looking for great children's books about gardening?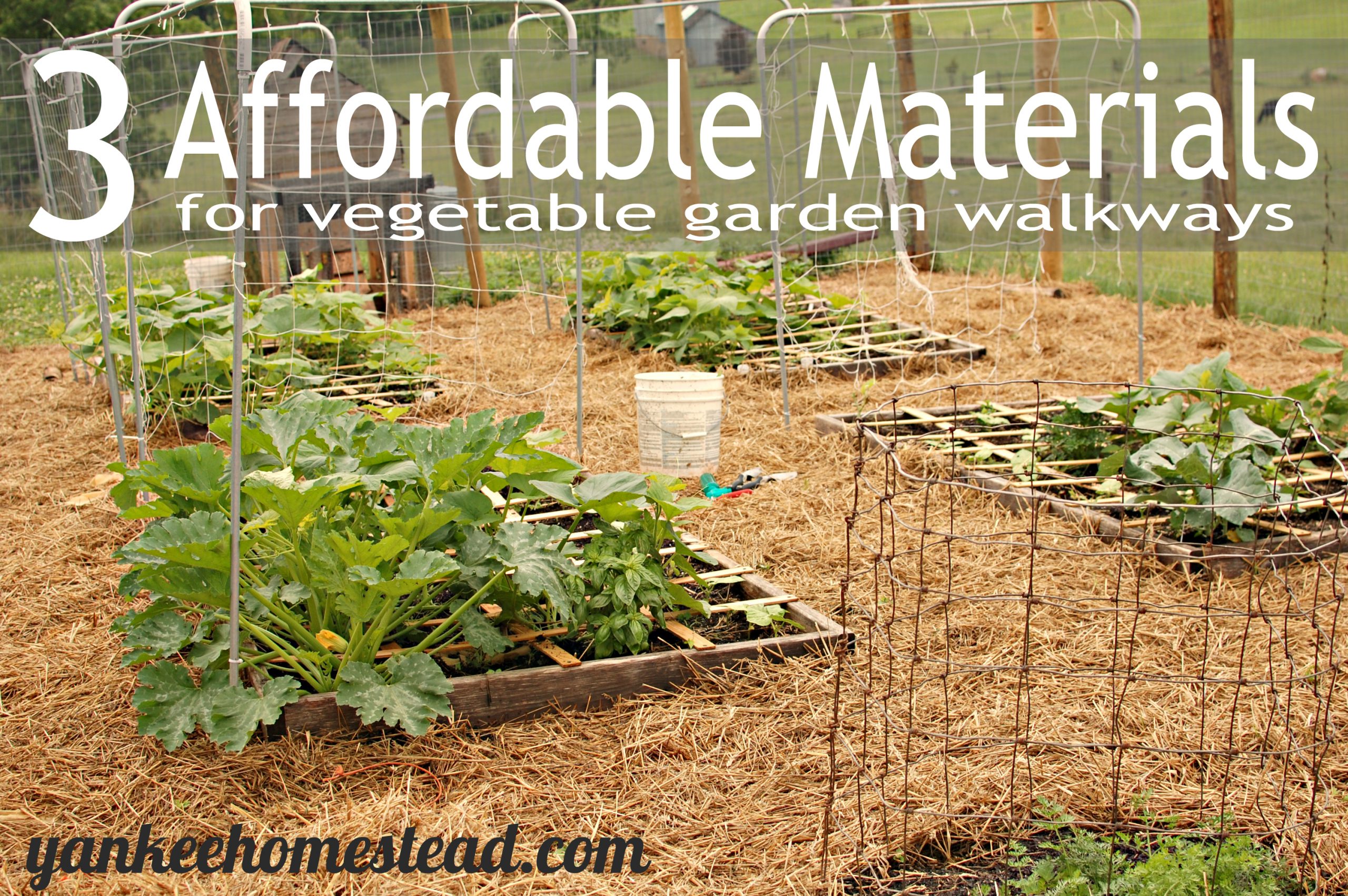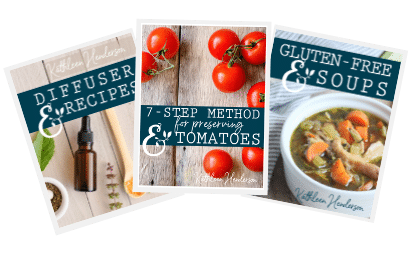 Sign up NOW for my best tips delivered weekly to your inbox!
You'll also get instant access to my library of free ebooks and resources.