Serve Lunch in a Muffin Tin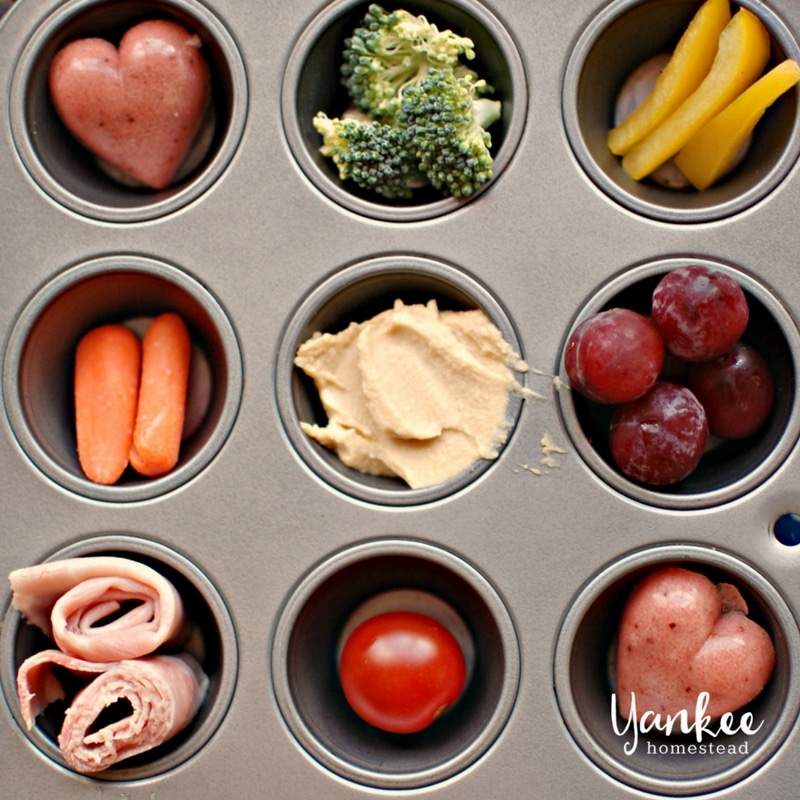 This post may contain affiliate links, which means I make a small commission at no extra cost to you.
See my full disclosure here.
What a great idea!  I can't claim the credit–I'm sure I saw this somewhere on the internet–but my boys think it's fantastic.
Serving lunch in a muffin tin (or mini-muffin tin) totally transforms ordinary food into something magical.  True story.  Try it yourself!
Recently, my boys (well, one smallish boy in particular) complained about having The Same Thing, Again for lunch.  Maybe one day they will grasp the fact that so many of the world's children would be absolutely thrilled to consume such a lunch, day after day, with little variety.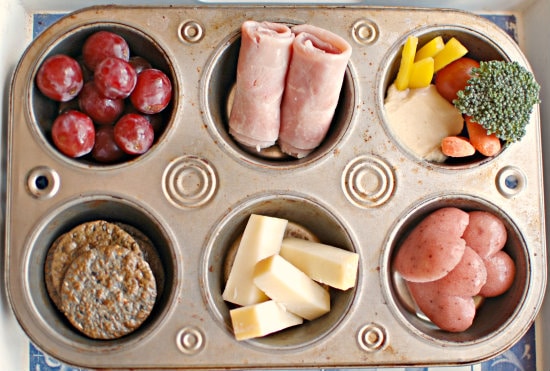 We do discuss this fact together often, and my almost-eight-year-old truly seems to understand. Over the past few years, he's become much more willing to eat just about anything, and seems much more thankful for good food and the time required to prepare it.
At any rate, my four-year-old is simply not there yet.  So, one recent day as I stood in the kitchen pondering that day's lunch prospects, a sudden flash of inspiration took hold: Muffin Tins!
Voilà! The same lunch, but different.  Magically different.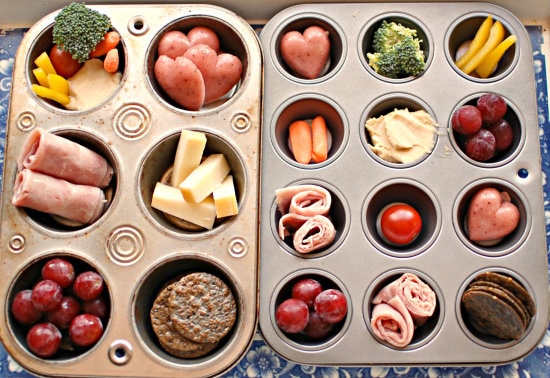 At our house, we have only one 6-count muffin tin, and only one mini-muffin tin, so I rotate them between the two boys.  They love it!  And I love it!
And by the way, that same Not This Again conversation also led to a greater variety in our lunchtime vegetable consumption.  I told the boys I agreed: it was high time we branched out beyond carrot sticks.  Seriously.  I'm surprised neither of them has turned orange.
Also, see the pink hearts in our muffin tin lunches?  Those are our favorite new Real Food Snack (or treat)! Recipe coming soon to a blog near you…Here it is: Healthy Gummy Treats.
Lunch-time muffin tin ideas:
Veggies
Carrot sticks
Cucumber slices
Broccoli florets
Bell pepper spears
Radish slices
Zucchini slices or sticks
Cherry or grape tomatoes
Celery sticks (+ nut butter)
For toddlers: diced roasted veggies work well: carrots, sweet potatoes, etc.

Fruit
Grapes
Apple sections
Clementine or orange sections
Pear sections
Banana slices
Melon cubes
Peaches
Mango spears
Blueberries
Strawberries
Raspberries
Kiwi slices
Pineapple chunks
Applesauce
Fats & Proteins
Crackers:

Sweets & Treats:

More ideas for Real Food, gluten-free lunches and snacks:
Do you have any fun and easy lunch ideas for kids?  Do tell…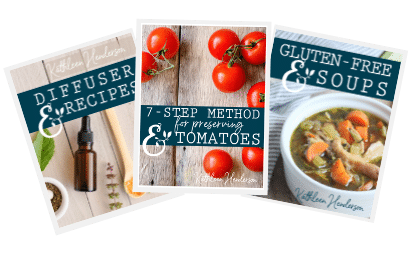 Sign up NOW for my best tips delivered weekly to your inbox!
You'll also get instant access to my library of free ebooks and resources.