Join the Seasonal Club.  Ditch the processed life! Learn to grow, source, preserve, and prepare real foods ALL YEAR LONG!  LEARN MORE >>
Join the Seasonal Club.
Ditch the processed life! Learn to grow, source, preserve, and prepare real foods ALL YEAR LONG!  LEARN MORE >>
Roasted Tomato Sauce for Canning or Freezing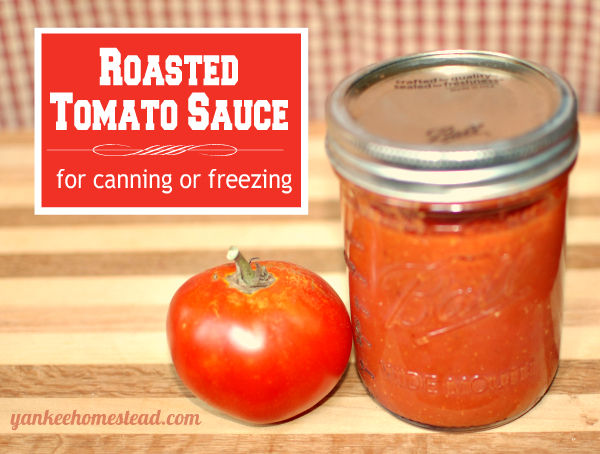 This post may contain affiliate links, which means I make a small commission at no extra cost to you.
See my full disclosure here.
It's tomato season, y'all!  I'm dropping in from a long summer break to share a few of my favorite tomato canning recipes.  Stay tuned over the next week or so for a few more recipes, including salsa and tomato soup.  Here's to that last great tomato harvest of the year–may yours be a bumper crop! 
Roasted Tomato Sauce is amazingly versatile–add it to Chili or soup, turn it into Tomato Soup, add ground beef and seasonings to make spaghetti sauce, or try it in this delicious Bolognese Ragu Sauce, etc.  I've even cooked it down, added seasonings, and called it pizza sauce.
Some folks like to pour the pureed tomatoes into a large pot and add pureed vegetables and seasonings prior to canning. Personally, I prefer to keep things as simple as possible–my main goal is to get those tomatoes preserved!  I add my seasonings and extra vegetables later, when it's time to cook with the Roasted Tomato Sauce.
Also, I don't remove the skins or run my sauce through a mill.  Again, I'm going for quick and easy here.  My understanding is that including the skins can lead to a more bitter taste, but I haven't noticed that.  If necessary, you can add a bit of honey or a few drops of liquid stevia later, when you're cooking with those opened cans of Roasted Tomato Sauce.
Roasted Tomato Sauce for Canning (or Freezing)
Ingredients
Instructions
Arrange tomatoes with pieces of onion in baking pans or glass Pyrex dishes.* (If your tomatoes are very large, you can cut them in half.  If including cherry tomatoes, leave those whole.)
Sprinkle with a bit of unrefined sea salt.

Roast at 350 for 30-60 minutes.  Optionally, you can use the broiler to char the tomatoes.  I like to roast for a while, then turn on the broiler at the end.  Keep an eye on the tomatoes to ensure they don't burn.
Use a slotted spoon to transfer roasted tomatoes to a high speed blender.

Blend until pureed.  (Careful–super hot liquid!)
For canning:  Add lemon juice to hot canning jars (1 TB per pint; 2 TB per quart).
Pour hot tomato puree into jars, leaving 1/2 inch head space.

Add lids, following normal canning procedures.
Process pints 35 minutes, quarts 40 minutes in a boiling water canner.
For freezing:  Pour hot tomato puree into hot glass jars OR allow puree to cool before pouring into room temp jars.
Be sure to leave plenty of head space to allow sauce to expand in the freezer.
Always cool jars completely in the refrigerator before transferring to the freezer.  See further instructions here: How to Freeze Food in Glass Jars.
*Be sure to use cake pans or glass dishes with a considerable rim–the tomatoes will release lots of juices while roasting. Be warned: If you use cookie sheets, the juice will overflow and make a huge mess in your oven.  I may or may not know this from personal experience.
12 NOURISHING GLUTEN-FREE SOUP RECIPES
Simplify your dinner prep with these tasty, nourishing soups!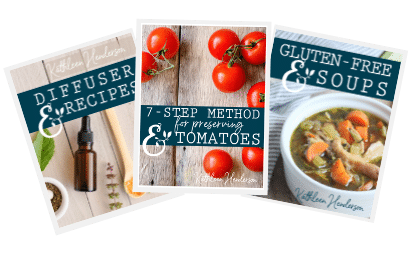 Sign up NOW for my best tips delivered weekly to your inbox!
You'll also get instant access to my library of free ebooks and resources.