Reusable Cloth Pads Review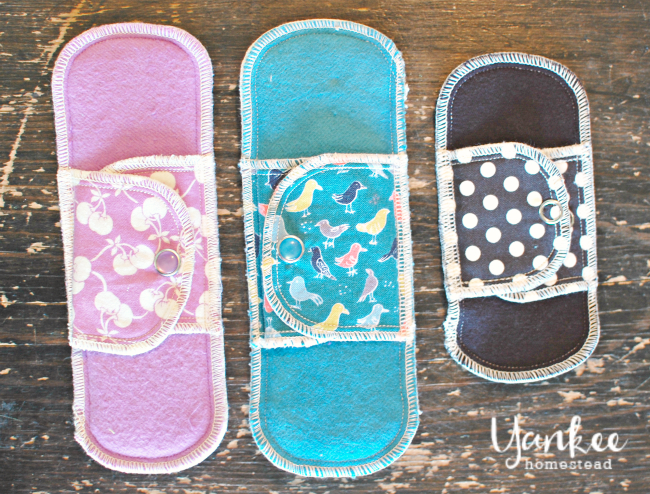 This post may contain affiliate links, which means I make a small commission at no extra cost to you.
See my full disclosure here.
I'm sure you've heard about the unhealthy materials used to produce disposable sanitary products for women.  And I'm sure you're aware that those disposable products can take up a whole lot of space in our landfills.  And of course the cost can really add up over time!
What you may or may not realize is that disposable products–including tampons–should not be flushed into septic systems.  For sure, old septic systems can't handle anything but toilet paper, but really any septic system is at risk.
Tree Roots and Tampons
Our home was built in 1955.  We have our own septic system, which we had the great excitement of replacing last year.
Okay, it really wasn't very exciting–except for our boys who enjoyed watching the process which involved a big digger– and it cost a lot of money.  Plus it was stinky.  Really stinky.
Leading up to the big replacement, we'd noticed the toilets weren't draining properly and had to have the lines snaked out by some plumbers.  When they finished cleaning out the pipes, the plumbers told us the problem was "tree roots and tampons".
They went on to describe the horrors of flushing tampons (and thick Charmin toilet paper, too, by the way) and recommended we avoid the practice.  After paying the bill for a new septic system, we agreed with the plumbers!
Time to Ditch the Disposables
It was the perfect time to begin experimenting with resuable cloth sanitary pads.  I knew cloth pads would be…
better for my health
better for the earth
better for our budget (in the long run), and
better for our septic system!
Reusable Cloth Pads: My Review
Today I'll tell you all about my experience with four brands of resuable menstrual pads.  Let's get started!
UPDATE: After my experience with reusables over the course of several years, I'm sharing all my best tips here: Natural Alternatives to Disposable Feminine Products.
Please note that every reusable pad mentioned here was provided in exchange for my review. The opinions are all mine, and I recommend only products I love and have found useful.  Also note that all etsy links are my affiliate links.  Shopping via these links won't cost you a penny more, and it helps to support small businesses, including Yankee Homestead.  
What I loved:
Customer service–Quick and friendly service goes a long way!
Materials–Organic materials seem important when our goal is to ditch the chemicals in regular disposables.
Absorbency–This day pad comes with two inserts for customizable protection.
No PUL–Some reusable pads contain an inner layer of PUL (Polyurethane Laminate) to prevent leaks. Technically, this waterproof layer also reduces breathability and can contribute to chafing and skin irritation.  GladRags do not contain PUL.
What I didn't love:
Appearance–The only color available in organic cotton was white, which is obviously hard to keep stain-free.
Thickness– Compared to other pads I tried, this pad–especially with both inserts–felt very bulky.
Leaks–As I mentioned, this pad is all-cotton, with no inner PUL layer.  While it does increase breathability, it can also lead to leaks.  Also, the length of this Organic Day Pad is better suited for light to moderate flow; it's definitely not sufficient for heavy flow.
Comfort–The fabric is on the coarse side–not very soft or comfy.
What I tried:
What I loved:
Customer service–Annie and Lisette were both super helpful in answering my questions.
Materials–All the reusable pads from Green Betty Organics are organic!  Love that.
Appearance–Not only are they all organic, the colors and prints are super fun.  There are plenty of options that work well for disguising stains and also serve to enliven your monthly cycle.
Absorbency–These pads are highly absorbent!
Comfort–The soft flannel material is super comfy.
No PUL–Green Betty Organics does not use PUL inside their pads, which increases breathability.
What I didn't love:
Bulky–The thicker pads felt bulky to me.
Design–The snaps on these pads are beautiful, but for some reason, they consistently cause me trouble.  It generally takes me at least two tries to snap them properly.  And I'm not in love with the squarish shape of the pads.
Potential leaks–Theoretically, if you use the right pad for the right flow, these pads are designed to absorb well with no leaks.  Choose from a wide variety of length and thickness to meet your needs.  However, this can require a bit of trial and error and can lead to potential leaks.
What I tried:
What I loved:
Appearance–Lunapads offers a variety of fun colors and prints perfect for disguising stains.
Materials–Lunapads are available in organic fabrics (including fun prints)!
Design–Lunapads' design works perfectly for me, including the length of both the mini and the maxi.  Love the rick rack straps and the easy process for adding or removing inserts.
Leak proof–I've had absolutely no leaks with the Maxi Pad + Insert, which contains a waterproof layer of PUL.
Comfort–The soft flannel is super comfy.
Thickness–My Lunapads don't feel bulky at all.
What I didn't love:
My only "complaint" is that I didn't get to try the Overnight Pad, but based on my experience with the Mini Pantyliner and Maxi Pad + Insert, I'm confident I'll love the Overnight Pad, too!
Also, the Mini Pantyliner does not contain a layer of PUL.  This makes it more breathable, and a great option for light flow days, spotting or as a backup for an internal product (like a tampon or menstrual cup).  It is not ideal, however, for a regular to heavy flow day.  (Ask me how I know!)
What I loved:
Customer service–My set of three pads arrived beautifully packaged, with several thoughtful touches: cotton drawstring bag, handwritten note, homemade laundry detergent and simple washing instructions, pretty handmade tags.  This family's attention to detail really shines through each part of the process!
Appearance–I love the beautiful floral print, and the lavender lining holds up against stains better than white.
Comfort–The fabric is soft and comfy.
Thickness–These pads are thin–the thinnest of all I tried.
Leak proof–An inner layer of PUL provides superb protection against leaks.
Design–These pads sport a simple, natural design.  The length of each pad was perfect for me, and the snaps work perfectly.  I love not having to mess with inserts, but still getting great protection and a thin profile.
What I didn't love:
Lack of organic options–The only organic material available is plain white, which shows stains too easily.  I'd love to see Generational Goods offer an organic print as lovely as the regular floral set.
The Verdict
Based on my own needs and experience, my two favorites brands are Generational Goods and Lunapads.  But it all depends on your personal criteria…
If organic materials are most important to you, I'd recommend trying the organic set from Generational Goods, the organic options from Lunapads, or any of the super-fun styles from Green Betty Organics.  If the GladRags design appeals to you, that's an option, too.
If cost is the determining factor, you'll have to do a bit of homework.  First, you'll want to figure out exactly what you need based on your personal cycle, laundry schedule and lifestyle.  (See below.)
Getting Started with Cloth Pads
For instance, if you're at home most of the time, your needs may differ from those of a friend with a daily 9 to 5 office job.  If you're able to wash your pads daily, you'll need fewer pads; if you plan to wash only every few days, you'll need a larger stash.  If you tend to flow heavily or leak at night, you'll want to plan for adequate protection.
Washing Instructions
Reusable pads should be rinsed or soaked in cold water prior to washing.  They can be machine washed with your regular laundry or done as a separate load, and can be dried in the drier.  Do not use bleach.
My Procedure
Cloth diapering really helped me understand the concept of using and caring for reusable cloth sanitary pads.  These are the steps I follow:
1. I do try to rinse the pads when possible.  Our diaper sprayer is awesome for this!
2. Sometimes time or logistics don't allow for rinsing, in which case I simply toss a soiled pad into a wet bag.  Since we cloth diaper, we've already got wet bags in use.  I often add my pads to Baby Bro's bag of wet diapers waiting to be laundered.  During my time of the month, I also keep a dedicated wet bag in our upstairs bathroom just for my pads.
3. During my time of the month I generally wash pads every other day and sometimes every day.  I combine them with Baby Bro's load of cloth diapers and follow the same steps I use for a normal load of diapers:
1. Prewash (warm or cold, no detergent)
2. Normal wash cycle (warm or hot, with detergent)
3. Extra rinse (warm or cold)
4. Tumble dry (low or medium heat)
Have you tried reusable cloth pads?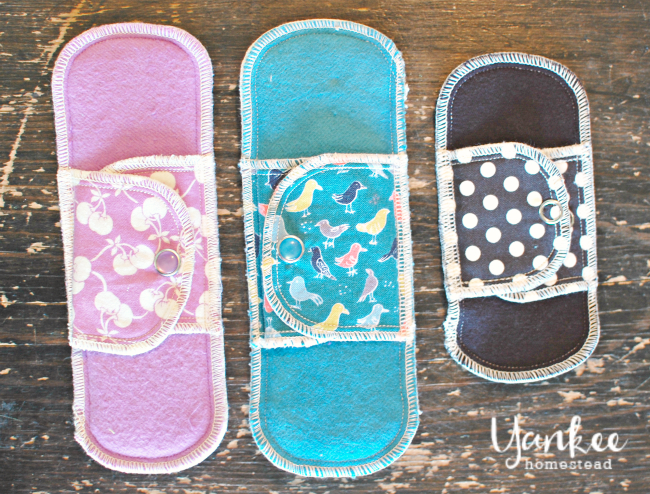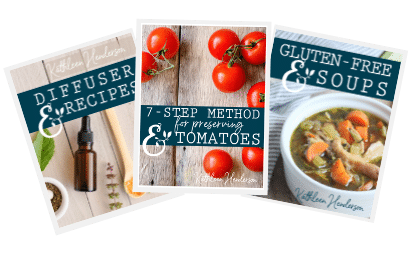 Sign up NOW for my best tips delivered weekly to your inbox!
You'll also get instant access to my library of free ebooks and resources.