My Favorite Everyday Wool Diaper Cover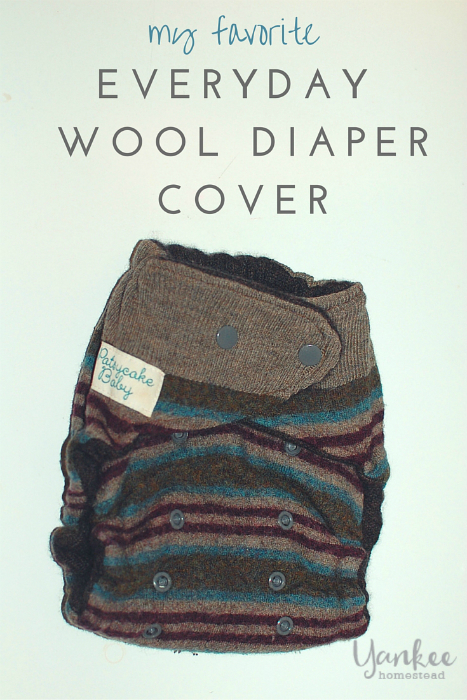 This post may contain affiliate links, which means I make a small commission at no extra cost to you.
See my full disclosure here.
An update on our cloth diapering journey, my favorite wool diaper cover for everyday use, a special reader discount, and a cloth diaper giveaway!
After cloth diapering for more than one year, I'm a huge fan of wool diaper covers.  In fact, I continue to say that if I'd known more about wool before we got started, I'd probably have chosen all wool, or almost all wool for our cloth diaper stash.
Read more about our journey into cloth diapering with wool:
Just in case you're considering cloth diapers–especially wool diaper covers–or already love cloth diapering with wool, I'd love to share my experience with two types of wool diaper covers and a fitted cloth diaper–all from the same wonderful etsy shop.
**Be sure to enter the giveaway at the end of this post!**
Kim Castillo from PatsycakeBaby sent me three items for review: a wool crochet soaker, a one-size wool wrap, and an organic cotton sherpa fitted diaper.  Read on for more details, a special reader discount and an upcoming giveaway!
Note: This post contains affiliate links.  I recommend only products I love and use myself, and that I believe will add value to the lives of my readers.  Purchasing through my links doesn't cost you a penny extra, and it helps to support the Yankee Homestead.  So thanks for your support!
Kim's customer service was amazing.  Here's what I noticed:
Adorable packaging, with custom touches.
Quick and helpful responses to my questions.
A genuine passion for cloth diapering, repurposing, clean living.
Cheerful and generous remedies for two slight concerns.  See below.
Beautiful, well-made, natural cloth diapering supplies.
This thing is amazing!  Here's what I love:
So soft
Organic materials: no chemicals, toxins or dyes
Super thick & absorbent
Includes extra insert for additional layers of absorbency
Well-made
Adorable
Adjustable–snaps allow the diaper to grow with your baby
Additional note: the extra insert actually wound up developing a small hole at the seam on one end.  I was surprised, because it's so well-made and I could tell that Kim puts a lot of time and effort into ensuring that everything is perfect.  A small hole at one end doesn't really affect the absorbency of an insert, but Kim was mortified when I alerted her and promptly sent a new insert.  The new insert has held up perfectly, as I suspected, and Kim's customer service really impressed me!
What I love:
So stinking adorable!  The little sheep!  The colors!  I can kinda see how some folks get addicted to "woolies".
Very soft
Well-made
Easy on and off
Points to keep in mind:
This adorable crochet cover leaked the first time we used it, but I've learned a few things since then…  
Use a thick, absorbent, fitted diaper.  Supposedly a prefold with a snappi should work just fine, but in my experience a thick fitted is best.  (Such as PatsycakeBaby's cotton sherpa diaper.)
Ensure a good fit.  The cover was a bit gappy on Baby Bro when it first arrived.  Now that he's grown, the cover fits him better.  A better fit plus a thick fitted diaper has made a big difference in leak protection.  The longer we've used it, the more I love it.
Loose clothing helps.  Tight clothing can cause the cover to wick moisture onto baby's pants.
Newly improved. Based on feedback from a few moms (including myself), Kim has reworked the pattern to achieve a better fit.  She's very passionate about providing the very best custom diapering supplies!
Additional note: Once again, Kim was concerned that the crochet cover had leaked and offered me the opportunity to try a one-size wool wrap instead.  I'm so glad she did, because I've LOVED the wool wrap.  Read more below!
I really like this wool wrap!  If I had it to do all over again, I'd have added more of these to our stash instead of plastic covers like our Flips.  This one-size wool wrap operates just like any one-size diaper cover, but is made entirely of wool.  I love it!
What I love:
All the benefits of wool: Breathable, reusable (as long as no poop gets on it), soft, natural.
Upcycled: PatsycakeBaby's wool wraps are made from upcycled sweaters–usually merino or cashmere.  I personally love to repurpose quality items in my home, and I love that discarded, high-quality wool sweaters can be turned into beautiful, functional cloth diapers.
One of a kind:  Because each wrap is upcycled from a wool sweater, there are no two alike!
Adjustable: just like any other one-size diaper, the snaps provide a fit that grows with your baby.  So helpful and cost effective!
Slim profile: Of all the wool covers we've tried–and we've tried a bunch!–this one fits the best under clothing.  It's a great solution for daytime use, even outside the home.  Note: Baby Brother is obviously a boy, who obviously does not wear dresses or skirts.  For girl babies, I imagine that wool covers are more easily accommodated by such clothing.
Reader Discount
Want to try a few of the adorable, handmade cloth diapering supplies from PatsycakeBaby?
Keep in mind that PatsycakeBaby also offers bibs, blankets, wipes. drool pads and more–all natural, beautiful and handmade.  If you don't see exactly what you're looking for, just contact Kim directly to discuss a custom order.
Through December 31st, 2015, receive a 10% discount on your entire order from PatsycakeBaby with coupon code YANKEE10.
One lucky Yankee Homestead fan will receive their choice of wool wrap or wool crochet cover from PatsycakeBaby.
To enter the giveaway, simply leave a comment below by December 22nd.
Do you use wool diaper covers?  Have you tried wool wraps or crochet covers?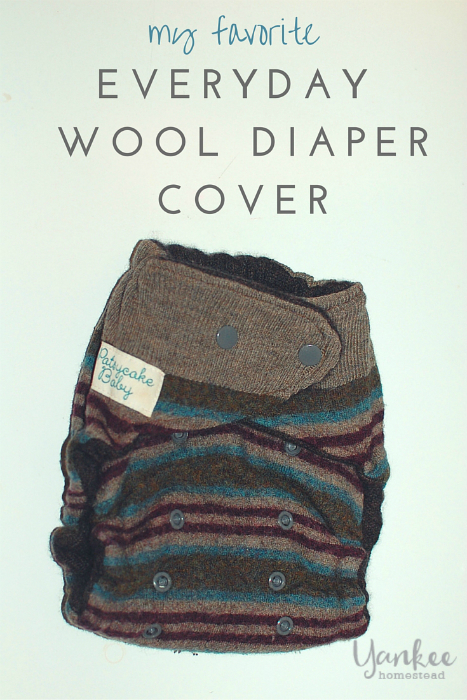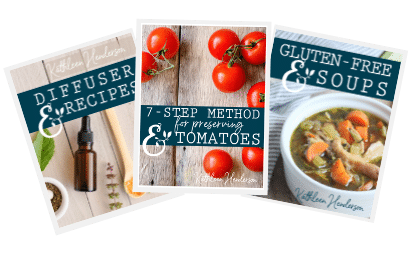 Sign up NOW for my best tips delivered weekly to your inbox!
You'll also get instant access to my library of free ebooks and resources.
154 Comments