Cloth Diapering with Wool: Disana Boiled Wool Wrap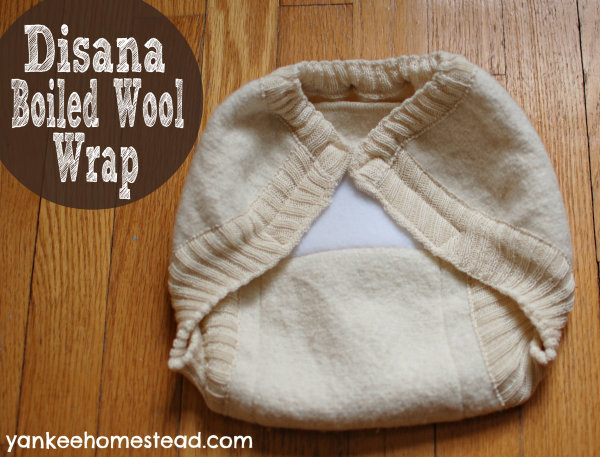 I love this wool wrap!  It's amazingly leak-proof and the velcro closure makes for a quick diaper change in the middle of the night.
Read on for a quick synopsis of our adventure in Cloth Diapering with Wool, as well as the pros and cons of Disana's Boiled Wool Wrap.
How It All Began
We began cloth diapering when Baby Brother was about two months old, with a large stash of BumGenius 4.0 one size pocket diapers and a few Flip covers.  After about four months, I definitely preferred the Flip covers over the BumGenius pocket diapers.  You can read more about that here: Cloth Diaper Update: Flip Covers.
Flip covers worked great during the day and even at naptime, but as Baby Brother grew bigger he started leaking like crazy overnight.  Some nights we had two and even three major leaks, requiring a change of clothing and bedding.
Ain't nobody got time for that, especially in the middle of the night!
Overnight Solution, with a Catch
A friend had sold me a variety of cloth diapering items she no longer needed, among which was a fleece pull on diaper cover.  We began using that over Baby Brother's Flip covers, which worked really well.
The problem (for me) was all that plastic–the Flip, and synthetic fibers–the fleece cover.  I really hated the thought of Baby Brother's skin being trapped inside all of those very unnatural, very unbreathable materials all night long.
In Which We Discover Wool Diaper Covers
That fleece cover got me thinking about wool covers, which were only ever so slightly on my radar at the time.  I did a bit of research online, and decided that wool diaper covers sounded like a fantastic option.
We started with a Disana pull on cover, mentioned here: Overnight Leak Protection with Cloth Diapers, and gradually began to try a few other wool covers.  Which brings me to this review of Disana's Boiled Wool Wrap.
Enter Green Mountain Diapers
In response to my inquiries, the folks at Green Mountain Diapers sent me several items for review, including the Disana Boiled Wool Wrap.
I highly recommend Green Mountain Diapers as a cloth diapering source, and especially as a source for all things wool.  Their website contains really helpful info about each product, including many wool items.  When you make a purchase, GMD also sends a packet of detailed instructions for the care of wool, cotton and other cloth diapering materials.
(They also sent a bottle of Imse Wool Cure, a Workhorse fitted diaper and a Disana Wool Sleep Sack.  The Wool Cure and Workhorse diaper are awesome–I'll tell you more about them as this Cloth Diapering with Wool series continues.  We're still waiting to try the sleep sack, as Baby Brother still seems to require swaddling.  So stay tuned for that one!)
Disana Boiled Wool Wrap
What I Love:
1. Leak-proof
The felted wool is absolutely bullet proof.  No leaks whatsoever!  This is absolutely the best quality of the Disana Boiled Wool Wrap.
It would work well over a disposable diaper, too!
2. No Preparation Required
Because of the felted wool, this diaper cover requires no lanolizing prior to use.  Unlike most wool diaper covers, this boiled wool wrap is ready to use right away! It's probably best to wash and dry the cover first, but I actually used our wrap right out of the packaging.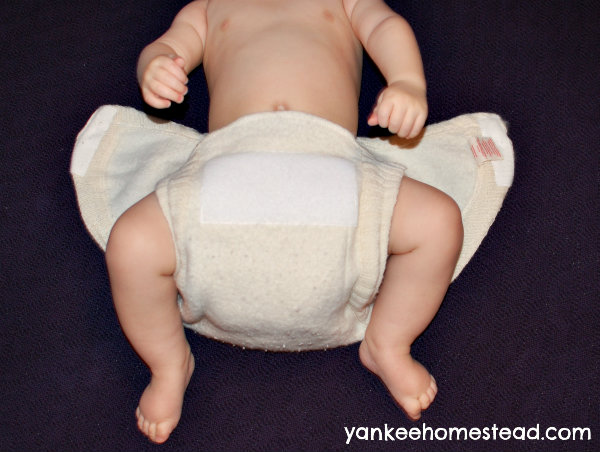 Note that it should be lanolized periodically, according to my understanding.  I've used our wool wrap for over a month, and have washed and lanolized it only once.  That's one of the great things about wool!
3. Quick & Easy
The velcro closure makes middle-of-the-night diaper changes a piece of cake: just open the velcro flaps (like a disposable diaper), remove and replace the inner absorbent layer, and close up the velcro flaps.
Changing a diaper with this boiled wool wrap is definitely simpler than with a pull on wool cover.
4. Cozy
The wrap is soft and cozy, and very breathable.  It keeps Baby Brother warm on our cold winter nights!  (I've heard that wool is warm during the winter and cooling during the summer, and am eager to test out the summer part later this year…)
Potential Disadvantages:
1. No stretch
This isn't an issue for us yet, because our size 86/92 cover fits Baby Brother wonderfully.  It was a bit big at first, when he was about six months old and weighed 16 pounds.  One month later, it fits him well and I anticipate getting at least several more months' use from it.
However, unlike a one size diaper cover, there is not much give.  The boiled wool wrap has no elastic, and the felted wool does not stretch at all.  Once Baby Brother outgrows this wrap, we will no longer be able to use it.
Note: used cloth diapers have an amazing resale value, from what I hear.
2. Bulky
All cloth diapers are bulky–or fluffy, if you will–but this cover is huge.  It's wonderful for overnight use–I don't even put pants over it.  Baby Brother wears a shirt, the wool wrap and socks, and then we wrap him in a swaddling blanket.  (Hopefully he'll graduate to a sleep sack in the near future!)  I don't think it would work very well under clothing during the day.
3. Rough Velcro
We haven't experienced this, but several reviewers mentioned the stiff velcro scratched their babies' skin.  I'm guessing it might be more of an issue when baby grows bigger and the velcro is fastened closer to his skin.
The Verdict
All in all, I really like the Disana Boiled Wool Wrap.  It's been a fantastic overnight solution for us, and I really love its simplicity for those middle-of-the night diaper changes.
Are you considering cloth diapers?  You can do it!  It's not hard, and you'll save a ton of money.  Follow along on our adventures in cloth diapering by subscribing below…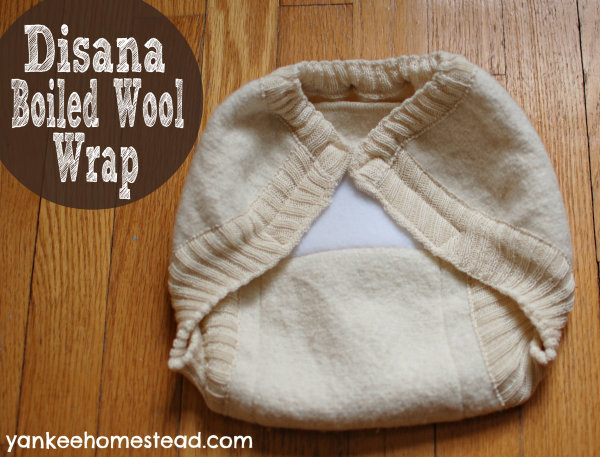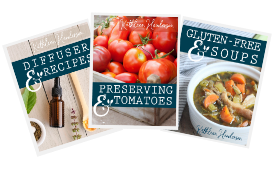 Sign up NOW for my best tips delivered weekly to your inbox!
You'll also get instant access to my library of free ebooks and resources.