Make Your Own Dryer Balls with Wool Roving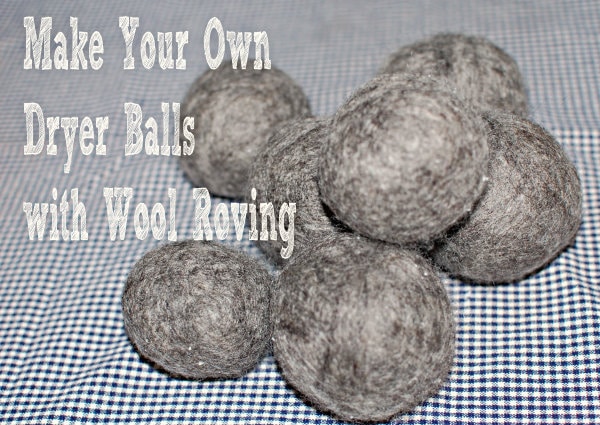 This post may contain affiliate links, which means I make a small commission at no extra cost to you.
See my full disclosure here.
Oh my goodness, I'm so excited about these new dryer balls!
If you've been following along here at Yankee Homestead for very long, you may know that I haven't used dryer sheets or laundry softener for years.  Instead, we use wool dryer balls to soften laundry and remove static in the dryer.
Did you know that dryer sheets and laundry softener are loaded with toxic chemicals?  They are no good for your family's health, and they don't do the washing machine or dryer any favors, either.  Ask any appliance repair man!
Formerly, I made our dryer balls from wool yarn.  They worked well for a number of years, until recently.  I'm not sure exactly why, but my last few batches of wool dryer balls have not held up well.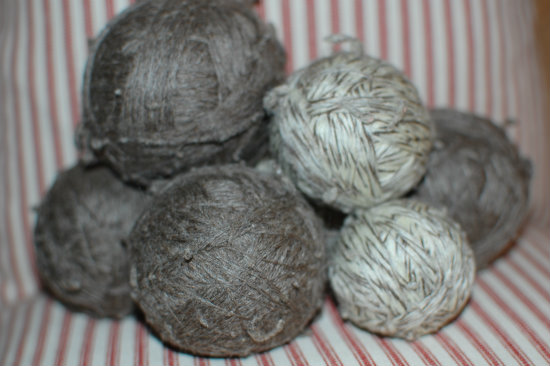 I've followed the same procedure and used the same yarn, even washing and drying the balls multiple times to ensure a stronger felting process.  The only two possible explanations I can think of are that perhaps the yarn quality has changed, or I just do a whole lot more laundry these days and the balls can't withstand the abuse.
At any rate, our dryer balls were lasting for only about six months or less before unraveling or exploding into a total mess in the dryer.  I was not amused.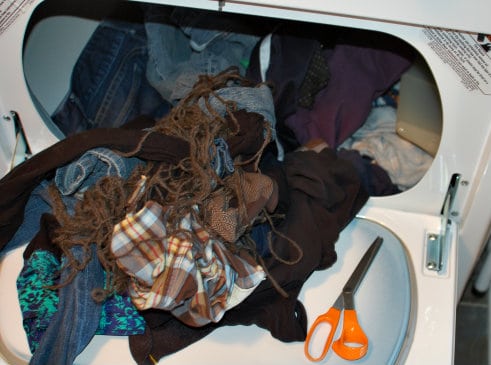 It's hard enough to keep the laundry going, without having to stop and detangle a mess like this!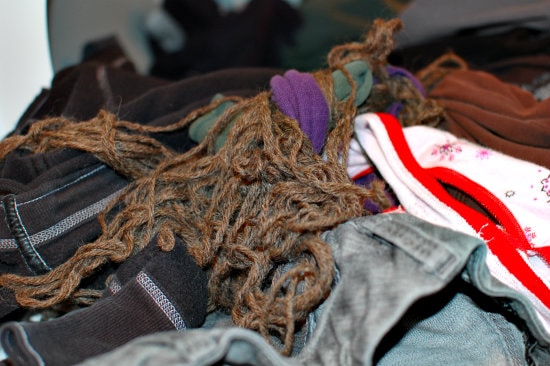 For a while, I just haven't used anything at all.  But I still loved the concept of wool dryer balls, and began to read more about them here and there online.  I realized that many folks make dryer balls out of wool roving instead of wool yarn, and from what I could tell, the balls made from wool roving seemed to hold together better than those made from yarn.
The hardest part, in my opinion, was locating wool roving.  I looked at many sources and finally bought mine from Promised Land Fibers on etsy.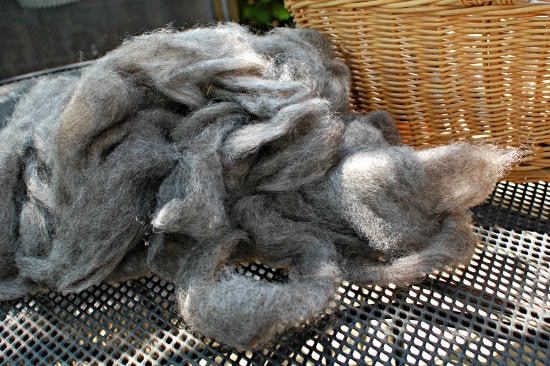 Once the roving arrived, the rest was super-easy–much easier and faster than making dryer balls from yarn.  Hooray!
Make Your Own Dryer Balls with Wool Roving
Materials
wool roving–about 1 oz per ball*
panty hose or long sock(s)
regular, non-wool yarn or string
(scissors)
Instructions
Slide the clump off your fingers and continue wrapping the roving around the clump to form a small ball.

Continue wrapping roving around and around, tightly, until your ball reaches the desired size–about the size of a tennis ball.  To finish the ball, simply pull the wool roving until it separates from the rest of the roving.

Carefully insert the ball into the end of a sock or panty hose leg, and tie it off with a small section of non-wool yarn.  Be sure to tie a good knot, or multiple knots–you want those balls to stay put inside the sock while traveling through the washing machine and dryer!

Repeat the process until you have your desired number of dryer balls.  I recommend 6-8 balls.
Run the balls (tied securely into the socks) through a HOT load of laundry in the washing machine and then the dryer, on HIGH heat.
*Note: If you have 100% wool yarn or old 100% wool sweaters, etc., you can use those for the core of your wool dryer balls.  I had saved several of our old wool dryer balls that were beginning to unravel or had exploded in the dryer, and used those for the core of several new dryer balls.  I simply wrapped several layers of wool roving around my yarn and yarn balls to form new balls.  UPDATE 1/8/15: The dryer balls made from yarn cores with roving wrapped around it did not perform well.  They all came undone, while the balls made completely from roving are still going strong almost 7 months later.  Read more here: Wool Dryer Ball Update.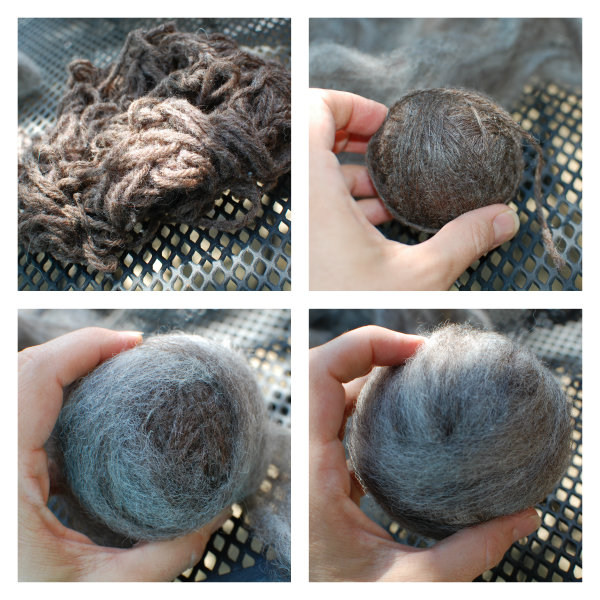 Like I said, the process of making dryer balls from wool roving was so much easier than making them out of wool yarn.  They felted right away, too–just one trip through the washing machine and dryer–and seem like they'll hold together much more securely than the balls made from yarn.  Plus, the wool roving cost less and made more dryer balls than the yarn.  What's not to love about this? I'm already a huge fan!
We've used these new dryer balls for several weeks now and they're working really well.  As I observe their performance over an extended period of time, I'll be sure to update you here. 🙂 Here's the update: Wool Dryer Ball Update.
What do you use in your dryer?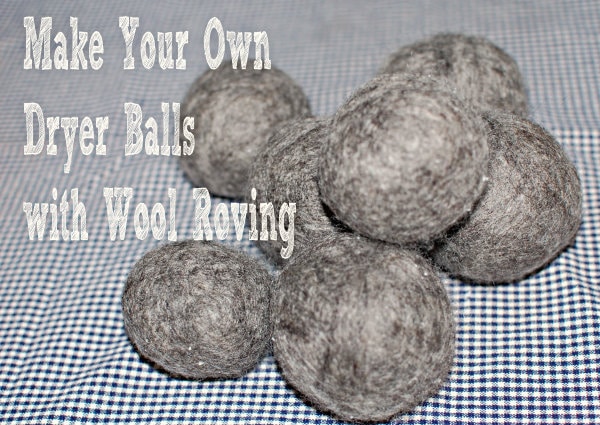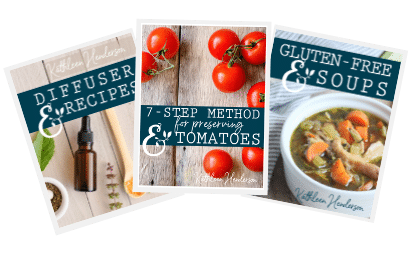 Sign up NOW for my best tips delivered weekly to your inbox!
You'll also get instant access to my library of free ebooks and resources.