How to Prepare for a Natural C-Section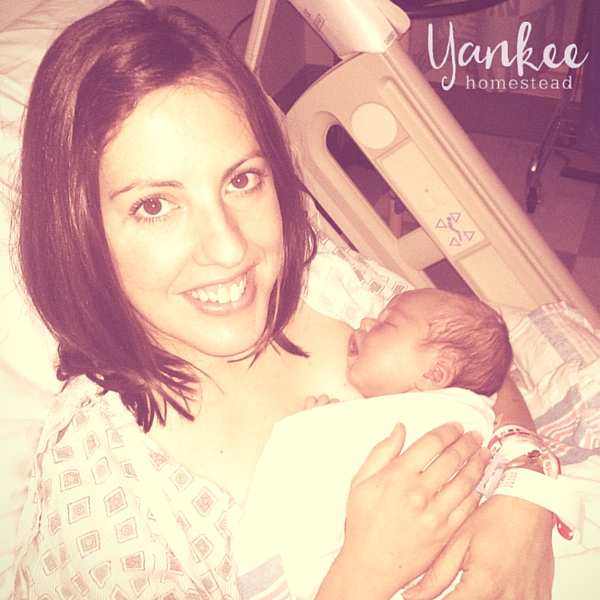 This post may contain affiliate links, which means I make a small commission at no extra cost to you.
See my full disclosure here.
Know your options
Every mother-to-be should know her options for childbirth.
Some mamas plan for a regular, natural birth but find out late in the game that a c-section is required.
Other mamas know early on their delivery will require surgery.
Either way, the more you know–and the more you prepare–the better your experience will be.  Take these steps now, and be prepared for a natural c-section should the need arise.
Third time around
I've had three c-sections.  My first two babies were breech, and at the time, I blindly accepted the doctors' decisions for surgery.
By the time my third c-section came along, our lifestyle had changed completely.  I was wiser about many things, and I was deeply disappointed to be having yet another c-section.  In fact, I was so discouraged that I did very little research until it was almost too late.
Finally I decided that while it was too late to avoid this third c-section, there were steps I could take to make Baby Bro's delivery more natural.
Below is my list of recommendations–all the things I did and all the things I wish I'd done.
Tips for a natural c-section
If you feel disappointed at the prospects of having a c-section, take heart. You may have more options than you realize!
Read more about my own story here: So Much for Lamaze: A Natural Mama's Thoughts on Having a C-Section.
1. Make sure your c-section is truly necessary.
Be aware that doctor recommended c-sections have been on the rise for years.  There is now a growing movement to educate moms-to-be about childbirth options in the effort to prevent "unnecessareans".
For example, I've recently learned that breech babies do not necessarily require a c-section.  This is blowing my mind.
In fact, I'm planning an upcoming post about choosing a vaginal delivery for your breech baby–the very information I wish I'd had ten years ago when I was categorized as an mandatory c-section due to a frank breech baby.
2. Start your research early.
If you're already pregnant, start now!
I learned too late about "what could have been" and wished I'd begun my research much sooner.  Even so, I was able to achieve a better experience than would have been possible with no research at all.
The sooner you get started, the more options you will have.
3. Ask lots of questions.
Some OBs are sticklers for conventional protocol.  Others are more open-minded and might consider your requests for a more natural experience.
The more you find out at the beginning, the fewer surprises you'll have at the end!  Don't assume anything.  Bring your list of questions (see mine below) and jot down your OB's responses.
This will help determine whether to stick with your OB or to search for a better fit.
4. Create a clear birth plan.
Armed with your research, make a list of instructions.  Give a copy to your spouse, your doctor, your doula, and any staff who will accept a copy.  Include it with your pre-op paperwork.
Questions to consider for a natural c-section:
My purpose is not necessarily to answer these questions for you.  I am not a medical professional!  Instead, I want to inspire you to start your own research and come to your own conclusions.  This list should provide a good starting point.
And remember: you are your own best advocate!  There are very few things you must consent to.  There is almost always another way.
Always do your own research!

Your doctor
1. What is the OB's position on VBACs?
In my own case, two breech babies led to two "necessary" c-sections.  Which led to an automatic third c-section, even though my third baby was not breech.
My OB felt a VBAC after two cesareans was unnecessarily risky.  However, I have a good friend whose OB allowed a VBAC after two cesareans–and everything went just fine.
2. What is the OB's c-section rate?
If the rate is high, it may indicate a tendency toward unnecessary c-sections.
According to my research, the current national cesarean rate is about 33%.   This is a significant increase from the 5% rate in 1970.  The World Health Organization recommends a rate of 15%.
3. What is the atmosphere of the waiting room, exam rooms, etc?.
The friendliness of the staff and the comfort of the waiting room can impact the way you feel.  And the way you feel can impact the overall health of your pregnancy.



4. What is the typical wait time to see the doctor?
This may seem silly, but if I saw my OB within one hour of my scheduled appointment time, it was a miracle.  It was not unusual to wait at least two hours to see her.
Once I realized and accepted this, I could plan accordingly.  I brought plenty of water and snacks.  I embraced the opportunity for reading time.
Sometimes, however, it produced a stressful situation.  And it often made me feel powerless.
5. How does the OB feel about your natural ways–supplements, essential oils, dietary protocols, etc.?
Though strictly conventional, my OB gave me no grief over my whole food prenatal vitamins and the slew of natural supplements I was taking.  She did not require a prescription prenatal, for which I was grateful.
6. How many ultrasounds are required?
Many naturally-minded folks believe routine prenatal ultrasound can be harmful to babies.  If you opt out of all or most ultrasounds, is your OB going to hassle you?
7. How late will they allow you to deliver?
The benefits of waiting until at least 39 weeks are largely undisputed.
For my third c-section, I pushed for the latest surgery date possible.  There was some dispute over my actual due date, and my OB agreed to use the latest date.
This meant Baby Bro was allowed to remain "in the oven" for as long as possible.  I actually went into labor, which gave me the assurance that he was ready to come out.
Your surgery
8. Who will deliver your baby if you go into labor early?
This happened to me, and I was assigned an on-call doctor I'd never met.
9. Are doulas allowed?
In the operating room?
Pre-op?
Recovery room?
Post partum?
Support from an advocate such as a doula can make a huge impact on the birth experience.  The doula knows your birth plan.  She can manage all the details and communicate with the doctor, surgery team and hospital staff.
This frees the parents to focus on the actual experience, and on bonding with their new baby.
10. Is delayed clamping of the umbilical cord permitted?
A growing number of studies suggest that waiting to cut the umbilical cord offers compelling benefits to the baby.
11. Is breastfeeding allowed right away, in the delivery room?
Nursing your new baby right away carries many benefits.  Some hospitals will allow a c-section mom to nurse immediately, in the OR.  Many hospitals do not.
If your hospital allows immediate breastfeeding in the OR, certain preparations will be required.
12. Can newborn procedures be delayed until the parents are ready?
Some hospitals allow for APGAR assessments to take place while baby is snuggling on mama's chest.  Some may agree to wait until after Baby's first feeding.
13. Is kangaroo care allowed?  Can you have skin-to-skin time with baby right away?  If not, can Dad do kangaroo care?
Benefits abound for babies who snuggle skin-to-skin with Mom right away.
Too late, I discovered the hospital nearest my home allows immediate skin-to-skin time for c-section moms.  Unfortunately, the hospital where our OB delivers does not.
This was one of my biggest disappointments, but we were able to make the best of the situation.
Thankfully, our surgery staff allowed me an unusually long cheek-to-cheek time with my new little guy in the OR.  By the time they took Dad and Baby Bro out of the operating room, I was almost finished getting stitched up.  It wasn't long at all until we were reunited in the recovery room.
In the meantime, Dad was allowed to do skin-to-skin time with Baby Bro.  For us, this compromise was our best-case scenario.
Your baby
14. Can Baby's first bath be delayed?
There are a number of good reasons to wait 24 hours or more before bathing your new baby.
15. Will you be hassled for avoiding standard procedures for newborns?
Be sure to find out official hospital policies and state regulations ahead of time.  In our case, we were permitted to avoid every procedure except for the standard heel prick blood test which screens for a variety of diseases and genetic disorders.
A few standard procedures to consider:
eye ointment
vitamin K shot
PKU test
Hep B vaccine
16. Can Baby stay with you, in your room, at all times?
"Rooming in" with your newborn is linked to more successful breastfeeding, babies who cry less, and even a lower incidence of postpartum depression.
You can have a natural c-section
If you must have a c-section, it can still be as natural as possible.  Find a baby-friendly hospital and an OB who respects your concerns.  Arm yourself with good research, a solid birth plan, and an advocate in the form of your spouse or a doula.
Then enjoy the process of welcoming your baby to the world!  Every baby is a blessing, no matter how they make their debut.
Have you experienced a c-section?  What would you change or keep the same?  Do you have tips for a family-friendly, natural c-section?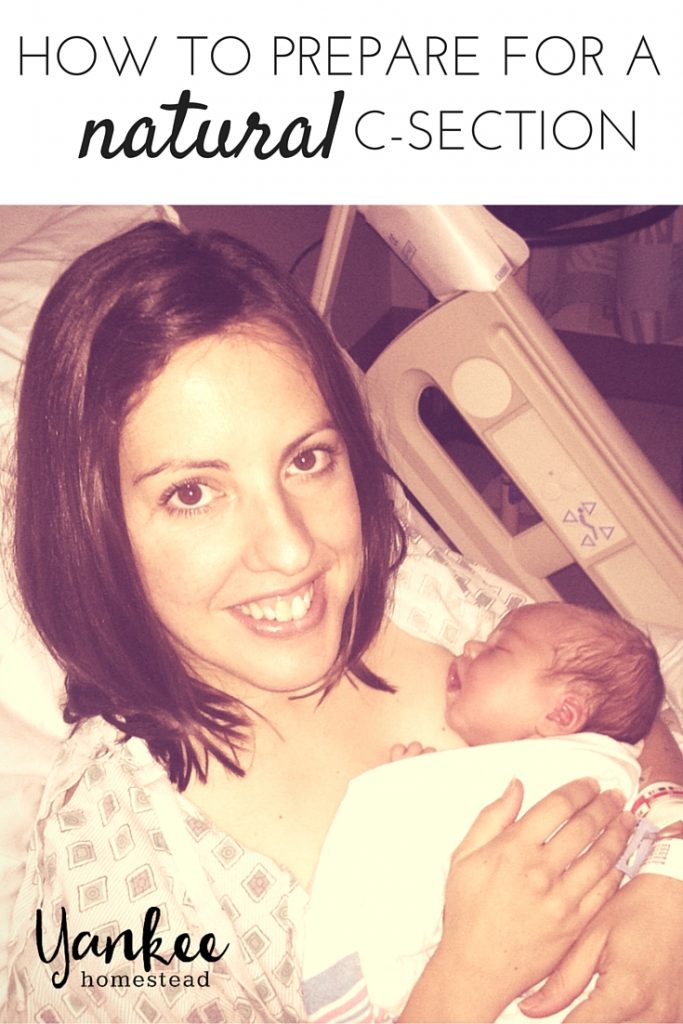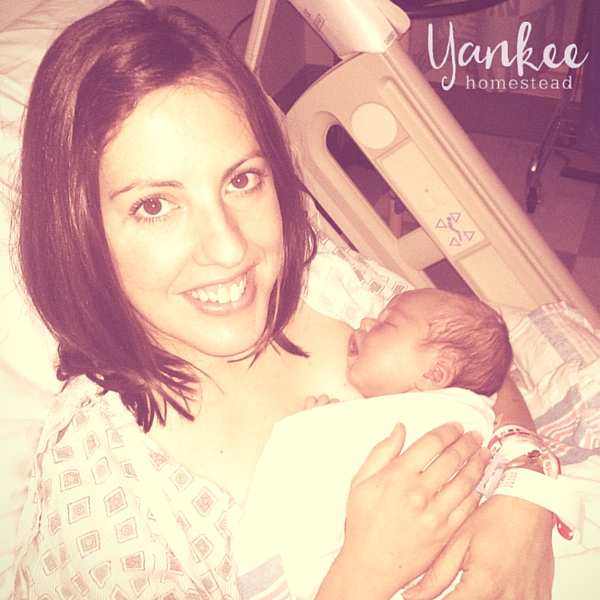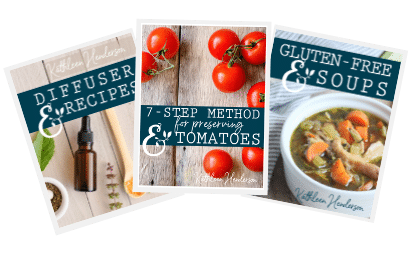 Sign up NOW for my best tips delivered weekly to your inbox!
You'll also get instant access to my library of free ebooks and resources.